Angkor Zoo is located off a dirt road (on the way to Angkor its just past the ticket gates) off of Charles De Gaulle Blvd. Approximate time here to see all the animals is about 30 to 40 minutes. Its a fairly small zoo with a great variety of birds and reptiles – over 100 species of animals are represented. The highlight are the bears and the cheetahs. A small dirty swimming pool is available for use – although I only saw children using it. Price of admission is $3 per person. You will be given "Welcome to the Angkor Zoo" photo copy to take with you. This has basic information about some of the rare endemic species housed at the zoo. Phone number: 012 856 565
An enclosed Butterfly Farm is also available – it contains over 1000 live butterflies. It is open daily from 9-5.
A Crocodile farm is located near the Siem Reap river about 1km from the old Market.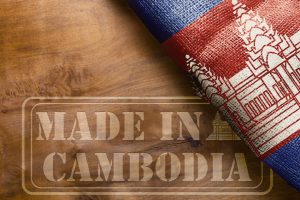 Le Chantiers Ecoles is an arts school is located within Siem Reap not far from the river. No appointment is necessary if you are not within a large group. Its not a common destination for tourists so you may have some trouble finding it. Ask at your hotel/guesthouse before you go for directions. Their phone number: (855) 63 964 097 and their email is: artisans@camintel.com. Once you arrive at this school you will be given a small card to wear indicating you are a visitor. A guide will then take you through each of the different classrooms and you will see first hand students working on their art work. Some of the work is quite amazing – it is all hand made from wood carvings, plaster painted sculptures to sandstone sculpture. Once the tour has visited the 3 or 4 separate classrooms your guide will leave you at the main store. This store is beautifully decorated with great lighting. It contains art work for sale that has been completed by the students as well as many silk items. A certain percentage of the proceeds go back to the school. Note: the air conditioning in this store works exceptionally well! Visit: www.artisansdangkor.com
The Old Market called Psar Chas is located across from the Siem Reap river – its mostly a collection of tourist souvenir odds and ends and some cheap jewelry. One of the sections of this market has jewelry shops lined up in a row – all with the lights off in their display cases. When you walk by all the lights pop on in the display cases in anticipation of attracting your attention – as you continue walking all the lights then turn off behind you! This market also has a small tropical fruit section. Aside from souvenir goodies, it is a good place to pick up postcards – they are available in packs of 10 for one US dollar. This market is within walking distance of many of the hotels and guest houses.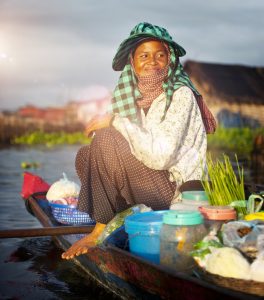 Vietnamese Floating Market is well worth seeing if you have an extra morning or afternoon. Its not really located that far from Siem Reap – but once you leave the pavement the road is absolutely terrible. You can take a Tuk Tuk from Siem Reap but its really not recommended. Time to reach this village from Siem Reap will take between 30 to 45 minutes depending on how bad the road is and the type of transportation you take. The distance to the lake from Siem Reap is only about 16 km. Once you reach the dirt portion of this road you will see people living in abject poverty. This portion of the road is raised about the surrounding marshland, and small grass roofed homes are perched on stilts clinging to the edge of the raised roadway. Small children, some naked will probably greet your entrance with smiles and hand waving as you drive by their homes.
You can pick up your boat ticket in the town of Phnom Krom near where the boats dock. The Chong Khneas Tourism Boat Association sells tickets. If the operator of the boat you are on wants to charge you to take you somewhere, refuse payment. Your ticket is already paid for – there is no need to pay any more money.
This is a seasonal market – made up of Vietnamese and Khmer people. It is spread along one of the inlets to Tonle Sap, Cambodia's largest lake. The boat ride through the village takes about 15-20 minutes and is in a covered "long boat". On both sides of the inlet you will see crudely constructed floating homes. Its basically a ride through the everyday life of the villagers. Things to keep an eye out for are the "battery" boat – in which you will see hundreds of heavy lead acid batteries stacked on its deck, children bathing in the water next to their homes, tall TV antennas near the start of this village, and even a Catholic Church. TV service has only recently come to this village and its only available to a few of the homes. The poor children who live in this village have a long commute to the closest school, and then once they return to their homes there is really no silence with all the boats zipping back and worth in the channel.
Every year when the waters of Tonle Sap rise the village is abandoned and the villagers head for the highest ground around which just so happens to be a small mountain several kilometers from the village. This is the only rise above the flats for as far as you can see. Depending on the height of the lake the villages location differs slightly every year.
A side note is that you can take high speed water taxis from here to the capital city of Phnom Penh. This journey takes only 3 hours and might be a better alternative to land transportation which takes much longer. Slower, cheaper water taxis are also available making the one way trip to Phnom Pehn in about 5 hours.
As you drive on Road 6 heading to the airport you will see a sign for the War Museum. This museum is a bit bigger than the Land Mine Museum. It contains tanks, guns, artillery pieces and additional weapons of war.