Major shopping districts in Bangkok include parts of the Suhumvit and Silom areas of Bangkok. Shopping here can be a serious affair for some people – with a number of patrons getting decked out in their finest. And of course there are always a number of dressed down phone toting tourists (looking for the ideal selfie spot), expats and those people watching. It is not hard to shop till you drop in this town – although you won't be dropping from the heat and humidity that this town is known for – as all the malls have excellent central air conditioning! And for those looking to document their time shopping a number of the malls have crafted "selfie stations" located in front of the main entrances to the malls – either on the ground floor or second floor (especially if there is a walkway from the Skytrain leading to a mall entrance). These stations are often seasonal – playing on emotion combined with relevant music piping out nearby.
Unlike in other parts of the world where online shopping seems to have taken a good chunk of business from brick and mortar stores within shopping malls (and shopping malls aren't expanding or new ones being built), that does not seem to be the case in Bangkok. Well into the first half of the 21st century, shopping malls continue to be built with the number of retail space still growing rapidly. Part of this has to do with a variety of factors, including the social experience of visiting malls is still very popular in Bangkok, the cost of online shipping is perhaps not as competitive as in countries where this form of shopping has taken off and with often very hot and humid conditions, malls are an escape to a much cooler temperature then found outside.
Shopping malls as with much of the other infrastructure in Bangkok constantly change retailers and department stores rotate brands almost faster than you can say Sawatdee Krap. As a result we often revisit some of the shopping areas listed below and provide updates to this section as necessary.
Note: the Siam and Center/Central word trend. A number of shopping centers in town contain the names Siam or Center or Central in their full name. This can cause confusion among shoppers especially in locating specific malls – further complicated when a number of Siam associated malls are all located fairly close to each other. Always make sure you have the correct mall name identified.
Note that Bangkok's major shopping region is located in the Ratchaprason District located along parts of Sukhumvit Road. An elevated Skytrain walkway services several of the malls in this part of town. Smaller malls in the city suburbs are referred to as Community Malls and generally do not see many tourists.
Many major malls have their own security and metal detectors that shoppers must walk through. Those with large bags may be required to open them to show the security guard. Also note that most of the malls listed below have their own "food courts". Unlike a number of Western malls which often feature fast food restaurants in their food courts – the Thai food courts feature a diversity of food options, most of which is not from established fast food restaurants. And furthermore, the food in these courts is generally of high quality available at reasonable prices. During holidays or other special events – often the malls will have interesting decor inside or other on site entertainment.
We have visited the following 50+ Bangkok shopping centers or malls over the years.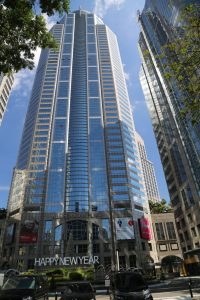 All Seasons Place is a prominent business center that is home to condominiums, offices, the Conrad Hotel and a three story shopping center – located on the lower floors of the tallest and most central building in this complex. All Seasons Place is located at 87 Wireless Road, Phatumwan – about a 10 minute walk from the closest skytrain stop of Ploen Chit.
This is a very clean part of Bangkok with less pedestrians then closer to the main shopping malls along Sukhumvit. A number of embassies are within close walking distance of this center. Shops here are not your most prominent name brands but offer a wide variety of items include gems, shoes, clothing and a few small restaurants.
An Asia Books branch is also located here (for your in English reading needs). For more information visit: www.allseasonsplace.net/en/shopping-center

Amarin Plaza is a five story mall best accessed from the Siam or Chitlom stops on the Skytrain. An elevated Skytrain walk connects you to this and several of the other nearby malls. This is a very eclectic mall (easily recognized on the outside by its distinctive white columns) containing a variety of mostly non name brand hops ranging from tailors, a rare book store, clothing, a food court and a yoga/Pilates studio.
A decent food court is located on the 4th floor – as with other mall food courts you need to pay for coupons at the coupon booth. S&P maintains a small eatery/drink bar just outside the food court. Features over 300 shops including a variety of Thai arts and souvenirs in the Thai Crafts Market located on the third floor. Visit: www.amarinplaza.com
Centerpoint of Siam Square is yet another Bangkok located shopping center with either the word Siam or the word Center or Central in its name. Surely we are not the only ones confused by all these similar sounding shopping center names! Center Point of Siam Square is easily accessible via the closest BTS Skytrain stop of Siam – via a walkway which brings you to the entrance at the second floor or from the ground floor.
A fairly small mall especially compared to the behemoths. Never been especially crowded during our visits. On the lower floor two buildings are connected and a covered walkway space features a number of small portable vendors. Caters to mostly young Thai shoppers (especially teenagers) with its mix of beauty, fashion and lifestyle shops. The theme of this mall tends to be the color pink.
During our visits the lower floors seem to be the most popular (the upper floors don't seem to contain many shops).
Also home to one of the branches of the Center Point Massage & Spa and a number of speciality small restaurants. Always a sea of motorbikes parked outside on the side street.
Central Chidlom focuses on mid level products rather than budget or luxury shopping. Not to be confused with the much newer Central Embassy. As far as Bangkok shopping centers/stores goes, this one is ancient – having first opened in 1973. Great selection of more affordably priced clothing than some of the more name brand nearby malls. Features a very good food hall (called the Food Loft) with both Thai and International cuisine – where you can watch chefs cook. Live music is often located in the Food Loft on Saturday evenings (7th floor, the top floor).
Skytrain stop: Phloen Chit (there is an entrance directly from the raised skytrain so you do not need to walk down to the street level). Over the years we have purchased a number of quality yet fairly affordable clothes here. Like nearby malls their primary hours are from 10am until 10pm – although during the end of the year holiday season they may stay open later.
Central Embassy is a massive shopping center easily access from the closest Skytrain stop, Ploen Chit. There is a walkway directly connecting this shopping center with the skytrain, so you do no need to walk down the skytrain steps to the street level. Like other major malls in the area, they are open from 10am until 10pm daily.
The building itself is architecturally pleasing with its matte (sometimes gleaming) metallic exterior. The building is 37 stories of which 8 stories are dedicated to the retail shops. The Hyatt takes up the upper stories in this building. The inside is just as sleek looking as the outside, with its modern appeal. Approximately 150 high end shops are located inside as well as some specialty markets and dining options.
Central Festival EastVille is a massive shopping mall with both interior (multiple floors) and exterior shops. One can literally spend all day here and barely scratch the surface. This mall features more then 200 shops and 100 restaurants with numerous entrances including spaces for taxi pickup and drop off and waiting areas for Grab.
Located in the Lat Phrao part of Bangkok the closest metro stop is Lat Phrao about a 15-20 minute drive to the mall. Besides all the shopping and eating a couple of other highlights are running track on the roof called Sky Run, a Cineplex, a tall bright yellow giraffe and a children's play area with a climbing tower. Remarkably (as we rarely see this) is a separate children bathroom.
The restaurants and cafes in the Bar & Bistro part of the mall stay open until midnight.
Central Plaza Bangna is located less then 10 minutes driving from the Bang Na Skytrain stop on the Sukhumvit Line. Unlike some of Bangkok's more centrally located malls which often serve International tourists, this mall tends to be mostly for locals who live and work in the area. This is a very large mall spread out over multiple floors (110,000 square feet). This mall opened in 1993 and underwent an extensive renovation in 2001 and then in 2011. The inside is very clean and contemporary looking. Like other malls, escalators go between each level – but roughly in the center of this mall is a 'green' staircase which connects each floor – and is a popular spot for mall visitors to sit down and relax on the steps.
Central Plaza Bangna has 6 floors as well as 2 basement floors. Some of the larger spaces here include Central Department Store and a Major Cineplex. Like other prominent malls in Bangkok, features a large food court. A unique offering of this particular mall is the Pororo Aquapark Bangkok, located on the 6th floor (the rooftop). Includes a river, water slides (open and covered) and a number of pools (including one which features a swim up bar). Items can be rented including a locker, life jacket towels and inner tubes. Named after Pororo, a cute penguin cartoon created in South Korea.
Owned and operated by Central Pattana, a group that owns a number of malls in Bangkok. For more information, visit: www.centralplaza.co.th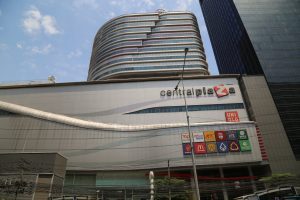 CentralPlaza Grand Rama IX is a large mall (nearly 85,000 square meters of retail space) located next to the Phra Ram 9 metro stop (one can exit the metro and be directly in front of this mall) or for better ease of access just enter the mall from the metro via the basement level. Features a basement floor, ground floor and 9 additional stories. This mall contains approximately 300 shops.
Like other Bangkok malls of this size, it is a one stop shop ranging from electronics to fashion to furniture to food. Floors are dedicated to certain products; for example the first three floors are dedicated to both men and women's fashion. Several day spas are located on the upper floors – continuing higher, one finds all the restaurants on the 6th and part of the 7th floor – with a focus on Japanese cuisine.
In the mood to do more then just shop? Check out the 11-screen SFX Cineplex or the Olympic-sized ice-skating rink.
An updated review coming soon. Visit: www.centralplaza.co.th
Central World formerly known as The World Trade Center is located in Bangkok's major shopping hub – just down the street from Siam Paragon & MBK. It is a shopping experience halfway between MBK and Siam Paragon (both listed below). By this we mean it is upscale, but not as much as Siam Paragon but its shops are more upscale than MBK which appeals to mass crowds. This major shopping complex is one of the largest in all of SE Asia, and currently the largest in Bangkok – it underwent a major renovation in 2006. One side of the mall was severely damaged in 2010 when protesters set fire to it. It is even larger than the newer Siam Paragon shopping center near the MBK mall.
This complex is an absolute "zoo" during holidays – the front of the complex is a great place to watch the fireworks on New Year's Eve as well as listen to live music (sometimes by well-known Thai performers), & enjoy the beer gardens! Neat decorations grace the inside of the tall main section during specific holidays. In other words, it is a great place for crowds!
On the whole, Central World Plaza has a reputation for being significnatly more upscale than MBK. As a result, the prices here are generally higher than you will find at nearby MBK, but the quality of the items are typically higher.
Looking for a higher end alternative to the tourist, souvenir filled Paco MBK? A number of art and higher end shops featuring Thai products are scattered among the various floors and are a refreshing alternative to the nearby MBK souvenir shopping experience.
Part of central world is The Groove, a lifestyle space focusing on hip stores (mostly art and fashion) along with numerous restaurants. Also sometimes used for concerts and other events on the lower level semi enclosed space.
The upper floor features an impressive and dizzying array of food and is well worth visiting for the restaurants, fresh produce and a major supermarket featuring many International items.
An ice skating arena is open on the lower level – this is a nice place to sit down and escape the heat and humidity of the outdoors all the while listening to music and watching people circle the rink.
For more information about Central World visit: www.centralworld.co.th and view photos below:
The Groove

Century, The Movie Plaza 2 Sukhumvit is located within a very short walk of the On Nut BTS skytrain stop. As of 2018 this is the newest shiny mall under Century, The Movie Plaza brand. The original and somewhat dated one now, is Century Movie Plaza near Victory Monument. Nice to see all the construction finally finished – as we walked by here many times while the mall was being built.
Clean and features a number of stores inside its multi story exterior including the always present in Thai shopping malls – fast food franchises (in this case a McDonalds).
As the name indicates, they are known for their movie theatres – like other malls in town, combining both a movie and shopping experience for visitors. Because this mall is not located in the core mall shopping area of town – tends to be less tourists shopping here.
Site entirely in Thai – visit: www.centurythemovieplaza.com
Century, The Movie Plaza Victory Monument is located within a short walk to Victory Monument BTS Skytrain station (use exit number 2 from the skytrain). Somewhat dated, this mall is typically frequented by locals including students who live, work or go to school in this part of town. Features over 50,000 square feet of space spread out over 8 story's. What is also nice is 550 parking spots are on site for mall patrons. Opened in 2005.
Features a food court on the basement level (with fairly reasonable prices compared to at some of the newer and fancier malls in town) and a few other restaurants scattered through the floors – also a night market outside.
As the name indicates known for their movie theatres – like other malls in town, combining both a movie and shopping experience for visitors (8 screens in the movie theatre).
Site entirely in Thai – visit: www.centurythemovieplaza.com
Chamchuri Square is located at 319 Phaya Thai Road, with the closest public transportation stop, the Sam Yan metro stop located directly in front of the entrance to the shopping center (and directly connected to the shopping center). Chamchuri Square is a bit unique in that it is owned by Chulalongkorn University. It features an office tower, residential building and the shopping plaza.
As you enter the shopping plaza look for the digital directory – it is touch screen which makes locating various businesses quite easy. All shopping centers should have touch screen directories!
Features four stories of shopping, numerous retail shops, multiple bookstores including one from the university, several phone shops and many restaurants.
DONKI Mall Thonglor. This Japanese themed mall with numerous Japanese shops and restaurants is located about a 20 minute walk from the Ekkami BTS Station near the corner of Sukhumvit 63 and Soi 5 Ekkamai (Address: Soi Thonglor 10). Opened in 2019, this was Bangkok's newest mall for … oh lets say about one day. One can't miss the giant but cute Donki statue standing near the entrance. A number of Japanese free publications including magazines are available for visitors at the entrance to the second floor.
Spanning 6 stories, access is from Soi 5 Ekkami via escalators connecting each level. The centerpiece store of this mall is the Don Don Donki outlet (open 24/7) mimicking an eclectic assortment of products sold at the Japanese based Don Quixote stores. As of our latest update to our notes, this is the only Don Don Donki store in Thailand – there are several stores in other parts of Asia and in Hawaii and in California (mostly in the Los Angeles area).
The top floor features the D Sports stadium – admission is charged for a variety of indoor sports entertainment offerings including a batting machine, badminton and tennis courts. Setup for non professional athletes. Admission is charged in 60 or 30 minute increments and is open to the public. Visit: www.donkimallthonglor.com
Eight Thonglor Lifestyle Mall is a boutique and luxury shopping mall (along with premium residences) along one of the trendiest parts of Thong Lor – located only about a 10 minute walk from the closest Skytrain stop, Thong Lor. Located at Thong Lor soi 8, Sukhumvit 55. Features more then 40 shops including restaurants and a premiere wine shop, Wine Connection. Also hi-so fashion shops and some interior decor products.
The restaurants are mostly located on the ground floor including the most visible restaurant from the exterior, El Gaucho, an Argentina steakhouse (with multiple branches in Thailand and beyond). Also plenty of indoor private parking on site.
Also worth exploring is the large supermarket on the lower floor. For lifestyle enthusiasts, this is certainly a mall worth exploring for some of the unique shops and unique products. One of Bangkok's most hidden bars, 008 is located on the 11th floor of the adjoining residential tower. No signage whatsoever even when you exit the elevator on the 11th floor.
Eight Thonglor is not nearly as well known as some of Bangkok's other shopping centers but worth seeking out, especially if you find yourself in this part of town. Visit: www.8thonglor.com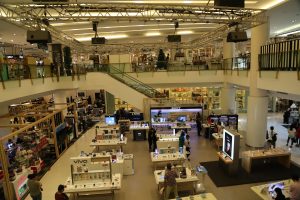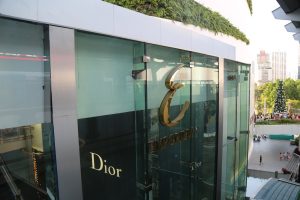 Emporium is located directly next to the Thong Lo Skytrain stop across from the EMQuartier shopping center. Because of both shopping centers proximity to each other – it is easy to visit each shopping center with a stop here.
This shopping center features upscale shops as well as a significant gourmet market and small adjoining restaurants. The focus of the food court here is not on Thai food but rather other Asian foods. Skytrain Stop: Thong Lo Visit: www.theemdistrict.com

EMQuartier is located directly next to the Thong Lo BTS skytrain stop and focuses on name brand luxury shops. This massive shopping center includes the main shopping center (12 stories) and a separate Imax theatre called the CineArt located in an adjacent building to the main shopping complex.
The food court in the shopping building is located on the bottom floor – and features a diversity of cuisine including Thai and Japanese foods rather than only Thai focused items; also several dessert shops and drink stalls. Visitors to to food court will purchase a food card – giving the attendant the amount of money you anticipate spending on food. This amount will then be added to the card; when you leave simply present the card and any remaining money not used will be refunded to you. Also one level above the food court and near the escalators leading down to the food court is the Gourmet Market a large space featuring a wide variety of both local but also international food products.
Other highlights of EmQuartier include the Quartier Waterfall – a man made waterfall that cascades 40 meters down the side of the building – visitors will be treated to its sound and its mist. The Qurator is a designer space showcasing Thai fashion, the Q Stadium features 6,000 square meters of sports related apparel including footwear, the Another Story – a design space and the indoor 3,000 square meter Helix Garden with its diversity of tropical plants.
During holidays the area near the entrance to the EMQuartier shopping building often features displays and attractions and plenty of people milling about taking photos.
Skytrain Stop: Thong Lo Visit: www.theemdistrict.com
Erawan Bangkok a small luxury mall (compared to some of the nearby malls) and is connected via an elevated Skytrain bridge from either the Siam or Chitlom Sktytrain stops. It is also connected to the nearby Amarin Plaza via another elevated walkway. This mall focuses on a few shops containing Fashion & Accessories with a Wellness & Beauty Center and an Urban Kitchen. For more information visit: www.erawanbangkok.com
Esplanade Shopping Center is located directly next to the new Rod Fai Night Market. This is a seven story mall located directly above the Cultural Centre Metro (MRT) station. Come here in the evening for the indoor shopping and diversity of attractions and then pop on over to the next door night market for more shopping and eating.
The inside contained an ice skating rink (closed as of 2019), a 26-lane bowling alley, a 12-screen theatre, a 1,500 seat theatre for various musical performances (Ratchadalai Theatre) and the intruiging 3-D Art Museum. At over 100,000 square meters, not to big and not to small – really the perfect sized mall. The interior was designed by the same designer who was responsible for the work on the Emporium and Siam Paragon malls.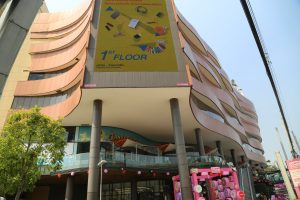 Gateway Ekkamai is a sizable shopping and entertainment center located directly next to the Ekkamai BTS Station. In fact there is a walkway directly connecting the shopping center with the BTS station. Often in the afternoons, that walkway will be filled with various outdoor vendors selling a variety of products – all lined up on the edges of the walkway.
Decorated with a somewhat Japan feel (faux cherry trees, Japanese restaurants) this unique center features some 6+ levels of shopping and some interesting features. Highlights include an IT zone, the Food Street (plenty of small restaurants) and Snow Town (for those who have never experienced snow, come here and play in the white stuff produced from a machine or rent skis or sleds – great for young kids and those who have never been exposed to snow before). Also Kidzoona at Molly Fantasy on the 5th floor offers a number of bouncy things, slides and other play toys for young children.
Flight Enthusiasts take note of the Flight Experience – a rather expensive offering which allows visitor's to get behind the wheel of a flight simulator (various flight memorabilia are also sold here). Visit: www.facebook.com/gatewayekamai
Snowtown is Thailand's first and only snow themed park – conveniently located next to the Ekkamai BTS Skytrain stop it is on the 5th floor of the Ekkamai Gateway Shopping Center. Never to be mistaken for ski slopes in Switzerland (or in Dubai for that matter), this space provides what is often local children's first encounter with cold temperatures and 'snow'. Not really snow but it looks like snow – there is no powder here, rather the snow is more like hard tiny pieces of ice. Snow is scheduled to fall from the 'sky' several times a day including at 12:00 (11:00 on weekends), 3pm, 5pm and 8pm (try to time your visit around one of these times if possible).
Guests pay an admission based on their height – are checked in and given rubber 'snow boots' and socks if needed. Walk through the gift shop and pass the alpine 'warming' room with its centralized stove, photo of a polar bear on the wall and fake trees. Soon you will pass into winter – a cross between a European and Japanese alpine village with several Japanese restaurants and even an Onsen (a Japanese equivalent to saunas and spas found in cold countries around the world). Also complementing the snow are a number of always blooming trees.
The snow is hard to touch – although perhaps one can accumulate enough to create a small snowball to be used in a snowball fight. Skiing lessons can be taken – the snowfield even features a ski run, albeit very short and very low to the ground. A small snow hill is a popular stop for children (equipment can be rented to keep them happy including small skis, plastic sleds and plastic shovels should they want to try to build a snowman). We've seen people here skiing dressed in thick down jackets, scarves and gloves – in reality the temperature here is pleasant, cool but not frigid.
Fortune Town Mall is easily accessible via the Phra Ram 9 metro stop (this particular stop is basically directly outside of the mall). From the outside this mall looks enormous as it spans several city blocks – but the width is quite narrow and once inside, one will see its huge. Features an older feel to the interior with four stories of electronics, cell phone and computer related shops. Most of the IT part of the mall is located on the 3rd and 4th floors. Shopping for that hard to find electronics or computer accessory? There is a good chance some shop in this mall will carry it.
Not as well known with visitors and expats as compared to Pantip Plaza or MBK (both of which also feature plenty of electronic & accessories related shops). Popular with local gamers. Like shopping at other malls in town in which the focus is on electronics – interested buyers should always try to bargain the prices down.
The ground floor features a Tesco Lotus as well as plenty of restaurants – one side of the mall is anchored by the Hotel Grand Mercure Bangkok Fortune. Site is mostly in Thai, visit: www.fortunetown.co.th
Gaysorn Village (formerly Gaysorn Plaza) is best accessed from the Siam or Chitlom stops on the Skytrain. An elevated Skytrain walk connects you to this and several of the other malls. Gaysorn Village is a luxury mall located across from the huge Central World shopping area. A luxury condominium building with some shops on the lower level was more recently built next door to the shopping center.
This is the heart of shopping in Bangkok and is one of only a number of large malls in the area. Name brands such as Gucci, Armani, Porsche Design and much more. We have been known to frequent several of the high end sun-glass shops here! Also noteworthy for the well-regarded Paste restaurant (reservations typically required).
Very clean and fancy bathrooms as one would expect for a shopping center of this caliber. For more information visit: www.gaysornvillage.com
Hlong 1919 is located along the banks of the Chao Praya River; it is a very creative use of space. Located in what looks like a run down old warehouse (old storage facilities) this lifestyle space features a number of premium boutique shops including clothing, art & design shops and jewelry stores. Also a number of food options including a beer garden perched on the banks of the river. Opened to great fanfare in late 2017 with the red carpet rolled out for a number of Bangkok VIPs.
First time visitors should take selfies in front of the old painting on the wall at the main entrance. Then they should immediately head to the shrine of Mazu (over 160 years old) – which is arguably the most crowded part of Hlong 1919.
Parts of the buildings almost look like one of the California missions – the upstairs isn't always open but when it is, there are a number of well decorated rooms worth taking a glimpse at as well as ancient Chinese wall paintings protected behind glass.
One can arrive by taxi or car – the small soi that leads to the space is often congested with traffic (especially on busy weekends or afternoons). Hlong 1919 also maintains their own riverboat taxi which runs every 30 minutes between the pier at Saphin Taxin (next to the BTS Skytrain stop).
Rong Si Restaurant is wildly popular at times – we have always had to put our name on a wait list for the several times that we have eaten here. Excellent selection of drinks and delicious Thai food including various fish, spicy glass noodle salad and giant prawns. Delicious mango sticky rice. Pricey.
ICONSIAM, unlike most of the major shopping malls in Bangkok is located on the Thonburi side of the Chao Praya River (for those new to town, simply called 'the other side of the river'). Innovative and ground breaking in its size and location this mall brings another level of energy to this part of town. Due to its immense size and scope of the project, it was under construction for several years prior to its grand opening in November 2018. Nothing is small about this space; located on 750,000 square metres it provides a one stop lifestyle experience in which one can easily set aside a full day for a visit.
ICONSIAM is not only about shopping but also contains 2 large residential condominium buildings (the Magnolias Waterfront Residences and The Residences at Mandarin Oriental – part of the trend of premium hotels to be players in the condominium space). The shopping is separated into two complexes, ICONSIAM and ICONLUXE. Both buildings are very different in look from each other – ICONSIAM features a high rise shopping retail experience while ICONLUXE features a liberal use of glass and is spread out horizontally along the banks of the Chao Praya River. The 'golden walk' is located within ICONLUXE – a gleaming corridor featuring the planet's most well-known and highly visible (therefore available to a wide audience) luxury brands such as Bvlgari, Cartier, Dolce & Gabbana and Louis Vuitton among others.
Also contains separate Maserati and Porche dealerships with featured cars shown on site. And for high end yachting enthusiasts an Azimut Yacht dealership is also on site.
And the list continues. The ICONSIAM Heritage Museum contains a variety of exhibits focusing on Thailand history (opened in late summer 2019), an entertainment area includes an auditorium and a cineplex and an amazing diversity of food options to choose from spread throughout the lower level as well as some of the upper floors and on an outdoor terrace with excellent views of the Bangkok skyline and the Chao Praya River. Also features the very impressive faux indoor floating market (great for those who want a quick introduction to a floating market but aren't visiting on the weekend or want to make the trip out to some of the area's most well-known floating markets), a sports complex, an amusement park and a multimedia water-and-fire feature. Over 1.5 billion USD was needed for the construction.
Shuttle boats ferry passengers across the river and from the Saphin Taksin Skytrain stop – shuttle buses also run to several of the closest BTS stops. A massive parking garage accommodates cars backed up onto the street sometimes trying to park on site. Some of the more memorable bathrooms in Bangkok! For more information visit: www.iconsiam.com
Imperial World is located within a short walk of the Samrong Skytrain stop – via a raised walkway. Several malls of the same name under the same ownership are located in other parts of Bangkok. Unlike the major malls located in or around the Ratchaprason District, we have found the prices to be 1/3 or 1/2 cheaper then the same items as in these other malls (mostly clothing). Also Unlike a number of malls in Bangkok's primary shopping district that seem to attract large numbers of tourists, this mall caters mostly to locals.
And similar to the lower prices of goods compared to other more well-known malls in town, the food court also features more reasonable pricing. A street market generally opens at 530pm daily and is held on the street in front of Imperial World.
Index Living Mall is small in comparison to many of Bangkok's malls. Located about a 20 minute walk from the Thong Lo BTS station off of Soi Sukhumvit 63. The mall's flagship store is Index Living – furniture retailer with 30+ locations around Thailand. But that is not the only reason to come to this mall – several small food vendors are located upstairs on the second floor directly in front of the entrance to the furniture store. Some larger restaurants are scattered about on the first floor next to the open air parking lot. Also note a Big C Super Center is part of this complex. Open 11am until 9pm daily.
Lighthouse Mall is a tiny shopping mall best known for its glass endowed lighthouse looking building located next to the actual shopping center. The mall is located not far from the Saphan Taksin Skytrain stop (on the other side of the river via the King Taksin Bridge). Generally considered a 'community mall' it is not setup for tourists and during our several stops here and times we have walked by, we have never seen tourists here. Not far away from the massive IconSiam megashopping center – which is certainly setup for both tourists and locals.
Not many shops located here but is known for housing one of the Scoozi Pizzeria (a chain of restaurants in town) and a Tops Supermarket along with several other restaurants. Several stories centered around condominium buildings. There are decent views of the nearby urban landscape from the outside of the upper floors.
For more information visit their Facebook page (all in Thai): www.facebook.com/TheLightHouse.SinghaEstate
Marketplace Nanglinchee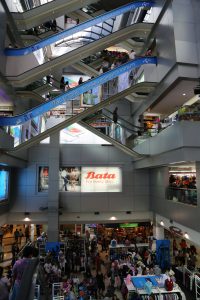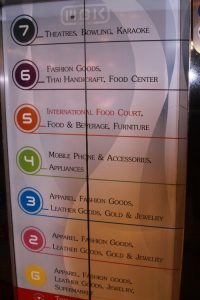 Mahboonkrong Center (MBK) is a very large modern shopping center in the heart of Bangkok. It is centrally located next to Siam Square and the National Stadium. There are many modern stores and restaurants located inside this covered shopping center. You can eat at Pizza Hut, Thai fast food restaurants as well as in the Thai food court (level 6) which serves authentic good tasting Thai food. To experience the most crowds possible visit MBK on a Saturday night! MBK closes around 9:30pm most nights.The food court is well worth visiting even though the western stereotype about food courts in malls doesn't exactly conjure up images of tasty food.
This stereotype is not justified for the MBK food court. Here you can sample authentic delicious Thai food from a variety of vendors. Some of the soups here are just as good if not better than what you will find from a typical street side vendor in Bangkok. If you like fruit shakes be sure to sample some in the food court. There are only one or two vendors that serve shakes, but you can mix and match and come up with an exotic array of fruit. Did I mention the prices for these are under a $1? Nice.
A more recently installed international cuisine section of MBK is located on the 5th floor. This is typically not nearly as crowded as the Thai food court but offers additional selection including western, Italian and Japanese food. The prices are much higher than the Thai food court. We've eaten here also several times and the food is excellent, even the Greek Restaurant! Unlike the coupons you buy at the Thai food court, you enter this food court and are given a plastic card. when you make a purchase the vendor scans the amount owed to this card and you present the card at checkout for payment. Live music sometimes plays here. Note there is "kids zone" and a pool table in the back of this food section.
There is one section of MBK – mostly on the 4th floor where there are what seems like hundreds of small cell phone vendors. Its always interesting to walk through here, especially if you are in the market for a cell phone. Scattered about are supposedly "illegal" DVD vendors. Lately they will only display empty cases of DVD movies – and if you buy one, they will tell you to come back in 20 or 30 minutes while they burn it for you. I'm not sure how this really evades the authorities who sometimes frequent MBK.
Some of the cheapest prices for good quality Thai crafts and handi-works in Bangkok are available on the 6th floor of MBK at Paco MBK. Paco MBK was recently expanded and now the number and variety of stores has greatly increased. It is ok to bargain here at some of the stores – the prices are not set in stone and you will be surprised how much lower you can purchase an item from its original list price. If you have the time and are interested in certain items, shop around to find out what the lowest price the vendors will give you.
A large movie theatre is located on the top floor. Usually only major American movies are played here (movies that are already at least 2-3 months old in the USA). A salute to the King is played after about 30 minutes of commercials before the movie. At this point it is appropriate to stand. Good high speed Internet access is also available on this floor – on the opposite side of the floor – across the "central open space" that extends up through all the levels in this big mall.
One experience I had in MBK that you should be aware of in case it happens to you anywhere is the following: I was approached by what appeared to be a mother and her child. She spoke passable English and started telling me a story, all the while speaking quite rapidly. Without mentioning all the details of her story, she told me she was robbed of all her money, her passport, credit cards and all of her other important documents. She was unable to contact her embassy to get a new passport and she needed money for a plane trip back home. After listening for 10 minutes she finally pleaded with me to give her money so that she could buy a plane ticket back home. Something about the way she and her daughter acted and looked tipped me off that this might have been a falsified story and that this was a situation of "fabricated begging". I'm not saying that this couldn't have been a real story, but I've heard about people doing this to tourists just to try and get money.
A good central meeting place at MBK is on the silver metal colored bridge connecting the Tokyu Department store and the National Stadium Skytrain stop. This is the "god" of all urban meeting places in BKK and its where Dave and friends usually gather before traveling somewhere else or diving into the bowels of MBK. Be sure to meet near the Tokyu entrance so that you gain full advantage of their great air conditioning spilling out of the open doors. Also pick up the MBK magazine usually available near this entrance – coupons, info and other discounts to MBK stores.
Note: often attendants at bathrooms at MBK charge 1baht regardless of sex, however the department store Tokyu has their own free bathroom (much nicer than then ones in MBK). A good phrase to learn right off the bat for Thai travel is "hong nam yoo tee nai" which means, Where is the bathroom? Usually pointing will suffice for getting you moving in the right direction and then you can repeat the phrase again if you do not find the bathroom right away. Unlike other Thai phrases which are dependent on the tone of voice you use, in the author's experience this phrase is readily understood by most Thai people. For more information about MBK visit their informative website: www.mbk-center.co.th

Mega Bangna Mall – one word, wow appropriately describes the sheer size of this sprawling shopping 'campus'. Over 375,000 square feet containing more then 400 shops. And plenty of parking, over 8,000 free parking spaces. The closest Skytrain stop is Udomsak – a nearby shuttle bus service offers complimentary rides to the mall. Alternatively one can take a taxi from this Skytrain stop (allow about 10-15 mins with normal traffic). Located about 1/2 way between Suvarnabhumi Airport and the center of town.
Other highlights of Mega Bangna include an ice skating arena, a cineplex (movie theatre), a 24-lane bowling alley and a sizable children's play area. Also worth exploring is the huge Mega Plaza Food Walk, containing three levels of restaurants surrounding a sunken garden type space. And like other sizable Bangok Malls, Mega Bangna also features a large food court.
Prominent anchor stores on site include Ikea, Big C Extra, Home Pro and Robinson. The primary mall is only 2 floors but because of its overall size, is one of those 'shop till you drop' malls and one can easily spend half a day here or more. And if you have a few hours between flights one can also visit this mall from Suvarnabhumi Airport (with no traffic about a 20 minute one way taxi ride). Visit: www.mega-bangna.com
Palladium World Shopping is a large shopping center located at the edge of Bangkok's most visited and well-known shopping district, Ratchaprasong. Located at 555 Ratchaprarop Road on one side of the very busy Phetchaburi Road and Ratchaprarop intersection (that pedestrians aren't allowed to cross), one has to cross down the street at one of the pedestrian bridges. Formerly known as the Pratunam Centre – this mall underwent some renovations and re branding.
Somewhat similar in layout to its shopping mall neighbor Platinum Fashion Mall (although not as tightly packed with shops therefore more space for shoppers), the interior of Palladium contains a dizzying array of small shops (over 800 shops) selling everything from very cheap clothes various food products to cheap electronics to plenty of Thai style souvenirs. Jewelry enthusiasts looking for some bargains on silver should consider visiting the basement floor for a variety of designs.
Of note is the second floor. Offering some of the cheapest massages in town, this floor is full of massage businesses. The employees don't take a laid back approach either – with signs advertising their low prices they often approach visitors prominently showing their signs and asking if you want a massage. Of a lesser note and perhaps not as important to visitors are the men's bathroom faucets on the lower floor – with water pressure approaching jet engine type speeds.
Sometimes special events will be held on the ground floor – during one visit we spotted a fruit and healthy foods event. At night a number of vendors locate stalls on the streets in and in front of the Palladium.
Certainly one of the main draws of this shopping mall are the prices – compared to other shopping malls in the Ratchaprasong District, this is one of the cheaper malls. Also long hours from early morning often until midnight. Located about a 20-30 minute walk from the closest BTS skytrain stop, Chit Lom.
Pantip Plaza is usually extremely crowded and is located on Petchburi Road just down the street from the Embassy of Indonesia and the First House (not to be confused with The First House Hotel). If you are taking the Sky Train get off at the Ratchathewi Station on the Sukhumvit Line. This center is 5 stories full of computer vendors selling everything from computers, computer components, DVD's, VCD's and other computer hardware.
A word of caution: Be sure you know what you are really purchasing before you actually purchase it here. For example some DVD's will not work on in certain computers. In the past, Thai Prime Ministers have cracked down on vendors selling illegal copies of movies, and software – so you may not find these sold here anymore. However when there is such a demand for such items its hard to squelch the flow. You can find many of these illegal items still for sale in the Pat Pong area near all of the strip clubs. I'm sure these items are also for sale in many other areas of Bangkok. Pantip Plaza just happened to be the most well known area for these items.
Also you may run into individuals offering drugs to the "farang" (Thai word for foreigners) in the back of the center on several of the upper floors. They were harmless – all you had to do was so "no" or in Thai, "mai ow." At last check there was only one Internet Cafe in this center – located on the second floor. Internet access was about 30 baht per 1/2 hour.
The Computer Center is also located just down the street from Pantip Plaza and also sells computers and computer accessories.
Paseo Mall – far from the center of Bangkok's mall shopping is Paseo Mall – only about 10 minutes from Suvarnabhumi Airport this mall is located on the busy Latkrabang Road (318 LatKrabang) – often about a 30 minute drive from the closest BT Skytrain station, On Nut. Several hotels are within a very short walk including the Ivory Hotel (which we often stay at when needing to catch a flight the next day from Suvarnabhumi).
A smallish to medium sized shopping mall, it features two floors of shops containing a number of known chain stores as well as more local stores – with a number of women's fashion stores. During the evening a night market is setup outside the mall and in the inner open air courtyard (with several temporary clothing shops). A number of permanent mini stalls are also located outside the mall including several nail and pedicure shops. Our favorite Thai food restaurant in the mall is located right next door to Boots Pharmacy at the main entrance as you walk in from Latkrabang Road. Also for some drinking fun, check out the drink-mobile which is always parked outside the mall in the evenings next to several of the temporary food stalls.
Because of it's location outside of the 'tourist' part of Bangkok the mall doesn't cater directly to tourists – although you will see plenty of western travelers here (often young families). Open 10am until 10pm daily. Bangkok secondary level shopping centers rarely maintain working websites for very long – but in case their website is still up, the URL is: www.thepaseobytbn.com

Platinum Fashion Mall is located near Pantip Plaza at 542/21-22 Petchburi Road. 6 levels of shops (including the basement), a massive food court that seats 1,500 people and a sizable parking garage makes this one-stop shopping experience. Compared to other major malls (Siam Paragon, MBK as examples which strongly appeal to western visitors), this center appeals to mostly Thais, select International Asian visitors and those from India. The mall is spread out over two buildings (connected via a raised walkway from the second level) but the majority of the shops are in the main building. Over 1500 small shops are located here selling both wholesale and retail. Most of the shops are clothing related but there are some souvenir shops towards the upper levels.
The shops are really packed tightly here and at times it can be difficult to negotiate the aisles based on the large number of shoppers.
The food court on the 6th floor is rather extensive and fairly well priced. As with other area malls you first have to purchase coupons as each of the food vendors do not accept money directly. Platinum is also quite centrally located. Getting off at the Ratchathewi Station on the Sukhumvit Line of the Skytrain will get you within walking distance of this mall. Note that if you are with a shopaholic and you are not into shopping there are not many places to sit down in this mall – sometimes you can find some seating near the escalators on each level. Phone 02-656-5999 Visit: www.platinumfashionmall.com
River City Bangkok is located along the banks of the Chayo Praya River (coming from the river, get off at Si Phraya Pier). The several numbered piers in front of the shopping center are the home to several dinner cruise ship companies. This shopping center contains a number of art stores – with some 60% of the tenants focusing on art and antiques.
Gleaming golden in the setting rays of the falling sun over the Chayo Praya River this shopping temple to arts and culture is certainly noticeable from the outside. Equally as impressive inside is the modern look and feel complemented by all of the art galleries. Features multiple levels of shopping. Dining can and should also be part of the experience of visiting; several restaurants and cafes located outside along the river walk serve a diversity of food. Also there is rooftop dining with excellent views of the river – both are happening places to be in the late afternoon and evening. See and be seen here for ultimate satisfaction.
The well regarded Co van Kessel Bangkok Tours is located on the back side of the shopping center (away from the river). well known for offering local bike tours.
A prestigious art and antiques auction is held once a month on site; for more information about the shopping center, visit: www.rivercitybangkok.com Plenty of parking on site in a multistory adjacent parking garage.
Riverside Plaza is a fairly new shopping center (opened in 2015) located near the Rama III Bridge, just down and across the river from Asiatique. The closest BTS Skytrain stop is Talat Phlu (a short taxi or motorbike ride from this Skytrain stop). The plaza is home to three levels of shopping and two luxury brand hotels, the Anantara Bangkok Riverside Resort & Spa and AVANI Bangkok Riverside. The shopping center is well laid out, clean and modern. Note the KIds Zone is located on the 3rd floor.
After you've done a bit of shopping head up to the rooftop bar and lounge on top of the AVANI. Great views of the Chao Praya River and Bangkok spread out along both her shores. Can be a bit breezier/slightly cooler then below to the height of the building.
For more information visit: www.riverside-plaza.com
Samyan Mitrtown Plaza. Entering directly from the Sam Yan metro station is perhaps the most intriguing access to a mall in all of Bangkok. Exit number 2 connects one directly to this mall through a long primarily concrete tunnel reminiscent of some 'cold waresque' scene from the 1960s. This is popular space for selfies and other photography.
This multi-use 6-story mall opened in late 2019. Features lots of small restaurants – reminding one of a food court but without any cash card system – customers pay directly to each of the food stalls. Unlike most malls in Bangkok this one has a 24/7 open section covering parts of four floors with both a work-space and food stalls. Big C is generally known as an all purpose super market – the Big C here is the Big C Foodplace which focuses on food rather then a variety of products.
This takes the mall concept in a new direction – it caters to both tourists and residents for a variety of reasons – shopping being only a part of the experience. Called the Urban Life Library – there are three primary sections to the mall space: the eating library, the learning library and the living library. Also a 1,500 square rooftop garden. Part residential, part play, part work and part education this is truly revolutionary among Bangkok malls.
To download the Mitrtown app for additional access to the plaza and for more information, visit: www.samyan-mitrtown.com
Seacon Bangkae. This giant mall is located right next to the MRT Phasi Charoen station. An elevated walkway from the station connects to the second floor of the mall. Features 5 floors of shopping including like almost all Bangkok malls, plenty of food. Some of the larger tenants are the Four Seasons Fashion store, Tops Market and Robinson. A large space on the ground floor is often used for special events, especially on the weekends. We visited one year during Children's Day in January and this place was absolutely mobbed with people.
Originally called Future Park Bang Khae, the name changed when the majority ownership changed back in 2010. Built on 16 acres of land, there is plenty of free parking – featuring over 4,000 parking spaces. Over 300 stores among some 1,400,000 square feet of retail space. Also check out YoYo Land, the indoor theme park – especially popular with families. For more information, visit: www.seaconbangkae.com
Seacon Square is a massive shopping center (one of South East Asia's largest) that encompasses over 180,000 square meters over seven levels – it includes more then 400 shops (both name brand as well as less-knowns stores) as well as entertainment options. Lots of IT shops (think Pantip Plaza – with computers and accessories galore) and an indoor amusement park. Also a mini-golf course, and a 14-theatre cinema. Not located in central Bangkok but rather closer to Suvarnabhumi Airport.
Plenty of clothing and fashion options as well. The 4th floor is a dedicated food court. Around 2 million visitors come here annually. Visit: www.seaconsquare.com
Show DC. This mega mall opened in late 2016. Located about a 10-15 minute taxi ride from the MRT Phetchaburi station. Visitors to the mall can hop on a free shuttle which operates from MRT Phetchaburi (Exit 1) which runs every 15-30 minutes during normal business hours. Much more then just a shopping experience this massive five story mall and complex features a 5,000-capacity concert hall, an outdoor sports arena located directly across from one side of the mall (one of Bangkok's largest such arenas) and a large cultural facility. And those looking to party at a shopping mall can do so at the rooftop club on the 6th floor (mostly focusing on Korean music). And other parts of the mall are Korean themed.
Even after the mall had been open several years, there were still numerous empty store spaces – especially on the upper floors.
A tourist lounge offers a prayer room, a space to relax with a library and phone charging outlets so that one doesn't 'shop until they drop', lockers for luggage storage and a first that we have never seen at any mall before, shower rooms. Also parking is free on site and free WiFi is available for guests
The fifth floor features a nice food court called Food Street – smaller than the more well-known courts in town (IE MBK, Terminal 21) but also generally much less crowded. Over 200 different Thai dishes are available – like other food courts, visitors must exchange cash for a food card which is then presented to any of the vendors and the prices is electronically deducted from the balance on the card. Visit: www.showdc.co.th
Siam Center is one of the oldest shopping centers in Bangkok (originally built in 1973) although it has gone through several iterations over its history including recovering from a fire in 1995 and re-branding and re-launching in 2013. Today the center contains over 200 shops including both local and International brands. Located next to the iconic Siam Paragon and only a short walk from the closest BTS Skytrain Station (Siam). In fact a covered walkway connects the two shopping centers.
Despite it's age the visit here feels modern, young, urban and contemporary. Very clean inside and well presented. Not a huge mall size wise – it only encompasses a few floors – and seems at times dwarfed by the surrounding infrastructure outside (most of which is much more modern).
Visitors are greeted with fountains near the main entrance and Thailand's largest Terminal 21 store once you are inside. You might be overwhelmed with the selection of stores here – most of which focuses on lifestyle and culture related products). Often appeals to younger shoppers.
Plenty of clothing and shoe options available – those interested in the latest fashions should head up to the 3rd floor which features a variety of products from Thai designers. Like most malls in Bangkok, there is the obligatory food court. This one is located on the top floor and features plenty of affordably priced culinary options (focusing on International cuisine including some global franchises). A nice touch that separates this food court from other area ones – are the green walls made of living plants.
Open 10am until 10pm daily. For more information visit: www.siamcenter.co.th (website is in Thai).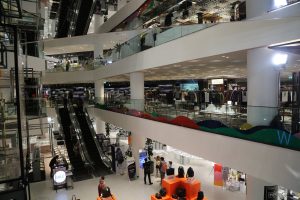 Siam Discovery Center (not to be confused with the next door Siam Center) is yet another mall with the word Siam in it's name – contributing to the confusion tourists have when they are in this part of town in deciding which Siam Shopping Center to visit. In any case, this mall is very well laid out (underwent a fairly extensive renovation in 2016). Features 7 floors of stores including a Virgin Fitness Center (membership required) and the Madame Tussauds Bangkok Museum – both located on the 7th floor.
Floors in this mall are based on themes and are called labs – for example the ground floor is the Her Lab, the M floor is the His Lab, floor 1 is the street lab, floor 2 is the digital lab, floor 3 is the creative lab, floor 4 is the play lab and floor 5 is the retail and innovation lab. As one ascends the 'labs' one feels less like in a shopping mall but more like being in a freer space where items for sale are presented without the confines of a normal store in a shopping mall.
The products here are very much lifestyle driven and in many cases quite unique. Great place to stop and browse for coming up with various interior decorations for your home.
Unlike a number of nearby malls, food is a not a strong focus here – but with that stated, there are several restaurants and snack shops.
Madame Tussauds Bangkok. This is not the normal location when you think of wax museums but it is Bangkok and there are some unusual and interesting attractions located in shopping centers (think Snow Town Bangkok at Gateway Ekkamai and Sea Life Bangkok Ocean World – an aquarium in the basement of Siam Paragon, just to name a few). With a storied history dating back some 250+ years – this Madame Tussauds is Asia's 4th location.
Numerous personalities who have strongly influenced culture and media over the past 100 or so years are represented. Unlike other Madame Tussauds around the world, this one features several wax sculptures of former Thai royalty. Like other wax museums we have visited – it can be a bit discomforting as you walk among the sculptures – especially if it is not to crowded – constantly thinking you are being watched.
At times you want to walk up to Nicholas Cage, or Madonna, or the Dali Lama. When you do so, you shyly ask them how they are doing and what they are doing in Bangkok. But you are always greeted with silence. Exhibits are broken down into those who have made valuable contributions to the music world, arts, politics and sports among other fields. The always popular international icon, Yao Ming towers over those of normal height.
During our visit we were provided with several coupons – one for a free drink and snack at the gift shop and one where you can have a wax model made of your hand. Visit: www.madametussauds.com/bangkok/en
For more information about this shopping center (site is in English), visit: www.siamdiscovery.co.th
Siam Paragon – is one of South East Asia's largest shopping malls. It is a major shopping center focusing on current fashions and latest name brands – it is a sophisticated shopping center which opened in late 2005. Billed as Thailand's only "Mega Shopping Complex" when you visit this massive mall you will quickly see why. International well-known shops, dining areas, Theatres, a gourmet market, Royal Paragon Hall, and SEA LIFE Bangkok Ocean World are contained under one roof. This complex also boasts Thailand's largest screen theatre in the entire country.
The quality of shops inside set the bar high. Sometimes you will see lines out the door for people desperately waiting to get into stores such as Louis Vutton and Chanel (both located almost across from each other). During one visit, part of the mall was closed to the public because a member of the Royal Family was shopping.
Royal Paragon Hall is a gigantic exhibition and convention center – www.royalparagonhall.com
Often well-known chefs will be at Siam Paragon on the weekends offering classes and cooking tips. Be sure to check out the Gourmet Market and Food Hall on the Ground Floor (this floor is officially known as Gourmet Paradise). Always crowded, always a sensory overload with smells and culinary sights. Choose carefully, you only have on stomach. Plenty of seating for patrons – although around lunch and dinner time and really most other times, very crowded with dining patrons.
Also note there is a Tourist Lounge near the parking lot – one can hang out waiting for your uber or taxi driver here and take some time to reflect on all the shopping bags you aquired after a successful run through this mall. Also take a load off after carrying these said bags around for the past several hours – rest up and take advantage of the concierge service provided to shoppers. Also due to all the glass walls in this lounge, it is a great place to see and be seen.
The closest Skytrain stop is the busy Siam stop (about a 5 minute walk). For more information visit www.siamparagon.co.th
SEA LIFE Bangkok Ocean World is located in the basement of this mall. A raised Skytrain pedestrian walkway connects you to Siam Paragon from either of the closest Skytrain stops (the walk from the Chitlom stop may be a few minutes shorter than from Siam). Once inside the mall proceed down the escalator or elevator to the basement and head to the ticket counter.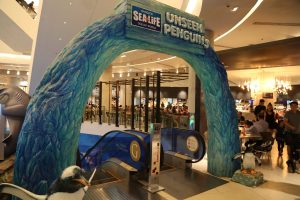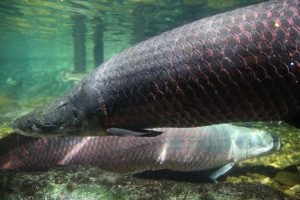 A 4d movie experience plays every 30 minutes and is included with the cost of the general admission. You wear special dark glasses to maximize the effect – mist, air, seat movement and other special effects are part of this movie experience. This is a great show for all ages.
Ocean World contains a plethora of marine exhibits which include creatures from all the world's oceans. Each exhibit is organized by type of marine life. The highlight is a glass tunnel in which you are surrounded by water on all sides except the floor. Additional highlights include common household appliances which are filled with water containing fish – and even a car is full of water with fish swimming inside! Ask about the "Walk with the Sharks" experience.
For an extra fee you can go on the glass bottom boat which involves the guide pulling on a wire so that your boat moves around a large tank. Several sharks, sting rays and other fish tend to follow the boat hoping for a handout. Total time in the boat is about 10 minutes. For more information visit: www.sealifebangkok.com
Siam Square One opened in 2014 and features a number of shops and restaurants including one of the popular Somboon Seafood restaurants (well hidden on the back of the 4th floor – although probably our least favorite of the Somboon Seafood branches in town). The layout of this shopping center isn't as friendly as some of the other major centers in town and it has been slow to attract shoppers compared to when other major malls opened.
The center features six floors, four of which are named after the seasons of the year. A Starbucks is conveniently located close and on the same level as the skytrain. The closest BTS Station is Siam – there is a connecting walkway from this stop to the shops – or you can enter from the street level. It seems like it is always crowded in the vicinity of this mall, both on the street and in and around the Siam Square skytrain stop.
Silom Complex . In complete contrast to Sukhumvit Road near the core part of Bangkok, where there are numerous shopping centers, Silom Road only has one major shopping center – this one. Built in 1993 the shopping center has since been remodeled – feels very modern. Located next to the Sala Daeng Skytrain stop with a connecting walkway on the Silom Line and within a short walk to Bangkok's famous Lumpini Park. This is a very busy section of Silom with both pedestrians and vehicles.
Features 6 floors (including the basement) containing a diversity of shops including fashion, food, jewelry and home decor among others. Central Department store is the primary tenant within this mall along with other large shops including op Marketplace and B2S. Like in other Bangkok malls, the ground floor features a food court – not a huge one but with plenty of culinary options. And some food places are scattered about on the other floors including the 4th floor.
Driving to this mall? The indoor parking garage offers some 1,300 parking spaces. Open daily from 1030am until 9pm. Visit: www.silomcomplex.net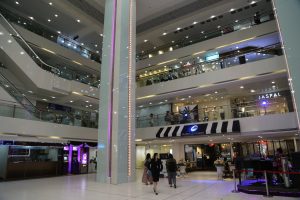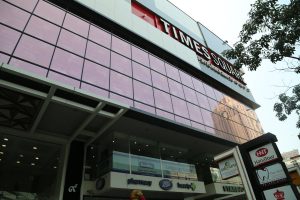 Times Square Office Tower is conveniently located on Sukhumivt between Soi 12 and the Asok BTS Station next to the Sheraton Grande Sukhumvit. A walkway from the station conveniently connects to this shopping center. Features four levels of shopping. Also a number of language schools here.
The Boots Pharmacy on site is quite popular. Features a few shops and restaurants – not nearly as visited as one of the more modern malls in the area.

Terminal 21 is located along Sukhumvit (across from the Asoke Skytrain stop – Sukhumvit 19) and is one of Bangkok's newer and certainly premium shopping and fashion destinations. With more than 600 shops to choose from even the most hard-core shoppers will find something intriguing here! Each floor is modeled after a major city on the globe including Rome, Paris, Tokyo, London, Istanbul, San Francisco and Hollywood.
Hey, with all the International competition, California is actually represented two times – not a bad showing! The San Francisco floor has all the restaurants and the Hollywood floor – of course contains a movie theater. Exit number one at Skytrain stop Asoke on the Sukhumvit line. There is a walkwalk directly from the Skytrain into this shopping center. Two escalators lead to upper floors from the ground floor – take the very long one for quickest access up to the food court.
And food lovers take note, the food court is one of the best in all of the malls in Bangkok – like other area mall food courts you exchange money for coupons and then give the coupons as payment. There is a huge diversity of Thai as well as international cuisines available here. Also worth visiting is the gourmet market on the level above the food court and if you are into wine, check out the wine shop near the market with its fine international selection of wines. Visit: www.terminal21.co.th
Terminal 21 Rama 3
This Terminal 21 opened in late 2022; it is located directly on the shores of the Chao Praya River. It is not serviced by the Skytrain or Bangkok Metro but rather, the Bangkok Rapid Transit (bus) which connects to the Skytrain. It is easily identifiable by its tall clock tower next to the main entrance.
This modern and sizable mall is built with a food court on the lower floor (rather than malls in Bangkok historically containing food courts on the upper floors). This mall features plenty of clothing stores and plenty of parking. Like other city malls, the interior is seaonally decorated, sometimes quite elaborately.
Visitors who exit the rear of the mall are greeted with intimate views of the Chao Praya River. A free shuttle bus provides transportation to select destinations within Bangkok.
The Mall Bangkae. Much more than just a shopping center, this behemoth features the Fantasia Waterpark, numerous floors of shopping, a train the runs through part of the ground floor, and a water themed like park setting, also on the ground floor with a waterfall. We've also seen giant parrots in this 'park'. We have been here several times both times on the weekends – and both times were extremely crowded!
Offers both international name brand stores as well as localized Thai stores and products. An excellent food court is located on the ground floor – like other Bangkok mall food courts, this one requires a visit to the cash card reception near all the food vendors – put a balance on the card and then present the card to the vendors when ordering. If you still have a balance after your meal, don't forget to return the card to cash out.
Owned by The Mall Group, owners of numerous malls including arguably their flagship property in Bangkok, Siam Paragon. Easy walking distance from either the street level or second floor level from the nearby Lak Song MRT station. Because this mall is located next to one of the furthest metro stops from central Bangkok, there are not a lot of tourists here – mostly locals with some expats. For more details about The Mall Bangkae, visit: www.themall.co.th
The Market Bangkok. Opened in early 2019 in Bangkok's premiere shopping district, Ratchaprasong, this large sized mall is located directly across from Central World, next door to the Big C Superstore and within a short walk of the Gaysorn Village shopping center. A number of years in development, we first saw construction begin in 2016. The same group that developed the Platinum Fashion Mall and the Novotel in Bangkok's Pratunam neighborhood built this center.
This part of Bangkok continues to change – old shops are torn down for big developments such as this one. Easy walk to the nearby Gaysorn Village Shopping Center and several other shopping malls in the vicinity as well as to the prominent money exchange head office, Super Rich.
Open 10-10pm. Encompasses more then 100 tiny shops spread throughout 6 floors. The lower floors are devoted to clothing and various fashion shops. The third floor features the food court and traditional Thai cuisine. The 4th floor features shops focusing on wellness products including offering massage. A diversity of products (not super high end) to satisfy a wide range of interests.
Open and airy, has never felt to crowded during our multiple visits – although the food court can sometimes be crowded especially in the evenings. The shops are setup like in an open market rather then traditional storefronts (although there are a few of those here as well). Visitors can enter from either the ground floor/street level or from a raised walkway. A nearby pedestrian bridge (directly in front of the complex) is available for those who want to cross over the almost always busy Ratchadamri Road perhaps to Central World for more shopping. Located at 111 Ratchadamri Rd – can easily walk from the closest Skytrain, Chit Lom. A nice addition to the 'shopping city' which continues to roll out new shopping malls.
The Mercury Ville @Chidlom is easily accessible via a short walk from the Chitlom Skytrain station (with an entrance on the street level and also via the pedestrian Ratchaprasong elevated walkway). Easily recognizable and certainly stands out from the mass of shopping malls in this part of town due to its bright red shiny metal plates that cover the exterior. Need some what to stand out, right? Especially when you are not even close to being the biggest player in this part of town.
This mall features five stories of shops including plenty of food options (a smoothie/drink shop is rather expensive). We've browsed the interior several times; never super crowded.
Also a nice selection of Thai style souvenir shops, some Japanese shops including Japanese restaurants, a Boots pharmacy and the obligatory smattering of chain stores (IE Burger King, Starbucks etc). Seems to be geared towards locals more then tourists as compared to some of the other nearby major malls.
Site is in Thai – visit: www.themercuryville.com
The Street Ratchada is located about a 10 minute walk from the Thailand Cultural Centre metro stop. Located on a very busy intersection of Ratchada Road – there is a pedestrian bridge crossing over the road. With a slogan of "sip, walk, talk, share" – this shopping complex delivers both plenty of shopping along with numerous restaurants. Built over 7 levels including two basement levels – filled with mostly dining options – if that wasn't enough food there is also a food court on the 4th floor. The fifth floor features and indoor sports and entertainment center including the largest E-sport arena (digital games) in all of Thailand.
Plenty of parking on site including inside a garage and outside in front of the mall. A unique mall in that it is open 24/7 including restaurants, shops and entertainment (note only the shops on the basement and ground level are open all night – the shops and dining options on the upper floors close at normal times). Good for late nighters and digital nomads who do their best work in the wee hours – especially in some of the cafe's that have electrical outlets and wifi. Also a plus is the 24/7 Foodland Supermarket located on the basement level. Visit: www.thestreetratchada.com
Velaa Sindhorn Village – closest Skytrain stop is Chit Lom, about a 12–15-minute walk away. Directly borders one side of Lumpini Park. Opened in 2019, the village encompasses three semi enclosed stories offering several excellent restaurants, cafes and the Village Market (the primary market in this space). Not only a lifestyle mall but also features several condominiums/apartment buildings, the Sindhorn Kempinski hotel & residences and the Kimpton Maa-Lai Bangkok hotel.
Highly recommended are lunch or dinner at Rongsi Pochana Restaurant (both indoor and outdoor seating) and a visit to the ultra secret Crimson Room for drinks and entertainment in a very intimate setting.
Yodpiman River Walk is a lengthy narrow complex of shops located right next to the Chao Praya River that opened in 2014. Conveniently located within walking distance of numerous attractions including the Grand Palace and Wat Po (about a 10-15 minute walk from Wat Po – we've made this walk several times).
Features two floors – the first level which is covered – numerous shops (Thai handicrafts and some fashion from Thai designers) and eateries and the well worth visiting open-air second floor with views looking across the river at Wat Arun. Like the rooftop at somewhat nearby River City happening place to be in the late afternoon and evening especially around sunset.
Located next to the Bangkok Flower Market (Talad Pak Klong) – you cannot miss seeing all the vendors lined up along both sides of the street here selling a diversity of flowers. This is Bangkok's largest fresh-flower market. For more information visit: www.yodpimanriverwalk.com