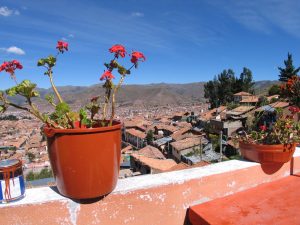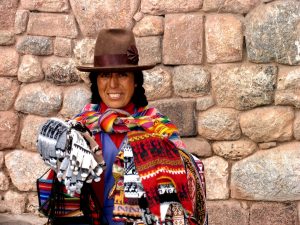 Cuzco, often called the "tiled" city is located at about 10,600 feet in the great Andes mountains. While Cuzco certainly has instant name recognition, it is best known as the gateway to Machu Picchu. These ruins are among the world's greatest combination of both the human and the natural world and attract visitors from around the planet. However, travelers should also spend a few days in and around Cuzco. Cuzco, as a result of being the largest city in proximity to Machu Pichu, is an international destination with plenty of comforts for travelers including numerous hotels (covering a wide range of budget), restaurants, travel agencies and artisan shops.
Cuzco is most definitely a walking city for travelers who are in shape. It is tempting to immediately explore the city after arriving. But one might want to limit their exploration for a day until they are better acclimatized due to the high elevation.
Narrow walkways lined with cobblestone or pavers are common. Small shops line streets around the main square, Plaza de Armas. This is the center of Cuzco. It is anchored by the prominent Catedral del Cuzco and the smaller Iglesia de la Compania de Jesus – oh and a McDonalds.
Several benches are located in Plaza de Armas; as a gathering place, this is an ideal location to watch people come and go. If you sit for to long though, you will fall prey to the numerous street vendors who will attempt sell you their wares, ranging from gum, postcards, drugs, and artwork.
Most of the tourist services are located near Plaza de Armas, however it is worth taking a few hours to wander away from this area in order to visit the less-touristy shops and markets and see what the 'rest' of Cuzco looks like. Many streets hardly ever see a tourist's face.
Where tourists congregate, so do thieves, so be extra cautious with phones, cameras and hand bags or purses. Cuzco has its share of thieves who prey on unsuspecting … or even suspecting tourists.