Murphys is a quaint tourist town that today is much loved all year round by locals and visitor's alike. There is a lot of gold mining history contained on these streets – young Irish immigrants (and brothers) John and Daniel Murphy were among the early California gold miners and struck it rich near here in 1848 taking out an estimated 2 million dollars in gold ore from the nearby diggings. This was one of California's richest most concentrated gold 'fields'. Famous historical figures who stayed here in its mining heyday include President Grant, Mark Twain and Black Bart.
Today another type of "gold" has become prominent – wine has "taken over" as the town's new gold rush (certainly more so then other gold rush towns in the region) and now Murphy's is almost one big tasting room with many vintners maintaining tasting rooms on or near the main street. Main street Murphys is fairly small – but one can easily spend a few hours here either wine tasting or browsing through a number of nice galleries and other assorted boutique shops which line both sides of the street. Large trees keep Murphys relatively cool during the heat of the summer months. A number of small very good restaurants are located here as well as several hotels including the very historic Murphys Hotel.
One very interesting note about Murphys is some trivia information about the Murphys school. The Murphys school used to be the oldest continuously operating school in the state until it closed down in 1973. It was known as the "Pine Tree College". It first opened in 1860. One of its more famous graduates, Albert Michelson, won a Nobel prize in 1907 for Physics.
Among some of the stores that I recommend are visiting a few art galleries . One has a great selection of paintings. Another has paintings and Shona African sculptures, imported from Zimbabwe. There is also a good ice cream parlor located near the turn off for the Mercer Caverns in downtown Murphys. His home is still standing.
Ironstone Vineyards – read our review here.
Stevenot Winery is located 3 miles north on Sheep Ranch Road. Then take a left 0.2 miles on San Domingo Road. Follow the signs. This winery offers tours, wine tasting, and picnic areas. They are open daily from 10 to 5. Admission is FREE. For more information call Phone Number (209) 728-2101. Website: www.stevenotwinery.com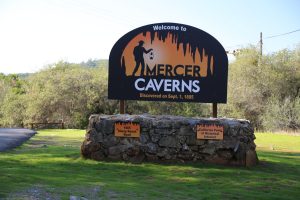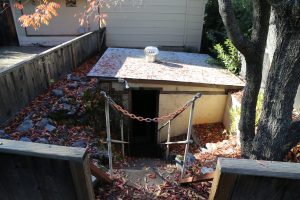 Mercer Caverns are well worth the money. These caverns have been open to the public since 1885 when George Mercer accidentally discovered the opening to the cave. He was sitting in the shade of an oak tree on a hot summer day when he felt a cool breeze emanating from a crack in the rock next to where he was sitting.
He then proceeded to get a shovel and clear out a large enough entrance to the cave. He brought a rope and candles to the site and then entered the cavern and explored the inside. Using his business sense he decided to start giving tours of the cavern. Today the tour takes one hour but back then a fast tour took 5 hours. The people he took on the tours had to carry a wooden paddle in their mouths. This paddle held several candles and each person had to hold the paddle steady as they were climbing in the cave otherwise hot wax would fall on them or the people in front of them.
When Mr. Mercer first entered the cave he discovered six skeletons of Native Americans. Apparently this cave was a sacred burial ground for a local tribe. These skeletons are now in the Natural History Smithsonian Museum in Washington D.C. The tour descends 161 feet below the surface. There are many steep stairs but the hike is not a grueling one. The guide stops quite often in order to point out attractions and these can be good breather stops. There are many different types of cave formations in the Mercer Cave. Some of the deposits look like coral and these won Mr. Mercer the grand prize at the 1900 World's Fair held in Paris. The angel hair formations are particularly intriguing. These are sheets of sediments that have formed a thin sheet. When the guide shines the flashlight on them they look iridescent.
The cave is open from 9 to 6:30 daily. This cave unlike most of the caves in California is under private ownership. At last check it is owned by the same person who owns the Mystery Spot in Santa Cruz. Admission for adults is $16. Those under 12 years of age are $10. Tours are limited to under 25 people, leaving every 20 minutes. When I went I was with a very small group. It is helpful to join a small group rather then a larger one as its more conducive to asking questions. For more information call Phone Number (209) 728-2101. www.mercercaverns.net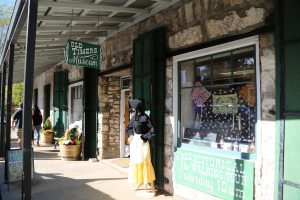 Old Timers Museum is located at 470 Main Street. The building that houses the museum dates to 1856 – a gold miner opened a general merchandise store here. Remarkably this building withstood three major fires in Murphys in the mid to late 1800s because it was built of stone, the shutters are made of iron and the roof used to hold a layer of sand.
The building has been collecting items of historical interest for decades – focusing on the local history of the area including the Gold Rush and the Native American tribes that used to live here. Walking into this museum is like walking back in time – with many items on display including mining artifacts, era clothing, books, newspaper clippings and Miwok baskets and various tools.
Still family owned (descendants of the original founders currently operate the museum). Volunteers staff the museum, donations are graciously accepted.
For more information on this intriguing small museum, visit: www.murphysoldtimersmuseum.com
Murphy's, the Queen of the Sierra: www.visitmurphys.com