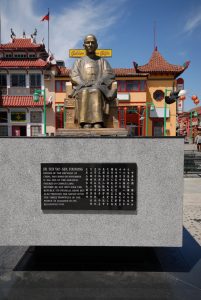 Chinatown is located just north west of downtown Los Angeles – take the Hill Street exit off of the 110 Freeway – across from Elysian Park. Chinatown is in the "backyard" of downtown Los Angeles and is easily within driving distance. Just take Hill Street and you will end up in downtown.
The present location has not always been Chinatown's historical location. The current location along Hill and Broadway Streets used to be little Italy and Chinatown used to be located in on the site of what is now Union Station (residents evicted to build Union Station). Chinatown dates from the late 1930's in its current location.
The main plaza is somewhat touristy in nature and very colorful. Chinatown is very photogenic, it almost looks like a Hollywood set at times.
The following two websites are an invaluable source for more information including attractions, walking tours and restaurants. Please visit: www.oldchinatownla.com We have been writing solid for 2 days about Los Angeles and every once in a while even writers need a break, we will present the rest of Chinatown in photos!
Having a nice collection of photos from our several visits to Chinatown, please explore this wonderful section of Los Angeles via photography.