LOS ANGELES INTERNATIONAL AIRPORT, (LAX)
We continue to spend more than our fair share of time in this airport (as we often use this as our International or domestic connecting hub). LAX is located 15 miles southwest from downtown Los Angeles off of the 405 on the western end of the 105 freeway. This is the primary domestic and International airport for the Los Angeles metropolitan area serving thousands of passengers daily. LAX is currently the 2nd busiest airport in the United States and 4th in the world (these numbers change rather often!).
Eight terminals are located at LAX with a 9th one being the major terminal (Tom Bradley Terminal – named after a former Los Angeles Mayor) and a bus only accessible Midfield Satellite Concourse). Terminals 4-8 connect to the Tom Bradley International Terminal post security. This is a large airport and some of the terminals are located a ways from each other – however free shuttle buses serve all the terminals. You can also walk between the terminals via a series of very long tunnels below the terminals. A number of major open air parking lots are located in the vicinity of the airport – free shuttle vans run to and from the parking lots to all the terminals.
We also enjoy walking from the airport to the outside (rather then taking shuttles) – either to one of the car parking lots or the nearby town of Westchester for some food. In order to leave the airport – make your way to the Theme building (in the center of the airport). If you are on Terminals 4-8 – cross over to the other side (we always cross over directly next to the Theme building) where Terminals 1 and 2 are located. Walk east on the arrivals lower level towards Terminal 1 on World Way which soon turns into West Century Blvd. Depending on where you start walking to exit the airport on foot, allow 15 to 30 minutes briskly walking to reach West Century Blvd (many hotels and car park or car rental places are located here directly outside of the airport).
A major upgrade and multi-billion dollar renovation of LAX over the past few years continues and certainly shows (14 Billion USD) – #LAXishappening. These projects include "new generation aircraft gates" to handle large aircraft, a Crossfield Taxiway, a two-level Pedestrian bridge, Automated People-Mover between terminals (and connecting to the closest Metro Crenshaw/LAX Line), a Central Processing Facility for security screenings, a central rental car facility, updated terminals and the expanded and renovated International terminal. These series of projects are either completed, in progress or slated to be completed by 2023.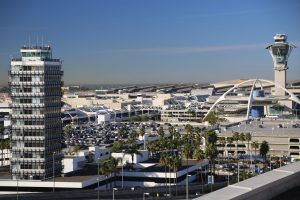 Wondering about that interesting building in the center of the terminals – it is LAX's Theme building and from 1997 through to December 2013, housed the "Encounter" Restaurant. This restaurant and lookout were located in the center of the airport in between the terminals. This space age looking building was a great place to enjoy a meal or better yet a drink at the bar in between flights. Despite the restaurant closing, the lookout is still open (only during certain hours) – you need to give the guard your ID and he/she will give you access to the special elevator. Is that supposed to be "alien" music playing in the elevator? Either way its complemented well with the purple lights above you!
And the Bob Hope USO Center has setup shop on the ground floor of the Theme Building (which if you remember its former nearby almost trailer like digs, this is a major improvement in space) along with being in a much easier location to describe directions to! Open 24/7 for active or retired military personal and their families. Not open to the general public.
LAX to Union Station via the FlyAway express bus service. This non stop bus to LAX leaves from street (Bus Stop 9) at the Patsaouras Transit Plaza next to the south entrance to Union Station. It runs 24 hours a day – most times every 30 minutes but late at night every hour. It leaves on time from Union Station. However at LAX – it is also scheduled to run on every 30 minutes or hour but could arrive anytime based on traffic and the fact that it stops at most of the terminals. In addition to it's Union Station run, it currently services a variety of popular destinations in the Los Angeles area including Hollywood, Long Beach, Van Nuys, Westwood and to the Metro Orange Line (destinations served are subject to change at any time).
At LAX wait for the bus at the lower Arrivals/Level in the median underneath any of the green "FlyAway, Buses and Long Distance Vans" signs. Total travel time to Union Station depends on traffic – with little traffic the trip will take slightly less than 30 minutes – with a lot of traffic – expect 50 minutes to an hour. Regardless of which direction you take you pay at the ticket counter at Union Station in front of the Bus Stop. Credit card only and you can only purchase one way tickets (no round trip). NOTE: you can purchase tickets ahead of time online at: www.lawa.org/FlyAway. Ticket prices are quite reasonable.
For more LAX information visit the official website: www.lawa.org. Click on thumbnails below for our LAX photos
LAX Car Rentals
Eventually (most likely by 2023) LAX will have a central facility for hosting many of the car rental companies that are all currently off site and scattered about usually within less then 2 miles of the airport. We have used the following LAX rental car companies.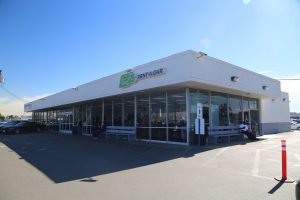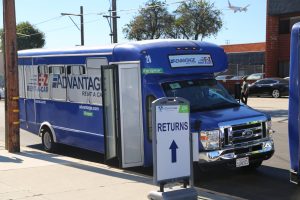 Advantage/EZ Car Rental are both located at the same rental facility about 2 miles from the airport at 1030 W. Manchester Blvd. EZ Rentals used to be housed in a portable trailer like building much closer to the airport in a much more convenient location. We have used both Advantage and EZ Car Rental on numerous occasions. Both companies have joined forces to offer to and from airport shuttles which run every 10-15 or so minutes during daytime hours. There are no hotel stops between the airport and their car rental facility. Like other airport shuttles, they pick you up at the median curb under the red sign at LAX arrivals (lower level). Look for the mostly blue shuttle with the white roof.
Shuttle drivers are always looking for passengers – and if they don't see you they will keep driving. Best to keep a sharp eye out and try to make contact with the van driver; be sure to wave forcefully so they can see you. They are trained to look for waiving passengers. Because drivers have to make split second decisions often among heavy traffic to move to the curb or open their door, drivers do not like hesitant curbside waivers.
Both companies tend to have some of the lower car rental pricing at LAX. As a result during our visits here lines are often extremely long with not enough staff to process all the arrivals in a timely manner. This is one of the more crowded car rental companies at LAX. Not always known for best service – rather known for being cheap up front (with hidden costs that they always charge you when you return your car). Buyer be highly aware. Agents always try to up-sell you on extra insurance. Do your homework – make sure your know your coverage limits on your existing insurance company before you agree to pay for extra insurance. Visit: www.e-zrentacar.com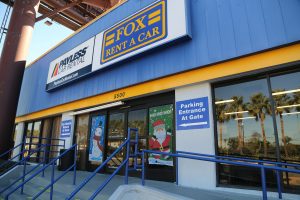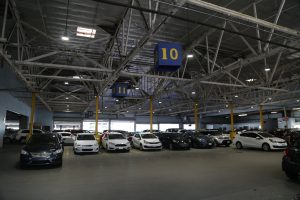 Fox/Payless is prominently located directly on the south side of Century Blvd about 2 miles from the airport (depending on traffic usually takes about 10 minutes to drive). This is a major player in the sometimes crowded field of LAX area car rental companies. We have found their prices sometimes among the lowest in the area. In our experience can get crowded with people waiting to pickup their vehicles – but often they have more agents on staff to handle the volume then some of the other similar sized area rental companies.
Once your rental 'paperwork' has been processed by the agent you will be directed to the back of the property (a short walk from the lobby) to their sizable covered garage containing numerous sections of vehicles. Each well-marked section contains specific types of vehicles – walk to the section that corresponds to the vehicle in your rental contract and pick out one of them and drive to the exit (keys are already in the vehicles). Returning a vehicle is just as easy – with a long pull in lane off of Century Blvd – where you pull into the return lanes and an attendant will check you out. Visit: www.foxrentacar.com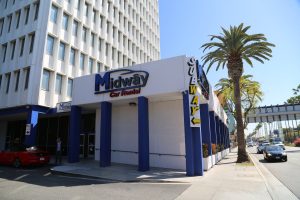 M Car Rental is very conveniently located right next to the entrance to LAX at 6151 W Century Blvd. Friendly staff, reasonable prices and a large vehicle selection make this one of our go to rental companies at LAX. The first time we rented they even upgraded us to a larger size vehicle. As with other car rentals, once you arrive at LAX walk out into the median strip under the red sign that indicates "hotel/Courtesy Shuttles" and wait for the yellow shuttle with the words "Airport Center Express" on the side. We have also walked here from the airport a number of times – if you walk fast and depending on which terminal you leave from, expect at least a 15-25 minute walk.
When you return your car – collect a ticket at the entrance to the garage and pull in on the first level near the Midway Office where someone will check you in. During daytime hours their own shuttle runs every 10-15 minutes – it leaves from the yellow bench next to the corner of the main building near the entrance to the parking garage and drops you off right at the entrance to your flight's terminal. You can also call them at: 310 641-1269. Drop off is in a parking garage next to their main office. For those who rent often, consider filling out their Midway Express Program application – once approved you can go directly to the attendant in the garage to pickup your car – bypassing the normal trip to their office first (provided you already have a reservation). Visit: www.midwaycarrental.com
LAX Parking Lots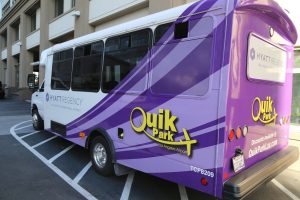 Quik Park is the closest parking garage to LAX. One could easily walk from the garage to the airport – especially to Terminal 1 (Southwest) – depending on how fast you walk, perhaps a 12-15 minute walk (we've done this numerous times). Parking rates are based on incremental fees with a maximum daily/overnight fee. Be sure to take your parking ticket with you – when you return validate and pay at one of the parking machines before you exit the garage. While not the cheapest parking option at LAX they are certainly one of the more conveniently located garages. Also note that quite a few spaces on various levels of the garage are reserved for Valet parking spots.
Shuttles depart every 10-15 minutes 24/7 – although during busy times (like for morning flights) we have seen awaiting shuttles ready to leave as soon as people arrive. The shuttle vans are used for both the guests of the parking garage as well as those staying at the next door Hyatt Regency. The departure spot is across from the parking garage at the back entrance to the Hyatt. Visit: www.quikparklosangelesairport.com
The Parking Spot
The Parking Spot is instantly recognizable by their iconic brand – a checkerboard of black dots on bright yellow. They maintain a number of parking lots at airports across the country and two at LAX. Their most convenient lot is at 9101 S. Sepulveda Bl – at the north east corner of the airport. Their second location is at 5701 W. Century Blvd – about a 10 minute drive from the airport.
Both parking lots/locations offer both covered and uncovered parking (slight differences in daily rates) as well as valet options. During the day their shuttles operate 5-7 minutes – during the night they continue to operate but also operate on an on call basis. Their app is an invaluable resource especially providing real time updates on exact shuttle locations at any given time. Joining the Spot Club™ gives members access to special deals and discounts from time to time.
One can reserve a parking spot ahead of time, visit: www.theparkingspot.com/locations/los-angeles/lax
Additional major airports in the LA area are the following:
HOLLYWOOD BURBANK AIRPORT, (BUR)
serves the Burbank, Glendale and Pasadena areas (domestic flights only). It is located near where the 170 and the 5 freeways meet and is geographically the closest airport to downtown Los Angeles. There are two terminals, 1 and 2 – the check in areas are small – this is certainly no LAX for size! Courtesy of ABC7, free wifi is available throughout both terminals.
This historic airport opened in 1930 – back then you would have been flying over farms and other agricultural land. Those early aviation pioneers would have culture shock flying in or out of Bob Hope airport today; there are miles and miles of urban sprawl in all directions. Some displays are available for public viewing about the airport's history – including some aviation artifacts. There are several small gift shops also available.
More recently the Freedom Pavilion opened. This building is located right next to the airport and is accessible by foot via an elevated walkway. This main building showcases the airports' unique aviation history and features 20,000 memorial bricks. These bricks can be personalized. Not only is the pavilion a tribute to history but also serves as a transportation hub, a car rental center and a parking garage.
More information: www.hollywoodburbankairport.com
JOHN WAYNE ORANGE COUNTY AIRPORT, (SNA)
is a modern state of the airport serving Orange County and is located off of the 405 just south of the 55 freeway. All flights are domestic. There is a lot of wealth in Orange County and if you spend any time at this airport you will see some of this wealth arriving in the form of fancy sometimes fairly lengthy vehicles. During a recent trip we happened to see a yellow Ferrari gunning down the departure level at a rather high speed – producing that beautiful sound that only this type of vehicle can make. Within 30 minutes of waiting we also saw a Humvee Limo, perhaps a quarter mile in length and some handsome guy comes striding out wearing huge sunglasses on a cloudy day. Everyone stared – perhaps some young TV actor?
This airport is of course named after the famous Western cowboy actor John Wayne (be sure to check out the statue of him in the lower level of the main terminal – against the backdrop of the USA flag, this statue is larger than life). Often windowed exhibitions are on display inside the terminals (after you have gone through security) and feature Orange County relevant themes. Several exhibits in the past few years have included a retrospective on Hang Gliding (this sport actually began in Orange County) and information about some of Orange Counties top chefs.
This is without a doubt one of our favorite small to mid size airports anywhere in the world. (Changi Airport in Singapore wins for best large airport). John Wayne is clean, modern, efficient – friendly security and lacking the hoards of people you have coming through LAX. There are only three terminals, A, B and C – with gates 1 through 22 (note that gates 1a, 1b and 1c and on the other end of the airport, gates 22a, 22b and 22c are located one floor below the rest of gates (descend via elevator or stairs).
Note that the best area to pick up or drop off passengers is at the open air departure level (Upper Level). The police on the lower level are somewhat strict about people pulling up to the curb for any length of time. More information: www.ocair.com
LONG BEACH AIRPORT, (LGB)
serves the Long Beach area and is located right off of the 405, almost exactly half way between the 710 and the 605 freeways. Take the Lakewood exit from the 405 and follow the signs to the airport – staying in the left lane. Compared to LAX which isn't relatively that far away – this airport is a breath of fresh air. It is small and easy to get around. This airport opened in the mid 1920's; prior to this the "airport" was the actual beach in Long Beach where planes used to take off and land during low tide.
The main entrance features a small number of airline counters and it is a short walk through security to the main terminal. Besides offering a number of commercial flights, this airport serves a very large community of general aviation pilots. Long Beach has a long history of aviation, dating soon after the Wright Brothers historic flight. Also of note is that Amelia Earhart's early flying career began in Long Beach. At last check, Alaska, Delta, JetBlue and US Airways are the primary carriers that serve this airport.
Short term and long term Parking is available – the short term parking garage is located right next to the main terminal. Take your parking ticket with you after you park – to pay simply put it in one of the parking machines before you go back to your car. Rental car companies are available directly across from the main terminal in what looks like a trailer like building. More info: www.lgb.org
ONTARIO INTERNATIONAL AIRPORT, (ONT)
is located just off of the 10 right before it meets the 15 in Ontario, 35 miles, almost due east of downtown Los Angeles (close to San Bernardino). Free WiFi is available throughout Terminals 2 and 4 International flights arriving at this airport are from AeroMexico only. Even though this airport is located in San Bernardino County, it is owned and operated by the Los Angeles World Airports (LAWA), which is an agency part of the city of Los Angeles
The roots of this airport date back to 1923 when a landing field was established here. This very modern airport (most recent construction was finished in 2008) is very conveniently located in this part of the greater Los Angeles region – with plenty of space inside the departing terminals. Southwest Airlines carries by far the most passengers to and from this airport. It is the 3rd largest airport in the region behind LAX and SNA (John Wayne) – despite this, the airport has struggled to maintain decent amounts of passengers in the recent years and there is talk of consolidating the terminals into just one terminal.
As you drive into/out of the airport you will see some really neat looking historical stone buildings across from the airport parking lots. This was the original home of the Italian Vineyard Company – one of the largest wineries in the world in the early 1900's. Today it is a shell of what it used to be, but if you look carefully in the area you can still see some old head pruned vines struggling along. For more information: www.flyontario.com