Los Angeles offers a diversity of accommodation ranging from basic rooms to some of the state's top luxury properties. If you have your own suggestion for LA area hotels, please email dave@pon.net & reference this page in your email. We will consider all recommendations. We have personally stayed at nearly all the properties listed below. And be sure to scroll down to the map at the bottom of this page listing approximate pricing and location.
Dave's Recommended Los Angeles Hotel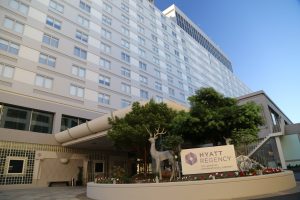 Hyatt Regency Los Angeles International Airport If one were to look for the ideal airport hotel you could look to the Hyatt Regency LAX as a model. One has to start with its location; while not physically located on the grounds of the airport, it is the closest hotel property to LAX. And despite its proximity to the airport, the sense of space apart from the airport is also an appealing factor of a stay here. One can actually walk to the terminals from your room – the closest being Terminal 1, which is about a 15 minute walk. It is common to see pilots making this walk (sitting down for hours on end, any chance to exercise especially in a mild climate such as in Los Angeles, is readily taken).
And the rooms. The property underwent an extensive renovation (completed in early 2017) and the upgrades and improvements certainly show. An impressive feature is the lack of outside noise within the rooms – they were built with vacuum sealed double pane windows. As nearby planes land and take off one is surprised over and over again by how remarkably quiet it is inside the rooms (even in those directly facing the runways). The property features 580 rooms (including 21 suites) and 50,000 square feet of meeting space – including the coveted Penthouse with its fantastic views overlooking the suburbs and skyline of Los Angeles.
While listed as a three-star hotel in reality this is a 4-star hotel at three star prices. The amenities are impressive. Hotels shouldn't ever charge for wifi. Ever. Hyatt Regency LAX includes complimentary WiFi throughout the hotel. The Regency Club is a private members lounge available for World of Hyatt members or guests who purchase access to the Club and is accessible 24/7 with your key card – access includes complimentary daily breakfast and evening hors d'oeuvres. A spacious fitness center is located on the uppermost floor – with plenty of windows while working the treadmill, be treated to killer views of LAX.
The large pool dates back to the inception of the property in the 1960's. Fully heated year round one can swim and simultaneously view the LAX control tower and the iconic Theme building in the distance. Several small cabanas are an ideal place to park it for a few hours with a good book. And unlike many hotel pools that are centrally located in full view of surrounding room balconies, this pool is located off to the side giving guests more privacy. The only thing missing here are some of the southland's iconic palm trees.
The ground floor is a gathering place for travelers and functions as the hotel's community space. The vibe here is fun and is a mix of business travelers, tourists, and both pilots and flight attendants. The unity la™ Restaurant, Market and Bar are the key components of this space. unity la Restaurant finds its culinary inspiration from the diversity of Los Angeles – borrowing from both Latin and Asian cuisine. One of their most popular dishes is a version of Thai Drunken Noodles. Great selection of drinks including several that are cleverly aviation themed including our recommended choice: the Ginger Jetstream. During several visits, we have always seen the bar busy even late at night.
During a recent visit, check in was super fast. We found the staff friendly and extremely helpful.
As of our latest update, the hotel maintains 18 complimentary shuttles which run 24/7 to and from the airport every 10 to 15 minutes. Guests with vehicles can elect to valet park by pulling up to the main lobby or use the self park Quik Park garage located behind (north) of the hotel.
For more information and to book a reservation, visit: https://losangelesairport.regency.hyatt.com

These hotels are unique, are a good value for the price, have excellent customer service or have additional desirable characteristics that set them apart from the competition.

These are hotels that based on our stays lack customer service, are overpriced and or have other noticeable faults.

LUXURY ACCOMMODATION

Andaz (West Hollywood) will put you right in the heart of all the action and nightlife along the "Sunset Strip" at 8401 Sunset Blvd. When you walk in the hotel you will immediately be greeted by any one of a number of the hotels concierges – they have an intimate knowledge of the area and are available to offer assistance, or quickly connect guests with neighborhood happenings including admission to certain nightclubs in the area (and there are many).
Arriving later in the afternoon? Enjoy a complimentary glass of Cabernet Sauvignon or Chardonnay upon check-in. WiFi is available throughout the property and complimentary breakfast items are served in the morning. RH, a market to table restaurant on the first floor, specializes on regional and seasonal ingredients (with a South Western French cuisine focus). This is a Michelin starred restaurant. An exciting selection of seasonal plates vary throughout the year and are prepared in their open kitchen.
The rooms are spacious and include a mini bar – ask for rooms overlooking downtown Los Angeles in the distance – large glass windows allow for easy viewing as well as spying on people walking along Sunset Blvd. Not to be missed are the views from the Sun Deck as well as the rooftop pool. After swimming relax with a loved one in one of their oval semi-covered "cabanas" which provide one great views of the city and beyond. This hotel is all about the elegant luxury combined with a personal touch.
Along with nightclubs this part of Sunset Blvd truly has a wide range of dining options. For the shopper, the well-known The Grove outdoor Shopping center is located about 3 miles away. Parking is either self service or valet in the parking garage directly behind the hotel (accessed from the first driveway directly next to the hotel (west side).


Intercontinental Downtown Los Angeles – on a clear day, offers some of the best views in the entire city. Rising prominently from a city block surrounding by Wilshire, Francisco, 7th Street and S. Figueroa this is the tallest building in Los Angeles and the tallest building west of Chicago. Address: 900 Wilshire. A sizable parking garage is accessible from Francisco Street. Located only a block and a very short walk across from the 7th Street Metro Center.
Located in the Wilshire Grand building (1,100 feet tall) – entering the building one follows the signs to the hotel/elevators – using the digital touch pad located between the elevators key in floor number 70/reception and be whisked up to this level in merely 40 seconds. Guests can visit this level regardless of whether they are staying at the hotel. Highlights include the views – smartly, a liberal use of glass windows surrounds this floor offering views in all directions. A bar at one end offers limited seating along with food. Our choice for drinks, the Hollywood Hemingway. Its a strong one.
At 4pm daily the tallest open-air bar in the western Hemisphere opens (accessible via a separate elevator near reception). Spire 73 offers even better views of the city to be enjoyed on the sometimes crisp nights at this altitude next to fire pits with a unique cocktail or whiskey in hand. A cover charge is added on for visitors after 8pm. Several other restaurants are also associated with the hotel.
And of note are the men's urinals on the 70th floor – remarkably liberating, one urinates in front of glass windows looking down on Los Angeles with views into windows of a nearby lower office building.
The rooms are surprisingly spacious, each offering fantastic views.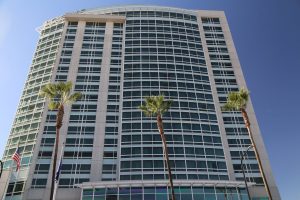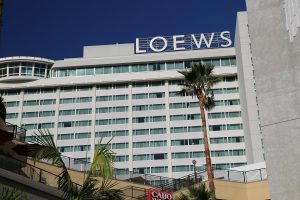 Loews Hollywood Hotel (Hollywood) is our pick for staying right in the heart of all the action in Hollywood. You cannot get much more central than this; its location is ideal as it adjoins the famous Dolby Theatre shopping center and you can easily walk to most of the main attractions on this part of Hollywood Blvd. This hotel also boasts an excellent spa, a rooftop pool on the 5th floor (often frequented by beautiful bronzed bodies) and deluxe suites on the upper most stories. World class shopping and restaurants as well as a number of Hollywood's most famous sites are well within walking distance of Loews.
Valet or self service parking is available – a huge underground garage is part of this shopping center. The rooms are very spacious (executive), each comes with a large flat screen TV. Be also sure to walk out to the overlook of the Dolby Theatre Center on the 5th floor.
On a clear day as you look down from this floor onto Hollywood Blvd you also have excellent views of downtown Los Angeles. For more information and to make reservations, visit: www.loewshotels.com/Hollywood-Hotel

Millennium Biltmore (downtown Los Angeles) is located directly downtown on the edge of Bunker Hill just below the famous US Bank Tower building. This is one of LA's best examples of old world elegance and style (built in 1923). We recently attended a private event here – and were impressed with the grandeur and elegance that is part of this hotel.
The "gallery bar" located on the first floor across from the lobby is a great place to come for high end wines, and exclusive liqueurs.
We have not yet stayed here but from what we saw, this would be our top choice for downtown lodging. We will stay here during one of our next visits to town.




Paséa Hotel & Spa, Huntington Beach is ideally located off of Pacific Coast Highway (PCH) mere steps from the golden sands of Huntington Beach's famed coastal strip. Next door is Pacific Mall with a variety of restaurants and clothing shops. And a short walk away is the iconic Huntington Beach Pier and Main Street. Paséa is not separate from the surrounding beach life, rather it embraces the beach scene and related culture. Most of the 250 spacious rooms and suites offer views of the beach, each with their own outdoor balconies. And like at the other Meritage Collection properties, each room/stay comes with a complimentary bottle of Trinitas Cellars wine.
The entrance is not directly on the PCH but rather in the back of the property off of Pacific View Avenue. The reception area is inviting and very big. Excellent staff – attentive, friendly and helpful. Each guest is given a small wooden surf board which instead of a traditional key card, is used to access the elevator, pool area and rooms.
The feel is decidedly urban and modern, yet casual. The quintessential experience at Paséa is soaking in the hot tub in the evening – from your perch at the edge of the enclosed pool patio with a drink in hand, one watches the sun slowly drop into the glimmering Pacific Ocean. Perhaps some fog or clouds have rolled in by this time of the evening – adding a dramatic flair to the sunset. This resort is ideal for romantic couples but also very family friendly (and we saw a number of families with younger children during our stay).
The nearly 6,000 square foot Aarna is a Balinese type spa offering indoor and outdoor sessions. Two dining spaces (also open to non guests) are Tanner's with its communal dining offering a number of seafood items (located poolside) and the locally iconic Treehouse Lounge upstairs – another great place to enjoy a cocktail and watch the sunset. And Blend Cafe offers up a number of grab and go items or quick serve snacks. Makes an ideal breakfast stop.
Parking is an additional fee (valet takes your car to one of the lower levels in the nearby parking garage reserved for the resort). A resort fee is added to every stay. Bicycles are available for use around town. And with plenty of additional both indoor and outdoor space, Paséa hosts weddings and receptions and a variety of corporate events.
Shutters on the Beach (Santa Monica) is an exceptional luxury hotel located just south of the 10 freeway at 1 Pico Blvd. Shutters is a member of "The Leading Hotels of the World" and is located within minutes Santa Monica's 22 mile long bike trail, the famous Pier, Malibu, Venice Beach, restaurants and some of the best shopping in Los Angeles. Shutters also has a world class spa. We have not yet stayed here but it has been recommended to us and we will stay here as soon as time and budget allows. Visit: www.shuttersonthebeach.com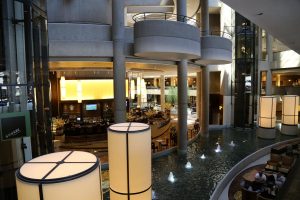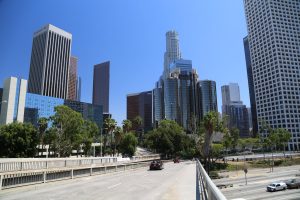 Westin Bonaventure (Los Angeles) is one of downtown Los Angeles's most iconic hotels. From the outside its darkly colored reflecting glass and diminutive shape (compared to the towering buildings that stand next to it), certainly allow it to stand out. This hotel is very centrally located – right on the edge of downtown and easy walking distance to a number of downtown attractions. Part of the attraction of this hotel is the sizable atrium like lobby, the water with fountains and the bar. The bar is just one of 19 restaurants and lounges contained within the hotel. The entire hotel takes up a full city block and boasts the largest spa in all of This is a great place to meet someone for a drink.
MODERATE ACCOMMODATION
Beverly Garland is located in North Hollywood and was built in 1972 by Fillmore Crank for his wife, well-known Hollywood actress Beverly Garland. The Beverly Garland Holiday Inn, designed to evoke Hollywood glamour, is nestled on seven lush acres that Beverly's husband purchased from entertainment icon Gene Autry. Influenced by the California Mission and Spanish Hacienda styles of architecture, each guest room and executive suite includes private balconies overlooking Hollywood's Santa Monica and Verdugo mountains. In addition to the pool and fitness center, amenities include tennis courts, a children's playground, Tula's California Cafe and Decoy Lounge. Visit: www.beverlygarland.com

Dunes Inn Wilshire. This hotel feels from another era while simultaneously feels a bit dated. However, a stay here is clean and comfortable; the rooms are basic and priced based on this hotel's prime location at 4300 Wilshire Blvd (rather than on the quality of rooms). Firm yet comfortable beds. Easy to open and shut large window slats are a plus. Bathroom was very clean during recent visit. And even more of a plus was that it was very quiet at night.
A small courtyard houses an equally small pool.
Parking can always be an issue depending on where you are in Los Angeles. Here you don't have to worry – parking is covered and included with a stay here. Easy to find based on it's corner location and unique look.
For more information and or to book a stay, visit: www.dunesinnwilshire.com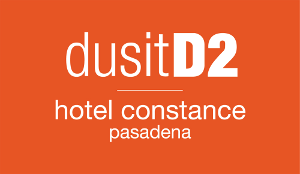 Hotel Constance was the only North American hotel part of the Dusit Thani Group of hotels – they were originally founded in Thailand and now operate properties throughout select parts of Asia. This is Pasadena's only boutique hotel; it opened in 2014 on Colorado Blvd after undergoing a major renovation. Today the hotel combines an element of historical elegance with a flair of contemporary chic. The hotel is located in a historic building with easy access to nearby shopping including art galleries, museums and restaurants. While Pasadena may seem far from Los Angeles, in reality the hotel is less then 10 miles from downtown Los Angeles. And with Uber discount cards available at the front desk, you don't even need to worry about driving in the self titled, "city of the car".
Service is a pleasing and integral part of a stay here – we found the staff extremely friendly and attentive to our needs. Just one example: we walked out with an ice chest full of drinks and one of the staff immediately asked if we needed ice, took the ice chest and filled it up for us. Parking is easy, a pullout curb space is located next to the entrance and valet attendants will park and return your vehicle within minutes as needed.
The founder of this hotel is a prolific traveler and he wanted to create a room that is comfortable and well setup for travelers. In this regard he made sure the Internet is fast and works throughout the hotel (we tested this first thing upon our arrival!) and a desk for laptop plugin features multiple outlets. Comfortable beds are extremely important for travelers and played a critical role in his decision to use quality mattresses (custom sleep experience by Parker&Morgan). And the toilets. It is so unusual to find user friendly toilets with advanced features outside of Asia and certainly quite unusual in the United States. These toilets have heated seats and a remote control attached to the wall for controlling strategically placed water sprays.
And this is not the only control in the room – an iPad sits next to your bed and you can control lighting and temperature without having to get up to find the various other controls within the room.
Cool factor:
not only is the hotel and restaurant cool but they feature California's only licensed Tuk Tuk vehicle for road use – guests can use this unique vehicle to reach destinations in and around Pasadena. And it is Los Angeles so chances are there will be something cool happening in and around Pasadena during your stay including performances from the Pasadena Symphony and Pops and often racing events at the nearby Santa Anita Park.
And the first floor is the place to be in the evenings. Perry's restaurant features innovative California Asia fusion flavors and dishes – carefully prepared by chef Claud Beltran (long time Los Angeles based chef who trained under noted chef Thomas Keller). And the next door BluRoom Cocktail Lounge is a great place to relax while enjoying a variety of drinks (including their signature blublossom) and meet other travelers and locals.
Hilton Garden Inn is located in El Segundo about a mile from the airport and 2 miles from El Segundo's cute little downtown. The hotel is also located almost in the shadow of the blue line metro and one of the metro stops is easily within a short walking distance. The beds are comfortable and with a touch of a button you can increase the firmness or softness. Complimentary and delicious cookies available at reception in the evenings.
Free pickup is given from the airport and pick up and drop-off is included for free anywhere within a 3 mile radius of the hotel. A spa, pool and kids pool are located on site. Wifi included. Friendly staff – this is our go to hotel if we need to stay close to LAX and we have stayed here several times.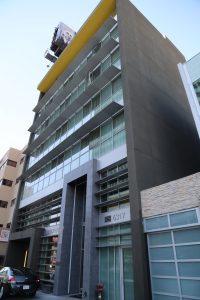 Hotel Wilshire is a boutique eco friendly property conveniently located in the middle of "Miracle Mile" on Wilshire Blvd just down the street from "Museum Square" and within minutes drive of the Grove Shopping Center, Beverly Hills, West Hollywood and Century City. Location and comfort are part of what make a stay here desirable.
The hotel has their own parking garage next door – all parking is valet. During a recent stay we found the check in simple and fast. This small hotel has only 55 rooms with 19 suites and a Penthouse Suite. On a clear day from the rooftop one has quintessential views overlooking Hollywood with the Hollywood sign in the distance.
A warm day, coupled with the views, a meal at the small "Roof on Wilshire" restaurant, a small pool, bar, and intimate seating creates a cozy environment for relaxing and an ambiance that is hard to walk away from!
The rooms are very clean and arranged with comfort in mind. Tech savvy travelers will take comfort in all the outlets provided for iPod, iPad audio, USB etc. WiFi is included with a stay and is available throughout the hotel. To arrange a stay and for more information visit: www.hotelwilshire.com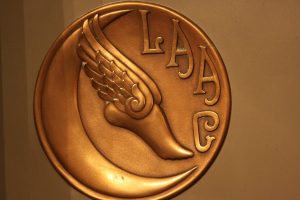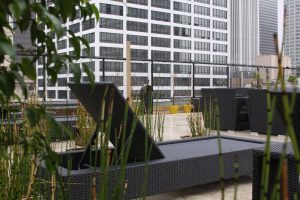 Los Angeles Athletic Club – (downtown Los Angeles) We recently stayed here (a private membership only club but with hotel rooms available to the general public – the first private club in Los Angeles, founded 1880). We stay in a fair amount of National mid to higher end chain hotels and it is very refreshing to find a hotel such as this one with its uniqueness, elegance and history.
As soon as we arrived we shot up to the rooftop for some relaxation with a cold one in hand. This is about as downtown as you can get in Los Angeles – there are great views of the US Bank Building (the tallest building west of the Mississippi River) and one of the identifier buildings you see in every panorama of Los Angeles. The location is fantastic – only a few minutes walking to the heart of downtown, next to the jewelry and fashion districts as well as Pershing Square and Angel's Flight (one of the shortest trains in the world). Don't want to fight the 110 and the 101 to Hollywood – LAAC is only about a block to the nearest metro stop (the red line).
This year the LAAC celebrated their 130th year – names such as John Wooden, Vince Scully and other sports celebrities grace their walls or plaques. Some of the finest Athletic facilities in the city are here. Two floors boast a sauna and spa – separated by sexes, there is a large lap pool, basketball court and more exercise facilities. The club and hotel underwent a major renovation which was completed in late 2009. Each of the 72 rooms are spacious, well appointed and include an exercise bike, free Wifi and a complementary breakfast. Use of the sports facilities are also included in the cost of a stay here. Parking is next door in the garage.
History, elegance, value and location define this beautiful club and hotel. www.laac.com
Luxe City Center Hotel is conveniently located in downtown Los Angeles within a very short walk of the Staples Center, Grammy Museum and other downtown area attractions. For years we walked by this location when it was a Holiday Inn – transformed into this modern boutique hotel after several years of big time rennovation and opened in 2012. One of the key components of a stay here is it's central location.
For a downtown hotel, their rooms are fairly spacious (178 rooms in total). The property also offers 6,000 square feet of meeting space. The niXon global kitchen +patio lounge is located on the second floor and is a popular stop for guests of the hotel as well as others visiting for the food. Known for their happy hour. To book a stay, visit: www.luxehotels.com/luxecitycenter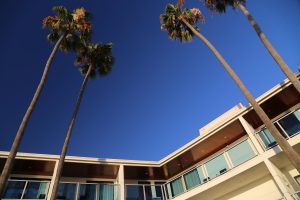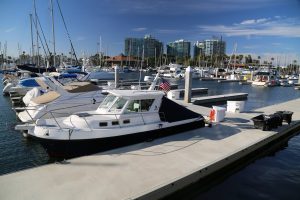 Marina del Rey Hotel is in a gorgeous location, perched at the edge of the Marina del Rey harbour with views overlooking numerous boats. Great place to watch the sunset from their lawn/garden on the west side of the property. Fairly easy access from LAX, Venice Beach and Santa Monica. A stay here feels world's away from the congested freeways and high paced life of many other parts of Los Angeles.
This hotel was originally built in 1964 but was completely remodeled and re-opened in 2014. Features 155 rooms and 9 suites – the upper level west side rooms offer great views of the marina. Any hotel that uses Molton Brown products for their guests gets an extra star in our eyes!
SALT Restaurant offers fine California cuisine – very scenic outdoor dining. Open for breakfast, lunch and dinner. During the summers, the Sunday Boat House events are offered to both hotel guests and to the general public. Rent a cabana, hang out with friend and eat and drink and listen to live music. To book your room here, visit: www.marinadelreyhotel.com

Marriott Irvine is conveniently located next to the 405 freeway – mere minutes from John Wayne Airport (as in two long blocks away). Not only is there easy access to the airport but this hotel is conveniently located within short drives to a variety of area attractions including Disneyland, local beaches and plenty of shopping including the large malls – South Coast Plaza and the Irvine Spectrum Center.
Complimentary shuttle service is offered to and John Wayne airport. Based on it's close proximity to the airport one could also walk here (probably about a 25 minute walk). With seventeen floors – there are nearly 500 rooms on site. The FLOE Lounge provides casual dining and Starbucks provides a coffee fix in the AM. A stay on the Concierge floor gives one access to the Concierge lounge which offers complimentary breakfast, fruit throughout the day and evening snacks.
The lobby features a contemporary design with plenty of comfortable chairs. Check in is quick and efficient. Parking is either valet or self park with both being a short walk to the lobby. Visit: www.marriott.com/hotels/travel/laxir-irvine-marriott
Marriott, Los Angeles Airport is conveniently located at 5855 W Century Blvd just under 1.5 miles from LAX (takes about 5-10 minutes on their free shuttle which leaves the hotel usually every 15 minutes. We have walked here both to and from LAX and to Terminal 6, it has taken us between 22 and 25 minutes of briskly walking. We have always found friendly and accommodating staff in the front office (unlike some of the nearby similarly sized hotels we have visited on Century Blvd).
Large complex with many rooms centered around a sizable patio area featuring lots of chairs, a pool and a hot tub. Rooms are clean comfortable and quite good size. Several restaurants and a sports bar are located on site. There is plenty of parking on site (paid). Also longer term parking available. To book a room visit: www.marriott.com/hotels/travel/laxap-los-angeles-airport-marriott
Metro Plaza Hotel is located next to downtown Los Angeles at 711 North Main Street – and easily within walking distance of Chinatown, Union Station, and a number of the Mexican American cultural attractions in the area, including Olvera Street. Free wifi and breakfast.
Front desk staff is friendly. Caters to a number of Chinese guests based on its proximity to Chinatown. Sightseeing? The staff will help you plan your itinerary.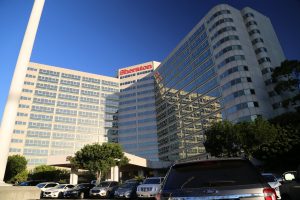 Sheraton LAX is located less then a mile from LAX. An airport shuttle leaves every 15-20 minutes. Features an outdoor pool and a 24-hour exercise room. Also 50,000 square feet of meeting space.
Recently underwent a major renovation and upgrade. Modern and sleek. Nicely appointed rooms. The restaurant Costero is located on site. Located at 6101 West Century Boulevard. Visit: www.sheratonlax.com

USC Hotel

BUDGET ACCOMMODATION
Adventurer Hotel (Inglewood). We love hotels with either character or class and this one is all about the character. From what looks like semi homeless folks sleeping in the lobby in the wee hours of the night to the first hostel you will ever see with a stretch Rolls Royce and a Bentley permanently parked in front to a fun vibe around the pool and the well-stocked tiki bar – your stay will certainly be a memorable one.
This is not just a hostel – but rather a full service LA experience. Free shuttle service to and from LAX, a number of snacks offered including some muffins at breakfast, cookies in the afternoon, always all you can eat popcorn and their popular complimentary champagne hour where you will meet travelers from all walks of life. Want to get to the beach but don't want the hassle of paying for a ride or dealing with logistics? A timed shuttle on site offers a free ride to Manhattan Beach.
Located only about 3 miles from LAX on Century Blvd. Guests with vehicles will be given a parking pass for the duration of your stay here – very limited parking is available in the pull out leading to the lobby – more parking is available in the back.. And they often offer two-room suites for the price of one room – one of the best price per square foot in the LAX region. Visit: www.laadventurerhotel.com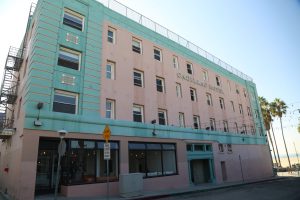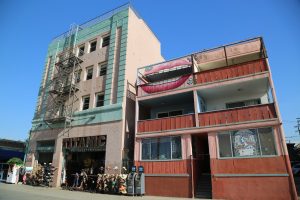 Cadillac Hotel (Venice Beach) is an 'art deco' type hotel located right next to the ocean in Venice Beach at 401 Ocean Front Walk. This is a 4-story hotel – parking is tight, but they do have spaces in a small lot behind the hotel. If you stay in one of their private rooms you are given a card to put in your car for this parking lot – parking for dorm room stays is not provided by the hotel. Very friendly helpful backpacker type hotel – great access to the local beach scene. Hostels and private rooms available. Internet in the lobby or across the street at Henry's market. Many unique and interesting sidewalk vendors call the "strip" in front of the hotel on the beachside home – this strip runs for a long ways all along the ocean in Venice Beach. Note, typically its a little cheaper to reserve a room at this hotel using an online reservation company rather than contacting the hotel direction. Winter tends to be less crowded here, summer can be nuts! More information visit: www.thecadillachotel.com

Couch Surfing (Los Angeles area) – we've done this successfully several times and have stayed with some very nice people throughout the LA area. Basically people allow you to sleep on their couch or floor for a few nights for free. Its a good way to meet people and sometimes allows you to see Los Angeles from their point of view especially if you end up going out to dinner or touring with them. The website we use for this service is: www.couchsurfing.com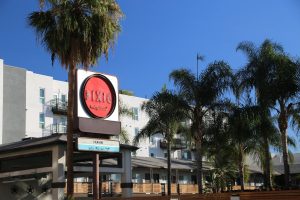 Dixie Hollywood is one of our go to hotels when staying in Thai Town; it is a property that is towards the lower end moderate hotel, upper end budget hotel. It is a half a block walk to the Hollywood & Western metro stop on the Red Line and is located within a short walk of many of the local Thai establishments. Location: 5410 Hollywood Blvd. The rooms are clean and comfortable and fairly modern. A flatscreen and a refrigerator are included in each room. We recommend staying on the second story rather than staying on the first floor as the sound proofing between the first and second floor isn't that great. There is a small pool on site and also a small cafe. Wifi is included and works well.
Little touches let you know that you are staying in Hollywood. The doors to the rooms are painted with movie characters – right next to the lobby you will find James Cameron's Avatar character. The shower curtains are appropriately maps of the Los Angeles Freeway system! Visit: www.dixiehollywoodhotel.com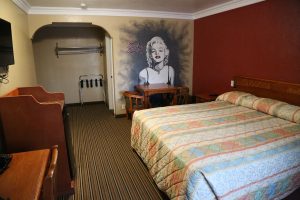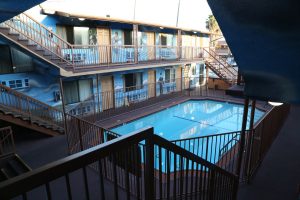 Hollywood Inn Express North is located at 5131 Hollywood Blvd. The hotel has their own gated very tight spaced parking lot located in the back of the hotel – some spaces are open air, ten are underneath part of an overhang of the hotel. The rooms are clean and comfortable – the building sits right on Hollywood Blvd in the eastern part of Thai Town. As a result, there are a number of Thai restaurants easily within walking distance. A pool sits in the central part of the hotel – surrounded by the two wings. Two stories. You an enter from the Hollywood Blvd side or through the back door which accesses the parking lot.
A nice Indian gentleman is often at the front desk. Rooms are very good size with different Hollywood personalities painted on the wall next to the Queen sized bed. Breakfast is merely some juice and or coffee available in the small reception area. Checkout is 11am. During a recent stay we found the Wifi to work very sporadically – during very short intervals it worked somewhat quickly but most of the time was extremely slow or non functional. A Wifi coupon will be printed out with the username and password and is good for 24 hours. For more information visit: www.hollywoodinnexpressnorth.com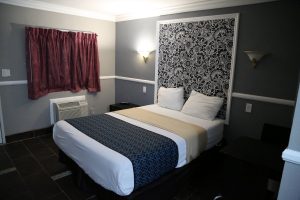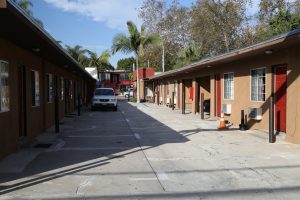 Hotel Salina is located at 3826 Long Beach Blvd in Bixby Knolls just a few minute drive in from the 405 freeway and almost the same distance to the 710 freeway. This is a good location for the Long Beach Airport as well as Long Beach (about 10-20 minutes from either depending on traffic). This one story dated looking (from the outside) has two short wings of rooms culminating in a 6 car tiny parking lot in the back (three cars on each side). There is a good sized guava tree growing next to the parking lot. Additional parking includes an under wing spot and perhaps lengthwise in front of your room.
Be careful when exiting the hotel – the driveway is very narrow and both sides of the sidewalk are blocked by the edge of the hotel so you cannot easily see foot traffic.
The rooms are clean and comfortable – nothing fancy. The insides were renovated within the last couple of years. Beds have good mattresses and are solid. A small work table is located next to the bed with several electrical outlets. During a recent stay, remarkably the Wifi worked without fail. Flatscreen TV, a microwave and a mini refrig come with each room. The front desk is open 24/7. Possibly a better deal than some of the nearby similar looking hotels that we have stayed at.

Hostelling I'ntnl (Santa Monica) is in an excellent location at 1436 Second Street within walking distance of the Santa Monica Pier, the beach and the famous 3rd Street Promenade Shopping area. This is an upscale hostel which was recently renovated with 2 million US dollars. Besides the usual groups of younger backpackers we've also seen a number of older folks staying here. A parking garage is located across the street – a digital sign shows how many spaces are available in the garage at any one time. This hostel is clean, safe and well organized. Lots of local information is available in the lobby – the hostel's travel center is located next door and they can line up tours to pretty much anywhere in the "southland". Internet access is reasonably priced and is located upstairs near the movie room. Dorm rooms sleep 6 each with 3 bunk beds. All sheets, towels and pillows included. Very clean bathrooms. Continental breakfast is also served. About 20 minutes to LAX – a shuttle is available. Our stay has always been good here. More info? Visit: www.hilosangeles.org or call: (310) 393-9913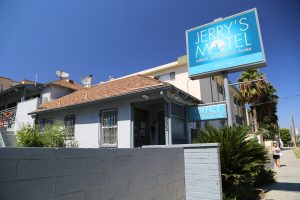 Jerry's Motel (Los Angeles) is an old school motel within walking distance of downtown Los Angeles. It opened in 1947 and the city keeps growing and changing around it's location. It might look a bit run down from the outside but the rooms simple, cleand and in good shape. Based on the location this motel is an extremely good value. If you head east down the street you will find older apartments and homes, a rougher neighborhood if you will – if you go the other direction and head towards downtown you quickly find yourself surrounded by modern buildings. Reserve well in advance. A small parking lot is on site – with enough spaces for one car per room. Good wifi. Visit: www.jerrysmotel.com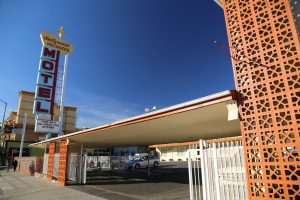 Hollywood Premiere Hotel is one of the cheaper hotels along this stretch of Hollywood Blvd and with that said one of a number of hotels in the area that are not very well maintained at all. They are located 5333 Hollywood Boulevard. This is the heart of Thai Town and is only several miles from the tourist center of Hollywood. They are located right next to the main Thailand Plaza center as well as a very short walk to the closest metro stop (Hollywood Blvd and Western).
Don't expect anything even similar to "decent accommodations" – we have stayed here a number of times – the hotel is very run down; during our latest stay, the shower did not work other than a drip drip (we ended up taking a bucket shower using the waste paper bucket to collect water from the sink – which was working fine). In our several experiences here, the older staff isn't that friendly – and the younger staff is very suspicious of its guests, recently asking/accusing if we were with some homeless looking man who was hanging around in front of the hotel – and requiring us to fill out several pieces of paper indicating home address and then much later knocking on our door with another paper to fill out phone and license plate information.
Once we found used condoms and other entertaining sex toys in one of the drawers. You ask why we stay here? It is in a good location, it is cheap and there is just a certain twisted appeal about staying in a place that is so trashed by time, perhaps a bit of nostalgia for what this place used to be like, and the intrigue of never knowing what to expect from a grumpy and temperamental staff. The place is so bad you don't even find out of work actors here. By night, when a hotel in this location should be full, only a handful (if that) of cars will be in the parking lot.

During one visit we ran into a number of actors and photographers filming here – perhaps a good source of revenue to cover the lack of customers – and certainly a great backdrop for stand in motel similar to the one featured in the great Psycho movie. Still, this doesn't come close to the character of the old Gershwin Hotel down the street a few blocks (closed as a hotel). We stayed there several times. Dead people were found there in their rooms after a week – there are lots of stories from that crazy establishment!
The hotel seems safe enough and the owners or staff always seem to be around. They have an early morning checkout window with buzzer. There is a pool located in the parking lot between the sidewalk and the actual street – (yes its surrounded by concrete, but almost swimming on Hollywood Blvd has a certain charm). They have their own parking lot which is helpful as this part of Hollywood Blvd with its street side limited or metered parking always poses a challenge. The free WiFi as advertised typically works very sporadically, often in the afternoons but stops working in the evenings and early mornings. Phone: (323) 466-1691. Visit: www.hollywoodpremieremotella.us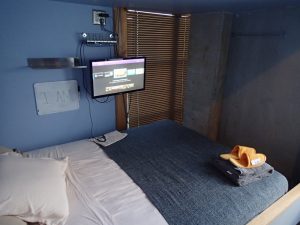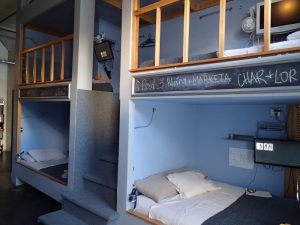 PodShare is a unique concept with an ideal location just steps away from the heart of the action along Hollywood Blvd. The Podshare is the creative work of Elvina and her business partner Joan. They opened in the early part of 2012 with the help of a number of people, including Elvina's father who built the pods, as well as "couchsurfers'. This has already become the go to affordable place to stay for International visitors.
When you check in – find a pod and write your name on the chalk board in front of your pod. Become a part of the podshare community -introduce yourself to your podmates. Either bottom or top pods are available.
This place is very 'teched out" – each pod has a flat-screen monitor with included tv, movies (Netflix & Hulu) and the ability to hook your laptop up to it. Wifi is included.
Podshare is about a 10 minute walk between each of the closest metro stops along Hollywood's Red Line – with advance reservation you can park your car in the valet parking lot next door which is open from 8am to 2am. Visit: www.podshare.co

Samesun Hostel is arguably the most central place to stay in Venice Beach. Mere steps from the sand (including the famous Muscle Beach) and the Venice Beach boardwalk, this cozy hostel delivers comfort and safety at an affordable price in a location where you would be spending significantly more if this was a hotel. Backpackers and other sun seekers flock to this hostel from around the world. It offers a chance to meet and mingle with mostly young travelers – a place to call home for a few days or longer while you explore the diversity of Los Angeles often with new found friends.
Choose from a variety of accommodation ranging from private rooms to 4 and 8 bed hostel rooms. And some of the rooms offers views of the ocean. Breakfast is included with every stay. Be sure to check out the Surfside Bar + Grill downstairs. Super relaxed place, great for meeting friends for drinks and excellent food. The Breakwater Burger is a real California classic, cooked perfectly, and super tasty with avocado and bacon. To balance out the burger order a green salad. After all this, perhaps one doesn't really need dessert but who can pass up bread pudding with vanilla ice cream? It was over the top, hot from the oven in the same dish it was baked in. Definitely plenty for two to share.
The staff couldn't have been nicer, and the ambiance of the restaurant was just right – not too crowded, not too noisy, and not overly lit. All in all, a very pleasant dinner well worth checking out the next time you are in Venice Beach.
Several parking lots are next to or nearby the hostel – offering overnight parking if needed (a bit pricey) – free street parking in nearby neighborhoods a few blocks to the east are a short walk away.
And a stay here shouldn't just be about the accommodation. Take advantage of some of their fun experiences offered including an 'only in LA Limo experience' (reasonably priced for what is offered) which includes a stretch limo ride to Hollywood, drinks and access to some swanky nightclubs. Also take advantage of the hostel's location to join a 'boardwalk bar crawl' (with a local expert) or if visiting on a Tuesday night – participate in the hostel sponsored 'foodie Tuesday'.
For more information about this highly recommended property for budget travelers, visit: www.samesun.com/backpackers-hostels/venice-beach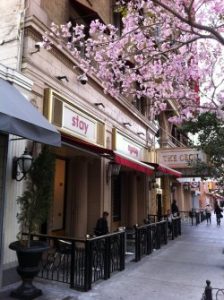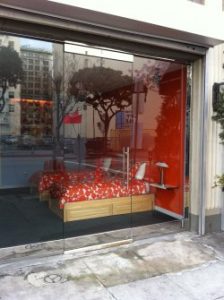 Stay on Main (downtown Los Angeles) formerly Hotel Cecil is located at 636 S. Main Street. NOTE: THIS HOTEL IS NOW CLOSED with renovation work continuing through probably 2019 or 2020. We stayed here several times in the spirit of research over the years before they closed. We will revisit once this property reopens as a re-branded space. Note the old Hotel Cecil sign that still hangs prominently from the side of the building.
In 2013 a guest made her way into this hotel's water tank – and was decomposing there for some time fouling up the hotel's water supply until her body was ultimately found. Long known as the suicide space due to all the suicides that have occurred on site over the years. This property certainly has a checkered past.

Tropicana Motel (Compton) is located on the corner of E. Compton Blvd on the edge of a residential neighborhood. Fairly quiet location – sometimes sirens, more distant then close during our experience here. Sign in front indicates no prostitution and other wills of ill.
Multi story very basic hotel often offers reasonable rates. Parking is is in a small lot in front of the hotel (near the reception) or a small lot in the back accessible via a side alley. The walls are extremely thin and you will most likely hear your neighbors, even if they aren't being overtly noisy. In a part of town where your within easy access of several major freeways including the 710, 91 and the 105. Just down the street from a beautiful mausoleum.
Friendly staff. The main gate to the entrance is locked late in the evenings. One mention must be made about the WiFi. During our stay it was among the fastest networks we have been on at a hotel – surprising especially at a budget hotel such as this where advertised wifi rarely works, or if it does, doesn't work very well.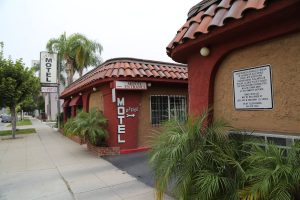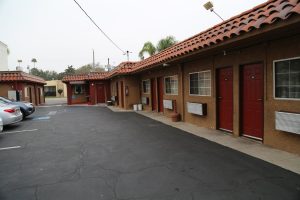 UpTown Inn (Bixby Knolls) is located at 4034 Long Beach Blvd – this is minutes from the 405 Freeway and about 15-20 minutes from downtown Long Beach. Several gas stations are located near the intersection of Long Beach Blvd and the 405. This is a one-story dated looking motel with a limited number of units. An elderly Indian couple are on site and and are who you see behind the reception window when you check in. There is a key hole at the front reception to drop your plastic key card when you leave.
The entrance and exit (same driveway) to the motel's driveway is very narrow and when you pull out you must do so slowly in case any pedestrians are walking by. This major Blvd does get very busy during the day but in the later evening it slows down substantially and it is much easier to make a left hand turn out of the driveway at this time.
The rooms are very basic with comfortable beds – the price is reasonable as well. A guava tree grows next to their small parking lot. During a recent stay the WiFi stayed solid the entire time we used it. Room 106 had two dead electrical outlets at the time of our stay. The light switches are a bit odd but seemed to work fine. Phone: (562) 427-7803

Vibe Hotel (Hollywood) is located right next door to the Palms Thai Restaurant at 5920 Hollywood Blvd about 3/4 to a mile from the main action in Hollywood. This is an interesting hotel – the staff is extremely friendly and helpful – there are signs posted in the rooms saying if you are loud or are fighting the police will be called. There are some shady looking people hanging around this hotel. It has an interesting vibe – some of the people look like out of work actors. There is a parking lot that divides both sides of the hotel. If you don't know where this hotel is located, its extremely hard to find – as there is one small very narrow entrance and exit between the two parts of the hotel. Often traffic backs up on Hollywood Blvd and you have to wait in order to turn into this hotel.
Sometimes it can be hard to track down the front office attendant if the door is locked and they are elsewhere in the hotel.
A dark lounge near the main office has Internet. Sometimes this is open to the parking lot, sometimes this is closed. There is also an Internet station upstairs. Smoking is prohibited from some of the rooms, but people smoke inside anyways. Private and hostel rooms available. Website: www.vibehotel.com