Newport Beach is located about 45 minutes to 1 hour south of Los Angeles. From downtown you would take the 110 South to the 405 South, to the 73 South, to the 55 West which runs right into PCH, Highway 1 in the middle of Newport Beach. Attractions here include shopping, especially at Fashion Island (an open air shopping complex) and touring the fancy homes on Balboa (a small lengthy peninsula just off the coast).
During the holidays some of the mansions on Balboa are highly decorated – huge splashes of lights, fake snow and other ornamental attractions decorate the front of the homes. Jump on the Balboa Ferry (either with your car – limit 4 or 5 cars, or drop off your car in one of the parking spots and walk to the ferry). Admission for individual passengers is less than a dollar for the 5 minute ride.
One you arrive on Balboa exit right and walk along the concrete pathway – this walkway will lead right in front of the fancy homes and give you great views across the waterway as well.
Newport Beach is a predominately wealthy Caucasian community. This area enjoys great weather most of the year with great views of Catalina Island from the nearby hills on clear days. There are many small boats and yachts docked in the various marinas here. Some homes have their own piers on Balboa and you may see fancy yachts docked at some of these.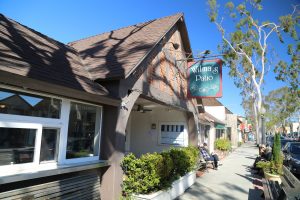 If you are ever on the Lido Island across from the Balboa peninsula near Newport Beach in Orange County California be sure to stop by Wilma's Patio for casual family dining. You can drive onto Balboa Peninsula via a bridge and then take the short ferry ride (car, bicycle or people) which drops you minutes from Wilma's Patio. Or you can drive via bridge onto the Lido Island. Wilma's is located at 203 Marine Ave, in Balboa – Phone: (949) 675-5542. They are known for their delicious breakfasts. We highly recommend sampling their excellent Crabby Benedict located under their "Benedict Gallery" on their breakfast menu. Indoor and a small covered semi outdoor dining area is available next to the main entrance. The weather in Orange County is usually quite nice most of the year and you will often see people dining outside. Visit their Web Site: www.wilmaspatio.com
A good website about Balboa including many photos is www.talesofbalboa.com
Visit Newport Beach California at www.visitnewportbeach.com