The following are a few shopping districts and or shopping centers that we have visited in Los Angeles and Orange County.
LOS ANGELES
Los Angeles is one of Southern California's hubs for shopping and fashion ranging from high end shops in Beverly Hills to the mega sized shopping+entertainment centers. Many of these shopping centers do not just feature shops but are lifestyle destinations in and of themselves – boasting other attractions set among the shops (such as theaters, entertainment options and creative architecture)
Americana at Brand is large sized shopping mall centered around a public area which includes fountains and statues. As the name indicates, this shopping center is located next to Brand Blvd in downtown Glendale. This is not your boring looking shopping mall from years past. The elevator to the parking garage is built like something out of Vegas – it appears to be some sort of rusted iron structure with the uppermost part somewhat resembling the Eiffel Tower.
The central fountains incorporate light and music – popular hit songs, American classics and other patriotic tunes play in tune to the shooting water and light display. If you think are you are seeing something similar to but much smaller than the Bellagion in Las Vegas – your thoughts are on the right track. This fountain was designed by the same group that designed the Bellagio's water show.
An outdoor track runs around the perimeter of the center next to the shops – the trolley is closed in the morning but generally runs much of the afternoon into the evening depending on the day. Name brand shops include Tiffany, Armani Exchange, Apple and Urban Exchange among many others; there are over 75 shops in total. Getting hungry? Americana at Brand offers more than 20 dining experiences within the shopping center.
The first hour of parking is free – be sure to take your parking ticket with you and validate it at one of the machines before you exit the parking garage. Visit: www.americanaatbrand.com
Beverly Center is located at 8500 Beverly Blvd just off of N. La Cienega, just south of Melrose Ave. This "super" shopping center takes up a huge amount of room and is completely surrounded by La Cienega Blvd, 3rd Street, San Vicente Blvd, and Beverly Blvd. It is one of Los Angeles' premier shopping centers. You can spend literally hours in here shopping all the high end shops and yes we've done it! The design of Beverly Center is nice in that the parking garages integrate very nicely with each level of this center.
Beverly Center is located on the west side of the road and contains over 160 fancy high end shops. Great clothes shopping here! A huge Macy's anchors one end of the complex with Bloomingdales on the other side. A large movie theatre is located towards the top of the mall. Parking is free and is in a garage next to the actual mall.
You can also park at meters on La Cienega and its a short walk to Macy's.
Open M-F from 10-9pm, Saturday 10-8pm and Sunday 11am-6pm. Visit: www.beverlycenter.com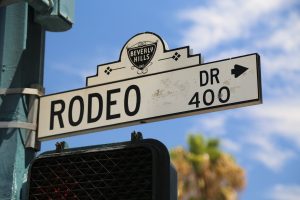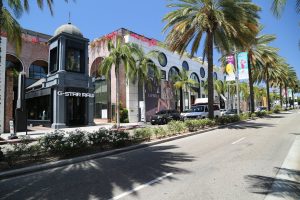 Beverly Hills – parts of Wilshire Blvd have some very nice shopping – including the 9700 area blocks with Neiman Marcus and Sak's Fifth Avenue. Most stores don't allow dogs inside, but not these stores, where little purse poodles and pocket Chihuahua's are common. Shopping for handbags? You can easily spend up to $40,000 per hand bag with many in the cases coming in the $15,000 to $20,000 range. The most popular designers have their own rooms within the store dedicated to their products. Also view additional Beverly Hills info here.
– Robertson Blvd – Several blocks of Robertson Ave starting at about 4 blocks north of Wilshire is an upscale trendy shopping district. This area is also less than 1/2 a mile from the Beverly Center (as described above). You may see some name brand shops in this area but name brand shopping is not as common here as in other more well-known shopping districts of Beverly Hills…as say Rodeo Drive. The highlights here are high end boutique stores. Looking for t-shirts made in India for $150 to $200 per shirt? You can find them here!
This is an area of Beverly Hills where sometimes celebrities are seen shopping – in tow with Paparazzi hanging on their every move. We travel with a large camera and while hanging out in a nearby gas station we had several people ask if we were following celebrities including one mother daughter team who had driven up from San Diego to this particular section of Beverly Hills just to try and spot the "stars".
Regardless of whether you see any stars or not, you will see some very fashionable dressed shoppers, maybe a Chihuahua or two and a number of very expensive items for sale.
Rodeo Drive, one of Beverly Hills most famous attractions is an exclusive collection of high priced well known urban fashion shops (clothing, jewelry, purses, & other boutique stores). Conveniently located off of one of Los Angeles' most prominent thoroughfares, Wilshire Drive. The actual length of Rodeo Drive is approximately 2 miles but the iconic part of the drive is merely 3 blocks packed with sophistication and pricey lifestyle choices. Rodeo Drive is continuously from Sunset Blvd to Wilshire Blvd where it continues again a very short distance down Wilshire as South Rodeo Drive – where it ends at South Beverwill Drive.
As a luxury destination, Rodeo Drive can trace its roots back to 1967 when Fred Hayman (otherwise known as the father of Rodeo Drive) opened Giorgio Beverly Hills – the first high end shop on Rodeo Drive. This was followed by Aldo Gucci opening a store a year later. Today a number of accessible yet super high end name brand International recognized brands have shops here. At one point Chanel even opened up a year long popup wine salon for their St. Supery Wines, based in the Napa Valley.
The worst mistake a tourist can make when referring to this famous street is to pronounce Rodeo with no accent – the emphasis and accent should be on the second syllable, pronounced like: Row day oh – rather then Row Dee Oh. Or if you want to simply make a statement as a modern day urban hipster, dress in cowboy jeans, with cowboy boots complete with a head turning cowboy hat and randomly ask people on Rodeo Drive, the following, "how is your day on Row Dee Oh Drive going".
Want to see shirts for thousands of dollars – that is not hard to do – simply by ducking into certain shops along the three block high-end section of Rodeo Drive. And these premium shops are not just confined to this short section of Rodeo – rather a number of blocks in all directions feature luxury products. This area surrounding Rodeo Drive is known as the Golden Triangle.
The entrance and exits to the raised shopping area on Rodeo Drive are via stairs that lead up to the actual shops – several of the highest real estate blocks somewhat resemble a movie set. Dressy clothing not required to walk through this area although it certainly helps when seeking to see and be seen (and of course plan your wardrobe carefully before visiting – drooling over the Instagram moments that you will soon capture). Be sure to use the #onlyonRodeo. Also consider bringing a small purse size dog – the smaller the better.
Very popular with tourists from around the world. So popular in fact, Rodeo Drive maintains its own website, www.rodeodrive-bh.com and active social media presence. Plenty of parking surrounds Rodeo Drive including metered spots, parking garages (some of which provide several hours free of charge). Note that many of the streets surrounding Rodeo Drive (in the Golden Triangle) are one way streets.
Even Frank Lloyd Wright got into the action on Rodeo Drive – he designed the building at 332 N. Rodeo Drive.
Two primary luxury destinations along Rodeo Drive are Two Rodeo Drive (an outdoor shopping center with a strong faux European flair and feel) and The Rodeo Collection a 4-story luxury boutique mall. And two iconic hotels in the area are Beverly Wilshire and The Beverly Hills Hotel and Bungalows.
And if you are in town on Father's day weekend, and enjoy luxury automobiles (who doesn't) stop by Rodeo Drive for the Concours d'Elegance to drool over these automotive masterpieces. You know Robb Report will definitely be here.
Burbank Town Center is a fairly large mall that opened in 1991. It is located at 201 East Magnolia Blvd in downtown Burbank. Conveniently located right next to the 5 freeway (with access off of the 5 via the Burbank/Olive Ave East). Anchored by an AMC movie theatre the mall features three levels of interior shops including the big dogs, Macys and Sears. Also a number of outdoor shops. Like numerous locations within town (but especially so in Burbank with its proximity to various studios), this mall has been featured in several TV shows and films including an episode of The Mentalist and the movie The Call.
This is a sizable shopping center and one could easily spend all day here.
This mall features 170 retail shops and plenty of restaurants. One of the highlights of the interior is the giant dome above the Center Court. Parking for visitors is free – using the garages or nearby surface parking lots. Over 5,700 parking spaces are associated with the mall. If you get tired of mall shopping – there are plenty of other shops in and around the area including some nice ones in old town Burbank. The mall has also been used in scenes numerous TV shows including Desperate Housewives and a short scene in the Hangover II movie. For more information, visit: www.burbanktowncenter.com
Citadel Outlets (Los Angeles' first factory outlet center) are located in the city of Commerce just off the 5 freeway near Atlantic and Eastern Avenues. Huge impressive castle walls built in 1929 stand in front of all the shops and are easily seen from the 5 freeway. These walls stood in for part of the filming of the movie, Ben Hur.
These outlets are located just north of the tall Commerce Casino (www.commercecasino.com). More recently huge LED screens were installed on top of the walls providing advertising to the thousands of cars that drive by each day. For more information about the Citadel Outlets please visit: www.citadeloutlets.com
Del Amo Fashion Center is located at 3525 Carson Street. This is one of the larger malls in the entire USA – it is 2 levels and offers both an indoor and outdoor shopping experience. It is not the largest mall in the southland however – that honor falls to Central Coast Plaza in Costa Mesa. The original Del Amo mall opened in 1961 with more added on in the early 1970's. The outdoor shops are much newer. A huge open air parking lot surrounds the mall and there is also a multi level parking garage. Like the South Bay Galleria a few miles away, Del Amo also has an AMC Theatres complex (18 screens). Sears and Macy's anchor this huge mall. Visit: www.delamofashioncenter.com
Grove Shopping Center is well known locally; this center is located in Los Angeles at 189 The Grove Drive off of Fairfax within about a mile of another other super shopping center (The Beverly Center). This shopping area showcases upscale shops ranging from Abercrombie & Fitch which anchors one end to Anthropolgie. The Pacific Theatres movie complex is located in about the middle. Rather than being one big indoor mall with multiple levels like the nearby Beverly Center The Grove is an outdoor mall with the shops situated along a walking street. Within the middle of this street is a cable and an electric trolley often makes the trip through the shopping center to the Farmers Market next door. Rides are free. There is often live music held outdoors – we've seen photos shoots from time to time and other events related to fashion or the film industry.
Park in the large garage next door to the Grove – either self service or valet parking is available. The first hour is free – you must validate and pay using the machines next to the elevators on each level before leaving the garage. Phone (888) 315-8883 or visit: www.thegrovela.com
Long Beach Towne Center is located at 7575 Carson Blvd right next to the 605 Freeway. This massive shopping center is spread out – with plenty of parking on site. A number of shops and restaurants are actually located in various parts of the parking lot including the old looking Lucille's Smokehouse, a car wash and a number of other lifestyle type stores. The main road within the complex is shaped like a horseshoe with parking spread out around this horseshoe shape. All the curbs in the parking lots can sometimes make parking a difficult task – there are too many roadblocks within the parking lot.
The Promenade is the center of this shopping center containing a stage (where the summer concert series are held every Saturday from June through August – featuring local musicians and free admission), an impressive video wall and plenty of shops and restaurants. Anchored by the Edwards 26 Cinemas – an outdoor space features pretty reflecting pools and fountains. Also a food court with crowd favorites including Panda Express.
In our experience, this shopping center is kept very clean. Open 9am until 9pm Monday through Saturday and on Sunday from 11am until 9pm. For more information and a listing of current events, visit: www.longbeachtownecenter.net
Promenade at the Howard Hughes Center is literally located right next to the raised 405 freeway south just 10 minutes from LAX. Take the Howard Hughes exit. Theatres and a multitude of shops can satisfy even the most sophisticated shopper. Lots of parking and lots of shops to fill up your entire day. An open air food courtyard is located in the center of this Promenade. From the 2nd floor you have excellent views of the angry 405 freeway which sits literally next door. Visit www.hhpromenade.com for more information and browse our photos below.
Melrose Ave west of La Cienega almost all the way to where it hits Santa Monica Blvd has some very nice looking eclectic shops. These shops considered Lower Melrose cater to the younger crowd. The shops on Upper Melrose typically east of Fairfax Ave are for the 40's and above crowd.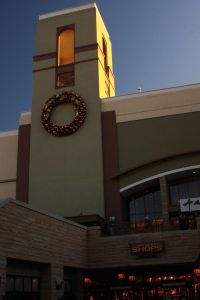 Paseo Colorado is a destination shopping center located along Colorado Blvd in the heart of Old Town Pasadena. This mall is anchored by Macy's and the upscale Gelson's grocery store and features a number of clothing and specialty shops as well as National chain restaurants.
The mall borders Colorado Blvd so some of the shops are actually on the main street while many of the shops are within the actual mall itself. Three parking garages service the mall including the main garage right on Colorado Blvd located under the mall.
Be sure to validate your parking ticket before you leave using any of the machines in the garage – with a validation 90 minutes of parking is free. Visit: www.paseocoloradopasadena.com

Sherman Oaks Galleria is located right near the intersection of the 405 and 101 freeways – you can see this huge complex from the freeways. This shopping center reached cult status in the 1980's as it was featured in the movie, Fast Times at Ridgemont High, starring Sean Pean with appearances by Nicholas Cage and Forest Whittaker. In part the Horror movie, Chopping Mall was filmed here as well as parts of the Beverly Center. "Like oh my God" – ever wonder where this phrase came from – its from Frank Zappa's song in which he mentions the Sherman Oaks Galleria. This mall closed for a major renovation in the late 90's which completely changed its look. We first visited this mall right after it re-opened in 2002. More info – visit www.shermanoaksgalleria.com

South Bay Galleria is located at 1815 Hawthorn Blvd just minutes south of LAX airport (with reasonable traffic) off of the 405 Freeway. There is plenty of parking – with a garage on the west side of the Galleria as well as a number of open air spots surrounding the mall. It is Los Angeles – valet parking is also available. This shopping complex is anchored by both Macy's with its faux brick exterior and Nordstrom. There is a AMC movie theatre complex on site. Free Wifi is available in the food court with some coverage on the 1st and 2nd floors. Visit: www.southbaygalleria.com
Southbay Pavilion (formerly known as the Carson Mall) is located at 20700 Avalon Boulevard just off of the 405 in the city of Carson. It first opened in 1973 and today it's largest tennants are IKEA, J. C. Penney, Sears and Target along with the Cinemark Theatres. Plenty of open air parking (4,500 spaces). Part of the parking lot features the Carson Farmer's Market every Thursday from 10-3pm. Inside there is a 200-seat food court featuring popular name brand restaurants. Open 10am to 9pm Monday through Sat – 10-7pm on Sundays. Visit: www.southbaypavilion.com
Sunset Plaza is located on 8600 to 8700 block of Sunset Blvd and features current European and American designers. This area of Sunset Blvd is very fancy and contains many high end shops on both sides of the street. Nice outdoor cafes are also located here. Visit: www.sunsetplaza.com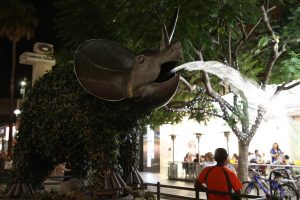 Third Street Promenade is located in Santa Monica only minutes walking to the beaches and the Santa Monica Pier. This area is worth visiting for its upscale shopping and very unique street entertainers (many of them). Third Street is closed to traffic which makes this a great walking district. There are plenty of small shops and restaurants along this promenade to keep even the most die hard of shoppers entertained.
More then 200 shops are contained within the space – which is sizable at almost 500,000 square feet. Also plenty of culinary options including small cafes. And easy access to the twice a week farmers' markets held in the area. Visit: www.downtownsm.com

The Lakes at Thousand Oaks is a fairly small but very modern shopping center conveniently located at 2200 E Thousand Oaks Blvd – mere minutes from the 101 Freeway. This picturesque mall features a number of restaurants including P.F. Changs, Sabor Cocina Mexicana and Umami Burger. Lassens Natural Whole Foods & Vitamins is one of the larger retail outlets here. Plenty of open air parking is available – as well as a select few spots at an angle to Thousand Oaks Blvd. The small ponds, grassy areas, seating and walkways adds a very nice ambiance to the front of this shopping center. Sometimes live music performs in the evenings. For more information visit: www.shoplakes.com
Westfield Century City is located at 10250 Santa Monica Blvd just down from the Avenue of Stars. Parking is in a multi story garage with easy acess to the main part of this shopping center. You can enter the parking structure directly from Santa Monica Blvd or Constellation Blvd.
The new western extension of the Metro to Santa Monica runs just south of here. This is a major shopping complex with many high end shops, dining and the large AMC Century City 15 movie theatre complex on site. Bloomingdales is the anchor department store here. This mall underwent a major renovation in 2016 and 2017. The first branch of Eately in Los Angeles opened in late 2017 to much acclaim and hype.
More information about this particular shopping center: www.westfield.com/centurycity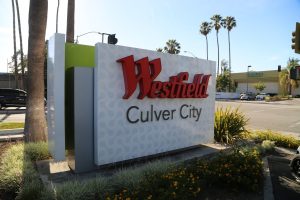 Westfield Culver City (formerly Fox Hills), is very conveniently located next to the short 90 freeway in Culver City and alongside the great 405 freeway. Currently the largest stores anchoring this sizable mall are Best Buy, J.C. Penney, Macy's, Nordstrom Rack, and Target. Originally opened in 1975 it was one of the first 3-story malls in Los Angeles. Located on 50 acres of land.
Not a bad food court either, as far as malls go. Features a wide diversity of culinary options ranging from the fast food big chains, to smaller much lesser known restaurants. Decent selection of Asian restaurants. Visit: www.westfield.com/culvercity

Westfield Santa Anita is a very modern mall located at 400 South Baldwin Blvd just down from the famous Santa Anita racing track. This is mere minutes south of the 210 Freeway. The mall has their own parking garage – although there is also plenty of outdoor parking.
Plenty of mid level premium shops surround a walking courtyard with a central area – often performances or other events are given here. Macy's and Nordstroms are the two anchor stores here.
For more information visit: www.westfield.com/santaanita
ORANGE COUNTY
Orange County is a major shopping destination – boasting huge square footage malls and very modern shopping centers. These mega shopping centers usually have open air parking as well as parking garages and often feature Valet parking options. Palm trees, fountains and open air walkways between the shops are often integral parts of many of these properties. Many of these shopping centers do not just feature shops but are lifestyle destinations in and of themselves – boasting other attractions set among the shops (such as theaters, entertainment options and creative architecture).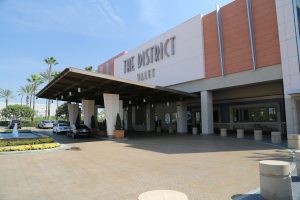 District Shopping Center is a million square foot shopping mall that is spread out across some distance on the Northeast corner next to the intersection of Jamboree and Barranca Boulevards in the city of Tustin. The location is about equidistant from the 5, 55 and 405 freeways. Large retailers have a presence here including Costco, Target, Whole Foods and Lowe's – among others. There is plenty of open air parking here – as well as a prominent valet parking pull in spot off of Park Avenue.
This is not just a shopping destination but so much more. The District Promenade forms the center of this complex and contains many shops, restaurants as well as entertainment options including the AMC Tustin, a 14 screen theater and Bowlmor Lanes (30 lanes of bowling). There are also plenty of restaurants located here which focus less on established name's but rather smaller restaurants you won't find nationally.
For more information visit: www.thedistricttl.com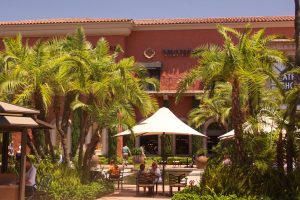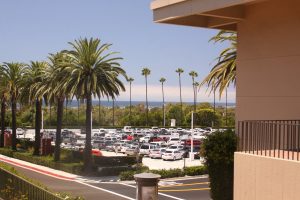 Fashion Island is located in Newport Beach close to Highway 1 (PCH) at 401 Newport Center Drive. This very upscale "Italian styled" shopping "island" is located in a wealthy demographic region of Orange County. Fashion Island features Bloomingdales, Neiman Marcus, Nordstrom and Macy's as the anchor stores. There is a nice mix of outdoor walkways and a large variety of shops. It originally opened in 1967, featuring four department stores and was called the Newport Center. The name "Fashion Island" has a better ring to it! This shopping complex has undergone a number of upgrades and feature changes over the years – today over 130 stores are represented. There is even a Whole Foods here and a Tesla store.
The walkways like other Orange County shopping centers are open air and feature fountains, small ponds, interesting architecture and sculputure. You can also see the Pacific Ocean when its clear from parts of Fashion Island. Parking is both open air and garage. There are also seven valet parking spots throughout the entrances to the center.
Despite "island" as part of the name, this shopping center is not on an island. Rather it is contained in an almost perfect oval shape bordered entirely by Newport Center Drive – two roads, one going one direction, one going the other.
One of Orange County's largest property developers (and donators of Open Space Land) The Irvine Ranch owns this shopping center (along with others including Irvine Spectrum Center and the Marketplace in Tustin).
Also of interest is the name of the major Jamboree Boulevard that passes close by. The Boy Scouts of America held their annual Jamboree on the site of what is now Fashion Island in 1953 – the only time it was ever held on the west coast. Part of this road was put in place in 1953 to service this gathering of 50,000 people to area trains stations. Visit: www.shopfashionisland.com
Irvine Spectrum Center is a large shopping complex featuring 130 stores located in the "triangle" formed by where the great 5 and 405 freeways meet in Orange County. From the 405 exit Irvine Center Drive or Alton Parkway from the 5 freeway. Parking is free in an adjoining parking garage which electronically lists how many spaces are still available, floor by floor as you enter. The most coveted parking spots are on the first level in the North West Corner. This center contains enough shops to satisfy even the most hardcore of shoppers. The mall features outdoor walkways with shops on both sides and several fountains and plenty of palm trees. Macy's, Nordstrom's and Target are anchor stores.
The Improv has a location here – with big name comedians often performing. A mega sized 21-screen Edwards Imax Cinema is an imposing presence at the mall and features blockbuster movies. An old fashioned looking carousel provides some entertainment for children (and adults). Notable other features include the white obelisk which lights up at night with the word "Spectrum" and a giant Ferris Wheel.
It is always interesting to notice the dichotomies that one invariably experiences at some point while on the road. Several are present here from the fake lawn used as landscaping complete with sprinklers, to the "smoke and vapor free environment signs" greeting you at the entrance – but then you see a vendor selling vapor products, to the small store that with the name "Newstand" but when you walk inside to buy a newspaper, they do not sell any newspapers!
The mall is open until 8 or 9pm every day. For more information visit: www.irvinespectrumcenter.com
South Coast Plaza is located in Costa Mesa, sandwiched nex to a "geographic triangle" formed by three freeways, the 405, the 73 and the 57. As a related note, because of this unique freeway formation and often lots of traffic – it is easy to get confused and or find your desired freeway and or freeway entrances/exits.
By volume, this is the largest mall on the entire West Coast of the United States. 250 stores, 30 restaurants and a performing arts center. Based on its unique size this is one of the true epicenters of shopping in Orange County. This is a modern mall with all the trappings of luxury including Tiffany's, Gucci, Armani and other luxury pinnacles.
A number of premium restaurants are also located here. A giant raised walkway connects two ends of the mall, passing easily over a major street.
With annual sales of around 1.5 billion – this is the highest grossing mall in the country. Oh and unbelievably this mall is still family owned. You look at it today and you have no idea it was created in the roots of Lima Bean farming fields. The owners, the Segerstrom's opened the first "version" of South Coast Plaza in the mid 1960's in one of their farming fields. For more information and a directory about this mall visit: www.southcoastplaza.com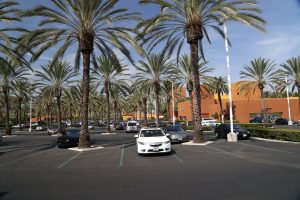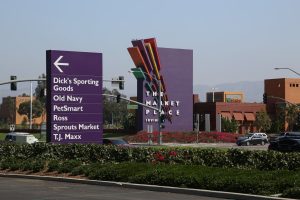 The Marketplace (opened in 1988) is located in Tustin just north of the 5 Freeway and is located along one of Orange County's most recognizable Blvds, Jamboree. This massive complex is decked out in bright orange, purple and pink colors. It boasts more than 120 stores, restaurants, cafes and two Edwards Theatres over 1.6 million square feet of space! Big name stores are located here including Best Buy, Dick's Sporting Goods, Lowe's, The Home Depot, and Target among others.
Large signs are prominently displayed along Jamboree leading to multiple entrances along this spread out shopping center. All store signs are shown in neon.
This center has lots of open air parking – which extensively features date palm trees that reminds one of being in the desert. One of Orange County's largest property developers (and donators of Open Space Land) The Irvine Ranch owns this shopping center (along with others including the well-known Fashion Island and Irvine Spectrum Center).
Visit: www.shopthemarketplace.com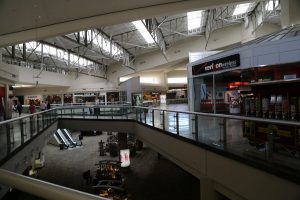 Westminster Mall is a classic example of a middle-class American mall; it is located right next to the 405 Freeway – exit Bolsa Ave. The stores here are a mix of name brand national chains and some lesser distributed stores. When you enter the parking lot from Bolsa Ave you don't immediately realize how large the mall actually is – as from the parking lot here it appears to be just one story. However, the lower floor is actually some distance below the parking lot level.
There is a classic looking carousel located on the first floor for children and for those adults who feel young at heart. Several automatic massage chairs are scattered throughout the mall – activated by small payments. There are over 150 shops here – with Macy's, Sears and JCPenney as the two anchor stores. In 2008 this mall underwent a number of renovations including new bathrooms and a childrens play area.
Visit: www.westminstermall.com

TO BE REVIEWED STILL
Baldwin Hills Crenshaw Shopping Plaza – Los Angeles
Eagle Rock Plaza – Los Angeles
Fashion Square, Westfield – Sherman Oaks
Glendale Galleria – Glendale
Lakewood Center – Lakewood
Los Cerritos Center – Cerritos
Northridge Fashion Center – Northridge
Panorama Mall – Panorama City
Plaza West Covina Visit: www.shoppingplazawestcovina.com
Promenade, Westfield – Woodland Hills
Puente Hills Mall -City of Industry
Santa Anita, Westfield – Arcadia
Santa Monica Place – Santa Monica
The Shops at Montebello – Montebello
South Bay Galleria – Redondo Beach
Stonewood Center – Downey
Topanga Westfield Visit: www.westfield.com/topanga
Valencia Town Center, Westfield – Valencia
West Covina, Westfield – West Covina
Westside Pavilion – Los Angeles