The three "E's" are important on any good LA area studio tour. Energetic, Entertaining and Enthusiastic ! These items can come from the tour guide or from you and will contribute to an overall better tour. Asking a number of questions will benefit both you & the rest of your group.
We have personally visited and toured at all of the major Los Angeles studios – our reviews, information and photos are listed below for each tour. Los Angeles, CA – Studio Tours
Studio Tours are popular Los Angeles attractions – see the sets and studios where movies and TV shows are made and even be part of the sit in audience for comedies or other TV shows. Typically the major studios will be closed on Saturday and Sundays.
Only major studios are listed on this page – there are many smaller studios in LA that most of the public has never heard of. Did you know that the largest US based Pornography film industry is in the San Fernando Valley? None of those studios are listed on this page. Some of the more popular mainstream studio locations are listed below.
Five major studios located in Los Angeles area offer tours to the public (these are reviewed below). There are many other smaller studios and even virtual studios (companies that do not own their own sets) in the area but they typically do not offer tours to the public. Additional studio and other relevant information is listed towards the bottom of this page.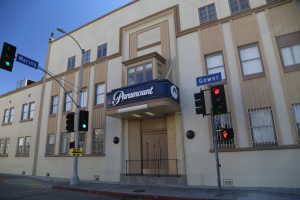 Paramount Studios is located on Gower Street just south of Hollywood Blvd. For Audience Shows and Studio tours please call the info line at Phone Number (323) 956-1777 – you must make advance reservations. Allow 2 hours for the actual guided tour. A golf cart is provided to drive you around from set to set although there is a bit of walking on the actual sets. This is a true production tour, not an "entertainment/theme' tour. Paramount is always filming a large variety of TV shows so you never know which set you will walk onto or which ones you can't access due to live filming. When we were here, Eddie Murphy was filming a new movie and to indicate a live set, flashing red lights shine outside the main sets entrance. The main entrance is on 5555 Melrose Ave – and parking is available in a lot almost directly across from the entrance. You pay a small amount to park, but then bring your Paramount Studios ticket back after your tour and your payment will be refunded.
It is recommended you arrive at least 20-25 minutes early. Parking is in "visitor parking lot A" directly across from the main entrance on Melrose Ave. You will have to pay. There are many 2-hour free parking spots on nearby streets (not long enough to cover your full tour) – as well as some all day free parking (these spaces are extremely coveted and there are relatively only a few nearby this Paramount entrance). After you go through security you will either be escorted to the "coffee/snack shop" or will walk there on your own, ultimately meeting your guide in front of the store entrance. Look for employees and actors lounging around drinking coffee inside and outside on the nearby tables. Tours are always quite small – maybe 10 people or so. The nice thing about this tour is each tour is different due to always varying production schedules as well as the fact that there is no set script the tour guides need to adhere to.
This is quite refreshing and *very* personable as it helps liven things up for the tour guides and for you should you return for an additional tour. Another note – always ask questions…this also helps keep things lively for your group as well as your tour guide. Our guide was awesome…always trying to get us onto sets and near live filming. We were also able to meet several set construction employees. Think movie making is all glamor and involves only actors – absolutely not!
We saw many of the extras just sitting around listening to Iphones looking bored. In addition to the massive sets that are constructed for Television and Movies, Paramount also has outside sets – including their New York City back lot – which down to the most mundane details such as scuff marks on sidewalks resembles a real city. Did you know that studios rent out their space to other studios. So despite a movie being produced by one studio, in actuality that movie may have been filmed at a number of studios.
Another highlight is a visit to Paramount's Camera office where you may meet with some of their key employees who work here. Did you know that the majority of movies and TV programs are still shot entirely with film. Until much higher quality affordable digital technology comes along, the film industry will continue to use tried and true technology.
Paramount Studios is the only major studio actually still located in Hollywood. Paramount has a long rich history with film and some of this history is touched upon by your guide. In addition, a color pamphlet is given which provides further historical details. Other highlights are the huge painted sky which towers over the "B Tank" – what is normally used as an employee parking lot, but which can also be filled with water for "ocean" scenes, the bench where Forest Gump sat, and if not being used, entry to the "Dining Room" restaurant where some famous actors and directors have their "favorite" tables – pointed out by your guide.
Please view our photos below. For more info & to reserve tickets visit: www.paramount.com There is no direct link to the studio tours, click "enter site" and then choose Studio Tours.
NBC Studio Tours are located in Burbank at 3000 W. Alameda Ave (exit Buena Vista off of the 134 and follow the signs). This tours is among the most reasonably priced of all the major area studios and they start regularly every half hour from 9am – 3pm on weekdays. During the Summer and Holidays, tours may be given on weekends also. Working television studios are located here and the tours are unstaged so you never know what or who you will see. Depending on availability, you do get to step backstage to see the set of The Tonight Show as well as visit the Days of Our Lives set.
Each walking tour lasts about 70 minutes and seems fairly scripted. No reservations are accepted – show up at least 10-15 minutes early. This is the most low key tour of all the major studio tours; it does seem a bit dated from the old TV screens the intro film is shown on to some of the photos as well as the the actual main tour building. The gift shop is very small with just a limited number of items – parking is down a one way street (against the one-way arrow!) in the white lined spaces only. You enter past NBC's only outdoor set – the one used in Days of our Lives and this is where the tour also ends.
It was interesting to see mostly women on the tours (versus a generally equal ratio of men to women on the other major studio tours) – perhaps the Days of Our Lives show is their main attraction. The tour takes you onto several working studios, explores some of the materials and costumes used on the sets and passes by Jay Leno's media room, marked with a sign but also with a cute image of "Mona Leno!" A window that showed the costume design room had to be covered by a blanket as people on the tours were tweeting and sneaking videos with their phones showing costumes before they actually reached the shows! Wonder how those bottles are broken over the heads of the actors in the old westerns? Examples of these special types of bottles are on display. You will also walk outdoors above the "secret" tunnel where "A listers" are whisked between sets as needed.
For more information call Phone (818) 840-3537, for general show tickets write: NBC Tickets – 3000 W. Alameda Ave – Burbank, CA 91523. You can also pick up tickets on a first come first service basis starting daily at 8am at the main NBC ticket counter. Photos are not allowed on the tour.
NOTE: This NBC TOUR is no longer offered. Studio shows may still be available.
Sony Picture Studios is located in Culver City at 10202 W. Washington Blvd. LA studios are somewhat spread out and this is one of the furthest major studios to the west. Culver City is located near where the 405 and the 10 freeways meet. Self or Valet Parking is free and and for tour visitors is *only* available in the underground parking garage that is located at the Sony Pictures Plaza building across from the actual entrance to the studios (on Madison Ave between Washington and Culver Blvds). Don't bother trying to enter any of the studio entrances as there is no parking on the actual lots for tour visitors and you will only be turned around by the gate security guards.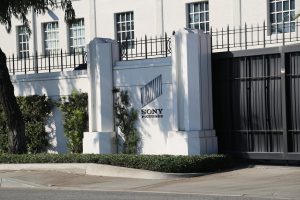 Once you park, go upstairs into the actual Plaza and check in where you will also have your photo taken in case you want purchase a souvenir photo. This "plaza" has been the stand-in for a hotel in several movies. The two-hour walking tour departs from Sony Pictures Plaza at various times, M-F. This tour is a bit more intimate than say the Universal Studios trolley tour – as here you actually walk on the studio lots and onto sound stages, however it is not quite as in depth as the Paramount Tour (see above).
This location is very historical as it used to be the original MGM Studios and your guide will point out the historical attractions as well as provide stories that involve a number of actors and actresses. Also note that Sony owns Columbia Pictures. Popular game shows filmed here include Wheel of Fortune & Jeopardy and depending on availability your guide will take you onto these sets. The number of seats in the audience as well as the actual set of Jeopardy are very small. Another highlight of this set is the "green room" where contestants wait until they are called to go onto the stage.
If nothing is being filmed, you can walk into what is the world's second largest studio – at 42,000 square feet this studio is massive! Also included on the tour is a stop in one of their small Foley Studios. This looks like someone's cluttered garage with many different props on hand which are used for making sound effects to insert into parts of the movie. You will see a number of different surfaces as well as types of shoes and your guide will point out the more unusual materials used for creating special sound effects.
Photography opportunities are extremely limited on this tour as you are only allowed to take pictures near where you walk onto the studios and on the "main" street – you cannot take pictures once you leave this street.
Our guide said that one 1 out of maybe 3 or 4 tours his group sees someone famous. He recalled his ultimate group highlight. The tour was leaving a stage and Tom Hanks rode by on his bicycle and then stopped and started riding circles around the group and asked "has anyone seen a star around here!"
More info: www.sonypicturesstudiostours.com or Phone: (310) 244-8687 Hint, if you call the studio tour hotline to reserve your tour date using the listed number here you will save yourself several dollars compared to making your reservations online.
The major film company, Universal Studios has a theme park including tours of the movie sets located at 100 Universal City Plaza in Universal City. We've been here several times – there is always something going on to entertain both young and old alike. Universal Studios is billed as the "world's largest movie studio & theme park and is located off of the 101 freeway (north east side) just north of Los Angeles. This is a great place to enjoy behind the scenes tours of movie sets, TV shows and see current movies being filmed. There are several large parking garages ($15 for general or $20 for preferred closer parking). You enter through a huge theme shop and restaurant lined walkway (CityWalk)- on a weekend or warm day this long walkway can be extremely crowded. There's plenty of shopping here and we recommend don't get distracted while walking through this area. Stay focused and head directly for the main gates – rather come back here after the theme park closes as these shops remain open after Universal's closing hours.
The Ifly experience is located in the "CityWalk". This is a "vertical wind tunnel" which for $40 and 2 minutes of your time (after waiting in line and undergoing a short instruction session) you can "fly"! Put on a flight suit, goggles and helmet and your ready to go. With a flight instructor at your side you will literally be "floating" based on the power of the wind tunnel. Neat stuff. www.iflyworld.com/hollywood
Universal Studios Hollywood rolls out a red carpet for repeat visitors, providing an unprecedented array of perks, privileges and discounts for just $5.00 more than the price of a single-day admission.
The Front of the Line Pass offers unrestricted 365-day "no black-out date" park access, a dedicated VIP "hassle-free" express front gate entrance, Backlot Studio Tour priority boarding privileges for most of the year, plus an array of discounts on all food and merchandise purchases at the theme park and $12 off the purchase of guest tickets.
Other "hassle free" highlights of the pass includes Universal Studios Hollywood unprecedented "Umbrella Policy" which takes the barometer and weather forecast guesswork from the theme park equation. With "The World's First-Ever Theme Park Guaranteed Rain Check," guests visiting Universal Studios Hollywood will receive a rain check ticket valid for use any time in the following 30 days on a day that the park receives over 1/8″ of rainfall by 2:00 p.m. Plus, on rainy days, guests will be provided with complimentary coffee and hot chocolate at designated covered and indoor rest areas.
A little under 2 years since a fire damaged four acres on the world's largest working movie studio lot, Universal Studios re-opened its iconic sets in mid-2010 and unveiled innovative shooting locations designed to meet contemporary film production needs. The new and re-created sets are featured on the world-famous Universal Studios Hollywood Studio Tour recently upgraded with Hi-Def digital servers and flat screen monitors and will enhance visitors behind-the-scenes experience of a working studio environment. View Press Release
An informative electronic sign near the entrance will inform you of the approximate wait times for each ride or attraction – course if you have a VIP pass, this information is irrelevant. You can actually walk among movie sets & stages with the VIP passes.
VIP passes also allows you to cut to the front of the lines for pretty much everything, and also meet some of the select actors and actresses from the shows. If you have never been to Universal Studios before it is recommended you head right to the studio tour. Its about an hour in length; you sit in open air cars as your tour guide and driver drive you throughout the sets, studios and select very famous stages from well-known movies such as Jaws, War of the Worlds and more. Some highlights of this tour: the earthquake you experience inside one of the stages, a flood that appears miraculously, a visit from King Kong and a shark that "attacks". You even drive onto several TV Show sets.
On the studio tour you will "visit" King Kong for about a minute however in that minute you will experience a complete visual assault within the world's largest 3d studio. TRex comes lunging at you from all directions – and for those who sit in the last cars of the tram, be aware – you might just be at risk to those huge jaws!
Besides the movie sets, there are many theme rides, family type fun, shows and shopping. Select well-known characters will be in costume walking around parts of Universal mostly mobbed by the public for photos. Often you can find coupons for good discounts off admission in local area tourist publications – and if you are a Triple A member – you can also sometimes find significant discount coupons in their VIA magazine off of admission. More information is available here: www.universalstudioshollywood.com (click on the Parks & Resorts Link). Or: www.citywalkhollywood.com
Warner Brothers is located in Burbank at 3400 W. Riverside Drive not far at all from Universal Studios (See the Universal Studios review above). This is just off of the Ventura Freeway (134) just east of where the 134 hits the 170 freeway. Their standard most popular tour is the VIP Studio Tour and is a 2 hour 15 min cart tour through the actual sets and current productions. This tour ends at their memorabilia museum. They also have a 5 hour deluxe tour for serious film buffs. Tours depart very often from 8:30am to 4pm weekdays. Parking is though Gate 6, the parking lot directly behind the main building.
Out of all the tours we have been on so far this is the only one that requires seatbelts. After viewing the Ellen Degeneres video under the "tour" section of their website, we realize why! Watch the video and you will understand (hint: it has to do with her lack of driving ability!). There is some fascinating movie history on site of this 110 acre back lot which dates back to 1927 (under the Warner Bro's name). Warners Brothers used to equate to Bugs Bunny and Mel Blanc but today they are a powerhouse in the TV and Film Industry.
The tour starts with a sit down viewing of an inspiration video. You will then visit a number of outdoor street sets as well as explore some indoor ones as well. Many well known movies have filmed here including Spiderman and movies staring Adam Sandler, Tom Hanks, Paul Newman and any of a number of other famous actors. You will see the cafe that Clint Eastwood and Hillary Swank ate at in "The Million Dollar Baby" and the location for the kissing scene in the rain in Spiderman. On all the studio tours we've been on in LA the biggest factor for "fun" is the enthusiasm of the guide as well as the historical aspects of the studio. Warner Brothers has both. The three "E's" for any good studio tour are in place here: the guides are energetic, entertaining and enthusiastic!
The outdoor sets are a big part of the experience here. The streets are surrounded by "fake" buildings and all that brickwork you will see are just painted fiberglass. Filming a winter scene in summer? Yes they remove the leaves from the trees. Filming a summer scene in winter – back go the fake leaves, glued to the branches of the tree. What tedious work! Look for the plaques on the outside of each of their studio buildings; these list the major movies and or TV shows that were filmed inside.
80% of what is filmed at Warner Brothers is television related. On our tour we saw several TV actors – the guides will call out their name after your tour has passed them, so stay sharp and alert! One building contains a bunch of vehicles used in movies including The Matrix, Batman and more. We've never seen a vehicle quite like the "Batmobile" – it is real and yes it runs…fast! You will be given a chance to pose in front of "the green screen" which as the name indicates is green…however when you see your photo you will be standing in front of some scene from a movie. One photo of your group is free.
The "Friends" stage is worth seeing – this is one of the few sets that have actually been kept. This one was set to be destroyed until Jay Leno got word of it and was instrumental in helping to save it. This is now a tour favorite. See our photo of this set below.
Another highlight is the Movie Memorabilia Museum which contains a plethora of movie relics and other historical items. The second floor is entirely dedicated to Harry Potter movie memorabilia. Other than this museum and live sets, photography is encouraged! Visit: www.wbstudiotour.com and click on VIP studio tours.
Live Studio Shows
The following studios do not offer tours to the public but do make tickets available on a limited basis to some of their live shows.
Culver Studios
9336 W. Washington Blvd
Culver City
(310) 836-5537
www.theculverstudios.com
Henson Studios
1416 N. La Brea Avenue
Hollywood
(323) 469-2411
www.henson.com
Sunset-Gower Studios
1438 N. Gower Street
Hollywood
(323) 467-1001
www.hppsunsetstudios.com
Walt Disney Studios
500 S. Buena Vista Street
Burbank.
(818) 560-1000
www.waltdisneystudios.com
Warner Hollywood Studios
7200 Santa Monica Blvd
West Hollywood
(323) 850-2500
www.warnerhollywood.com
Other Resources
The websites listed below, Be in a Movie and TV Tix allow you to get tickets to TV Shows or be in a movie for free. You can check their websites for upcoming TV shows and movies and then signup online for tickets. Before the actual show or movie filming you will be called by an automated caller giving you the updated details and they will provide a phone number for you to call back to confirm your presence at the actual show or movie. Be aware that oftentimes filming locations and times for movies can change at the last minute.
General