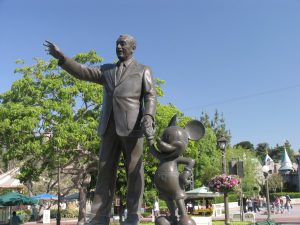 Disneyland Park is located at 1313 S Harbor Blvd off on the South West side of the 5 Freeway. You can take a free tram to the main park entrance from one of the parking garages. If you know where to look you can actually see parts of Disneyland peaking above the rest of the buildings as you zip down the 5 freeway. Everyone has heard of Disneyland with its theme rides, entertainment & attractions for all ages.
This is the original Disneyland location – now there are Disneyland's in select countries worldwide. This is a huge complex containing not only the featured attractions in Disneyland but a plethora of rides and other attractions in neighboring Disneyland Adventure Park. Allow at least a full day but for a slower paced experience, 2 days would be better. Note that FastPass allows you to secure your place in line (provides a return time) and lets you explore other areas of the park until it is time to return to the ride. This is only available for some rides. Note that Disneyland often offers Southern California residents cheaper admission. Proof of residency required (Driver's License).
After you pass through security, you will be in a large "courtyard" which provides access to the main Disneyland as well as the Adventure Park. A good photo opp here is with one of the large letters that spells "California". Disneyland can be fantastically crowded especially on school breaks, weekends and many summer days. Its best to get here before the park opens, get in line early and then make a dash for the "popular" rides. Check the schedule of events, Disneyland has something for everyone including the nightly fireworks spectacular at 9:30pm. A closing time of midnight ensures you can have one very long day should you choose to stay here all day!
Main Street USA leads to the famous Disneyland Castle and bridge and is surrounded by specialty shops and a few restaurants. Disneyland is separated into sections, each with its own theme. Be sure to pick up a map at the entrance. The "Town Hall" is also located near the main entrance – information about the parks and special requests can be made here.
Rides/Attractions Disneyland
The following are some of the rides we enjoy and have been on. One of our favorites is Pirates of the Caribbean – this is a ride that all ages can enjoy although we have seen parents walk out with the young ones after the kids became scared of the dark entrance. Great special effects. You float down the stream past various pirate themes.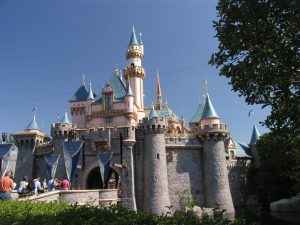 The Indiana Jones Adventure ride is a real crowd pleaser. Lines are the norm in Disneyland but why not make lines part of the "ride" experience. The designers of this ride have done just that as the line snakes through jungle like foliage and through narrow caves – yes there is a skeleton or two! Strap yourselves in with a number of other people in a large jeep like vehicle and head out. Bumpy, steep, slow and fast – your jeep does it all passing a number of "Indy" themed scenes all complete with great special effects.
Watch out for the large snake and even Indiana Jones himself makes an appearance hanging on a rope above your jeep! Mickey's Toon Town is a happy place for the kids. From a kid's perspective this place would be amazing and overwhelming at the same time. Lots of little houses and attractions specifically geared towards kids are found here.
As with anywhere in Disneyland Keep a close eye on the young ones but especially here due to the crowds. The Gadget's Go Coaster is a small short roller coaster very popular with kids and families.
Pirate's Lair on Tom Sawyer Island – hop on the raft for a short ride from the mainland to the Island. This is a paradise for kids with tunnels, caves, funky bridges and a tree house located on the highest point of the island. Sometimes musicians dressed as pirates will perform near to where the raft lands.
Splash Mountain is an adrenaline booster but not to the extreme as you might have with one of the upside down roller coasters. One long "waterfall" is the highlight of this ride. You slowly climb the tracks to the top in your "hollowed out log" where you speed down with unadulterated enthusiasm. Folks, this is the time to yell as loud as you can and wave your hands. A camera snaps a photo at this point which you can view on the screens later as you exit. Despite the name, this ride won't leave you wet.
Rides/Attractions Adventure Park
Where else can you visit the Golden Gate Bridge, the Palace of Fine Arts building and a winery in one location? Yes, there are even trellised vineyards! The Adventure Park screams of California and even offers a ride of a similar name… California Screaming is one of the more adrenaline inducing roller coaster rides you will find at Disneyland. Note the ages of people standing in line – you won't see many young kids here. Depending on your level of daring, the "kid meter" can be a good way to judge if a ride is fit for you. This ride starts out harmless enough, slowly pulling away from the gate and then stopping on the flat longest part for a 3, 2, 1 countdown while you sit on the tracks in full view of those looking down from the railing. You then pull away with the forces pushing you into your seat and from this point on there is no stopping. Steep downhill grades at incredible speeds will leave you either sick or longing for more. Throw in an upside down loop in one of Mickey's "ears" for good measure and you have one thrilling roller coaster ride.
Grizzly River Run is a ride you almost are guaranteed to get wet on. You and about 6 or 7 other people float down a river. There are some class 4 rapids on this ride. Before one particularly steep section you can clearly see that other kayakers and river runners have portaged their equipment as their gear is strewn along the river bank. Not you guys – you fall down the rapids with water splashing in everywhere. Look out for the river geysers – when these are going off in the middle of the river you can't help but get soaked!
Soaring Over California is one of the highlights of the Adventure Park. This is a ride that can be enjoyed by most people unless you have a fear of heights (you can always close your eyes). Its an IMAX experience with the addition of "movement". You are strapped into your seats in a large machine which lifts off the floor into the air. A huge screen is in front of you. The movie is entirely taken from a plane and you have the feeling and sensation of actually being in that plane. Soar over the Napa Valley, the Golden Gate Bridge, Yosemite, downtown Los Angeles (following the 110 freeway) the ocean, the desert and of course you end your trip at the Disney Castle at Disneyland.
Sun Wheel is a very slow moving ride which gives one excellent views of Disneyland and surrounding Orange County and the Anaheim Hills. There are two lines, one for the static cars and one for the swinging cars. The swinging cars are highly overrated despite the line for these which is often dramatically longer than for the static cars. For example, when you have a 25 minute wait for the swinging cars, the wait for the static cars may be just a few minutes. There is no difference in time spent on the actual ride between the type of car you choose.
View our photos below and for more information visit: www.disneyland.com
Knott's Berry Farm is located at 8039 Beach Blvd near where this blvd meets the 91 and the 5 freeways in the city of Buena Park. Knotts bills itself as "America's First Theme Park" as it's origins date back to 1920 when founders Walter and Cordelia Knott farmed 20 acres of land. That original land is now a part of Knott's Berry Farm (today the total acreage is 160 acres). Like the rest of Orange County, Knotts Berry Farm has changed dramatically in the past nearly 100 years and the Knott's would probably be amazed at its development and popularity.
From an agricultural beginning in vegetables in the 1920's Walter became familiar with the Boysenberry based on the work that Anaheim Parks Superintendent Rudolph Boysen was doing – he crossed a loganberry, red raspberry and a blackberry to come up with the now well-known Boysen Berry. An annual celebration of the Boysenberry is held on the farm during the springtime Boysenberry Festival. The Knotts began growing various berries including Boysenberry's and Cordelia started making and selling jams and jellies. This was followed by chicken dinners which soon became a very successful part of their business (still continues today with their Chicken Dinner Restaurant).
This theme park is much smaller than nearby Disneyland (located 10-15 minutes away) and the main park can easily be navigated. Refreshingly, there is not as 'commercial' a feel here as much as one often finds at other theme parks. Numerous rides are offered ranging in adrenaline boosting roller coasters to the more family friendly water rides to mild rides for smaller children.
Ghost Town is a unique part of the park focusing on nostalgia for the "old west". This western setting features a number of buildings visitors can peek into including a blacksmith, gold assay office, town jail, school house, general store and more. A fun part of visiting this part of the park is interacting with the folks who are dressed in era costume – these 'employees' take their individual jobs very seriously …all in the name of fun for visitors.
Knott's Soak City Waterpark is located across from Knott's Berry Farm (across Beach Blvd) and features water rides and attractions. Tickets can be purchased separately or with a discount for both parks. The rides here focus on getting wet!
The Peanuts characters from the comic strip have been an integral part of the Farm for years. Today there is a Camp Snoopy as well as the 2,100 seat Charles M. Schulz Theatre.
Exiting the 5 freeway you will drive through various urban sprawl until you actually arrive at Knotts. The Merchant Marketplace features the closest parking to the main entrance. Additional lots are located nearby.
Visit: www.knotts.com
Magic Mountain, one of the Six Flags Signature Parks, is located near Valencia well north of downtown Los Angeles on the 5 freeway (with good traffic expect the drive from downtown (once you are on the 5 to take about 40 minutes).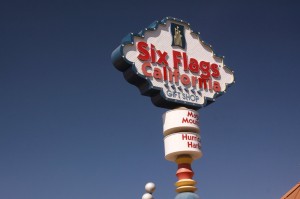 This entertainment epicenter boasts thrilling gut busting rides, rides that drop so fast you almost leave behind body parts, roller coasters that run upside down for several loops, or scream around hair pin turns are among many of the featured rides here. Some of the fastest roller coasters in the world are here – high speeds with quick starts and stops and hairpins turns – if your hair is naturally straight before a ride like this, there is a distinct possibility it will be curly afterwards!
Without question, you come to Magic Mountain for the roller coasters but the park also has a number of other subsidiary attractions – including carnival type games and plenty of shopping. If you are not "into" the roller coasters rides, do not despair! In addition to the thrilling rides there are also many family attractions and other much less adrenaline filled rides. Admission is not cheap to any of major parks such as this one however, look in local tourist guides for money saving coupons.
The park has seasonal hours (usually weekends) during parts of Spring and the Fall – they are open every day of the week in the summer. During busy days, you will be in several lines (often long ones) just to get inside. When the park opens in the morning and for several hours afterwords, it can be quite a lineup getting through their parking gates. There are 10 or 11 lanes entering the park and we have seen all these lanes stacked up for quite the distance. There are two fees to enter the park – one for parking and one for admission. You can purchase both passes on their website.
The parking lots here are vast and seemingly endless in all directions – it is a sea of steel as far as you can see during busy days. As a result there are buses that make three parking lot stops and deliver excited park goers directly to the main entrance. There are even guard "outposts", towering well above the cars. Spotlights and binoculars are their tools of the trade.
Another line: as with other major theme parks you go through metal detectors. Then you reach some sort of circular large "no man's land" – where you find a few more lines to actually get your ticket scanned. Once you walk through the metal gates, you have finally made it into the park – hurrah!
Magic Mountain direct link: www.sixflags.com/magicmountain
Raging Waters is located in San Dimas just off the 57 freeway north of the 10. This is California's largest water park; a visit here is all about getting wet and experiencing adrenaline inducing rides with rapids, tunnels and high speeds. The park is generally open select days between May and September and are open daily during the heart of the summer months.
The park itself is 50 acres, has 36 water slides as well as a sand beach. Activities are available for visitors of most any age. Check their website for opening times before visiting. For more information visit: www.ragingwaters.com – we will visit this park at some point for a complete review here.