Los Feliz & the Franklin Hills are perhaps names that probably do not come to mind when you refer to Los Angeles. They are little known outside of Los Angeles but these neighborhoods contain beautiful homes. Los Feliz Village is centered along Hillhurst Ave and contains a number of restaurants and boutique and unique shopping experiences. Parts of Franklin Hills feels like San Francisco. Numerous celebrities and actors live in these small two adjoining communities – it is more low key than Hollywood or other areas in Los Angeles and there are few tourists here.
There are also comparatively few hotels in this part of Los Angeles. These neighborhoods are surrounded by often extremely crowded freeways and boulevards. Los Feliz Blvd can be a nightmare especially close to the 5 freeway – on the weekends one lane in each direction of Los Feliz Blvd is closed for cars to park and this only compounds the traffic situation.
Los Feliz also borders Griffith Park and provides easy access to hiking trails, the Griffith Observatory and the Greek Theatre.
Some interesting trivia about these neighborhoods involves Walt Disney. He drew the first rendition of Mickey Mouse at his uncles home on Kingswell Ave near Vermont Street and Disney's first animation studio was also located in the neighborhood. Of far less historical significance, the movie, Swingers was filmed in the Los Feliz area.

Barnsdall Park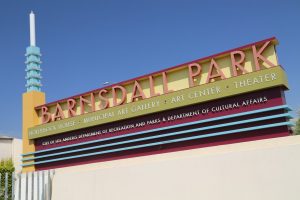 is located right off Hollywood Blvd in East Hollywood (about 2 miles East of the 101 Freeway) on top of a hill ("Olive Hill") which affords one superb views of much of Los Angeles on a clear day including Griffith Observatory, downtown and the Hollywood sign. Olive Hill sits in the middle of Barnsdall Park, named after Aline Barnsdall, an oil heiress who when she moved to Los Angeles hired Frank Lloyd Wright to design her new home. Aline had a passion for art and her intent was to turn this hill into an artist community.
Ultimately Hollyhock house and two small residences were built. This was Frank Wright's first project in Los Angeles and he tried to incorporate southern California's dry mild climate into the design. As a result the home features ample outdoor space as well as gardens. Today several benches sit in the lawn over looking the Los Angeles basin and can be a great place to enjoy a sandwich on a clear warm day.
Olive Hill is central to a visit here because of its height and prime location within Los Angeles – but the home is equally as important as are the theater, galleries and studios on site. Aline would have been proud to see how far her "little hill" has come. A stop here is a respite from all the traffic and congestion that plagues this part of Los Angeles.
Tours of the home are only available at select times from Friday through Sunday – ticket sales on site open up 30 minutes before each tour. No photography is allowed in side.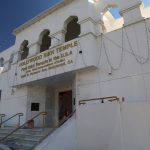 Hollywood Sikh Temple , while certainly not mistaken for the incredible Golden Temple in Amritsar, this is still an impressive looking marble building located at 1966 N Vermont Ave. This was the first Sikh temple in the United States. While not always at this location – in the mid 1980's the idea was proposed to build a larger place for worship. This Gurudwara was completed in 1995.
A popular gathering place on Fridays and Sundays ('langar') – community + food are strong components of these worship times. All are welcome to drop by.

Los Feliz Farmers' Market is located in a parking lot at 1825 N. Vermont Ave in the main business part of Los Feliz. Parking is a bit difficult. There are no close parking garages so parking is curbside either along busy N. Vermont or Franklin Ave.
Vendors include the usual suspects – fruit and vegetables along one vendor selling clothing and another vendor selling a wide diversity of flowers.
The "Gastrobus" food truck always parks in the back of the market and serves up a variety of breakfast items from eggs to sausages to omelettes. We have seen them lurking at additional farmers' markets including the South Pasadena one on Thursday afternoons.
Market Size: Small