Big Pine is a fairly small town located directly on Highway 395 (population approximately 1,750). Does not feature much in the way of lodging or food (the one exception to this and worth a stop unless you are vegetarian or vegan, is Copper Top BBQ). Big Pine however is a good launching spot for several attractions within the area including the Bristlecone Pine Forest.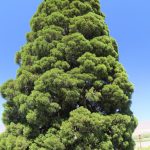 The closest tree to the namesake of the town is the tall Sequoia planted at the little info center just north of town at the convergence of Highway 168 with Highway 395.
Also home of the Big Pine Band of Owens Valley Paiute Shoshone Indians of the Big Pine Reservation and was ground zero for early Native American children's rights to attend public schools. A local 15-year old Native American was denied the right to attend Big Pine High School – she sued in 1924 and ultimately earned the right to attend school like any other child.

Bristlecone Pine Forest
Take Highway 168 (Westgard Pass) from the 395 in the northern part of Big Pine. Follow this highway to White Mountain Road which leads to Schulman grove. The trees are at an elevation of 10,000+ feet and it can be quite cold here even in the summer months. Be very careful coming down the Westgard pass on the western side. The road is quite steep and narrow and on various trips have smelled over heated brakes from not only our own car but from other vehicles as well. The total distance from Big Pine to the forest is a little over 20 miles (13 miles on the 168, and 11 miles on White Mountain Road).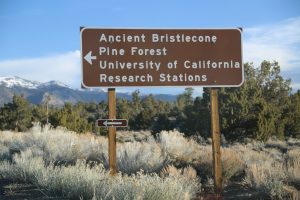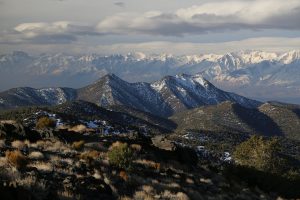 These trees are often debated among scientists as being the oldest living species on earth. Some that are still living are nearly 5000 years old. These dates are determined by counting tree rings on cylindrical cores that are extracted from the trunks of these trees. The dead trees do not disintegrate very rapidly at that high elevation so researchers have been able to date the wood back to over 11,000 years. These trees are fascinating. From afar they look like they are dead. Then upon closer inspection you will see that there is a thin strip of bark that winds its way up the trunk. It is just this thin strip that keeps some of the trees living. It is amazing to me that these trees are even able to grow here at all. They are approaching tree line, and the wind and elements are fierce. Most of the trees have a wind flagged look. For example one side will be bare of foliage (the side that the wind blows from) and the other side will have several branches.
And a hint: the oldest trees are not the biggest – often they are the shortest most stout looking trees.
Discovery Trail For those short on time this is a good option. It is only about a mile long (a loop trail) with the oldest trees reached about halfway through – once you reach a series of steps leading up the steepest part of the trail. The trees here are often between 3,000 and 4,000 years old.
Methusalah Trail is about 4 miles long (round trip) and does not involve much climbing. During this walk you will probably see "Methuselah", what is perhaps the second oldest living specie in existence today. It has been dated to be over 4800 years old but it's location is kept secret from the admiring public – it location along with many similarly ancient trees are located about 1/2 way through the hike.
If you continue driving up White Mountain Road (dirt) you will come to another grove of Bristlecone Pines. This grove, called the Patriarch Grove contains the largest Bristlecone Pine in existence. It is over 30 feet in circumference. There are no services such as gas, water, or phones in either of the two groves. Come prepared with extra water and snacks. Access to the Bristlecone Pine forest is daily from early June through late October (when the road is free of snow). White Mountain Road often closes at one of two gates depending on amount of snowfall.
Big Pine Creek
From the flashing street signal in downtown Big Pine turn west on Crocker Road which soon becomes Glacier Lodge Road. As you leave Big Pine you will notice that the road climbs a 20 feet cliff like geological structure called a scarp. This was left by a massive earthquake which occurred in 1872. Continue driving and you will pass by the Glacier Pack Train stop – where horses can be rented for day rides or for making longer pack trips higher into the mountains. Family operated since 1965. The drive from Big Pine until the end of the road is about 11 miles; the elevation at the end of the road is approximately 8,000 feet. Day-hike parking is available here.
Many activities are available for guests. Start with a visit to the tiny Glacier Lodge store to load up on fishing supplies, gossip, souvenirs as well as some basic provisions. Meals are also served here. The Glacier Lodge burned down in 1998 but there are a number of cabins that can be rented – those who prefer to camp can also do so here. This area offers exceptional day hiking and overnight hikes. A stocked trout pond is also here – great for the little ones to learn the art of fishing.
One hike we recommend is to Cienega Mirth. Walk past the summer cabins located along Big Pine Creek. Follow the signs leading to some switchbacks along First Falls. Cienega Mirth is located about 3 miles from the end of the road and features a beautiful meadow with many wildflowers and grasses. Relax by a small creek. Along with the natural beauty the other highlight of a visit here is the stone house built for the actor Lon Chaney in 1925. It is now used by the Forest Service.
Another two strenuous miles will begin to take you to the high glaciated country. Several lakes up here contain the glacial flour, a silt so fine that it refuses to settle out in the lakes and rivers. This gives the lakes and rivers that beautiful aquamarine color that is so prevalent in the lakes and rivers of northern Montana and the glacier parks in British Columbia, and Alberta in western Canada. The Palisades can be seen as you start to get into the higher country. The Palisades are a serious of jagged peaks that rise dramatically behind the other smaller peaks. Some of the Palisades rise above 14,000 feet.
Keough Hot Springs
is located about 10 minutes north of Big Pine and is named after a rancher Phil Keough (owner at the time of City Market in Bishop). Founded in 1919, it celebrated it's 100th anniversary in 2019. This is the largest natural hot springs pool in the Eastern Sierra (although the water was fairly cool at the time of our last visit). A separate pool contains hot water. Located about a mile off of Highway 395 on a road that is appropriately named Keough Hot Springs Road.
Today the property offers canvas tent options, dry camps and camps with electrical hookups. Also a gift shop on site. Excellent family atmosphere. Visitor's can purchase a day pass to use the pool. Visit: www.keoughshotsprings.com
Klondike Lake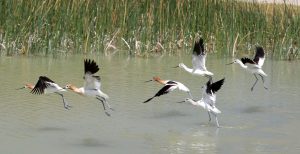 is a shallow lake, mostly used for wind sports in the summer time although we have seen motorized boats and smallish jet skis plowing waves through its waters from time to time. It is located three miles north of Big Pine on the east side of Highway 395. The dirt entrance weaves through several concrete barriers – with road spikes on another section of the dirt road right next to this entrance.
Offers some fishing. A sandy bottom around the edges of the shoreline makes for easy access from the shore for swimming. Very scenic. Sometimes people camp near its shores although often heavy with insects including mosquitoes at certain time so the year. Also plenty of birds are attracted to it's shores.
Owens Valley Radio Observatory
is accessible via a single lane older paved road which leads off of Highway 168 – north east of Big Pine (about a 10 to 15 minute drive). At the intersection of the road that leads to the radio observatory and Highway 168 look for the historical plaque commemorating what once was a small railroad stop named Zurich.
This collection of enormous radio towers was first established in 1958 by Caltech. They continue to maintain and operate the towers in collaboration with several other universities – although the Federal Government operates a single tower slightly outside of the Caltech complex. This is the largest university-operated radio observatory in the United Sates.
These telescopes have multiple purposes – including the study of hydrogen clouds within the Milky Way – star formation and cosmic microwave background.
The site was mentioned in the films, Arrival and Contact. Visitors aren't allowed inside the radio telescope complex but you can drive close enough to get some good photographs.
Tinemaha Wildlife Viewing area
is located 9 miles south of Big Pine on the 395. A dirt road leads east off of the 395. Take this one as it will be marked. This area is a good place to spot large tule elk at times (native to California, once numbering around 500,000 in the early 1800's – at one point their population dropped to under 30), flocks of water birds, or hawks and eagles. A dirt road winds up to a hill which overlooks Tinemaha Reservoir (a damn anchors the southern part of the reservoir). For more information call Phone Number (760) 872-1171.