Manzanar is located directly West of the 395, about 10 miles north of Lone Pine. Manzanar was the first of ten remote camps that in total held almost 120,000 Americans of Japanese ancestry during World War II. During its peak period over 10,000 people lived there. Over 600 barracks were built (organized into 36 blocks) along with recreation halls, a judo hall, a hospital, an orphanage, 3 schools, and a music hall. Now you can drive down Interstate 395 and almost miss seeing this location.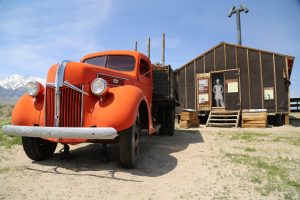 The reason for this is all of the original buildings are gone except for the restored Auditorium/Gym; today there are a few stone memorials and several reconstructed buildings including a security/sentry building at the original entrance (which is where the administration staff lived), a watchtower, two barracks and a mess hall containing exhibits. The scope of the original footprint is hard to comprehend and aside from these buildings, one would not know that Manzanar once existed. The entire facility during its operation was enclosed by barb wire and guard towers staffed by military police.
Visitors should make a point to stop into the Visitor's Center. It is housed in the largest building on site (easily visible from the 395); this is the restored Auditorium/Gym and dates from 1944. If you arrive after this visitor center closes, you can do a 3-mile self-driving tour – pick up the leaflet titled Manzanar Today at the main entrance. Numbered signs are located throughout the property indicating the locations of former buildings and items of interest including former gardens.
Admission to the Visitor's Center is free (open daily except Christmas Day from 9am to 530pm). Be sure to watch the very informative 22-minute video. Exhibits inside feature historic photos, a complete list of Manzanar inhabitants and other historical information. A bookstore is also here – which you will walk through just after your enter the building after passing by the original cornerstone from the building which dates from 1944.
Rangers are on hand behind the counter to assist you and answer any questions you may have. Color home videos from the 1940's taken of the Manzanar complex – show how lush and green everything looked at the time during the Spring and Summer months. Then walk out behind the visitor center and you will see a stark contrast in vegetation.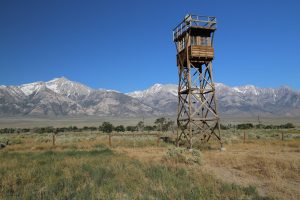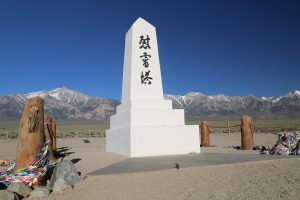 A moving display of all of the names of the internees are listed on a large white cloth which hangs from the ceiling. Exhibits show how individual families lived – souvenir name tags are available. There is not a day that goes by when either former internees of this camp or their relatives visit the site.
A "comments" book is available in part of the gallery – its quite interesting to read some of the comments that people have written. Tourists from all over the world visit.
Many dirt roads laid out in a grid pattern give one an idea of the size of the camp. Check out the map on the first memorial. It shows you the old city blocks, and recreation areas.
Be sure to visit the white stone memorial with the Japanese characters engraved into it – this is located on the far western reaches of Manzanar (accessible via dirt road). The inscription in Japanese reads "soul consoling tower" and was built here in 1943, funded by 15 cent donations from a number of families in the camp.
Several small memorials and flowers are strung along the surrounding white wooden fence. Coins and other valuables are placed around the memorial. Six graves of those who died while interned in the camp are located here – laid to rest in a former peach orchard outside the barbed wire. There used to be more graves here but after the war, families had the bodies moved.
Block Number 14 has been restored over the past few years (within a few minutes walk of the Visitor Center). A WWII era Mess Hall has been completely restored and additional buildings are slowly being reintroduced to this specific Block including a reconstruction of a barrack used by women for showering and bathrooms (do not use the toilets here!).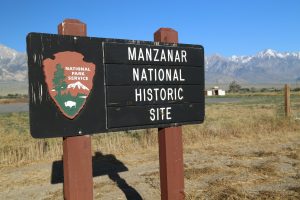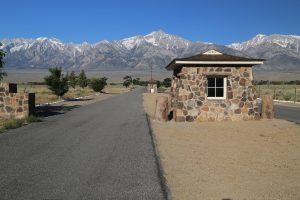 It has been quite strange to see new buildings popping up after so many years following WWII. In our lifetime, we have driven by numerous times and all we have seen was the empty desert. In addition gardens and other parts of the camp are planned to also be restored.
In Los Angeles? Consider visiting the Japanese American National Museum – see: www.janm.org or read our review HERE
A haunting true story about one girl's attempt to survive the forced detention is the book called Farewell to Manzanar by Jeanne Wakatsuke Houston & James D. Houston.
For more information about visiting Manzanar please visit: www.nps.gov/manz
For more information about Manzanar, considering visiting the Eastern California Museum located in the nearby town of Independence – they have an extensive collection of Manzanar artifacts along with other area historical and natural items in their collection.