Lone Pine is a small town of about 2000 people with one stoplight in the entire town. Its most well known for three things; gateway to the Alabama Hills, a popular location for filming movies, television shows and commercials and home of the Whitney Portal Road leading to the Mt. Whitney trail head (this road starts in town). Incidentally Mt. Whitney was first climbed by three residents of Lone Pine on August 18, 1873.
The town also offers several small museums and a variety of fishing in nearby streams and lakes. It is also a short drive to Manzanar, the Japanese internment camp that was built just north of here during World War II. Lone Pine is not very big but offers several basic dining options as well as a number of motels.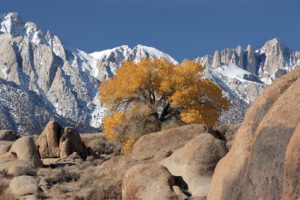 Alabama Hills are a series of unique and rounded rock formations that are bisected by the Whitney Portal Road, several miles from Lone Pine. Often one finds excellent views of the Sierra Nevada Mountains as they peek through the rocks – it is easy to get 'lost' here as there are lots of dirt roads and trails that wind their way through the rocks. Those who enjoy boulder hopping and scrambling from rock to rock will have a 'field day'!
The Alabama Hills were named by southern sympathizers during the Civil War. The name came from a Confederate battleship that destroyed many Union ships in a span of only two years.
The Alabama Hills have been the location for many many films, commercials, and television shows. Filming has taken place here since the early 1920's when Fatty Arbuckle starred in "The Roundup". Over 250 films have been made here. More recent films shot here included scenes from Transformers, Tremors, Iron Man and Gladiator starring Russell Crowe. Even though the Alabama Hills are in California they have been used for films that have taken place in the Himalayas, the Sahara desert, Texas, Australia, Utah, Nevada, Arizona, Mexico, Peru and Argentina. Today there are many dirt roads that wind among the Alabama Hills. These are left over from the movie sets. The actual hills are quite impressive in places. Hues of browns, reds, and other colors grace the rocks. Tall but rounded rocks rise in columns and spires in the seemingly un earthly landscape.
And the quintessential photograph is overlooking Mobius Arch with the dramatic backdrop of the Sierra Nevada mountains (several photos immediately below) – accessible via an approximately 1 mile loop trail – the trail head is in a few miles on the main Movie Flat Road. Part of Movie Flat Road is dirt – but other then dust during dry season won't be a problem for 2wd automobiles to reach the trail head. For best lighting arriving in the early morning to catch the sun just starting to kiss the top of the tallest mountains in the background.
Depot Cemetery or often referred to as the Old Lone Pine Cemetery is located just north of town off of the Lone Pine Narrow Gauge Road. This cemetery is difficult to find without the use of Google Maps as it is very well hidden among the sage and other desert plants. An old dirt road leads past the graves. This cemetery is not large but features several gravestones including one in Cyrillic from someone who was born in Sarejevo. This is about as far from Sarajevo as once can get – resting in the deserts of the Owens Valley.
Not much to see here but worth a stop for history buffs and dreamers – especially those who want to make a spiritual connection with history while imagining the lives of these early pioneers.
Eastern Sierra Interagency Visitor Center is located slightly south of Lone Pine at the intersection of Highway 395 and 136. From the parking lot or through the windows inside you have excellent views looking straight up at Mt. Whitney and its nearby towering peaks. If you continue on highway 36 – you will reach Death Valley in about a 90 minutes drive.
Rangers are available to answer your questions – a good size gift shop has an excellent selection of books about the area, clothing and other local trinkets. Interpretive displays are available – focusing on Death Valley, the Owens River, the Los Angeles Aqueduct and Mt. Whitney among others. Plenty of parking.
Horse Riding is offered from May through October from select outfitters. Expect to pay at least $150/day which will buy you an all day ride through the hills. Your guide will point out locations where certain movies were filmed. The Lone Pine Chamber of Commerce lists a number of outfitters here.
Horseshoe Meadows . Ever wondered about those highly visible lengthy 'switchback scars' on the western side of the mountains near Lone Pine? This is Horseshoe Meadows Road – accessible via Lone Pine via either Lubken Canyon Road (directly from the 395) or from the Whitney Portal Road. The climb from the Owens Valley gains some serious altitude (over 6,000 feet) – by the end of the road you are at approximately 10,000 feet. Driving time from Lone Pine to the end of the road is about 30 minutes.
During the drive up you will pass De La Cour Ranch – a vacation cabin property (along with loads of lavender planted on site) tucked against the mountains and Walt's Point, a place to pull over featuring scenic vistas of the surrounding terrain and of Owens Valley far below.
There are a number of campgrounds at the end of the road including one for equestrians. Besides the gorgeous scenery and plenty of hiking options – Horseshoe Meadows is extremely popular with fisherman seeking the elusive golden trout. This state fish is native to the waters in this region. Trails lead to both the Golden Trout Wilderness and Sequoia-Kings Canyon National Park.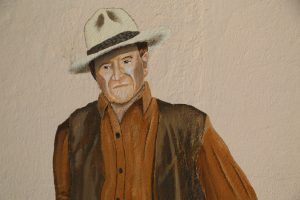 Lone Pine Film Festival celebrates their heritage each October for several days. This festival has been an annual event since 1990. Old and new movies filmed in or near Lone Pine are shown. They have a BBQ and a arts and crafts festival. Some of the stars that have made movies here are Gene Autry, Roy Rogers, Tom Mix, Jack Palance, Humphrey Bogart, Clint Eastwood, Mel Gibson, Robert Mitchum, Cary Grant, and Douglas Fairbanks Jr.
During the film festival there are pictures and directions showing exactly where the stars filmed certain scenes. If you ever have watched Gunga Din or re watch it note that all those outdoor scenes were not actually filmed in India. It mainly filmed in the Alabama Hills, with the exception of a few scenes that were shot in Los Angeles.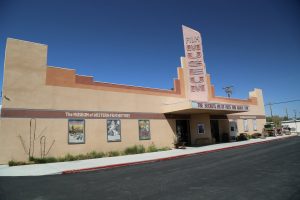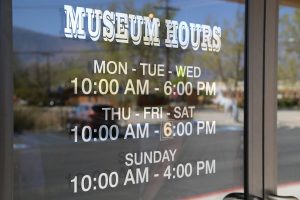 Museum of Western Film History is located 701 S Main St, just south of downtown Lone Pine. This is the go to museum for film buffs – with their focus on films that have been shot in the area – including the nearby Alabama Hills. Memorabilia from the earliest movies shot here (silent films) to the most recent ones are on display. Movies and TV commercials continue to be shot in the area – scenes from more recent movies include Iron Man and director Tarantinos's Django Unchained.
Another highlight is the 1937 Plymouth Coupe that Humphrey Bogart used to drive on what is now the Whitney Portal Road in one of his movies.
There is even a special exhibit dedicated to the Lone Ranger films. A good place to start your visit is in the 85-seat theater – watching an introductory film. A small gift shop on site sells Lone Pine Film Festival shirts as well as other related film souvenirs. Visit: www.museumofwesternfilmhistory.org
Southern Inyo Museum is located at B Street near the corner of W Bush Street. This tiny little museum was originally founded in the mining town of Darwin (small town south east of Lone Pine in the general direction of Death Valley) in 1978 and then moved here in 1998. Staffed by local volunteers who are eager to walk you through their collections. Was originally founded as the Darwin Museum – as a mining museum but has since branched out and covers a variety of additional topics relating to the Owens Valley including western gear, historical books (including a selection for sale), photographs, glass bottles, ancient cash registers and a variety of other collectibles.
Some of Dr. Erasmus Darwin French's personal belongings are shown here – he is responsible for the namesake of Darwin, the town – even though he never lived in Darwin. Several old pieces of mining related equipment are displayed outside the museum.
Lee Gonzalez (the Bug Man of the Owens Valley) is a man of many talents and and titles (his business card reads like reads like a whose who of the natural world). Essentially he collects organisms and preserves them – from insects to to larger animals. One of the highlights of a visit to this museum is a significant collection of his works. Displays range from the 'ants of the Owens Valley' (bet you did not realize there is such a diversity of ants in the region), to butterflies to local animal skeletons. Apparently he has a sense of humor as well – a small 'dinosaur' he "collected" is also on display.
Admission is free but donations are gladly accepted.
Wild West Show Museum is located in downtown Lone Pine at 119 S Main St. The building that houses this collection looks like its out of some rough and tumble wild west town. May not always be open during normal hours. The small collection inside is spread over several rooms and contains a variety of 'western' artifacts including old bottles, buttons, photographs and other era mementos.