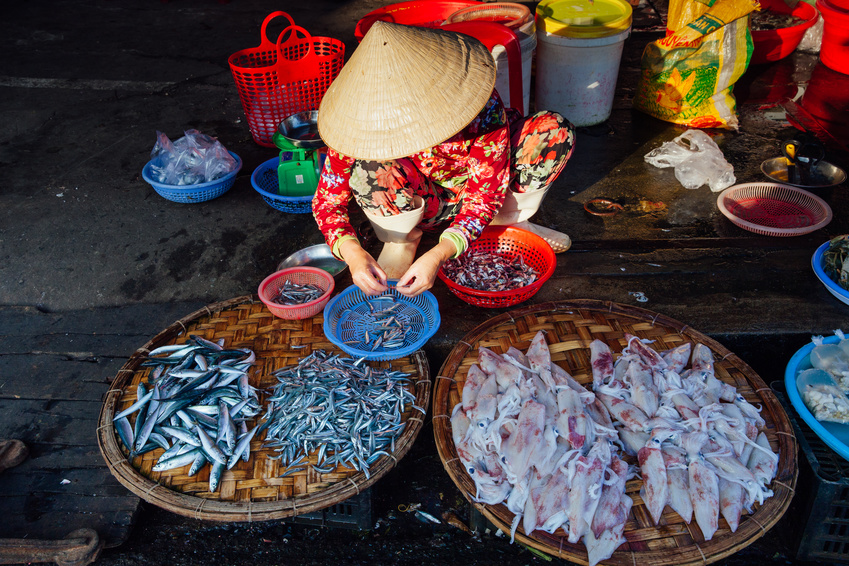 Ho Chi Minh City, (HCMC) or Saigon (District 1), was founded about 300 years ago. This is Vietnam's largest city with around 9 million people. For comparison, the roots of Hanoi in the north date back to the 3rd century BC and that city was founded more then 1000 ago.
Ho Chi Minh City can be explored on bike or foot. However be aware that traffic conditions can be horrific at times – Ho Chi Minh City features thousands of motor bikes – they are simply everywhere.
A number of years ago the Chinese introduced a rather inexpensive motorbike and these quickly became the mode of transportation replacing the regular bicycle. The mode of transportation in this city has changed dramatically from push bicycles to motorbikes (we heard there are around 3 million motorbikes in the city) to more recently, the addition of cars. It can be challenging to drive cars in parts of Ho Chi Minh City due to the mass volume of motorbikes.
There is an art to crossing the busy sometimes very wide streets in Saigon. On your first day like myself, you may feel much trepidation and fear about trying to walk across the streets of Saigon.
The best way is to enter the street slowly and always watch the bike that is coming at you, in front of you. Slowly walk across the street; you will be surrounded by buzzing bikes all around you, but keep moving forward slowly and you will soon find yourself on the other side. With the addition of cars it is now even more challenge to cross streets in the city – taking care to choose to cross slowly only when motorbikes are approaching – not vehicles.
Based on the evolution of transportation in the city, we suspect that evenutally the numbers of motorbikes will dwindle, to be replaced by cars.
Compared to other South East Asian cities Saigon has a good mix of Asian and European (French) influence. This influence can be seen with the architecture especially the Roman Catholic churches including the largest one, Notre Dame and other buildings such as the Opera House and the People's Committee building.
Districts 1 and 3 are very well kept up and contain numerous restaurants, hotels, museums and many of the attractions mentioned in this article. District 5 which contains Cholon or Chinatown is slowly being improved by the government. In order to see Saigon and some of the surrounding attractions one needs 3-4 full days to fully explore this city.
Important Notes
Getting from the airport to Saigon/District 1 can take over an hour depending on traffic. A number of taxi companies try to rip off tourists either by not using their meter or quoting high prices. Often we walk outside of the airport some distance before hailing a rolling taxi on one of the nearby streets (usually crammed with traffic).
Two taxi companies that are legit are, Vinasun and Mailinh.
One can change money in the airport but the rate is usually lower then what is offered in the city. Therefore we recommend only changing small amounts, enough to take a taxi into the city or for other incidentals. The best rates for changing money are oddly enough, at jewelry stores.