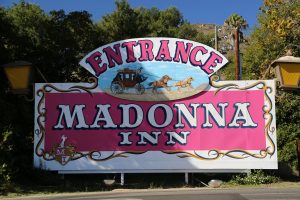 The Madonna Inn is located next to the 101, just south of downtown; this property is an eclectic blend of architecture and style. It is not named after the virgin Madonna but rather takes it's namesake from it's founder, Alex Madonna. Alex has part of the 101 freeway named after him and the nearby Madonna Road, and the nearby Madonna Peak on so forth. The inn sits on a property that encompasses more than 1,000 acres.
There are a variety of rooms available – everything from the caveman's room to the jungle room. The rooms are creatively designed – bring your camera. The men's bathroom has large shells for sinks and green tile in the urinal. After going to the bathroom a waterfall of water cascades down from above. Often you will see the ladies trying to peek into this rest room.
The first twelve rooms opened in 1958. Today there are 110 uniquely designed rooms.
In the dining area one can expect to find many different colored glasses, odd shaped silverware and gaudy table centerpieces. The inn is quite gaudy and decorated with very bright colors. Breakfast (good but not great) is a popular meal here. Table seating or counter top seating available.
Pink is an oft used color here – including as the color of the bicycles for guest use.
The Madonna inn is rated 3 stars by Triple A. Their prices range from $167-$330 per night – Internet specials are sometimes offered. Their phone number is (805) 543-3000. Address is 100 Madonna road.
Please visit their website at: www.madonnainn.com