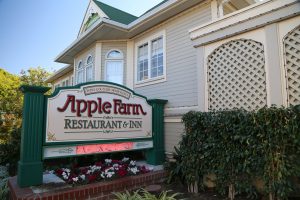 Apple Farm is a country style inn and restaurant located in the northern most part of San Luis Obispo just off the 101 Freeway. Numerous charming and quaint souvenirs are sold in the gift shop next to the restaurant.
We highly recommend the breakfast's at Apple Farm. This often becomes a tradition for parents when visiting their children at nearby Cal Poly to take them here for breakfast. And years afterwards the memories remain of the good times spent here. The Apple Farm makes their own jellies and jams which you can purchase at the gift shop. Lots of boutique items are sold here.
A working millhouse is also displayed on San Luis Creek. The 14 foot water wheel powers a gristmill, a ice cream maker, and a cider press. Phone number is (805) 544-2040.
They are located at 2015 Monterey street. You will take the first exit (Monterey) off of the 101 as you drive from the north into town. Prices range from $209 to $399 a night. This is a four star inn. The Apple Farm celebrated their 40-year anniversary in late 2016.
Please visit: www.applefarm.com