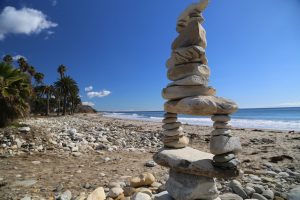 Santa Barbara and surrounding vicinity features a diverse set of beaches ranging from the state park beaches north of town, to the wide flat sand beaches in the vicinity of lower State Street. Beach side bars and restaurants can be found – and are part of the enjoyment of visiting some of the area beaches. State Park beaches charge an entry/parking fee – a receipt is given to you with a piece of tape that you tape to your windshield. Once you purchase entry to one of the State Park beaches, you are allowed to enter any of the others on the same day without paying admission again.
The following beaches are located between Goleta in the north and Carpinteria in the south. All state beaches have lifeguards during the summer months. During off season, these life guard 'shacks' are empty. We have seen people swimming most every month of the year – even in the winter you can sometimes have very warm periods.
1000 Steps Beach is at the end of Santa Cruz Blvd off of Shoreline at 1429 Shoreline Dr. This beach is usually accessed via the residential Mesa neighborhood and is somewhat hidden – there is no official parking lot. Rather parking is curbside on nearby city streets. Parking is allowed on one side of the narrow end of Santa Cruz Blvd. A fairly short drive from Shoreline Park Beach and during low tide you can actually walk between 1000 Steps Beach and Shoreline Park Beach.

Also a beach in Laguna Beach of the same name. This beach got its name from what perhaps seemed like 1000 steps leading down to the beach below. Today there are maybe 100 steps (if that), that lead to the sandy shoreline. It will take only a minute or to to descend and if you climb fast, about the same time. Be careful on part of the steps – at times water flows over them and they can be fairly slippery.

Dog lovers take note – this is one of the few beaches in the area where you can let your pet off the leash. Best time to access this beach is at low tide – some tide pools are also in the area and make for fun exploration. During high tide the sand is offered covered in water with ocean water directly below the steps.
Arroyo Burro Beach is a 13 acre park located off of Cliff Drive near Hope Ranch. Whenever we stop here – it is obvious this is much loved beach. The small parking lot is usually filled to capacity and the parking situation is obviously quite competitive. There is a much larger side parking lot within a short walk of the beach.

Arroyo Burro is located about 5 miles west of downtown and just west of Las Positas Road. This beach is known to the locals as Hendry's Beach. The Boathouse cafe is very popular and serves a variety of seafood dishes. A picnic area and a volleyball area are also located on site. This is also a popular place to walk dogs.
Butterfly Beach is a narrow sandy strip with a great view of the city. This beach is located on Channel Drive in front of the Four Seasons Biltmore, east of Cabrillo Blvd. There is limited street parking directly next to the beach. A tony area to be sure, but there are people here from all walks of life. Excellent place to watch the golden hour take shape, leading to the sunset.
Carpinteria City Beach is located at the foot of Linden Ave and stretches to Ash street. Mild waves have help earn this beach the title of "World's Safest Beach. Street parking is limited.
Carpinteria State Beach is accessible from Palm Ave (Hwy 224). There are camper, trailer, and tent sites available. This beach has an amphitheater, a volleyball court and picnic areas. For reservations call Phone Number (805) 684-2811./li>
Depressions Beach is located just north of Santa Barbara on the campus of UCSB in the small town of Isla Vista. This small mostly rocky beach is named after the nearby surfing spot of the same name. We always park in the metered spots at the end of tiny Ocean Drive on campus – and then briskly walk the 10-12 minutes along the paved coastal trail to reach this actual beach.

The UCSB Lagoon is located behind the beach – there are a number of hiking trails in this part of the campus. Nice spot for relaxing. A bench is located near the paved trail and the entrance to the beach. Good spot to people watch or read a book.
East Beach is certainly cleverly named; it is one of Santa Barbara's most popular beaches. This expansive strip of sand stretches along Cabrillo Blvd east of Stearns Wharf. East Beach consists of 44 acres, 16 volleyball courts, a playground, and a cafe.

Parking is along a parking lot that stretches horizontally, paralleling the beach. You must pay for parking here. You can also rent beach chairs, umbrellas, boogie boards, and volleyballs at the bathhouse.
El Capitan State Beach is located about 20 minutes west of Santa Barbara directly off of the 101 freeway. This is a rugged, long and narrow beach. Camping sites and hot showers are available. The small beach store is located next to the main parking lot and offers up limited grocery items as well as select souvenirs.

A wooden walkway leads one down from the parking lot over the steep bluffs to the actual beach. Unlike Gaviota and Refugio beaches further to the west, this beach is mostly rocky. Several rocky tide pools are located here. Campers and trailer vans can park here. Reservations should be made well in advance.
Gaviota State Park/Beach is located about 35 minutes west of Santa Barbara one a short side road immediately off of the 101 freeway. This beach is the first beach you come to if you were driving the 101 south – just as it passes through the local mountains/canyon. This park is named after the Spanish word for seagull – named by soliders on the historic Portola Expedition who perhaps killed a seagull here some nearly 250 years ago.

The raised train trestle is a dominate feature next to this beach. But don't let that distract you to much – the beach is beautiful featuring fairly fine white sand. Lifeguards keep an eye on things during the summer months. A small store is located next to the parking lot. The beach is a very short walk from the parking lot. Camping is available – you should reserve well in advance to ensure you have a site on the days you plan to stay here. Can get very windy here.
Goleta Beach consists of 29 acres and is located at 5990 Sandspit Road in Goleta. Boating access and a 1,500 fishing pier is available as well as volleyball courts. The Beachside Bar and Cafe is located on site. This beach is also a resting spot for many species of migratory waterfowl. Some picnic tables on site – plenty of parking. Easy access to the UCSB campus.

Easy access for bicyclists due to the nearby coastal bicycle trail. Good spot to chill for a while – one of our go to beaches when visiting UCSB.
Isla Vista Beach is composed of over 2000 feet of sand. There is a grassy area for sports located on a bluff above the beach. During low tide you can walk to UCSB. To get to this beach from the 101 freeway take Los Carneros Road to Isla Vista, and then continue south to Camino Corto. We've spent many hours at this beach, although not recently.
Leadbetter Beach Beach is at Shoreline Drive and Loma Alta right across from the Santa Barbara City College. Santa Barbara City College: www.sbcc.cc.ca.us

This would be a great Junior College to attend if you like water sports! We also enjoy walking along this beach. The Santa Barbara coastline wraps around here, so you do not typically have strong offshore breezes. There is an outdoor restaurant here as well as volleyball courts.

Picnic and barbecue sites can be reserved. Also outdoor showers, restrooms and a grassy lawn. Right next to the long grassy Shoreline Park.
Mesa Lane Beach is off Mesa Lane which is off of Cliff Drive.
Refugio Beach is located about 30 minutes west of Santa Barbara. Located within a very short drive of the 101 freeway. Planted with giant distinctive palm trees nearby. The beach itself features white sand.

Lifeguards keep an eye on things year round while the lifeguard towers house lifeguards during the summer months. A coveted camping area is on site as well as the tiny Refugio State Beach store (for miscellaneous supplies).
Rincon Beach is located three miles east of Carpinteria at the Santa Barbara Ventura county line. From the 101 take Bates Road, and turn off south to the park entrance. This beach is very popular with surfers and is considered to have some of the best waves in California.
West Beach parallels Cabrillo Blvd and is the large strip of sand immediately to the west of Stearns Wharf. This wide sandy beach is also adjacent to walking/biking path located along here. Numerous shops and restaurants are located nearby. At the west end of the beach there is an outdoor lap pool. Admission to the pool a nominal fee.

Also note that often there are creative homeless who have setup 'shop' on the part of the beach that borders Stearns Wharf – often they stretch out a cloth with buckets or catchy phrases to try and get visitors on top of the wharf to throw down coins. Certainly one of Santa Barbara's most visited beaches because of its size and proximity to downtown and State Street.