Besides extensive shopping areas, wineries, the UCSB campus, beaches, Santa Barbara Mission, historical buildings, various museums, Stearns Wharf and the wonderful climate, numerous other attractions still need to be mentioned. These are a few that we have visited in Santa Barbara – all are listed in alphabetical order: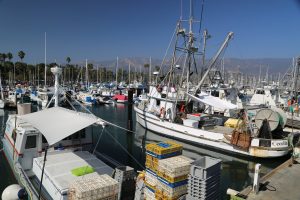 Breakwater Flag Project. Numerous flag poles are located down on the break wall near the Santa Barbara Marina. On top of the sea wall, 26 handmade flags fly Wednesday through Sunday from early morning until sunset. The flags represent various community service organizations. These flags were erected in 1977. NOTE: from 2016 on wards we during a number of visits to the marina, we have not seen any flags flying here (perhaps this project is currently taking a hiatus). Please let us know if you have more information.
Santa Barbara's sizable marina is located directly next to the flags. Numerous boats are berthed in this marina, some quite eye-catching. Many of Santa Barbara's beaches are accessible from Shoreline and Cabrillo Blvd. A jogging/walking path is located along Cabrillo Blvd directly next to the beach. This path is lined with tall palm trees. Parking is available in either small lots next to the beach or right on Cabrillo Blvd.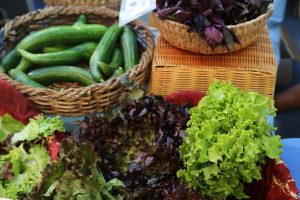 Farmers Market. Santa Barbara and vicinity holds a number of farmers markets. Our favorite is the Downtown Farmers Market held on the corner of Santa Barbara and Gota streets from 8:30am to noon each Saturday (in a parking lot next to the main street or on side streets if you can find spaces) and also at the 500th block of State Street from 3pm to 6:30pm each Tuesday.
Even in the dead of winter we have been able to purchase fresh corn at this markets – trucked up from the Coachella Valley. Regardless of the time of year (thank you Santa Barbara climate), you can always find a wide diversity of products including at times, some semi tropical fruits. For information, Phone Number: (805) 563-0393 Website: www.sbfarmersmarket.org

General Events: These are events that occur at or near Santa Barbara's waterfront