Montecito is located just south of Santa Barbara off of the 101 freeway. Take the San Ysidro Road exit off of 101 and follow the road to Montecito, continuing straight past East Valley Road. Montecito (Spanish for "little mountain") is an exclusive residential area. Montecito has been compared to Rodeo Drive in Beverly Hills. Many expansive estates, mansions, and lush exotic gardens dot the area's hilly landscape.
The town of Montecito is much smaller then Santa Barbara but is fairly spread out among the hills in this area. The center of Montecito is located at the Montecito Village on the corner of San Ysidro Road and East Valley Road.
Luxury hotels were built in the Montecito area and attracted millionaires and celebrities from all over the world. Charlie Chaplin built the Montecito Inn which catered to Hollywood celebrities. Actor Ronald Coleman owned the San Ysidro Ranch for a while. The Biltmore Hotel was built in 1927 over looking nearby Butterfly Beach. Many television and film celebrities, artists, writers, and other personalities still call Montecito home.
A select number of fine art galleries are located in Montecito. If you are gallery hopping we recommend that you look up the address's of the galleries, then look at a street map of the area and determine which galleries are closest to each other. This will help to maximize your time.
Our Lady of Mount Carmel Church This visually appealing church looks like it belongs on a movie set. Perhaps it looks older then its actual construction date – 1936. It is artfully constructed in a Spanish style architecture. A patio with a garden and statues are located immediately outside. Worth spending a few moments to duck inside. Located on the busy intersection of East Valley and Hot Springs roads. Plenty of parking on site adjacent to the church. For more information visit: www.mtcarmelsb.com
Montecito Magazine is a very helpful guide that also contains a map of Montecito. This magazine was founded in 1981 and focuses on Montecito's unique history and also stays up to date with the area restaurants, shops and galleries as well as local real estate. The printed version sells for several dollars but many higher end shops will provide complementary copies. You can view their web page at: www.montecitomag.com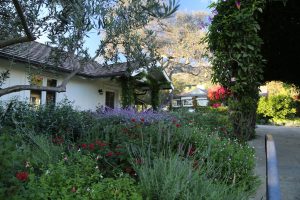 San Ysidro Ranch is a secluded historical, luxurious and truly magnificent resort surrounded by lush gardens and exotic plants. Address: 900 San Ysidro Lane. Words cannot begin to describe the intimacy and sophisticated flavor of this resort, only experience and a stay here, can do that. Many famous celebrities have called the property 'home' for a few days or longer. John and Jaqueline Kennedy honeymooned here. Vivien Leigh and Lawrence Olivier exchanged wedding vows in the rose garden, Aldous Huxley, Sinclair Lewis, and Somerset Maugham were writers who spent time writing here. Jack Benny, Katherine Hepburn, Bing Crosby, Winston Churchill, and Henry Cabot Lodge have all stayed at the resort.
Cottages are built throughout the ranch, and are named for their botanical surroundings such as Rose, Oak or Acacia. One of the cottages still has the name Coleman on it, perhaps from when the actor Ronald Coleman owned the resort. The cottages were built over a span of 100 years and the interior is quite luxurious. Inside you can expect to find vases of freshly cut flowers, fireplaces, private sunning decks, Jacuzzis, and complete kitchens. When you arrive for your stay you can expect to see your name engraved in a sign that is hanging from the cottage door. Nothing is left out at this resort. The paper is delivered in the morning, and firewood is delivered twice a day.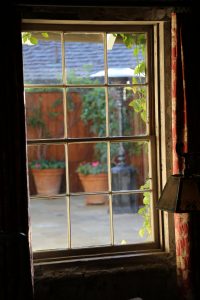 We've spent some time on several occasions walking the property and its beautiful grounds. The grounds are kept well manicured and so is the vegetable garden, where they grow a majority of their vegetables for the Stonehouse Restaurant. This restaurant is open to the public; the prices are quite reasonable for the quality of the food. Below the restaurant is a 100 year old wine cellar which is part of the Plow and Angel Bar.
The oldest building on the property, the Old Adobe dates from 1825. Offers an intimate and historical setting for for a romantic meal.
Since 2000 the ranch has been owned by businessman Ty Warner (of Beanie Babies fame).
Miles of trails that wind through the canyons of the Santa Ynez mountains are located directly behind the resort. Some of the trails pass by naturally heated hot springs. A stable is located a short distance from the start of the trails. A 15 meter swimming pool is also available with spectacular views of the Pacific Ocean.
San Ysidro Ranch is one of only a select group of establishments in North America to be given membership in the prestigious
Relais & Châteaux. This is an association of the world's finest privately-owned inns, and hotels. For more information and or to make a reservation, visit: www.sanysidroranch.com
The roads in Montecito and the hills east of Santa Barbara are quite narrow and can be dangerous to vistors especially when you are trying to stop and see certain sights. The residents are used to to these roads and tend to drive on the fast side. A drive that we recommend is from the corner of East Valley Road and San Ysidro Road. Take East Valley Road to Sycamore Canyon. Then take Sycamore Canyon Road to Stanwood Drive (Hwy 192) and continue to Mountain Drive. Then after a short drive on Mountain Drive take Foothill Road and drop down into Santa Barbara either on Mission Canyon Road, Alamar Road or Las Positas Road.
Lotusland – this world famous botanical garden, located in Montecito contains a rare display of rare and exotic plants. Open by advance reservation only – guided tours offered twice daily from Wednesday through Saturday from late Winter through late Fall, once at 10am and once at 130pm. Allow at least two hours for these tours. We have plans to visit Lotusland and once we do, we will update this review.
More information coming soon. Visit: www.lotusland.org