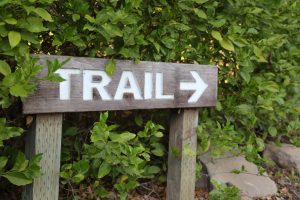 For hiking enthusiasts there are dozens of foothill trails in the Santa Ynez mountains. Maps and information can be obtained from Los Padres National Forest Headquarters located at 42 Aero Camino, in Goleta.
Chaucer's Bookstore on State Street (mentioned in the Other Information section) has a number of good books and maps on day hiking in the Santa Barbara area. The Phone Number of the Los Padres National Forest is (805) 683-6711. Some of the more popular city and regional parks are listed below:

Alice Keck Park Memorial Gardens consists of 14 acres of foliage east of Santa Barbara Street a few blocks away from the core of downtown Santa Barbara. The gardens include a memorial area, a koi pond and paths winding through the area. The park packs a lot in; look for the sensory garden, a low water demo garden and a butterfly garden. The park covers an entire city block – this used to be the site of the El Mirasol Hotel which at one time was owned by Frederick Clift (the hotelier of the San Francisco Clift House fame). Alice Keck originally purchased the site anonymously and then donated millions to create and maintain the gardens. She was the daughter of the founder of Superior Oil Company.
Tours are self-guided along the walking paths and wind through 70+ various tree and plant species. A nice gazebo is also on site

Andrée Clark Bird Refuge is located at 1400 East Cabrillo Blvd near the intersection of Cabrillo Blvd and the 101 freeway and the train tracks. This strip of land and lake/estuary is artifically made and is located just east of the Santa Barbara Zoo. Named by Huguette M. Clark after his dead sister, Andrée Clark, a woman who was part of a local family originally involved in copper mining in Montana.
This refuge consists of small lagoons, freshwater birds, and foot and bicycle paths. Three islands are located in the estuary – fishing and boating is not allowed. The total space encompasses 42 acres of which the main lake is 29 acres. Parking is located on the east side of the lagoon, near the intersection of Cabrillo Blvd. and the 101 freeway off of Los Patos Way. Admission is free. The estuary is home to a wide diversity of bird life and various turtles.
Cachuma Lake is located about 25 miles northwest of Santa Barbara. For more information on this lake see this page also in our Santa Barbara article.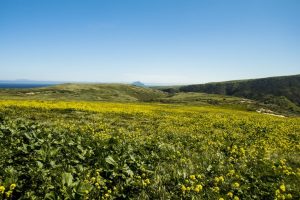 Channel Islands National Park is composed of five different islands. The park and the surrounding 1,200 square mile Channel Islands National Marine Sanctuary is an excellent location for viewing whales, bird watching, snorkeling, and exploring tide pools. Island Packers provides boat transportation to the islands. You can call this Phone Number (805) 642- 1393 for their schedules and reservations.
Sea Landing also offers daily whale watching trips in the channel. They can be reached at this Phone Number: (805) 963-3564. Day trips are given to the islands through the Nature Conservancy several times a month from April to November. I also know that the Santa Barbara Botanic Garden puts out an events calendar and often they have field trips to one of the Channel Islands. For more information about trips and classes offered by the Santa Barbara Botanic Garden you can call Phone Number: (805) 682-4726.
Some general information Phone Numbers for the Channel Islands are listed below:
Channel Islands National Park Info (805) 658-5700
Channel Islands Visitor Center (805) 658-5730

Chase Palm Park is a sizable park located on both sides of Cabrillo Blvd – just east of Stearns Wharf. The north side features a playground with a shipwreck theme and the ever popular children's carousel which was installed in 1999. The carousel is an antique – having been built in 1916. At one point it was owned by the Seaport Village in San Diego. The south side of the park features lots of green grass, tall palm trees and the Chase Palm Park Center.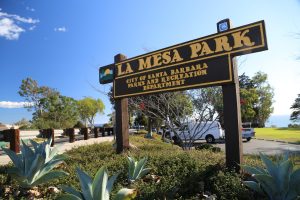 La Mesa Park is located at 295 Meigs Road just above Shoreline Drive (next to the lighthouse). Popular with families especially for picnics (plenty of tables). More of a locals feel rather then a tourist spot.
Also a playground on site and a fair amount of lawn for relaxing. Also has a stone barbecue, a sink and a small stage area. Not far from the ocean and with a short walk of scenic views of the ocean. Plenty of eucalyptus trees for shade. Free parking.

San Antonio Canyon Park is a fairly long park the connects between Highway 154 and Cathedral Oaks Road. There are several access points including from a short pullout road next to the 154 (with a trail leading from the end of this pull out road) and perhaps the more popular access is via Tuckers Grove Park with access off of Cathedral Oaks Road. Once you pull into the park continue driving along the small road with parking lots (parallels Cathedral Oaks Road) until it eventually ends at a parking lot next to the San Antonio Creek Trail.
From here one can make a short hike to the Congregation B'nai B'rith outdoor amphitheater or continue for several miles along the San Antonio Creek Trail (which eventually connects up with the other park entrance next to Highway 154). In additional to the hiking trails here there is also group picnic areas, a volley ball court and horseshoe pits. For more information call Phone Number (805) 568-2460.
Shoreline Park as the name appropriately describes is located near the shoreline – a long narrow park that parallels Shoreline Drive. Offers a number of services including a playground, two restrooms, picnic tables and plenty of barbecues often being used. A stairway leads down to the beach at the base of the park (although note that this is often covered with water except during lower tides). Very popular with families, locals and visitor's alike. Located across from the Mesa residential neighborhood. Plenty of parking on site. Or one can rent a bike from near the boardwalk below and ride up here.
The park is popular with both locals and visitor's alike. Lots of grassy areas and when the weather is warm (when is it not?!) people will be lying out getting some rays. This part of Santa Barbara used to be farmland until the 1920's.
Toro Canyon Park is 74 acres and is popular for picnics. This park is on Toro Park Canyon Road off of Highway 192 northwest of Carpinteria. The Phone Number is (805) 969-3315.