We have visited the following attractions or small towns – all of which are within a fairly short drive of Santa Barbara, all in Santa Barbara County.
Buellton is strategically located on the cross section of where the 101 freeway passes under Highway 46 – about 45 minutes from Santa Barbara via the 101. One can also take the 154 to Buellton from Santa Barbara for a change of pace, but this drive is usually about 10 minutes slower. Buellton is not as cozy as the more compact Los Alamos or Los Olivos – rather it is more spread out and it really helps to have a vehicle during your visit.
Long synonymous with Pea Soup Andersen's (since 1924), this iconic road side establishment has lured many a traveler to roll their wheels off of the 101 into their parking in search of their tried and true all you can eat pea soup. Before you enter Anderson's, they proudly announce they have been "Splitting Peas since 1924" – ooh and ahh over the sign and use this moment for a selfie to be later posted on Instagram and then for a kick of nostalgia, walk into their gift shop.
Savy travelers will note that this is not the only Anderson's in existence although this is the original Anderson's. Those who make the drive between Los Angeles and San Francisco on the great 5 freeway will also pass an Anderson's just north of Santa Nella just off of the freeway.
But Buellton is more then Andersons. Boosted by a bump in wine tourism from a certain film – today the region boasts numerous wineries or tasting rooms either in town or within a short drive. Chardonnay and Pinot Noir are prominent varietals due to the marine influences but there are certainly plenty of other types of wine to enjoy.
Other highlights in the area include Ostrichland which is only a several minute drive from Buellton (enjoy a gift shop with ostrich products and get to meet and greet ostriches up close and personal) and for something a bit more eclectic, check out the Museum of Gasoline in town (advance reservations a must).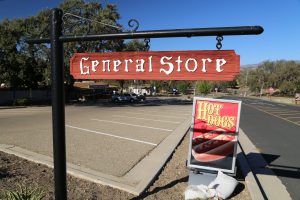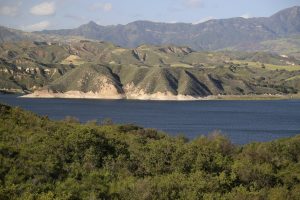 Cachuma Lake is located about 30 minutes north of Santa Barbara off of Highway 154. This is a sizable human made lake which offers great fishing, although during drought years the level of the lake can be significantly lower then its normal levels. During these times the boat launch ramp is unavailable. Lake Cachuma is stocked with approximately 150,000 rainbow trout annually. Tent and RV camping are offered.
Also check out the popular Yurts for accommodations near the lakefront. Boating is a popular activity here, there are rentals available. We had a wild time once when we rented one of the small fishing boats and ended up in the middle of the lake in the middle of a cold rainstorm.
Regularly scheduled naturalist hikes are given. Some of the wildlife in the area are bears, deer, wild boar, and other small animals. The American Bald eagle is a year round resident of the area. The park naturalists conduct a two hour "Eagle Cruise" from November through February, while wildlife cruises are conducted throughout the year.
In the wintertime the tallest of the Santa Ynez mountains which tower above Lake Cachuma in the east, are often covered with snow. On a crisp clear winter day this is a beautiful site.
For more information about activities associated with Cachuma Lake visit: www.countyofsb.org/parks/cachuma.sbc
Cachuma Pass (Highway 154): At the top of Cachuma Pass head east on East Camino Cielo Road. This narrow road winds around for a few miles through trees and near several homes before coming out on top of a ridge. About 2 miles past the summit of the 154, but before the ridge, you will see a small road that veers to the right. This is Painted Cave Road which winds right next to the Chumash Painted Cave – if you continue on this road you will reach the 154 highway again. Continue on East Camino Cielo Road.
On a clear day from one side of this road you can look down onto Santa Barbara while on the other side of the road you can look down a thousand feet into the upper Santa Ynez Valley. The views are spectacular – this is one of our most favorite ridge drives in all of California. One note: this road tends to close down during storms or periods of inclement weather.
From the west side of the top of Cachuma Pass you can head down Cold Spring road – this was the original stage coach route into Santa Barbara. This road leads down the north side of the ridge and passes the neat restaurant Cold Spring Tavern (see the Cold Spring Tavern May 2001 Highlight of the Month for more information). A neat view from this road is looking up at the green colored Cold Spring arched bridge which is actually the 154 highway. This bridge was built in the early 1960's; photographs of the original construction do exist.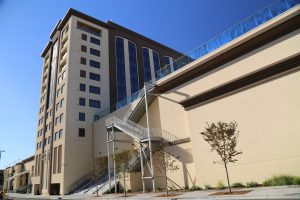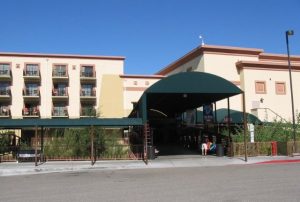 Chumash Casino is definitely one of the larger Indian casino's in California. Conveniently located about 3 miles west of the 154 (about 20 miles north of Santa Barbara via San Marcos Pass) it is not only a casino, but entertainment complex, hotel and spa. Located close to the small town of Santa Ynez.
This casino is located about 1/2 way between Solvang and Santa Ynez off of highway 246. Famous headliners often come to perform in their main auditorium. Several large parking garages are available and as with most casino's the general parking is free. Valet parking also available.
Choose from over 2000 slot machines, pokers, tables and other gambling. For more information visit: www.chumashcasino.com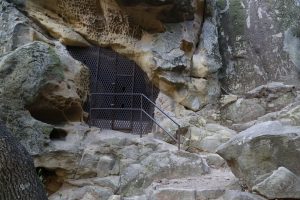 Chumash Painted Cave is located about 12 miles northwest of Santa Barbara off of the San Marcos Pass Road (Highway 154). The start of this highway is directly across from the start of upper State Street at the 101 freeway. The cave is on Painted Cave Road, an extremely narrow steep road that winds its way up the face of the Santa Ynez mountains. You will quickly climb in elevation for a few miles and then you will level out and drive for another few miles. The cave is situated on the left side of the road. There is little parking; expect to park on a narrow shoulder of the road.
The cave is just a few hundred feet up a trail, above the road. The cave entrance is covered with a metal screen. Inside are brightly painted pictographs on the cave walls painted by the Chumash Indians hundreds of years ago. This artwork is believed to have religious connotations. If you are going to take pictures I would recommend taking a short zoom lens and a flash. There is a very steep trail that continues on up the hill from the cave, presumably to some smaller caves and pictographs. There may be a great view of the ocean and Santa Barbara from the top of the trail, but I neglected to hike up because I did not have my hiking shoes on. Note: There are no services here, not even water.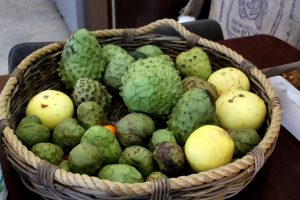 Goodland Organics , an exotic tropical fruit ranch located in a special micro-climate in the hills above Goleta, specializes in growing Cherimoyas and is one of the few Cherimoya ranches in California. A Cherimoya is a fruit that looks somewhat similar to an artichoke on the outside minus the sharp spikes and tastes something like a cross between a banana and a mango. This Shangri-La type ranch is one of our favorite non urban places to visit in California – it is quiet and peaceful and usually warm no matter what the season. Numerous varieties of tropical fruit trees grow in abundance.
The Ranch is not open to the public (although they offer select tours of the ranch focusing on their coffee production). However for photographs, a description of Cherimoyas, and to purchase Cherimoyas online you can visit their website at www.goodlandorganics.com Cherimoyas are in season between about December and June each year. Also visit Dave's Rare Fruit Page for more information about rare & exotic fruit and view our article about their Coffee Tours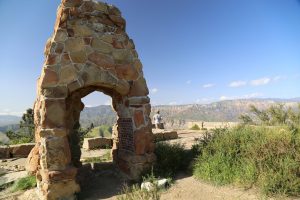 Knapp's Castle : On East Camino Cielo Road – just before you reach the ridge with the excellent views there is a small single track dirt trail that leads to Knapp's Castle. Knapp's Castle used to be a large stone mansion perched below the ridge overlooking the scenic Santa Ynez Valley. All that is left of this castle are several stone archways and part of the foundation. The views from here are excellent – be careful of the poison oak that grows in abundance in this vicinity. It is about a 10 minute walk to the castle from the paved road. There is a locked gate with the property owner's Phone Number painted in yellow hanging on a sign.
This gate is located right next to the main road with the trail situated right next to the gate. Walk down the trail and take the short road to your right – this will climb up to Knapp's Castle. If you do not turn off the trail and take the short road that leads up to Knapp's Castle you can continue down the ridge to the bottom of the Santa Ynez valley. This is a single track biking trail and is best for mountain biking, not walking. The trail is quite steep in places so be quite careful if you are biking this. If you do decide to bike down here you can either have someone meet you at the bottom with a car or you will have to bike all the way back up the ridge via Cold Springs paved road
La Purisima Mission is located 4 miles north east of Lompoc on Purisima Road. This mission is one of the best restored missions of California's 21 missions and is one of only 2 California missions no longer under the control of the Catholic Church. It is currently run by the California State Park system. It was originally constructed in 1787 (the 11th of the 21 missions constructed in California) south of the town of Lompoq but was demolished by an earthquake in 1812. Chumash Indians and Franciscan priests helped to reconstruct the present day mission four miles from its original site. The mission sits on 1,928 acres (originally the adjoining lands included 3,000 acres) and includes a church, chapel, cemetery, living quarters, and gardens.
On certain weekends docents will dress up in the period costumes and stage living history events. Twenty four miles of maintained trails are available for hiking. The mission grounds are open daily from 9am to 5pm. Admission is $6 per vehicle – if paying by cash, you must have exact change. Use the pay machine next to the parking lot. Before visiting the actual mission and grounds be sure to stop into the visitor's center with it's educational displays knowledgeable docents. A highlight here is one of the original mission bells on display. Displays show what the mission looked like in the 1920's – essentially it was in ruins with some of the main buildings only showing pieces of adobe walls.
At a crossroads, between maintaining it's current ruined state or restoring – it was decided to completely restore the mission. This was overseen by the National Park Service in the 1930's with it's 'reopening' occurring on December 7th, 1941. For more information call Phone Number (805) 733-3713. Visit: www.lapurisimamission.org
Lompoc (pronounced "lom poke" is famous for its extensive flower fields, that are in bloom from early May through September. Over 200 varieties of flowers are grown here. Some of the varieties of flowers are aster, calendula, cornflowers, larkspur, lavender, lobelia, marigolds, and sweat peas. In fact most of the nation's flower seeds are grown in the Lompoc area and many of the seeds are sold worldwide. The Civic Center Plaza behind C and E streets has a garden that displays new varieties of plants. The Lompoc flower festival is held in June. For more travel information about the Lompoc area you can call Phone Number (805) 736-4567.
Lompoc is located about 50 miles northwest of Santa Barbara. (Lompoq) The downtown is somewhat rustic looking – like walking into another era. Like other towns in Santa Barbara, it has not been over taken by tourists and the associated businesses (wine tasting rooms, fancy restaurants, etc).
A highlight of any visit to downtown is the Lompoc Murals Project, an exhibit of more then 20 murals in downtown Lompoc. The murals were started in 1988 and are paintings of flowers, fire-fighting, fishing, mining and Old West scenes. Maps of the mural walk are available from the Chamber of Commerce. Also worth checking out (with it's limited hours) is the Lompoc History Museum.
Just outside of town is the Wine Ghetto – yes, that is it's official name. There are no vineyards, hillside views or fancy wineries here. Rather the 'ghetto' is a collection of industrial based wineries – all lined up with their own spaces in this 'wine warehouse' district. Stop by here during harvest and smell the invigorating aromas of fermented grapes wafting up and down the streets. Plenty of tasting rooms to choose from, all within short walking distance of each other.
Los Alamos (population approximately 1,900) is located about an hours drive north of Santa Barbara a very short drive off of the 191 freeway spread out for a about a 1/2 mile along both sides of Highway 135. Charming and with plenty of history, the town encompasses some 7 blocks of restaurants, wine tasting rooms, several hotels, antiques and select other businesses. Well loved at times (especially on the weekends), but usually not as busy as Los Olivos (which is a smaller town).
Highlights include stopping in for breakfast at what has quickly become a popular stop for visitors to Los Alamos – the family run Bob's Well Bread Bakery (opened in 2014). Pick up some fresh orange juice or their filling breakfast sandwich and meander to the picnic tables in the shade next to the restaurant. Also indoor seating. Good selection of drinks. After a leisurely and long breakfast soaking in the warm sun, head down the street to tiny Bell's Restaurant (formerly Bell Street Farm) and hang out in this cozy space for some local cuisine.
If your still in town by mid day it may be time for some wine tasting. Head across the street to the unusually located Muni Wine Tasting Room – located on the grounds of the old Alamo Motel. Plenty of windows on this tiny tasting room so you can easily see all those inside having fun drinking a variety of wines or comfortable reclining chairs outside offer a perfect place to park it with a glass in your hand. Somewhat limited hours.
Also worth stopping into include Casa Dumetz Wines and the next door Babi's Beer Emporium. Other businesses include the Los Alamos Market and the Pico & The Los Alamos General Store. Three places to stay in town – all unique in their own way include the Alamo Motel, Victorian Mansion Bed and Breakfast and the Union Hotel & Saloon (dates from 1880).
Los Olivos – is a tiny town of just over 1,000 residents located in the heart of the beautiful Santa Ynez Valley. Situtated among Santa Barbara's wine country and horse ranches, Los Olivos can be easily accessed from either the 101 Freeway or from the 154 Highway (it sits right next to the 154). The town takes its name from Spanish meaning the olives – named after a nearby ranch of 5,000 olive trees called Rancho De Los Olivos. Los Olivos was one of the towns along the Pacific Coast Railway – a railway that connected a number of towns to each other on the Central Coast.
There are a number of stand-alone wine tasting rooms in Los Olivos and the Foxen Canyon Wine Trail also starts here. The town is small and stretches along the main street, Grand Ave. Easily walkable between numerous wine tasting rooms, several art galleries and various shops. Based on its location and scenic topography, Los Olivos and the surrounding Santa Ynez Valley has been home to a number of well known individuals including President Ronald Reagan and singer Michael Jackson. The town is also known for providing several locations in the 2004 film Sideways. For more information visit: www.losolivosca.com
Santa Ynez River is best accessed from Highway 154 where you will take the Paradise Road which eventually follows the path of the Santa Ynez River. The turnoff for Paradise Road is on your left as you drive the 154 southbound – just before you begin the steep climb that eventually leads to the top of Cachuma Pass.
Paradise Road passes several camp grounds – some which provide easy access to the river. Note that access to any of this part of the river requires a fee (pay stations are located at the campgrounds). Several miles in, Paradise Road crosses the Santa Ynez River (usually easily passable in the summer time). Continuing, you will reach a dirt parking lot about 6 or 7 miles in on this road – where the road is blocked by a gate. You can either continue along the river by walking or biking.
This road crosses the river several times and at any of these crossings you can stop and spend some time near the water. This is a great late springtime, summertime or early fall get-away. We always enjoy picnicking next to the river this time of the year and spending most of the day reading, swimming, eating, and then repeating that cycle several times before sunset.
Santa Cruz Trail & Upper Oso Bike Rides – take Paradise Road off of the 154 and drive east along the Lower Santa Ynez River. About several miles after meandering past campgrounds you will reach a small ranger station where you will have to pay a fee to enter. After passing through the entrance turn off Paradise Road onto the road that leads to the Upper Oso Campground. From this campground a dirt road leads into the mountains.
We have ridden quite extensively in the mountains behind this campground. One good loop ride is to take Buckhorn road from the Upper Oso Campground and follow it up to the top of Little Pine Mtn and then ride down the single track Santa Cruz Trail back to the campground. From the campground to the top of Little Pine Mountain is about 9 miles (ALL uphill) It is a steep climb and can be an absolutely brutal climb in the middle of a hot summer's day. Be sure to take LOTS of fluids. The ride down the Santa Cruz Trail is a very technical steep rocky one – its also about 8 miles of downhill. Be careful!
Another ride is to the top of Big Pine Mountain. This is about 25 miles one-way from the campground – and most of this 25 miles is straight up hill. Its a very long ride to do in one day. It will take about 5 or 6 hours to the top of Big Pine Mountain. The nice thing is your return ride is mostly downhill – with one section of almost 8 miles of straight downhill!!!
This ride to the top of Big Pine Mountain is entirely on a dirt road – motorized vehicles are not allowed past mile 12 or 13. The top of Big Pine Mountain is a little over 6700 feet and is covered with firs and pine trees.
A hiking trail leads to the top from the dirt road. The Big Pine campground is also available 1/4 mile off of the dirt road. The vegetation at this height is quite a change from the sage and scrub of the lower lands. This mountain range is often covered in snow in the winter and can be seen on a clear day from the 154 just south of Lake Cachuma.
The Bluff campground is available at about mile 20 – water is available here even in late Fall – you will need a water filter or water purification tablets. This campground is at the base of a 5 mile brutal climb all uphill. I have biked to this campground, spent a night and then climbed the rest of the way the next morning. There are several cabins (only available to the US Forest Service) and campsites with tables and fire pits available here.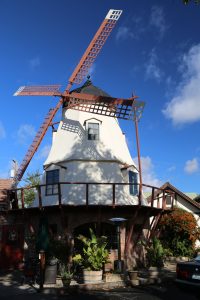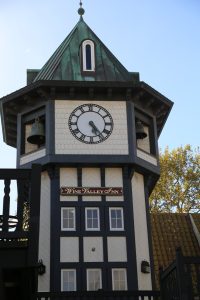 Solvang, means "Sunny Field", and is located about 45 miles north of Santa Barbara on highway 246 midway between highway 101 and the San Marcos Pass (hwy 154). The temperature difference between Santa Barbara and Solvang can be quite dramatic. Solvang regularly gets down to freezing during the winter nights and there will be the occasional snow on the mountains east of town. Solvang is a quaint town with a very noticeable Danish feel to the architecture. When you drive down main street and some of the nearby streets you will see Danish windmills, old-world architecture, gas streetlights, and Scandinavian restaurants and hotels. At night the town becomes a blaze of light as small lights decorate most of the buildings. There are over 300 small shops in town, most selling small collectibles, furnishings for the home, and antiques.
Solvang was founded in 1911 as a Danish American colony by Danish educators from the Midwest. These people were searching for a site to build a college.
The college was eventually built but was demolished in 1970 to make way for a convalescent facility. Solvang has a Danish custom which involves celebrating the raising of the highest rafter on a new building. This celebration called rejsegilde is observed with most new construction in the area. You may notice a large number of artificial storks on the roof tops of many buildings. These storks are here because they are supposed to bring good luck to the occupants of the house.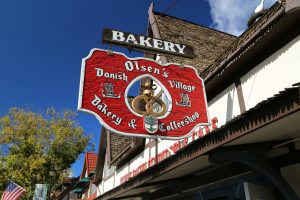 Solvang Theaterfest is a repertory theater presenting plays by the Pacific Conservatory of the Performing Arts. The theatre contains 780 seats and holds performances from June through September.
The 19th of California's 21 missions is located in Solvang. This mission called Old Mission Santa Ines was finished in 1804 and remains one of the best preserved missions. Mission furnishings, artifacts from the early 19th century, and a colorful landscaped garden are open to the public.
Visit: www.solvangcc.com or visit the Visitor's Guide website: www.solvangusa.com Solvang was featured along with Buelton and other parts of the Santa Ynez valley in the popular Oscar Award winning movie called Sideways.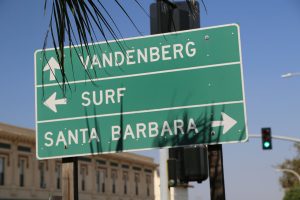 Vandenberg Airforce Base is located near Lompoc. This is the home of the West Coast's military and space operations. The base is open to the public for tours on the third Tuesday of each month at 1pm (advance reservations are a must and the tours are limited to first come first serve until reaching a maximum of 30 persons). On the tour you will see a missile site, a space launch area, Honda point and the Heritage Center.
Has launched a number of important satellites over the years. Currently part of Vandenberg leases some of it's launch pads to Space X. Originally opened in 1941 and named after Air Force Chief of Staff Genera Hoyt Vandenberg. For more information about Vandenberg call Phone Number (805) 734-8232, ext. 63595. www.vandenberg.af.mil

Wine Tasting
Santa Barbara County Wines: www.sbcountywines.com
Santa Ynez Wine Country: www.santaynezwinecountry.com