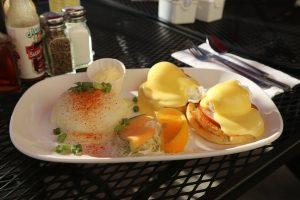 Simply put, Santa Barbara is a haven for excellent restaurants (despite being the home to the first "Egg McMuffin" from McDonalds!) often combined with exceptional visual surroundings and the comforts that only a Mediterranean climate can bring.
The following restaurants are located in the Santa Barbara area. This is just a partial list. If you have a recommendation for a restaurant please email it to dave@pon.net One look on Yelp under Santa Barbara Restaurants would give you an idea of the diversity and numbers of restaurants located in Santa Barbara. Any prices listed below are for dinner only. Prices are subject to change without notice. We have eaten at a number of these restaurants, but not all. This page continues to be updated as we visit restaurants we have not yet eaten at, or revisit old standbys.
All Phone Numbers are in the 805 area code unless otherwise noted.
Other SB restaurant websites:
http://www.santabarbara.com/dining
Read John Dickson's Santa Barbara Restaurant Guid
1114 Craft House and Kitchen/ Viva, 'modern mexican cuisine' – is located at 1114 State Street in the picturesque and historic La Arcada Plaza downtown.

Open for lunch and dinner – happy hour specials. Good drink list – they partnered with several local beverage companies. Live music at times. Visit: www.1114sb.com


Anderson's Restaurant and Bar has been open for business for more then 40 years. This Santa Barbara institution is located at 1106 State Street. Their focus is on Danish pastries and a diversity of European cuisine. This restaurant was founded by Alfred Andersen a chef and a artist (some of his original paintings still hang in the restaurant). Today his wife and their daughter oversee the operations.

Lots of dishes to choose from for both breakfast, lunch and dinner. Eat outside to see and be seen. Located right next door to the charming La Arcada open air plaza. Visit: www.andersenssantabarbara.com
Beachside Cafe is in Goleta and is rated 1 star. They serve Seafood and are located at 5905 Sandspit Road. They are open from 11:30am until 4pm from Monday through Thursday. On Friday they are open until 10:30pm. On Saturday and Sunday they open at 11am then close at 4pm, and reopen at 5pm and then finally close at 10:30pm. Dress is casual. Early bird specials are offered. They received first place honors as the best lunch spot and the best place for patio dining by the News-Press readers choice. Reservations are suggested. ($14-$23) Phone Number is (805) 964-7881 Visit: www.beachside-barcafe.com
Belmond El Encanto Restaurant & Bar – Visit: www.belmond.com
Biltmore Restaurants – La Marina & The Patio. For outstanding dining you can't beat either of these two restaurants. The Patio serves excellent breakfast's. If you eat breakfast at The Patio be sure to sample their apricot/orange juice mix. If it is too cold (a rarity) this restaurant has an automated roof that covers the dining area.



Bouchon Santa Barbara – www.bouchonsantabarbara.com
Brophy Bros is beautifully located, overlooking the Marina at the Santa Barbara Harbor – next door to the Santa Barbara Maritime Museum (they also have a multiple other locations in the region including on the Ventura Harbor). This is an ideal location to soak in the relaxing feel of being on the harbor.

Family owned since 1979 their focus is on seafood cuisine. Oysters, shrimp and plenty of fish options. Visit: www.brophybros.com

Carlitos Cafe and Cantina serves fresh Mexican food with everything made from scratch. Enjoy guitars and margaritas on the patio. They are located at 1324 State Street. Reservations are suggested. ($7-$15) Phone Number is (805) 962-7117 Website: www.carlitos.com
Char West – is located about 2/3 of the way down Stearns Wharf (near the ice cream shop). They focus on fish and chips. The fish tends to be extremely fresh but they use to much batter so that when you order their Fish & Chips specialty, the fish is rather drowned out by the breading on the outside. Little flavor

They use cheap ketchup in packets rather then what would be better artisan made ketchup. Indoor seating is available as well as outdoor picnic tables (immediately next to the restaurant). Open from 9am until 7pm daily.

Chase Restaurant & Lounge is located at 1012 State St. They first opened their doors in Santa Barbara in 1979. Tourists typically enter this restaurant from the State Street side and locals usually enter from the parking lot in the back of the restaurant. If you are a tourist and want to appear as a local, park in the parking lot in the back and walk in through the back alleyway past the restrooms and kitchen to the front of the restaurant. Seating is very tight inside and as a result, you may get intimate with your dining neighbor. The most desired seats are overlooking State Street and are usually for couples as the tables in this area are mostly 2-seaters.

They have a great bar. Some of the appetizers and smaller dishes come in very small proportions for the price. Initial service was excellent but we ended up waiting quite a while for our food and this was a late evening on a Sunday night and there weren't that many people in the restaurant. Many may disagree, but we found the food to be a little bland. They serve Italian style food and are open for Lunch and Dinner. Phone: (805) 965-4351 Visit: www.chasebarandgrill.com
China Pavilion is located in Montecito at 1070 Coast Village Road. Open for lunch and dinner daily. Take out is also available. They have heated patio dining and also an inside dining room. Phone Number is (805) 565-9380 Website: www.china-pavilion.com
Chocolate Maya is located in a tiny gated shopping center (75 mins free parking) off of the one way W Gutierrez St right next to lower State Street. Just down from the Santa Barbara Roasting Company. Not a restaurant per se, but rather a chocolatier and a chocolate lounge. Focuses on highly artisan chocolates including seasonal presentations (check out their cool looking skulls always produced around Halloween). Enjoy hot chocolate in their colorful lounge (separate room next to the chocolate room). One can also choose from several chocolate tastings.

Chocolate bars line the walls of the shop – the glass display cases contain their latest artisan products. Founded in 2007 by Maya Schoop-Rutten. She continues to travel the world seeking out cacao producers and various chocolates. Visit: www.chocolatemaya.com
Cold Spring Tavern serves American food. They are located 15 miles north of Santa Barbara off of the San Marcos Pass. Take a left onto Stagecoach road as soon as you crest the summit of the San Marcos Pass Road. They are on 5995 Stagecoach Road. The restaurant is historic and sits across from an old jail. This restaurant has an old western character. Dave recommends the candle lit dinners, especially a hearty slab of their excellent steaks! They are open from 11am to 3pm, and 5pm to 9pm, Monday through Friday.

The hours vary slightly for the weekend. Dress is casual. Reservations are suggested. This site was the TIP OF THE MONTH in May 2001. ($18-$27) Phone Number is (805) 967-0066 Website: www.coldspringtavern.com
D'Angelo Pastry & Bread is located at 25 W Gutierrez St (one way street) just off of lower State Street near the 101 over crossing (west of State Street). The breads here are awesome – they bake very early in the morning and have something like 200 types of breads. Definitely worth a visit for the breakfast – they close at 2pm (open at 7am) – but you can order lunch as well – very good salads – their own balsamic dressing recipe is used. Dave's pick is the Eggs Benedict which sits on their home-made French bread. Service is good, but sometimes can be a bit slow if crowded. Outside seating is in the shade in the morning as it is on the south side of the street. Phone Number:(805) 962-5466 Visit: www.dangelobread.com
Edomasa is a Japanese restaurant with a late night Sushi Bar. They have a Karaoke machine and a sake happy hour. They are located at 2710 De La Vina Street. Phone Number is (805) 687-0210 Website: www.edomasasushi.com
Enterprise Fish Company is located in a brick building at 225 State St (lower State Street), just south of the 101 over crossing on the West Side of the street. From State you see the back of this building – not very accessible from State street itself so it is recommended to park nearby on one of the side streets or if late near the Amtrak station. Prices for dinner are typically above $20 per entree, the exception being the salads which are in the mid teens. Overall, the food here is good, but not "great" category. The steamed clam appetizer is a must. Excellent clam chowder. Chefs prepare the meals in the middle of the restaurant – you can watch this preparation from some of the tables. Phone Number: (805) 962-3313 Website: www.enterprisefishco.com
El Paseo Restaurant is rated 2 stars and serves Mexican food. They are located in the 800th block of State Street in the El Paseo Shopping Center. They are at 10 El Paseo. They are open from 11:30am until 10pm. The hours vary slightly on the weekends. Dress is casual. Reservations are suggested for the weekends. ($11-$20) Phone Number is (805) 962-6050. Visit: www.elpaseosb.com
Fishouse is located across from the Santa Barbara waterfront at 101 E Cabrillo Blvd. Great place for fish lovers – with wide variety of seafood dishes both for lunch and dinner. And their prices are fairly reasonable as well.

Nice vibe based on their almost on the beach location. Good drinks – plenty of cocktails to choose from including their every popular raspberry mojito. Happy hour is a wholesome hour at Fishouse – with reasonably priced beers, wines and cocktails and a remarkably diverse special appetizers menu. Looking to get your morning buzz on? Check out their brunch. Visit: www.fishousesb.com
Galanga Thai restaurant is one of several Thai restaurants in Santa Barbara. Galanga serves lunch and dinner – they are closed on Wednesdays. They are located on lower State Street at 507 State Street. Large inside dining area (no outside dining) – food is average but prices are quite reasonable. Phone Number (805) 899-3199



Harbor Restaurant is located at the end of Stearns Wharf, at 210 Stearns Wharf. ($25-$39) This restaurant has been a long time fixture on Stearns Wharf. It was destroyed by fire in 1971 and later rebuilt 10 years later.

Focuses on fresh seafood combined with excellent views. Phone Number is (805) 962-3311. Visit: www.harborsb.com

Holdren's Steak & Seafood is located at 512 State Street. For more information call Phone Number (805) 965-3363 or visit their website: www.holdrens.com
Joe's Cafe is located right on the corner at 536 State Street at Haley Street – about 2 blocks from the 101 overpass which crosses over State Street. This corner location is on lower State Street. The claim to fame for this restaurant is it is the oldest in Santa Barbara having been established in 1928.

Named after Joe Ferrario, an Italian immigrant. While Joe ain't around anymore, Joe's ain't going anywhere! Serves as a busy restaurant during the day and then transitions into Santa Barbara's nightlife scene at night. Good mixed drinks, always a popular watering hole. Phone Number: (805) 966-4638 or visit: www.joescafesb.com
Kyoto Japanese Restaurant is located on upper State Street at 3232 State St. They are on the corner of Las Positas and State. Efficient service, good food, the Sushi Happy hour, and if available, one of the Tatami rooms make this a nice Sushi dining experience. If you have large parties consider ordering the "sushi boats" – one of these is simply filled with all types of rolls and various fish. Phone Number: (805) 687-1252. Visit: www.kyotosb.com
La Playa Azul Cafe is located at 914 Santa Barbara St and is open for lunch and dinner from Tuesday through Sunday (closed Mondays). Enjoy your food outdoor in their patio like setting or inside the actual restaurant.

The focus here is on traditional Mexican Seafood. Known for some of their halibut dishes. Located near the Santa Barbara Historical Museum. Streetside parking. Visit: www.laplayaazulcafe.com

La Super Rica is truly a local favorite and the lines out the door are a common testament to this. It is an authentic Mexican restaurant that was founded in 1980. They are located at 622 N. Milpas Street, Phone Number: (805) 963-4940. They have a great selection of inexpensive meat on tortilla type plates as well as larger plates.

We highly recommend the Horchata drink. Indoor seating is under a tent like material with heat lamps for colder winter days. Unlike most Mexican restaurants in the state of California, La Super Rica does NOT serve chips or burritos although they do make a homemade salsa which we never sparingly use! This is uniquely refreshing as their menu has more than enough tasty items to carry this restaurant without the obligatory Californiaized Mexican Burrito. Oh and the prices are set to appeal to even budget eaters.
Lilac Patisserie specializes in gluten free bakery products and also doubles as a cafe. Located downtown at 1017 State Street. Closed Mondays but open the rest of the week. Husband and wife Gillian and Alam Muralles have baked for Southern California bakeries for years before opening here.

Open for breakfast and lunch. Offers a variety of light breakfast fare as well as sandwiches and select quiches. Their specialty is cake and they create a wide diversity of these. For more information visit: www.lilacpatisserie.com

Longboards Grill – is located about 2/3 of the way down Stearns Wharf above the Harbor Restaurant. Focus is on casual fare in a casual environment. Indoor or outdoor dining. Great bar. Often crowded. Valet parking offered in front of the restaurant. Visit: www.longboardsgrillsb.com




If you are in the mood for some excellent ice cream be sure to stop in at Mission Street Fine Ice Cream located at 201 Mission St just off of State Street. They have an excellent variety of flavors and have received excellent reviews by noteworthy magazines and newspapers. McConnell's was founded in 1949 and is still privately owned. Always a treat when in Santa Barbara! Visit: www.mcconnells.com


Moby Dick Restaurant is located almost at the end of Stearn's Wharf. Advertises views from every seat in the house! Focuses on fresh seafood and hamburgers. Also a happy hour. Great place to hang out and watch the sunset. Outdoor cocktail patio great place to do so. Rogue wave crashed through one of the windows in March of 2014. Visit: www.mobydicksb.com



Natural Cafe is an excellent street side cafe located right next to the old Calypso's restaurant – Address: 508 State Street (lower State Street – near the corner of Haley Street). We highly recommend the Chicken Stuffed Spud and the Blu's Brother's smoothie. Be sure to catch a table on the sidewalk. We have enjoyed this location (their first restaurant) in Santa Barbara for many years and also their Goleta location at 5892 Hollister Ave.

Now they are rapidly expanding into Central and Southern California. There is an ATM machine available inside this restaurant. Phone Number (805) 962-9494 or visit: www.thenaturalcafe.com for more information and a list of all their restaurants.
O'Malley's is a bar on lower State Street situated almost across from Sandbar Mexican Restaurant. O'Malley's has tables on the sidewalk and also inside. Long time establishment.

Tall chairs overlook the bar. Drinks here are great! This place is almost always crowded – it is an extremely popular place to be – especially on Friday or Saturday nights. Good vibe with a nice feel of both streetside and interior space.

On the Alley is appropriately named as they are located in an alley right around from Brophy's Restauarant on the Santa Barbara Harbor. Address:
117 Harbor Way. Part of a collection of area restaurants under the Genuine Restaurant Concepts management group. Small restaurant with open counter and open kitchen. Well presented menu on the wall above the counter. Limited seating outside on several tables – or take the food with you and enjoy it overlooking the nearby harbor.

Focuses on affordable comfort food including hamburgers, fries, tacos, sandwiches and salads. Maintains a second location in Goleta – but this one certainly has more ambiance based on it's harbor location. Visit: www.onthealley.com
Opal Restaurant & Bar is located at 1325 State Street right next to the Arlington Theatre (one of Santa Barbara's several historic theatres). This restaurant serves California Cuisine and is reasonably priced. Excellent Wine List – Open Daily. Phone Number (805) 966-9676 or Website: www.opalrestaurantandbar.com
Palace Grill is rated 2 stars and serves American and Cajun food. They are located a half block east of State Street at 8 East Cota Street. They are open from 5:30pm to 10pm. The hours vary slightly on Friday and Saturday. Dress is casual. Reservations are suggested. ($10-$30) Phone Number is (805) 966-3133 Website: www.palacegrill.com
Palazzio, Little Italy is rated 2 stars and serves Italian food. Note – the portions here are quite large and you will not leave hungry! They are located at 1026 State Street in the heart of Santa Barbara. They are open from 11:30am to 3:00pm, and then again from 5:30pm to 11pm. The hours vary slightly for Friday through Sunday. Dress is casual. Reservations are accepted. ($6-$17) Phone Number is (805) 969-8565 Website: www.palazzio.com
Chad's Cafe, formerly Sambo's Restaurant is located right across from the harbor at 216 West Cabrillo Blvd. If there is space, park right on Cabrillo and walk across the street. What a history this restaurant has had! The first and only remaining Sambo's is located in Santa Barbara – it was founded in 1957. In its hey day this restaurant chain spread out all over the USA with more than 1,100 locations. Its name came from the original owners Sam and a lady who went by the nickname of Bo.

A Sambo's restaurant was often seen in many American cities. If you are in Santa Barbara do not miss stopping in and having some food at this last remaining Sambo's. The food is tasty and is typical American cuisine – classic breakfasts, hamburgers and rich desserts.

Phone Number (805) 965-3269 or visit their very informative and interactive website here: www.chadscafe.com
Santa Barbara Roasting Company currently has several locations in Santa Barbara – our favorite is the one off of lower State Street located at 321 Motor Way (this is their first location).

Besides coffee they also sell a variety of other edibles as well as clothing. If you become a frequent visitor be sure to pick up their Coffee Club Card. More info: www.sbcoffee.com


Santa Barbara Fish Market is conveniently located on the Santa Barbara Harbor (free 90 minute parking is a short walk from this market). Address: 117 Harbor Way. This small family owned fish market has been selling fresh fish to the public out of this retail location for more then 15 years. They are the only local commercial fisherman to maintain a direct-to-the public retail outlet.

During a recent visit they had sea urchin (uni) and spiny lobster for sale. The sea urchin can be purchased already packaged or you can buy them freshly cracked open. You can eat them on site – these become even more delicious with some ponzu, fresh ginger, black caviar and soy sauce! Don't stop with the urchins, have them cut up some fresh sashimi for you. No immediate outdoor seating but if you walk a short distance away you can find places to hang your hat, sit down and enjoy the local seas' delicacies. And even if you cannot pay them a personal visit, they will ship fish around the United States. Visit: www.sbfish.com
Savoy Cafe & Deli is located just off of State Street at 24 W Figueroa. This beautiful little find is perhaps more frequented by locals then visitors to town but that might be because it is not located directly on State Street. Founded and still operated by husband and wife, Paul and Kathy Shields the focus is on providing healthy and affordable cuisine by sourcing ingredients from local farmers. An excellent salad bar and plenty of desserts to choose from.

A visit is casual and relaxed – choose from sit down table seating or seats at the counter-top. Excellent balsamic chicken and a creatively designed kale salad. Oh and Paul and Kathy had to go bankrupt at one point after running the restaurant – they worked as janitors to get by. Fortunately a persistent landlord helped convince them to open the restaurant again! Visit: www.thesavoycafe.com

Shoreline Cafe – is located at 801 Shoreline Drive perched on the edge of the beach overlooking the waterfront. Diners can choose to eat on their deck or if you want to get super intimate with the beach, they actually have beach dining available – with chairs and tables set directly on the sand. How cool is that!

For those wanting a quicker dining experience, they offer a To-Go window. They source local as much as possible including from local land based growers, seafood from local fisherman and wines from Santa Barbara County. Open for breakfast, lunch and dinner. Visit: www.shorelinebeachcafe.com
Stella Mare's Bistro was founded in 1996 and is located at 50 Los Patos Way across from the Andree Clark Bird Refuge – tucked away in this little visited part of town (by tourists) – right next to the 101 freeway. Visually this bistro looks like it belongs on a Hollywood set in a film being shot about Paris. If there ever was a property in town that defines the often over used world 'charming' this one is it.

The building that houses the restaurant was built in 1872 on De La Vina Street by a sea captain, the house was eventually moved to it's current location in 1962 where it became an antiques store. The culinary team focuses on French country cuisine – with an emphasis on local and seasonal ingredients. Good wine list both from California and France along with plenty of beers and cocktails. Greenhouse style setting. The restaurant is also popular for holding private events. Visit: www.stellamares.com
Szechwan Restaurant serves Szechwan and Mandarin food. The are open 7 days a week and serve lunch and dinner. They are located at 1994 Cliff Drive. Phone Number is (805) 564-7651. Visit: www.szechuanrestaurantsb.com
Wine Cask Restaurant is rated 3 stars and serves American food. They are located downtown at 813 Anacapa Street in the historic El Paseo open-air shopping complex. They are open from 11:30am until 9pm, lunch and dinner. The hours vary slightly on the weekends.

Dress is elegant casual. Reservations suggested. ($30-$40) Phone Number is (805) 966-9463. Strong wine list with an emphasis on Central Coast wines but with wines from other parts of the world and other parts of the state. Some California craft beers as well. www.winecask.com
Your Place Restaurant serves Thai food. This is the oldest Thai food restaurant in Santa Barbara. They serve over 200 authentic dishes. They are located at 22A North Milpas Street. Closed Monday. Phone Number is (805) 966-5151