This is only a partial listing of events. Music, arts, wine and food. Common themes. In addition to the annual events listed below, a number of seasonal events are held in Santa Rosa throughout the year. Looking no further then downtown, the weekly Wednesday night market is held from early June to early September. Vendors fill and pedestrians fills some of the space at Old Railroad Square and part of 4th Street is closed to vehicular traffic. This is a smaller version of the Thursday Night Market in San Luis Obispo on California's Central Coast.
Generally from May to September the Forty and Eight organization holds monthly Flea Markets held at the Santa Rosa Vets Building. For a list of dates please call: 707 522-9391
A car mart held is every Saturday at the Sonoma County Fairgrounds (private parties and some larger entities sell cars to the general public). SRJC sometimes holds a swap meet on one of their parking lots on campus.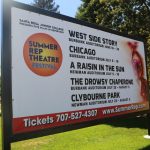 SRJC is also home to the Summer Repertory Theatre (SRT – coincidentally is the same acronym as Sonora's Repertory Theatre). These dramatic musical productions are given from June through August.
The Santa Rosa Symphony is a professional orchestra that performs at the Green Music Center at Sonoma State University. Well known artists regularly perform with the Symphony, artists such as the famous cellist Yo Yo Ma and violinist Hilary Hahn. Concerts are given from October through May.
And before digging into our list, note that these events come and go with the wind. Very few stick around for more then a few years – and sadly, we have even seen some of the longer running ones stop producing after many years.
January
– Old Time Fiddle Contest is held at the Cloverdale Citrus Fairgrounds in Cloverdale. For more information – Phone: (707) 894-2067
– Winter Wineland. 50 local wineries offer tours and tasting of their wine. Located at various wineries near the Russian River. For more information – Phone: 1-800-723-6336
Website: www.wineroad.com/events/winter-wineland
February
March
– Sonoma County Folk Festival is held at the Well's Fargo Performing Arts Center in Santa Rosa. – Phone: (707) 546-3600 Web: www.socofoso.com
– The Sonoma County Home and Garden Show is held at the Sonoma County Fairgrounds in Santa Rosa. – Phone: 1-800-655-0655
– Battle of the Brews. Beer and wine tasting from over 20 Northern California Microbreweries and food from 15 restaurants – www.battleofthebrews.com
April
– Butter & Eggs Day Parade – Phone: (707) 763-0344 Visit their website here.
– Sebastopol Apple Blossom Festival is held at Ives Park in Sebastopol. – Phone: (707) 823-3032 Website: www.appleblossomfest.com
– Fisherman's Festival is held in Westside County Park in Bodega Bay. Food, crafts, an art show, and a boat parade. – Phone: (707) 875-3422
– Redwood Coast Whale & Jazz Festival – Phone (800) 778-5252
Web: www.whaleandjazzfestival.com
May
– Healdsburg Antique Fair is held in the historic downtown plaza in Healdsburg. – Phone: (707) 433-4315
– Healdsburg Community Band John Philip Sousa Concert is held in the Raven Theatre in Healdsburg. – Phone: (707)433-0517
– The Human Race run by the Volunteer Center of Sonoma County, starts at Herbert Slater Junior High and winds through Spring Lake Park. A 3K and 10K walk or run, or a mountain bike ride raises money for over 400 nonprofit agencies. Visit: www.humanracenow.org
– Luther Burbank Rose Parade and Festival is held in downtown Santa Rosa. – Phone: (707) 542-7673 This parade is an annual event held in May and attracts more than 3,500 participants to downtown Santa Rosa. A variety of groups participate in this parade including high school bands, drill teams, dance troops, non-profit groups, equestrians, & clowns.

Once the parade is completed a festival follows with music, food booths, Italian Street Painting and many activities for kids. For more information, visit: www.roseparadefestival.com
– SRJC's Day under the Oaks – this is an open house for Santa Rosa Junior College and the public is invited to attend free of charge. https://duo.santarosa.edu
June
– Art at the Source, Open Studio Tour, Sebastopol – Phone: (707) 829-4797
Website: www.artatthesource.org
– Cotati Jazz Festival is held in Cotati. Call – Phone: (707) 584-2222 for more information. This festival overwhelms this small town but is a lot of fun! Visit: www.cotatijazz.com
– The Garden Expo is held at the Luther Burbank Home and Gardens. – Phone: (707) 524-5445
– Healdsburg Jazz Festival typically brings up to 5,000 people to town for this annual event. Usually runs 7-9 days. Visit: www.healdsburgjazzfestival.org
– Golf Tournament is held in Sebastopol and benefits the Sebastopol Center for the Arts. – Phone: (707) 829-4797
– Live at Juilliard, while this certainly is not going to be the next Coachella, this is is a series of free outdoor concerts from the last weekend in June through all of July – from 5-7pm every Sunday afternoon/evening. Every Sunday features a different band and a different style of music. Has been held annually since 1993 in Julliard Park (along Santa Rosa Avenue).

The band is on a stage located on the northern edge of the park with the audience situated on the green in front. Several vendors skirt the audience including some food trucks and a water truck provided courtesy of the Santa Rosa Parks & Rec. Or bring a picnic and lawn chairs. The electricity for the event is entirely solar powered. Phone: (707) 829-4797
– Railroad Square Music Festival is usually held the second weekend of June in Old Railroad Square. In a region of increasingly expensive events it is refreshing to have a festival such as this that is free to the community – and of course open to anyone who happens to be passing through town. Sort of like a revival feel with musicians playing in an old train car next to the train tracks, the main stage is the core of this event. Folk and other musicians perform live all afternoon; the vibe emanating from this stage is contagious drawing lively crowds getting 'down' with the sounds. Feels mid western at times. Games of Corn Hole. Plaid. Wholesome entertainment attracting a wide range of ages and personalities.

Other stages are located throughout parts of Old Railroad Square – with even a micro stage for a single musician to fill out the space with her sound. Numerous vendors are on site with an abundance of food, artisan crafts, beer and other beverages. Several streets are closed off from vehicular traffic. A real feel-good street party. For more information visit: www.railroadsquaremusicfestival.com

– Sonoma-Marin Fair is held at the Petaluma Fairgrounds. A carnival, food, exhibits and entertainment is provided. Call – Phone: (707) 763-0931 for more information.
Website: www.sonoma-marinfair.org
July
– Healdsburg Harvest Century Bike Tour is held at various locations each year. Call – Phone: (707) 433-6935
– Living History Day is a festival with reenactments and historical costumes. This event is held in Jenner at Fort Ross State Historical Park (on the coast). – Phone: (707) 847-3286
– Salute to the Arts is held in the Sonoma Plaza, in Sonoma. This event showcases wine-making, culinary, and visual and performing arts. – Phone: (707) 938-1133
– Shakespeare on the Green is held in Windsor in July – through August: Phone: (707) 529-3453
– Sonoma County Fair is held at the end of July and into the first few days of August. Live horse racing, musicians (some well known), agriculture exhibits, a flower show, and a carnival are some of the highlights. – Phone: (707) 545-4200 or visit: www.sonomacountyfair.com
– Sonoma County Fourth of July Celebration – Phone: (707) 585-9484

This is one of the largest California County Fairs held each year. The fair is 14 days long, with horse racing held on 13 of the 14 days. They have over 20,000 submissions each year with residents participating in livestock and non-livestock exhibits. For fair parking and any paid parking events at the Sonoma County Fairgrounds, consider parking off site in one of the nearby residential neighborhoods as this will avoid the $5 to $10/ parking spot fee if you park at the fairgrounds.

DeTurk Street and the nearby streets just west of the Fairgrounds offer free parking alternatives – however its about a 10 minute walk to the Fairgrounds entrance from this neighborhood. Note that during the busiest days of the fair, sometimes local residents will put out orange cones to keep "their spot" off limits. For more information please visit their website at: www.sonomacountyfair.com

– Sonoma County Hot Air Balloon Classic is held at Keiser Park in Windsor – just north of Santa Rosa. This is two days of beautiful hot air balloons, food, crafts, balloon rides, and fun. Visit: www.schabc.org
August
– Art in the Redwoods Festival, Gualala – Phone (707) 884-1138
Web: www.gualalaarts.org/category/events/art-in-the-redwoods
– Bodega Seafood Art & Wine Festival – Phone: (707) Web: www.bodegaseafoodfestival.com
– Bonsai Show and Exhibit is held at the Vets Building in Santa Rosa. – Phone: (707) 525-9684
– Cotati Accordion Festival is held at La Plaza Park in Cotati. Ethnic food, and great music. Those who play the accordion or enjoy it's unique sound, do not want to miss this once a year event. Founded in 1991 – some of the proceeds from the event go to help local youth organizations. Phone: (707) 664-0444


– Gravenstein Apple Fair is held every year at Ragle Ranch Park in Sebastopol.

This two day event celebrates the Gravenstein apple – but also features live music, foods, arts & crafts and a pie eating contest. The roots of this festival date back to 1910. Phone: 824-2060


– Old Adobe Fiesta is held at Petaluma Adobe State Historic Park. Features square dancing, Native American dancing, and food. – Phone: (707) 762-4871
– Santa Rosa Dixi-Jazz Festival is held at Red Lion Inn in Rohnert Park. – Phone: (707) 539-3494
– Sonoma Valley Shakespeare Festival holds outdoor performances of well-known Shakespeare plays. Historically these performances have been held at wineries in the Sonoma Valley. For more information visit: www.sonomashakespeare.com
– Full Vineman. This race is can really take a toll on the participants if it is a hot day. The bike portion of the full Vineman race is 212 miles. For more info please visit their website: www.vineman.com
September
– Antique Street Fair is held in Petaluma on Kentucky Street. – Phone: (707) 763-7686
– Autumn Fest is held in Healdsburg. Features music, wine & beer tasting, food, and a live auction. – Phone: (707) 431-3325.
– Cajun Zydeco Festival is held in Sebastopol the week after Labor Day – Phone (707) 824-2554
– Russian River Jazz & Blues Festival – is a major event held every year in Guerneville on Johnson's Beach. This event brings together music, wine, food and people.

Combine that with the usual warm weather in a very scenic setting on the edge of the Russian River and you the perfect recipe for a good time. Attendees often camp or stay in some of the rustic cabins on site. This is always a weekend to party hard. Phone: (510) 655-9471 Web: www.russianriverfestivals.com
– Wings over Wine Country – large air show at the Sonoma County Charles M. Schulz Airport – sponsored by the Pacific Coast Air Museum. A school bus shuttles in guests from a parking lot about 2/3 mile from the airshow entrance.

Military and other historical planes are displayed near the runways while a variety of air performances are given including acrobatics, parachute jumpers, perhaps a plane landing on a moving flatbed truck and of course the highlight, the F18 and F22 noisy flyovers. Plenty of food and drink vendors Phone: (707) 575-7900< Web: www.wingsoverwinecountry.org
– Valley of the Moon Vintage Festival contains artists, displays and vendors – this is California's 2nd oldest Festival – behind the Rose Parade in Pasadena. This festival started in 1897. Phone (707) 996-2109 Web: www.sonomavinfest.org
October
– Pinot Festival – love Pinot wines? Come to this festival along the Russian River – Phone (707) 922-1096 Web: www.pinotfestival.com
Sonoma County Harvest Fair is held at the Sonoma County Fairgrounds in Santa Rosa. – Phone: (707) 545-4200 or for more information visit their informative website: www.harvestfair.org The Harvest Fair is a great place to sample the best wines of Sonoma County. All of these wines are also for sale. Animals, food, exhibits and artwork also available at this late season fair.
November
– Holiday Arts and Crafts Festivals are located in Healdsburg and in Sebastopol. – Phone: for festival in Healdsburg is (707) 431-1956. – Phone: for festival in Sebastopol is (707) 829-4797
December
– Christmas at the Mission is held at Mission Sonoma in Sonoma. – Phone: (707) 938-1519
– Christmas Concert is held at the Vets Building in Santa Rosa. The Sonoma Valley Choral performs seasonal favorites. – Phone: (707) 935-1576
– Spirit of Christmas Crafts Fair and Celebration is held at the Sonoma County Fairgrounds in Santa Rosa. This is Sonoma County's largest crafts fair featuring over 250 exhibitors. – Phone: (707) 575-9355
– Holiday Ice Skating shows are held at the Redwood Ice Arena. Well known skaters come to perform along with your favorite Peanuts Comic Strip Characters. This ice arena was founded by Charles Schulz the author of the Peanuts cartoon. Lavish costumes are displayed. For more information call – Phone: (707) 546-7147