After a late morning breakfast at Kiviks Strand – it is time to head out.
Driving time: about 30 minutes
Gunnarshog Specialty Oils Farm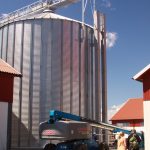 Gunnarshog in Hammenhog is a large agricultural farm specializing in a number of natural oils including rapeseed, flaxseed and linseed oil. If you visit during late Spring and Summer you may see fields ablaze in yellow – these are most likely rapeseed flowers. This product is rich in vitamins, anti-oxidants and the "good" kind of fat which can help lower blood cholesterol. They also produce skin and hair care products from the cold-pressed rapeseed oil.
Gunnarshog process a number of locally grown crops and during season they are open 24/7 for processing agricultural products. Tours are given of their extensive production facility every Wednesday and Sunday by reservation. The tour includes an overview of the silo's, the equipment needed to separate husks and the cold pressing equipment for the actual oil produced.
All products are sold on site in their small gift shop as well as a small cafe. As expected, the oil produced here is used in the items sold in their cafe. Visit: www.gunnarshog.se
(Listen to Anja Persson)
Driving time: merely a 5 minute drive!
Glimmingehus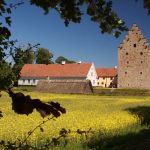 Glimmingehus is one of the best preserved medieval castles in all of Scandanavia. There are over 150 such fortresses in the Skåne region of Sweden – either still standing or original fortress sites. This one is over 500 years old – the first stone was laid in 1499. While no records indicate it was used to defend anyone or anything – it has served as a residence, a store and ultimately a "living museum". It was donated to the Royal Swedish Academy of Letters, History and Antiquities in 1924. Today you can take a guided or self tour of the several levels – it is dark inside and feels like walking back in time – especially with the candles used to light up part of the interior. Highlights of the castle include the first floor – which served as a kitchen – the Guardroom, the Living Quarters, the Chamber and the largest room – the Banquet Hall.
With 500 years of history there is certainly some fascinating history surrounded this castle. A book available at the gift shop, simply titled "Glimmingehus" helps answer those burning historical questions.
Driving time: about 15 minutes.
Autoseum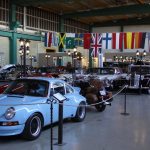 This classic car collection is located in an industrial part of Simrishamn. This museum has an fine collection of classic cars covering much of the 1900's. Beautiful vehicles include a 1959 Rolls Royce Silver Cloud, a 1947 Bentley, a 1931 PV 652 Volvo (only 5 years after the first volvo's were rolled off the assembly line), and a 1922 Citröen 5CV. A room displaying antique motorbikes and another room with racing vehicles is on display. A gift shop and small diner are also located here. Visit: www.autoseum.se
Walk through the old town of Simrishamn – enjoy lunch here.
Driving time: about 15 minutes.
Grona Butiken pa Orelund Fruit & Vegetable Farm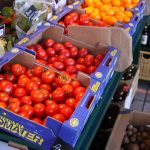 Craving fresh tomatoes, cucumbers, peppers and other vegetables? Look no further than the husband and wife team of Britt and John Orelind who operate this fruit and vegetable farm. With the modern conveniences of using specialized greenhouses combined with hydroponics and long daylight hours from April through September, they can produce an array of fresh vegetables.
This farm has been in their family since 1892 – in 1989 the Orelund's formed a tomato company and built a 4,000 square meter greenhouse. For those who have never seen how this type of agriculture is managed, a visit here is a fascinating experience. During the growing season vegetables are planted row after row and these tall vines are lined with fresh tomatoes, cucumbers and chili peppers. The "soil" area is quite small – rather, the crops depend on a rich nutrient base which is piped down each row.
Their small farm shop contains a number of their own vegetables and fruit including tasty strawberries and seasonally – apples, cherries, pears and plums as well as items imported from overseas. Britt enjoys canning and cooking; her Mexican style salsa, a much requested Gazpacho and other marmalade's are for sale. Other regional products include specialty cheeses, breads and desserts. But the focus is on their own products. And after you have visited their store, take some time to enjoy the fruits of their labor, outdoors in the "garden cafe". Visit: www.orelund.se
Return to Kivik
Driving time: about 12 minutes.
Stay: Kiviks Strand
Eat: Badhotell or locally in town.

After breakfast at Kiviks Strand – it is time to hit the road – you won't have to far to go for your first stop.
Driving time: About 5-7 minutes.
Kiviksgraven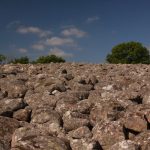 This large multi-stone grave sits right night to the road – parking is in the gravel lot directly across from the stones. Contrary to how it looks and its name (the King's Grave") – you might expect the gravesite to the be home of kings or other royalty. Not so – only the remains of a few people (teenagers) were found during early excavations – they were burried over a period of about 600 years. The site was "discovered" in 1748 by two local farmers. Over the years stones were taken from the grave and used by locals. The first and only major excavation ocurred in the early 1930's.
During business hours – you can go inside with a local guide/archeologist; their historical insights really help bring this particular site to life. Several original large stones – each engraved with various shapes (now painted to show their outline) stand in the middle of the grave – 3 meters below its surface.
Kiviks Musteri & Applets Hus Cider

This cider shop is located nearly next door to Stenshuvuds, Sweden's smallest National Park. Orchards of apple trees dominate the surrounding landscape – Kiviks Musteri has been producing cider here since 1935 and the 5th generation is currently involved in the operations. A small museum displays some of their original equipment, the working factory can be visited and if the weather is good, the outdoor courtyard is a perfect place to enjoy a variety of snacks and drinks.
Cider enthusiasts should take note of this place – a large shop contains a mouth watering array of various apple and pear ciders as well as fruit wines. Due to Swedish law the alcohol levels of the cider are extremely low – but then so to are the prices! Two of the light wines we recommend are the sparkling white flavorful Fladerblomsvin Elderflower (lighter in flavor) and the pink "summer" Sommarvin wine (stronger in flavor) – with notes of of rhubarb, gooseberries and elderberries. We even brought some of these bottles back to the states – unfortunately it was only a few bottles! Visit: www.kiviksmusteri.se
(Listen to Tour Guide)
Driving time: about 3-5 minutes.
Stenshuvuds National Park
This is Sweden's smallest National Park and a idylic place to relax when the weather is decent. Several hiking trails wind through the forest – and picturesque bays surrounded by many rounded rocks overlook the Baltic Sea.
Driving time: approximately 50 minutes.
Ale's Stenar (Ale's Stones)

Sweden's "stonehenge" is located on a hillside above the charming town of Kåseberga. Allow about 12-15 minutes to walk up the steep path to the actual stones. From here you have great views in all directions. These massive stones are arranged in the shape of a ship and according to Scanian tales, a legendary king called King Ale is buried here. Regardless of who, if anyone is buried here, this is an impressive monument.
When you arrive in Kåseberga, park in the parking lot on the ocean side – using the pay meters. Lunch is at Ales Stenar, a traditional fish smokehouse. We have been here several times – there is always a significant line waiting for numbers to be called! Fish is their specialty – from smoked herring, artic char, monkfish, salmon and other local fish as well as pickled herring. Eat at tables either across the street or part way up the hillside. After lunch take some time to walk through town (its not big), visiting some of the local shops.
Driving time: slightly over 1 hour.
Stay: Angavallen
Angavallen Organic Farm

Proprietor Rolf Axel Nordström has owned this property since 1971. Today he is a visionary for his ecological sound farming practices and a farm to table organic approach. It has not always been this way in Sweden. Why would you spend additional time and cost on managing farm animals individually if there was a cheaper way to raise them collectively? However, for the better part of several decades Angavallen has proven that cheap and or industry "shortcuts" do not lead to quality of product or coincide with a more natural, or organic approach to farming.
All feed for their animals to eat is produced organically on their property. Each animal is treated with individual care, great respect is given to the young and their parents allowing them to interact naturally rather than separating them, no mutilation is done (branding, cutting tails, teeth etc), the cattle are allowed to roam free and careful attention is given when an animal becomes sick. This care and quality of life for their animals has remarkable results – their animals live significantly longer than others being raised under standard conditions and they are healthier. Similar to the aging of wine – slower growing animals leads to a better quality product.
Today Angavallen is a self contained community with a hotel, restaurant, bakery, gardens, animal farm, art gallery, conference facilities and a large gift shop. This is truly a family affair – two of Rolf's three sons are actively involved and his sister runs the modern art gallery on site. The restaurant is a culinary highlight of a visit here. Everything is prepared by hand made by what is grown or raised on the property. It is all organic. If they have to source something outside the property – it is within a short distance away and it must also be organic. The exception to this is their wine list – which is extensive and represents a fine International collection. Others have taken notice of their culinary standards; they were awarded "Eco Restaurant of the Year" by the White Guide, Sweden's leading restaurant guide.
They are conveniently located from Malmo (about 15 kilometers away) and about 40 minutes from Copenhagen's International Airport (CPH). Visit: www.angavallen.se/en
Dinner Angavallen