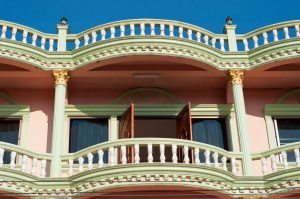 There are many guesthouses and inexpensive hotels to stay at in Vientiane.
Vientiane is small enough in that it is fairly easy to walk around looking for lodging (if you do not have pre-arranged accommodations).
Tuk-tuk drivers are found all over town – and for a few thousand kip will take you across town. Be sure to bargain with these drivers – in my experience they always initially offer a very high price.
Hayasoke Guest House is a clean, comfortable, & affordable guest house located at 083/1-2 Hengboon St – several blocks in from the Mekong River. Its within walking distance of the river front, Internet cafes, and the main center of town. There is a room on the ground floor (3 beds) – and of course more rooms on the upper floors. For more information please email them at haysok@hotmail.com
River View Resort is reasonably priced for the quality. Basic accommodation. Has a small pool. Ask for a room with a view of the Mekong – as a lot of the rooms here do not have views. For more information call 216244.