Mentioned as one of the top ten places to stay in Mexico by the Lonely Planet Travel Guide.
Hotel Tierra Maya opened in December of 1998; the name of the property was later renamed to Tierra Maya Lodge (contact information here). This is a beautiful self-contained fishing resort not yet discovered by the droves of people that frequent more popular regions of northern Yucatan. As their brochure states, "a vacation here is a union of luxury and casual beachfront living." Well said. The airy rooms are very clean with comfortable beds and simple yet elegant decor. The attention to detail from the maid service, to the architecture to the meals is finely-tuned. Hot water for showers and fresh safe-to-drink water is replenished daily by the maid service.
One cannot beat the quietness, friendliness of the hosts, and amenities of this hotel. This is the quintessential relaxing beachfront destination.
Tierra Maya Lodge is located about 1 mile north of the actual town of Xcalak, and is built next to its own private beach. Access is on an unimproved dirt road easily passable by car. Take this drive slow and you will be fine – just keep an eye out for potholes.
Once you are settled in, be sure to talk to the owners (the property has had several owners since opening). They are an excellent source of information about the area and have numerous stories to tell about living in this part of Mexico. One of the former owners survived a huge hurricane that blew in several years ago. He decided not to evacuate like the rest of the hotel and town, but instead decided to ride out the hurricane in his small boat just offshore. The 140+ mph winds became so strong that eventually he found cover in the mangrove swamps, and was lucky to escape with his life.
Ask the owner to discuss how how the actual hotel was built; he will entertain you with stories of hassles, endless permits and difficulty with transportation of materials; it is remarkable that he was able to build this nice lodge in such a remote location.
This hotel is completely self sufficient and is off the grid. A 100,000 gallon underground cistern contains freshwater which they collect as runoff from the roof of the lodge. Solar panels are used to generate electricity.
Two generators are also located on the premise which insures an un-interruption of electricity. Fortunately, the owners opened a wonderful restaurant next to the hotel during December 2000 called Maya Grill with the accompanying Fish Bar. Before this restaurant opened, one had to drive back to Xcalak for meals.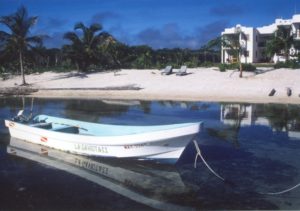 However, often food wasn't even served in Xcalak because restaurants would be regularly closed. The Maya Grill is intimate; it seats about 20 people. Meals are prepared by hand focusing on fresh seafood – be sure to try to the conch. Preferably, this meal needs to be ordered the previous day so that the chef can prepare it properly by soaking it for many hours. Lobster and several varieties of freshly caught fish are also on the menu.
The food here is perfectly safe to eat. In fact it was one of the few places where I did not get sick in the Yucatan!
Activities
Several hammocks are scattered around the grounds hanging between the shade of swaying coconut palm trees. Each room contains a small selection of books in English. Reading one of these books in the hammock is a prefect way to spend a day. Hammocks are also located in each room.
An extremely long wooden narrow pier extends far out into the water from the shoreline. Located at the end of the pier on the left side facing the ocean is a railing and a set of steps into the water. The water isn't very deep (about 3 feet), even this far out. A recommended experience is to walk out on this narrow pier at night without a light, letting the soft glow from the stars or moon light your way. Then lay face up on the pier and watch shooting stars. A warm breeze blows and you are extremely relaxed; what a great way to start a vacation!
Guests can use the kayak for free. Paddle out to the coral and look for schools of brightly colored fish on your way. Most likely it will take longer to kayak out to the coral (took me about 35 minutes) compared to the return trip. The winds always seem to be blowing inland; I made it back to the shore in about 15 minutes. Regardless, kayaking is great upper body physical exercise. For those who have never been in a kayak before – have someone with previous experience give you a quick tutorial. It is fairly easy to use in calm weather.
Several bicycles located on site can also be used for exploring the surrounding area. On more then one occasion, I enjoyed biking into Xcalak with my camera.
Note the bridge just before entering Xcalak. And also check out the nearby broken bridge. This old bridge was photographed by the press immediately after a nasty hurricane blew through Xcalak many years back. The photograph was then published in the local newspapers.
A bike is an ideal way to see this town and interact with villagers. I cycled up and down small unpaved streets waving to the locals and laughing with small children who just wanted to have their picture taken. A ride through town is especially appealing during the "golden hour", a short amount of time just before sunset where lighting is especially beautiful. Xcalak is still a fairly rustic town with several abandoned wooden buildings and no banks, gas stations, or convenience stores. As far as I could tell this town remains little touched by any modernization.
A large pier is located near town, often used by fisherman, casting a line in from its sides or unloading boats. One can ride a bike to the end; looking back are excellent views of the shoreline and one can even see the Tierra Maya Lodge property.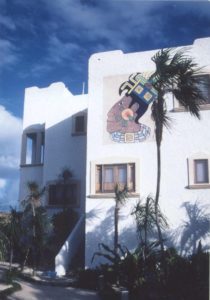 Guests can arrange sightseeing or snorkel trips by boat from Tierra Maya Lodge. A fun excursion is to take a boat ride south of Tierra Maya Lodge along the Mexico/Belize border through the mangroves. Often large birds will be perched on the top of the mangroves. Lots of fish swim in the mangrove channels. Sometimes you can see large manta rays effortlessly gliding through the clear waters.
The snorkeling is excellent along the offshore reef near the Mexico/Belize border. One can arrange to have a guide bring you offshore, drop you off for a while and then return for pickup at a set time. The waters are teeming with marine life.
And the reason why many guests choose Tierra Maya Lodge; for the Xflats fly fishing trips departing directly from the pier in front of the lodge. Choose from numerous options ranging from shorter several hour trips just off shore to all day fishing excursions.
Coconuts
Cutting coconuts without the proper tools is a favorite past-time of mine. Somehow I find a strange challenge in cutting through a thick layer of coconut husk with a pen-knife. Numerous coconut palms grow along the beach. First one has to harvest a coconut which can be a challenge in and of itself, especially if the coconut is 20 feet above the ground. I recommend finding coconuts that you can reach from the ground. Without something sharp to cut the coconut from the tree you may have to spin it many times around before it will actually break free from the stem.
The actual coconut is surrounded by a thick green or reddish husk (color of husk depends on age of coconut). Even small green coconuts are edible – they just taste unripe. I often spend the better part of an hour with merely a Swiss army knife slowly cutting away the husk to eventually reveal the hard coconut inside. This is mind numbing work, yet at the same time is therapeutic. And the reward for all the hard work cutting through the husk, is the refreshing coconut water and then nibbling on the chewy white meat inside. It is obvious that when on vacation in tropical climes, I find pleasures in simple things.

Contact Details
For the latest rates and to book a stay, visit: www.thexflats.com or call: 844-493-5287
Rates are higher during Easter & Christmas weeks. Luxury & Studio apartments also available.
A continental breakfast is included with every stay. A breakfast consists of cereal, toast, freshly squeeze fruit juice and a main dish such as scrambled eggs (the breakfast is excellent!)
All prices quoted are in US dollars and are subject to change without notice. A 12% mandatory government tax will be added to all room rates. Visa and MasterCard are accepted. Additional guests are subject to an extra fee per night regardless of the time of year you visit.