We've taken some long bus rides in Africa. We spent eight bumpy hours on a bus from Nairobi to Arusha and another eight from Arusha to Dar Es Salaam. The longest so far, though, has been from Kampala, Uganda to Kigali, Rwanda.
Once we finally arrived, we quickly realized, that we've never traveled anywhere quite like Rwanda.
Fifteen years ago one of the largest modern genocides occurred here.
Our visit to the genocide memorial museum in Kigali, was a painful reminder to us that, as Jews, our shared global commitment of "never again" was just words. More than 1 million men, women, and children were senselessly murdered, not by strangers, but by their own government, their own neighbors, and in some cases, their own family members.
Today in Rwanda, it's clear that the country and communities are creating spaces for healing. Radio, print, and TV are filled with multi-ethnic dialogues about renewing and rebuilding Rwanda. Communities are holding public forums, counseling is offered, and dialogue is growing everywhere.
We also found a country bustling with energy as it rebuilds. Traveling in the countryside we saw many success stories, including the work of Heifer International Rwanda which is training farmers and increasing food security. "Heifer is helping a recovery process," explained Dr. Dennis Karamuzi, a veterinarian and the Programs Manager for Heifer.
Heifer began working in Rwanda in 2000, but their start was a little rocky. At first the community was suspicious of the group-because they were giving farmers "very expensive cows," says Holimdintwoli Cyprien, one of the farmers trained by Heifer to raise dairy cows; they didn't understand how the group could just give them away. But as people began seeing the results of Heifer's training, they become less suspicious and more interested in working with the group.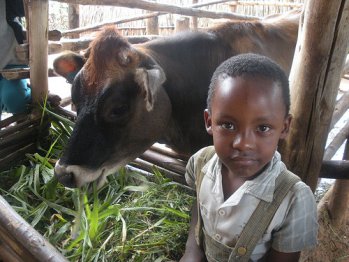 We were very inspired as we met with several farmers all over the countryside, who were lifting themselves out of poverty using help provided to them by Heifer. Several of the farmers became teachers in their own communities, helping their neighbors learn new skills and techniques that they were benefiting from, and working with them to implement them.
Rwanda may be our most interesting and beautiful visit in Africa but the country also feels lost, still struggling to find itself, still deciding what direction it will go. Its wounds may never completely heal—especially when "never again" happened here such a short time ago.
Who we are: BorderJumpers began in October 2009 in Addis Ababa, Ethiopia — when Bernard Pollack and Danielle Nierenberg began a journey to travel in Africa. At every stop they are meeting with farmers, community organizers, labor activists/leaders, non-governmental organization (NGOs), the funding and donor communities, and local, regional, and international press.
With a Sony handycam, a 8-year old laptop, and sporadic internet connections – their goal is to bring stories of hope from across the region to as large an audience as possible. They will tell the stories that aren't being told-from oil workers fighting to have a union in Nigeria to innovative ways farmers and pastoralists are coping with climate change.