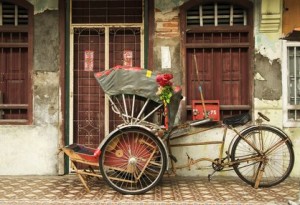 John M. Edwards rides around into infinity with an amazingly industrious trishaw driver skilled in perpetual motion for a mere pittance (a pocketful of rupiahs) at the Sultan's Kraton in Yogyakarta, Java, Indonesia.
At the Sultan's Kraton in Yogyakarta, Java, Indonesia, I stood face to face with "The Great Man"–the Sultan himself! Since I was a known American "oil baron," not a gas station attendant but part owner of a privately held oil and natural gas company based in Houston, TX, and New Orleans, LA, the Sultan was so kind as to go way out of his way in order to meet me in an outward display of friendship and courtesy.
What the stately Sultan–whose elegant wrinkles betrayed his advanced age and wisdom (with real worry lines acquired by actually really caring about his own people)–really thought about America itself, I dared not ask. For I had only an imperfect grasp of indonesia's unique take on Islam, which sometimes seemed more Hindu, Buddhist, Christian, and even Pagan, allowing the largest population of Moslems (more than in all of the Mideast), in black fez-like kopiahs, to down alcoholic Bir Bintangs and practice free love upon unattended tourists looking for "local color."
As we both listened to the impromptu gamelon orchestra with approval, he waved his hand magisterially as if he were some mysterious Magi (whatever that is).
Like heat lightning, an overaged man, who looked even older than the Sultan, driving a bicycle rickshaw, known also as a "trishaw," peddled over to me. "Thanks!" I said, still glowing at the honor and privilege of meeting someone so high up on the Indo totem pole.
And then we were off to see the sites.
The amazingly industrious trishaw driver insisted on waiting for me as I polished off some Nasi Goreng and Ayam Sate and Gado Gado at the world-famous Superman Restaurant–not to be confused with the nearby Superman II Restaurant–supposedly owned and operated into infinity by completely different owners, immune to copyright infringement.
I kind of liked the idea of businesses that never went bust. I suppose this is one reason why there are so many "Caucasian" foreign devils, resembling "Hanuman the White Monkey" (wooden puppets of this demonically divine demiurge are always available in the marktplatzes), around here. We Westerners all purportedly smell like dairy products, practicing "Import-Export." Which we all know is just international slang euphemism for "chronic unemployment."
After chowdown, I was unsure how many rupiahs to palm off. But the aged tour-de-farce just laughed and scrunched up his shoulders, in effect saying, "It's up to you?"
Now that I liked.
Having spent the day riding around "Jogja" (city slang), I felt like a real demigod in a winged chariot from some marvelous metaphysical poem by Andrew Marvel. Hello? The driver was huffing and puffing, riding uphill, turning his head occasionally with a betel-stained smile, eyes flashing wildly like those of a canny unforgetful elephant.
At last we reached our final depot, The Batik School which I had written about later for Transitions Abroad, but which I was unsure was ever published because I had been on the road for way too long to check back with their editor, the legendary late Clayton Hubbs. (The online website, Transitions Abroad Portal, is now run by Gregory Hubbs.)
Inside the dilapidated colonial building, as Dutch as Heineken, clogs, tulips, and The Polders (whatever they are), I entered into an empty hallway, ears suffering from echolalia. "Hello-o-o! Hello-o-o!"
In a room filled with finished fabrics, ready to be sold at the beach resorts of Bali, Lombok, and the Gilli Islands, I introduced myself to some young Canucks, who had signed up for a week to learn the ancient art of "canting," wherein the weird patterns emerge after applying hot wax and varietal dyes to the fabrics. Live and let dye!
Finally reaching the denouement of my predestined version of "Mr. Toad's Wild Ride," while we flew down a patchy hill at a considerable amount of mph, we arrived in some wrinkle of time right back in front of the Sultan's Kraton.
Once again the kingly Sultan stood right before me magistorially with a dreamy smile soldered on his face.
I paid the amazingly industrious trishaw driver a considerable sum in rupiahs, as he just stood there like an electric-shock victim not knowing how to react. "Selamat pagi, Mister John!" he crowed in thanksgiving.
Then I stepped once again into the Kraton complex, feeling a numinous spiritual uplift not unlike the impact of receiving an acceptance letter from Time or Newsweek, or a seat at the "Algonquin Roundtable" over at The New Yorker.
Or, Hackwriters!
Yay! I almost felt like I had just escaped from being an unpaid extra in an upcoming sequel to "The Year of Living Dangerously."