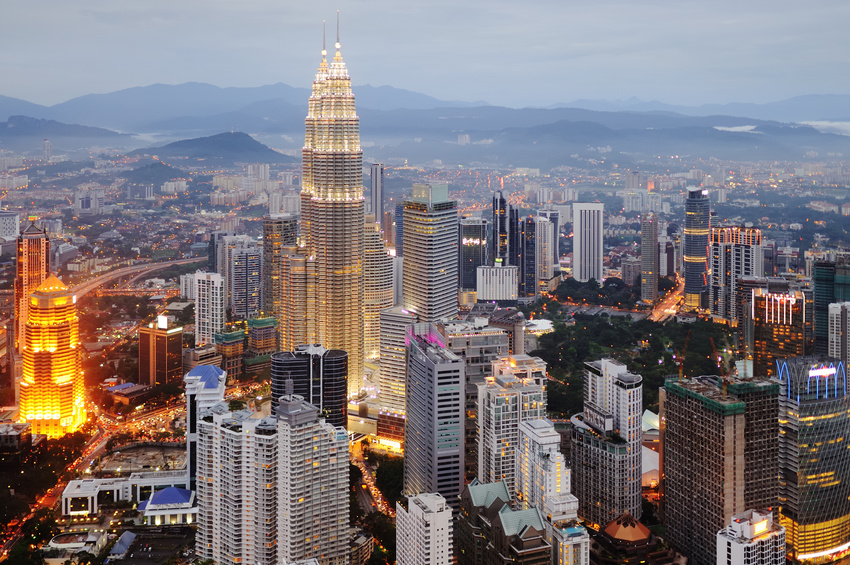 Although now deposed from their reign as the tallest buildings in the world by Taiwan's "Taipei 101 Tower", the Petronas Twin Towers of Malaysia's capital Kuala Lumpur still command an attention and respect. Like the late World Trade Center, they are identical twins, but unlike the World Trade Center, they are shaped almost round and taper to two mighty sphere topped spires at a lofty height of 452 meters (1483 feet). Day and night they gleam and glitter, as the facade is constructed in its entirety of brushed stainless steal and glass. Ever since first seeing this building from my bus, as it approached the city, I hoped to be able to go inside and maybe take an elevator up to one of the higher floors. However, in this day and age, such access to such a building simply will not happen, but the the management is gracious enough to allow the general public to freely view the city from the two story bridge, that connects the two towers at the 42nd floor, less than halfway up the buildings.
I got in line early, enjoyed the short 40 second elevator ride to the bridge, and gazed out at the ultra modern skyline of Kuala Lumpur. As viewed from my vantage point, the city is enclosed by tropical highlands all around and some green topped limestone mountains rise steeply within suburban areas. Clouds always overhang the mountains it seems, but elsewhere the morning starts hot, bright and intensely sunny. Not until later in the day have enough clouds built up to give some shade and rain themselves down as thundershowers. Our elevator load of gawking tourists was only allowed about ten minutes on the bridge, before black suited security guards ushered us back down, so the next throng of visitors could come up to take in the lofty views.
You may ask what a uniquely Malaysian experience is and I might tell you about the different ethnic foods, the multicultural society, and the amazing tropical rainforests, but no description would be complete without a mention of the shopping malls of this country and Kuala Lumpur specifically. I am normally not hooked on malls, but here they have taken this American phenomenon and added two extra dimensions: size and ubiquity. Five and six story mega malls packed with stores, restaurants, movies, and arcades have become the norm. Now virtually every city sports one and in the larger ones, you can find one every few kilometers apart. Kuala Lumpur enjoys an exceptional density of luxurious glass and marble clad mega malls that easily put America's finest to shame. Besides the prosperous economy, I would suspect that the hot and humid climate factors significantly into sticking as many stores as possible under one over air conditioned roof.
Even though I am a slave to heat and love running around outside during the hottest part of the day, it is a nice relief to feel that rush of cold dry air hit me as I approach an automatic door that just opened to swallow me up into shopping bliss. Thankfully, my little college size backpack precludes any spontaneous shopping rampages. The last thing I need is to lug more stuff around with me. Besides, after a few minutes it starts getting dreadfully cold inside the mall and I seek the closest possible exit past the throngs of air conditioning and bargain seeking Malaysians. What a relief to be back outside again, being hit by a wall of warm and humid air ripe for a refreshing thundershower.
Colonialism has also been a major facet in the forming of Malaysia and it all started in the early 1600's with the arrival of the Portuguese, who laid claim to the southern city of Malacca, halfway between Kuala Lumpur and Singapore. This is one of the oldest towns in Malaysia and definitely worth a visit for its history. After the Portuguese, the Dutch took this area over along with most of Indonesia during the 1700's and finally, during the 1800's the British wrested control from the Dutch to make Malaysia part of their empire "upon which the sun never sets". As a result, quite a few buildings harbor evidence of all three colonial rulers and the churches they established still keep their doors open to the faithful. In fact, on a Sunday morning I heard the bells of a catholic church ringing soon after an Islamic muezzin (who calls the faithful to prayer from the top of a minaret) finished his amplifier and loudspeaker powered chant from a nearby mosque.
I suppose, if I really wanted to, I could have gone to the Chinese part of town and found a Buddhist temple with chanting monks to get a full range of religious sounds and smells. This is all novel for me; although these religions have their adherents in America, you simply can't find any that project their sounds beyond their walls. In a way, I like it and think it adds tremendously to the atmosphere of an area. Maybe that's why Malacca appealed so much to me. I was a little disappointed by its beaches, though, most of them being inaccessible mangroves or long, smelly mudflats. I really have gotten spoiled by the dreamy beaches of Thailand and northern Malaysia and will just have to do without for once.
Instead I embarked on a daylong mountain bike ride through the large oil palm and rubber tree plantations. This is the only place I could find where the trails are manageable to ride on and without all the nasty challenges that come with trying to ride through a jungle trail. But even here, there were occasions when I could have used a machete to make some progress. Another important lesson was to take the strongest possible mosquito repellent along and lather it on as generously as possible. I found those dive bombing blood suckers especially wicked on these trails. When rummaging through dense brush, I was always on the lookout for the usual critters, such as scorpions, snakes, spiders, centipedes and whatever else uses 'chemical weapons', but somehow I still got bitten or stung by something on the back of my neck. I never saw what it was, but it felt like a bullet hit me back there and went all the way to my throat. It swelled up immediately and I got scared enough to have it checked out, but was told that it was probably just a little bug and not to worry about it. At least I didn't have a violent reaction to it, although my neck lymph nodes were swollen for days afterwards. See what I mean by chemical warfare?
My last destination before returning to Thailand again, was the city state of Singapore. Getting across the border from Malaysia into Singapore proved to be one of the more difficult ones, I have attempted yet. The Singaporean border police were very interested and evidently 'concerned' about the various stamps and visas that adorn my passport, especially the ones from North Africa. Their questioning went on and on, until they convinced themselves that I really didn't pose some sort of terrorist threat to their nation. I don't blame them: as small and as important a trading zone that Singapore is, it can be very vulnerable to an attack. Since I had arrived there late at night, I didn't realize until the next morning on my first stroll around, just how squeaky clean everything is. Unlike the rest of Asia, vehicles are subject to strict smog controls and it cuts down tremendously on noise and the choking smoke and haze that blankets the streets of so many other cities in the region.
All those street food stalls and outdoor kitchens have also, much to my chagrin, been discouraged by various public safety and hygiene laws. What little of mom and pop kitchens are left, have been relegated to food courts where they are subjected to public health inspections and the A to F restaurant grading system that we Americans are familiar with. Of course, the only bout of diarrhea I had to contend with during my entire trip from Vietnam to Malaysia happened here in sanitary Singapore. Although it was limited to just one groaning session on the toilet, it caught me a little by surprise. I guess a digestive system hardened by street food of questionable cleanliness does not mean it can handle an 'A' rated food court.
Now that the sidewalks are free of tables, food and kitchen carts, they must also be kept free of trash. Understandably, littering is strictly forbidden and, according to the signs, carries a hefty fine; chewing gum is forbidden as well, even if you have every intention of swallowing it or wrapping it up and sticking it in your pocket. Jaywalking is a big no-no, also enforced by signs everywhere. I did see a number of people ignore this law, however, and stroll across boulevards with impunity. Am I correct to assume that I could get away with chewing gum, then? But it seems understandable why a nation as small and as populated as Singapore would need such laws to keep order. Measuring 225 square miles (580 square kilometers) and inhabited by 4.3 million people, it is one of the most densely populated countries in the world at about 19000 souls per square mile. In reality it is even higher, because so much of Singapore is taken up by its immense harbor and industrial areas. And somehow they also manage to keep some areas as nature preserves with mangroves and tropical forests.
So how do these people live? I saw much of the city center and its massive high rises contain mostly offices and shops and malls. Other areas are nothing but oil refineries, container and truck yards, docks, and various other commercial installations. A trip on the local commuter train opened my eyes: they live in high rises as well. Maybe not the fancy ones of the down town areas, but first rate nevertheless. The locals call these 30 to 50 story buildings 'housing estates' and they litter Singapore's suburbs by the hundreds and hundreds. That is, if you can call it a suburb. Close up, the housing estates are quite nicely built and, judging by the gated entrances and hotel like lobbies, they must by quite luxurious.
This is a rich country and people will not let the lack of space get in the way of a privileged life. On my last day in Singapore I took an approximately 3 mile long cable car from a hill top near down town to the fabulous Sentosa Island near the harbor. To some it would seem like the ultimate in artificial and tacky, a tropical Las Vegas of sorts. Everything, including the beach sand, has been imported and built to simulate a vacation paradise. After the natural beauty of Thailand, Vietnam, and Malaysia this make-believe island might seem a little contrived to me, too, but if I imagine myself living here in Singapore, I would actually appreciate its existence as an easy evening escape from the city after a long day in an office.
On Sentosa Island and elsewhere in Singapore, prices are almost on par with the United States, in other words, dramatically higher than Thailand and Malaysia. But people here seem to be able to afford them easily, because I noticed a similar zest for shopping here as in Malaysia and the shopping malls are no less frequent. They seem less important as an escape from the heat, however, since it doesn't seem to get as hot in Singapore as it does elsewhere in the region. Although it almost straddles the equator and the sun beats down directly overhead during the day, temperatures remain balmy. The trade winds blow quite strongly and invariably generate clouds by afternoon that have a moderating effect on temperatures. Overall I find it a pleasant climate to live in.
Eventually I caught a flight back to the wilds of Bangkok to spend my last week in Southeast Asia there with relatives I had only now met for the first time. It's really amazing to have an extended family stretching all the way into Thailand and we had a great time getting to know each other. Additionally, I have made friends here already and was eager to see them, as well. As far as the city is concerned, in comparison to Singapore, the crazy streets of Bangkok seemed ludicrously out of control and polluted, but after some getting used to, I find it an endearing place nevertheless.
Now that it has been six weeks since the tsunami swept across the Indian Ocean, the devastation has been replaced by other news in the media, but it will never be forgotten by those affected by it. As lucky as I was and how relatively easy I escaped the water, I still find myself reliving scenes from the carnage on almost a daily basis. I can easily understand how the victims who lost loved ones and property, will be emotionally affected or scarred for the rest of their lives. The UN's secretary general Kofi Annan once said early during the catastrophe that some nations will take ten years to completely recover. I fully agree with him. Some of the toll will last for a lifetime, though.
Overall, the world really pulled together and got over squabbles to provide the largest aid package in recent memory, if not the largest ever. I just hope that all the proposed aid really does make it to all the affected areas and not just remain a promise. On a positive note, Roman, the Austrian, one of many patients I met during my few days of volunteering at Krabi Hospital in southern Thailand, has finally been sent home and is on his way to a slow recovery. Although Sandra, his fiancee, died during the tsunami, he will live on to hopefully recover completely and keep her memory alive by doing something positive in his community or in the world. Maybe I can continue to do something positive as well.