White sandy beaches. Coconuts. Aquamarine waters. Colorful coral. Epic surf spots.
That's the vision dancing in people's heads when they book a beach trip to Bali, and with a little luck, that's what they'll find. But while Bali's beaches can be all of the above, overly crowded tourist spots and heaps of trash piles can leave not-in-the-know vacationers wondering if the fabled beaches really exist.
On my arrival in Bali, I fell victim to the not-in-the-know syndrome, despite all of my research efforts. I knew I didn't want to stay in Kuta, the heavy party scene with a mediocre beach. I instead picked Legian, thinking it was far enough away from the center of the party mania, but close enough if I wanted to hit the town a night or two.
Big mistake.
The beaches of Kuta, Legian and Seminyak  are all within the same general area and are littered with huge piles of debris and trash. And locals selling everything from bracelets to boat rides press you for attention every few steps as you walk the length of the beach. My advice? Avoid Kuta and the surrounding areas. Which is exactly what I then quickly did. I ditched the rest of my nights in Legian (I didn't get my hotel refunded, but it was more than worth it) and struck out to find the beach gems of Bali.
So you want the best of Bali?
Then head either to the southern Bukit Peninsula for immaculate beaches, sleepy surf towns, and the gorgeous seaside temple at Uluwatu, or to the eastern coast for snorkeling, scuba diving, and quieter fishing villages. I fell in love with the Bukit Peninsula, so if you're short on time, head straight there.
Green Bowl Beach
This is it. My top pick. It takes nearly 500 steps down to get to this beach, which deters huge crowds. So every morning, I walked down to this glorious stretch of un-walked upon soft, golden sand with good surf and swim areas and cool caves for shade. Love, love, love! After your hike back up (ouch quads), you'll need a beverage break from the snack shop up top.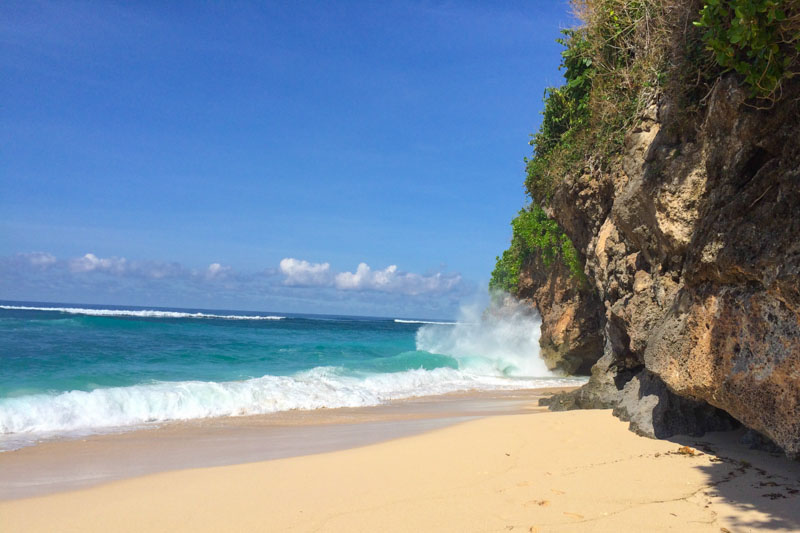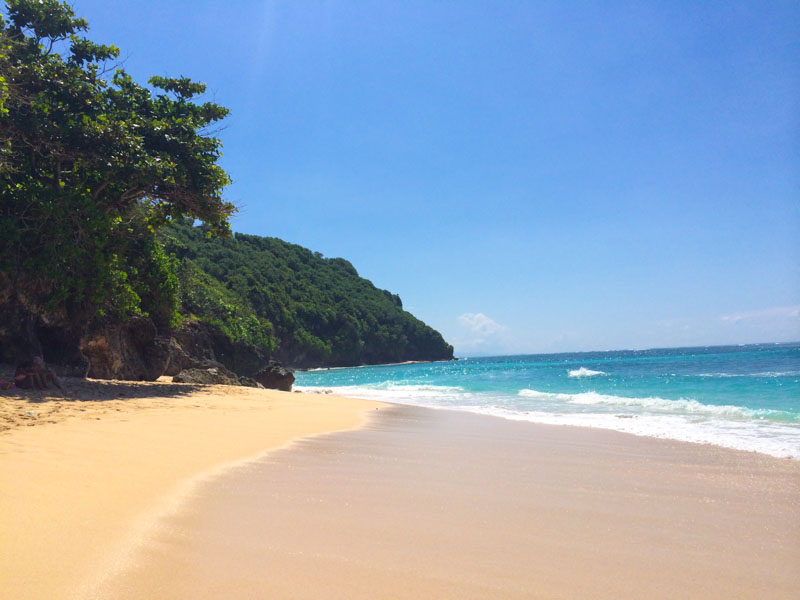 Bingin Beach
Bingin reminds me of coastal surf towns in my hometown of San Diego. Very chill, good eats, surfers, and tables on the sand for sunset beers. A full range of accommodation can be found here, from surf camps to villas. I stayed at The Shack (sister property is The Oasis), and instantly fell in love.  This is a great place to base yourself in the Bukit Penisula, with yummy pitaya bowls, smoothies, and burritos steps away at The Cashew Tree, and beach access just down the street! See below for full details.
Padang-Padang
Padang-Padang is a short drive from Bingin, or a beach walk if the tide is low. Overhanging cliffs create cool caves you can climb in and under, and the water is perfect for swimming or surfing.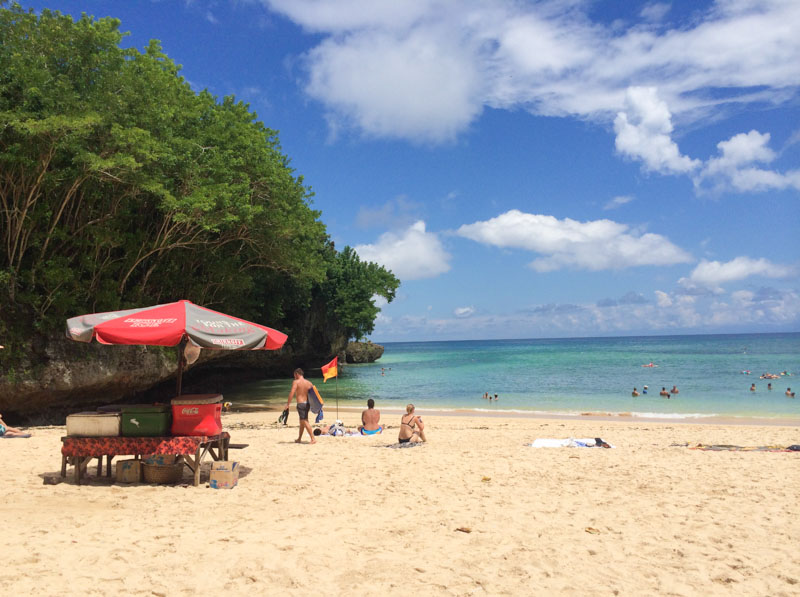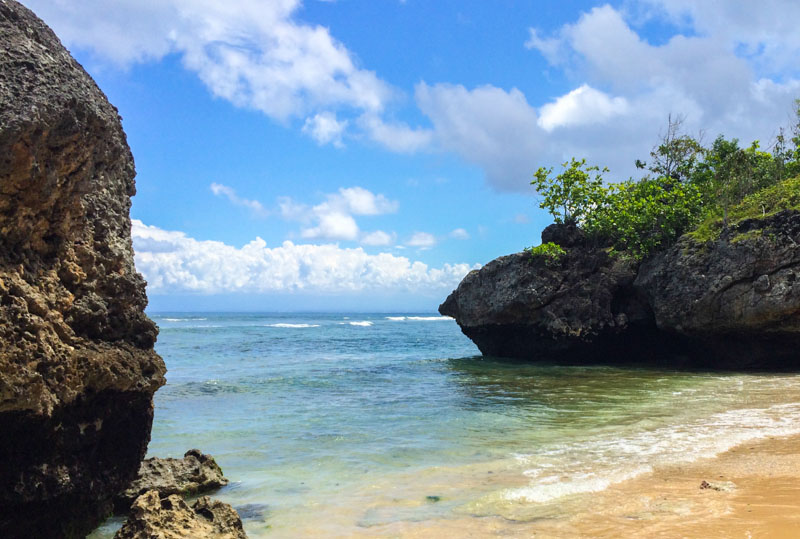 Finn's Beach Club & Karma Kandara
If you want to be fancy for a day, head on over to either Finn's Beach Club or Karma Kandara. They both have inclinators you pay to take down to access the beach. The views at the top are incredible, and the beaches below are like a mini European oasis. On Monday nights at Karma Kandara, you can watch a movie outside on the sand on a big drive-in movie screen.
Geger Beach
Geger beach was my favorite in the Nusa Dua area of the peninsula. Here you'll find long, large stretches of sand and more up-scale hotel chains, like the St. Regis.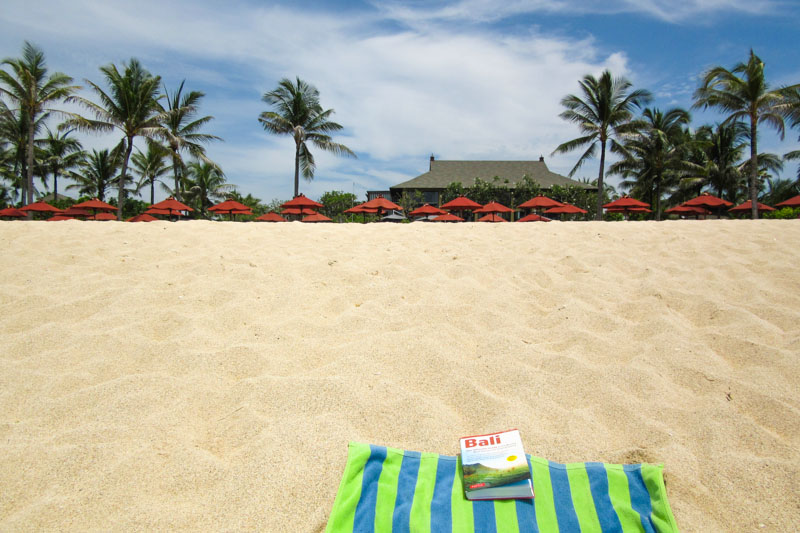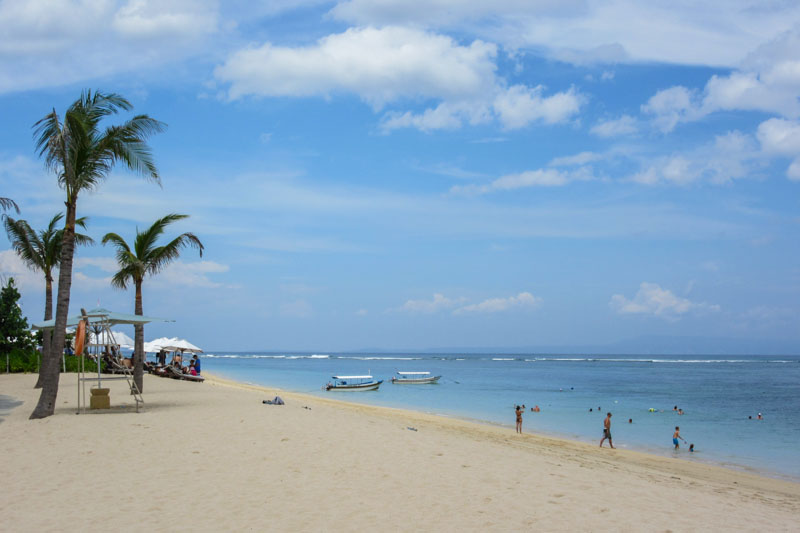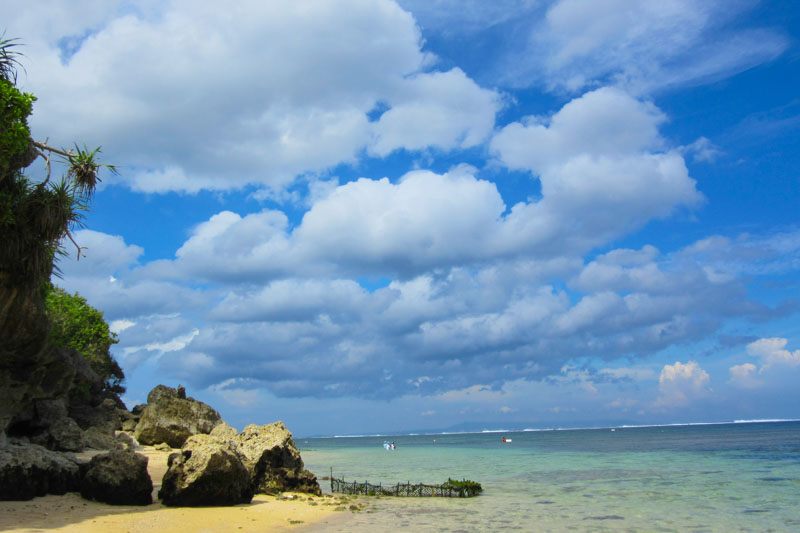 Sanur
Sanur is a quaint little fishing village in eastern Bali with beautiful boats and a boardwalk stretch of hotels, shops, and eateries. This is the opposite of Seminyak and Kuta, so you'll likely be tucked in bed much earlier here.
Amed
I didn't get a chance to visit, but I've heard from several locals and long-time Bali vacationers that Amed in eastern Bali is another favorite. That just means I'll have to come back to Bali to check it out!
---
SLEEP
The Shack:  This is the perfect location for a vacation in southern Bali, with easy access to some of prettiest beaches and with several food options within walking distance. And when you're beach-ed out, you can lounge at the beautiful villa pool while eating your complimentary breakfast served by the friendly on-site staff. If The Shack is booked, check out the sweet bungalows at The Oasis next door. Book directly online at Bali Retreats.
EAT
Cashew Tree: From the picturesque courtyard to the delicious smoothies and health food options, I can't say enough good things about this place. Go for breakfast, lunch or dinner. And you can catch live music and the sun-kissed beach crowd here on Thursday nights. Yes, yes, and yes.
Warung Ohana: Hello, have I died and gone to heaven?! California Mexican food in Bali? Get in my belly! Burritos covered in red sauce, street tacos, and sugary churros? Enough said, just go.
Kat's Kitchen: A colorful, open space with super yum Thai food. And for those sweet tooths out there (who, me?), they have a counter full of sweet treats to purchase, if you haven't stuffed yourself silly with their curries, thai salads, and fresh juices.