Burma Part I
August 18 2002 Rangoon (renamed Yangon) Burma
We took Thai Air to Rangoon. Bob left his Lonely Planet Guidebook Burma (renamed Myanmar by the military junta) on the plane and of course someone had pocketed it by the time we debarked. But we remembered the Yoma Hotel downtown and headed there. At the Yoma a French Canadian couple at dinner loaned us their LP so we could locate a bookstore somewhere in the city. Incidentally the guidebook says that Lonely Planet is outlawed by the government in that country…but lo and behold we found one…at a government gift shop / bookstore no less…the Myanmar Book Centre…for the hefty price of $30 for a book that has a sticker price of $17….but hey, we have to admit we felt lost without it so we were stuck.
In Burma I was pretty much cut off from email and the Internet; the government does not allow anyone the use of the internet-even tourists. They only allow businesses to have access and it was extremely disconcerting for the hotel to tell me I could not click on the browser to get my web-based email. The hotel had their own email address that I could use on Outlook Express, they told me! That was no help of course because all my email addresses were on the web. Rangoon (Yangon) is the only city in Burma, I was to discover, that had access to the internet. All of this restriction, of course, is government control to limit access of the populace to international information.
Watching the street scene outside the hotel window that first evening I see barefooted boys playing soccer on the sidewalk and a line of bare-shouldered monks in maroon colored robes banging a gong as they marched single file down the sidewalk on the other side of the street. Bicycle rickshaws with side chairs weave in and out of traffic..there are no motorbikes or auto rickshaws here…it is heavenly…a third boy in thongs has joined the soccer game.
The next day walking down the sidewalk I am stopped by the sign of an old man nuzzling a tiny baby while carrying it. More barefooted monks carry louvered or round food bowls on their daily rounds. They usually carry a large fan the same color as their robes that they hold up to their faces. Having called ahead we took a taxi later to the bookstore to bargain for our Lonely Planet guidebook. The taxi driver and I laughed when I pointed to the steering wheel; he had used his horn so much he had worn a hole through the vinyl in one spot! After checking out the outrageous prices for the ethnic artifacts in the museum/bookstore we walked next door to a very nice hotel. The Prime Minister of Malaysia happened to be in town and there was a trade exposition at the hotel. Found out the most common kind of oil the people use for cooking is Palm oil!
One afternoon we decided to check out the American Embassy and register our presence in the country but when we found the building it was cordoned off with guards stationed around it and we were told we could visit an out-station about 20 minutes away by taxi. Needless to say we scrapped that idea. Then walking past St. Mary's Cathedral compound we decided to go in and pay a visit; we were greeted by Ms. Bernadette Ba Tin, a matronly woman who showed us the inside of the church (very unique interior-looked like Arafat's headdress) and told us her life story. She had been in the military as a young woman but when they wanted her to spy and report on people she took the recommendation of her father and got out. "I was mean," she said. "I would kick and pinch and hit people. But I'm not like that now." She retired a couple years ago as the editor of a Catholic publication and they gave her the job of watching and cleaning the church in exchange for her room and board. We exchanged addresses; after all my middle name is Bernadette.
August 22 Pagan (Bagan)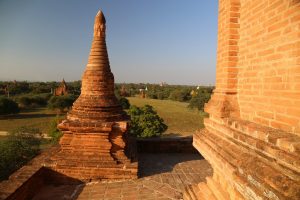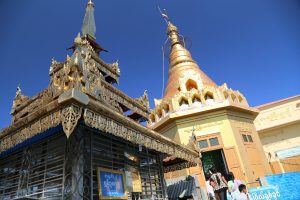 I really would have preferred the rickety and slow train north so we could see the countryside but to reserve the most time possible for the northern area we took an hour and a half flight to Pagan (renamed Bagan). At the airport we had to go through immigration and customs check again and we hadn't even left the country. Next was the Archeological Zone desk where we had to pay a $10 fee to be able to see the pagodas and stupas. By the way, on this desk was a pile of knock-off George Orwell books called Burmese Days (1934), a depressing read on upcountry Burma during the British occupation. Orwell served with the British colonial police in Burma and his novel written in his 20's shows a good understanding of expat life.
The Archeological Zone, or Old Bagan is a wondrous sight…unique in the entire world and I was amazed that I had never heard of it. Across 40 square kilometers of country, stretching back from the Ayeyarwady (Irrawaddy) River, stand thousands of stupas and temples that were built by successive rulers to gain spiritual merit over the course of the 11th and 13th centuries. In every direction there are ruins of all sizes across the tree studded countryside. Some are huge and glorious like the Ananda Pahto that soars gold-covered into the sky; there are small humble stupas that stand alone. We climbed the steps to the top of one pagoda to join some French and Spanish tourists for the breathtaking panoramic view of the river and pagodas and stupas as far as the eye can see. (By the way, in seven months of traveling we have come across less than half a dozen Americans-most travelers these days everywhere are French, Spanish Italian and Israeli).
The village that grew up in the middle of the Archeological Zone during the 1970's was moved to the middle of a peanut field a few kilometers away (now New Bagan) just before the May 1990 elections much to the dismay of Old Bagan residents who were given about a week's notice by the government. The largest village in the area however is Nyaung U about 5 km upriver and you can visit the market and food stalls thereby taking a horse cart, a pickup or by renting a bike.
August 26 Inle (on Inle Lake) in Shan State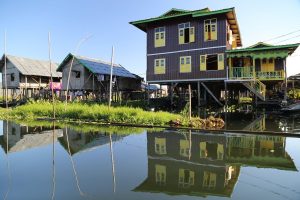 It is possible to take a ferry up the Irrawady to Mandalay but we chose not to do this, first because the ferry is owned by the government and we tried very hard not to support government-run operations and second because we heard that Mandalay is a big, noisy, tout-filled beggar-filled city that we have had enough of over the course of this journey. So we took the one hour flight from Bagan east to HeHo and from there a taxi through Shwenyaung to Inle Lake.
Inle Lake is 22 km long and 11 km wide and outrageously beautiful. After exploring the town of Inle and it's markets for a couple days we took an all day boat trip around the shallow lake. Our Intha boat paddler stood in his longyi (length of cotton loom-woven cloth wrapped around and tucked in at the waist) on the stern of the flat-bottomed boat on one leg and wrapping the other leg around the oar slowly plied the calm black water dotted with floating islands and water hyacinth. Hills rim the lake on all sides; the lakeshore and lake islands harbor nearly 20 villages on stilts mostly by the Intha people that are culturally and linguistically separate from their neighbors in the rest of the Shan state around them. The people use the same long flat boats to navigate to and from their homes and small lakeside businesses. Our paddler predictably stopped at a silk weaving factory and an umbrella cottage business. I bought a piece of silk the design of which was developed by the grandmother of the owner so it felt very special.
In the Shan State, community markets are held on a traditional rotating basis, in which each village within a given area hosts a market every five days. We caught the Inle market on the shore of the lake during a complete downpour-literally slogging up through the plastic covered stalls in ankle deep mud and cow shit. I bought a piece of plastic to cover myself for 50 kyats (pronounced chat; there are about 980 kyats to the US dollar which everyone trades on the black market-about 10times the official rate at the bank). Burma's incredible ethnic diversity means a wide range of handicrafts and we came away with several beautiful Shan shoulder bags, some pictures of the beautiful Pa-O and Palaung ethnic people in their colorful clothes. and some wonderful Shan food in our bellies. The Pa-O's wear black with red trim and colored towels wrapped around their heads.
Taunggyi
At dinner one night in Inle, Bob was considering taking the offer of the waiter to lead him on a trek into the mountains until he told us that his friend at our hotel referred to us as those "fat" people. Later, I read that it was supposed to be considered a compliment! The next day (August 28) we checked out of the hotel and took a taxi to Taunggyi about an hour east of Inle. Taunggyi is the official end of the line for east-bound foreigners in Burma–at least if you are traveling by road. Beyond Taunggyi lies a world of black-marketers, ruby miners, insurgent armies and opium and met amphetamine warlords. Because it functions as a conduit for smuggled goods from Thailand, China and India, this is one of Burma's most colorful towns. Long-haired smugglers in army fatigues saunter down the street alongside turbaned hill tribe people and sleek- suited Chinese businesspeople. An abundance of black-market consumer goods is displayed in the Taunggyi market.
In the market we see two Buddhist nuns asking for donations from the vegetable vendors followed by a young girl in a white T shirt with Jesus (Heart) You on the front. I particularly liked the military green combat hat with a pirated Nike label which was very popular. An Indian in a military hard hat explained to us that we could get "free" pastry at the tea shop. Guys with camouflage jackets and military green Chinese issue tennis shoes are everywhere. On a second floor alley I was carrying some chicken and rice in a sack when two small raggedy boys came up to me so I gave them my chicken. They ran off tickled to death. A few minutes later they appeared again and handed me my 1000 kyat bill that I had forgotten that I had dropped into the bag. So we took the bill and gave them back 500 kyat (about 40 cents) and you would have thought they were just handed a fortune.
On our way out an old man came up to me and spoke in excellent English. He used to be a teacher he said and just wanted to talk. San Francisco, San Francisco he laughed. (People always seem to mention San Francisco for some reason when we tell them we are from America.) Good city! Then he cautioned me against buying any of the rubies two traders were trying to offer me. "Glass," he said, "glass!"
Mothers make a big deal out of having their babies see us. They beam if we pay any attention at all to the small ones or take their pictures-almost like it is good luck for the child. We are a symbol of freedom-freedom they long for and hope to have sometime in their lifetime.
On the way back to our Chinese owned hotel called New Paradise that night we stopped at the Coca Cola Restaurant with pigs ears and pig brains on the menu and spent 20 minutes trying to get the waiter to give us some sugar for Bob's ice tea. Think about it. How do you explain "sugar" to someone who doesn't understand a word of your language nor you theirs?
Continuing along the street that evening, I asked a young guy at a betel cart to make me some betel chews that are made with small chunks of dried areca nut wrapped in a betel leaf smeared with lime paste. Some may contain flavored tobacco (Indian snuff) peppermint and other spices. Experienced chewers can hold betel cud in their mouths for hours without spitting. An alkaloid in the nut produces mild stimulation and a sense of well being. The chewed nut stains the teeth dark red and leaves the streets everywhere running with blood-red spit.
Repression
Next door I struck up a conversation with a young university student who was tending a a small bookstore. "Can everyone speak (out) in America," he asked. "Yes, we can," I said, thinking I will not tell him about "politically correct" speech that I consider just as fascist as the rules perpetrated by his government.
A few people, forbidden to talk about politics with foreigners, tried oblique approaches to the subject. One man with delicious donuts on a platter came up to me at the market and said to me in perfect English that he used to be a teacher. Then he disappeared and returned a few minutes later with his wife who wanted to meet me. "She wants to go to America-too bad," he said. I made several attempts to ask him to have tea and then dinner with us but was disappointed when he looked furtively around him and told me he couldn't do that. The government has forbidden the people to talk to foreigners about politics but they are afraid to be seen talking to you at all as it could mean trouble for them.
However, in Bagan our hired tour guide for a day to view the pagodas, told me that some Americans once told him that that there was a lot of fighting in Burma but that he reassured them there was no fighting in his country. I bit my tongue thinking of the BBC special the night before that described the fighting between the ethnic minorities and the military near the Thai border where camps harbored thousands of refugees. American and European doctors regularly cross the border under cover of fire to care for the Karen tribal people who are suffering from a government policy of ethnic cleansing by burning their villages and killing the people outright or overworking them to death in forced labor groups. "I'll bet he is a government informer," I said to Bob. "I think so too," Bob said.
The next morning as I am waiting for my breakfast in the top floor restaurant I watch as two monks enter the alley below on their early morning rounds. They stand outside the gate of a house and wait for the owner to come out. After a few minutes a woman does and immediately drops to her knees and bows with her head down to the ground. The older monk appears to give her a blessing and a few words. She stays on her knees as they walk to the next house where a man comes out with some food but he doesn"t get on his knees.
The People
Everyone assumes you are well intentioned. If you give them a smile you will immediately get one back-without guile or expectation. Waiters in restaurants wait on you with respect like altar boys at mass-putting the plate down slowly and gently in front of you.
Schwenguan
We took a taxi back over the mountain from Tounggie to Schwenguan where we were to catch a train for the three hour ride through beautiful terraced rice fields and vegetable patches to Kalaw-a mountain hill station used by the British. But as with practically every government run venue they wanted to be paid in dollars. I had a $20 on me but the fair was only $4 for the both of us (foreigner rate-foreigners pay many times more than the locals for everything). Bob refused to pay the $20 so there we stood. I gave some kyets to some teenagers to take me to find a money changer but no luck. By the time I got back Bob had dug $5 out of his backpack. We're on the train!
At HeHo for lunch we reach through the train window and pick out boiled peanuts and deep fried mashed potato balls from the big round shallow basket a pretty woman holds on her head. We took a great picture of the small girl with arms crossed in disappointment who had only small raw potatoes to sell which no one was buying of course.
Part II will describe the peaceful town of Kalaw, Bob"s two day trek through the Pa-O villages in the mountains and our visit with Fr. Paul and Sister Catherine at Christ the King Catholic Church. And I will attempt to describe the very sad political situation in Burma.