It's not everyday that you get to frolic with elephants and gods. Let me remind you that God supposedly sent Adam to Sri Lanka after his expulsion from heaven, as it was close to what he had left behind. After this visit, I have no reason to doubt this, as Sri Lanka truly is a paradise on earth and I was happy to get a taste of it.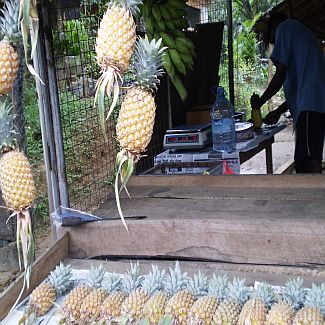 A pineapple and coconut shack we found while going to Kandy
"Guess what! Change of plans! We are going to Sri Lanka enroute Malaysia!" This call two hours prior to going to the airport was a jolt out of the blue, as I thought that we had dropped Sri Lanka earlier on. But when you work and/or travel with unpredictable people, surprises are part of the package. Last spring, I was going with a bunch of friends, to attend an educational conference, ELLTA 2011, in Penang, Malaysia, as a conference secretariat staff member. Or this was what I thought until this last minute call. I was even supposed to get my visa and passport after reaching the airport.
Sri Lanka have always had a dark, mysterious and almost magical pull for me. On the map of the globe, Sri Lanka looks like a tear! "Shiva, Adam's peak, Cricket, suicide bombers, pineapple, papaya, tea, cashews," I gushed. "And elephants," Mohammad Babur, the mastermind behind the trip added. Elephants? We are going to see real live elephants? I couldn't believe my ears. Sure, I have seen a real elephant, but only once, in a zoo. I was giddy with excitement.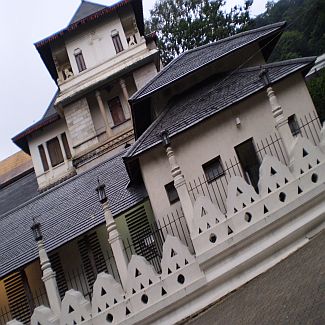 One of the buildings near the Temple of the Tooth Relic
After a peaceful flight of three hours or so, we landed in Colombo airport. It took us a two hour drive from the airport to the city Colombo and check into a sleepy but cozy inn. Jet lagged and hungry, we took a light but costly dinner at a local shack and then went back to the hotel in order to sleep. I took a mental note of the bedspread having an embroidered elephant before I drifted off to sleep. Next morning, we woke up to the noises of the city coming alive for work and a beautiful weather. To top it off, there was scrumptious breakfast waiting for us on the terrace, which we enjoyed along with the pleasant drizzle. After getting our currency exchanged, we set out for Kandy in a hired coaster, as Kandy was far from Colombo, requiring a four hour drive. Kandy is the last capital of the ancient kingship era and an important city, which has maintained its rustic outlook despite being modern.
Reaching the destination was more important, but we thoroughly enjoyed the way as well due to the rustic scenery, clouds, fog, light drizzle and pleasant chill in the air. The mountainous terrains alongside the road were engulfed in dense foliage, mostly comprising rubber and tea plantations, rice paddies, and palm trees. After four hours of travel, we finally entered Kandy. The majestic door of the Pinnawala elephant orphanage stood in all its glory welcoming and beckoning us. When we entered through the gate, it felt just like entering a post card picture or being in a frame of National Geographic, the scenery was so natural, perfect and surreal: the mountains, river, and of course the herd of around 30 elephants. Moving slowly and luxuriously, they were unabashedly indifferent to the ooohs and ahhs of the onlookers; the glee of children and awe of the adults. A volunteer took us to the spot where we could touch or mount a live elephant, which some of us did. The mahuwat i.e. the elephant trainer told us that this particular elephant was a young and docile natured female, named Komalika, which means a very beautiful girl. Sometimes, Komalika would bestow an admirer with a shy kiss i.e., a peck from her trunk, though we never got that lucky. The mahuwat told us that they usually control this giant through its highly sensitive pressure points, which are 22 in number. Control meant either poking them through a spear, ouch, or a gentle caress, nice. We did see a very old elephant in chain; however, the rest of the lot looked happy, carefree and tame, flapping their fanlike ears and sniffing and searching for leaves and coconuts through their prying trunks. There were cute as button baby elephants too who were moving about in the protected circle of the adult elephants all the time.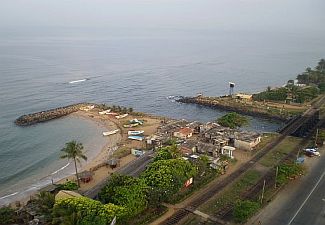 We also saw a small workshop where elephants' dung was being processed into reams of paper by a group of volunteer boys and girls. The machines were hand-operated and the whole enterprise was overall environment friendly. The products made from this paper comprise post cards, diaries, note books, etc., which were pretty costly in comparison to our currency. However, the favorable point is that all the revenue earned from this enterprise is used for elephants' food and welfare. It was nothing short of amazing to see how this place serves as a sanctuary for rescued, injured or abused elephants who have gotten orphaned due to due to man's encroachment, and the invasive industrial and irrigational activities, and the consequent destruction of their habitat.
Our next top in Kandy was the Temple of the Tooth Relic, one of the most venerable places for the Buddhist. It took as another two hours or so to reach the temple, and by that time, it was evening. We removed our shoes outside the compound and were frisked as well due to security reasons. The temple looked even more majestic in the approaching darkness of the evening. Buddhist devotees were going inside the temple with flowers and other forms of offerings. The temple's roofs and columns comprised intricate wood work panels. Furthermore, there were lotus and elephant heads made out of pure gold. We stayed for a while to catch a glimpse of the main ceremony of unveiling of the relic that takes place daily at 6 pm.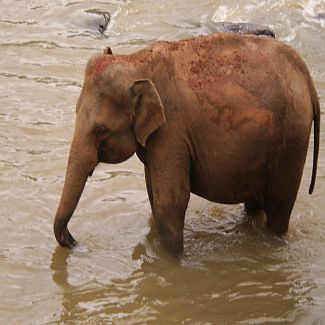 There were drums being beaten and sittars being played in the background. I experienced there what I have experienced in all the houses of god, mosque, church, temples, a sense of peace and sanctity. I couldn't help but marvel at the points of diversity as well as unity among different religions and faiths. I didn't take any pictures inside the temple as a sign of respect to the temple's sanctity, as a personal choice. However, once the ceremony was over, the head dikshu (priest) graciously agreed to have his photograph taken with us. It was quite late when we finally left Kandy back for Colombo, as we had flight to catch for Malaysia early morning. We were exhausted but richer in terms of visual and aesthetic experience.
In the words of Emerson, we had a chance to in the very backyard of nature. It's not everyday that you get to frolic with elephants and gods. Let me remind you that God supposedly sent Adam to Sri Lanka after his expulsion from heaven, as it was close to what he had left behind. After this visit, I have no reason to doubt this, as Sri Lanka truly is a paradise on earth and I was happy to get a taste of it. One thing you can't miss is that Sri Lankans are gracious and polite. Be it this dikshu, our good natured young driver, the volunteers at the sanctuary, the polite hotel staff, or our connection there in Sri Lanka, a conference participant, Mr Parera; they were all friendly, humble and polite. Sri Lanka is finally recovering from the ravages of strife in terms of The Liberation Tigers of Tamil Eelam (LTTE) and suicide bombings, which have inspired Al Qaeda too. Hence, I, as a Pakistani, found a lesson and hope in this for our own strife-ridden country.
As I told you, Sri Lanka was a detour and sudden detours can be frustrating for a creature of habit and routine like me. But some of them, no matter how sudden and unexpected they are, turn out to be incredible. Like they said: expect the unexpected and prepare to be dazzled.