When I asked our guide to describe Hangzhou, he said: " We in China say, 'above is heaven; down here Hangzhou." His, were no idle words. They had a ring of truth. Marco Polo, the medieval traveller and the first Westerner to visit Hangzhou, was stunned with its beauty and described it as 'the City of Paradise.'
China National Tourism has named it 'China's Best Tourist City' and other organizations have labelled it as 'China's Happiest City' and 'a Paradise for Tourism and Leisure.' It seems legends of its beauty must have infected the Hangzhou maidens, who are considered to be the most beautiful in China. To give credence to this claim, the emperors of the past used to pick many of their concubines from this city.
With such descriptions, it was no wonder then why I was highly excited that spring day when we entered Hangzhou in drizzling rain. I looked around as we drove through the traffic-logged streets of that 6.5 million year old historic city, looking for the renowned beauties of town. Alas! There was virtually no one to be seen. The rain had sent everyone to seek cover. Tomorrow would be another day, which I hoped would uncover the city's beauty and its other attributes.
Starting out as a small village in the 6th century, Hangzhou grew to become a prosperous agricultural and commercial centre of 1 million. After the Song Dynasty (
1127-1279) made it their capital it flourished as a major trading centre. In the 13th century and according to Marco Polo the city was, 'without doubt the finest and most splendid city the world with 13,000 stone bridges and most of the people were accustomed to dainty living to the point of eating fish and meat at one meal.' Today, it is the capital of the state of Zhejiang and one of China's busiest resorts.
The city, renowned for its beauty, rest, in the main, with its placid 6.78 sq km (2.6 sq mi) West Lake, which edges the city on the west. Its vistas, leisure activities on its waters, lakeside teahouses, landscaped gardens and tree-shaded walks on its banks combine to give Hangzhou its reputation as one of the most attractive spots in China. A back garden to the city, it is a tranquil and scenic area that draws tourists and local inhabitants alike.
As it was in the past, today Hangzhou is well known as a tourist city and a prosperous agricultural centre. Fish, rice, silk and tea are the most important products produced but its significance comes from its siren attributes, especially its West Lake, which has made it a tourist destination that is high in demand. Vacationers from large urban centres like Shanghai, 193 km (120 mi) away, come in the thousands for weekends to drink in its beauty or purchase villas in this city with its long history of intoxicating travellers.
After touring the city we drove along the shores of West Lake, stopping here and there to stroll along the shore or to enjoy the panorama of its surrounding countryside. However, all was not as it should be. The on and off drizzle was still with us and I only could imagine how enchanting the lake and its environs would be in the sunshine.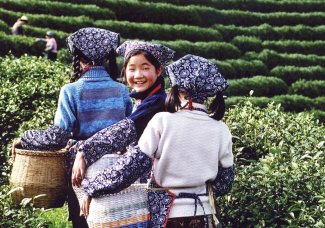 We then spent some time strolling on 2.6 km (1.5 mi) the Su Causeway, interconnected by six stone bridges and lined with cherry, weeping willow, hibiscus and magnolia trees. It was spring and the flowers and trees were all in bloom, a world of perfect serene beauty – that is if it was not for that annoying-drizzling rain.
From the causeway, we took a cruise of West Lake. To the three sides the green clad mountains and on the other the city seemed to cuddle the Lake in a loving embrace. It was as if they all had combined to create a halo for our little boat. Yet, there was something missing. In the words of one of my colleagues, "Oh! If only the sun shone!"
From the pier where our boat left us, we made our way to the northern end of the Su Causeway where a stairway led to Yuefei Mu (Temple and Tomb of Yuefei), one of Hangzhou's important tourist attractions. The temple was built in 1221 A.D. to honour General Yue Fei (1103-1142) who repelled the Manchus invasion in northeast China. However, his Emperor, Gaozong and the jealous Prime Minister Qin Hui falsely accused him of treachery, betrayed him and had him poisoned. When the truth came out, he became one of two Chinese generals ever to be deified and the temple was built in his honour. Like many other historic places in China the temple was destroyed during the Cultural Revolution but it has been re-built and has become a tourist mecca par excellence.
As I struggled up a number of stairs, eased by some elevators, I began to becomebecame weary. I had just turned a few weeks before 86 and I could feel it now. However, the struggle upwards was worthwhile. From the temple, the panoramic view was very appealing even through the misty haze. The Westlake scenic area, a national park with a total area of 59 sq km, dotted by over 100 scenic spots all lay spread before us. I thought to myself 'all is as it should be, but where are Hangzhou's beautiful maidens I had come to discover.'
That evening as I sat shivering in a light drizzling rain, in an outside arena, watching a Chinese cultural play, the sirens of Hangzhou again came to mind. I was sure they were there but I was too cold to care.
IF YOU GO
Facts:
1) To get to Hangzhou from Shanghai takes 2 1/2 hours by bus from Shanghai. However, the best way to travel to Hangzhou from Shanghai is to take a train. There are more than 40 trains commuting between Shanghai and Hangzhou every 24 hours – it takes 2 hours travelling time.
2) Foreigners travelling to China must apply to a local Chinese embassy or consulate for tourist visas.
3) The currency of China, the RMB or Yuan, is currently valued at about 6.7 to the U.S. dollar; and the same to the Canadian dollar. Conversion of foreign currency can be done in banks or hotels. China is one of the few countries in the world where hotels give the same rates as the banks. The exchange rate for traveller cheques is more favourable than that for cash. Also, most credit cards are accepted.
4) Only some tap water in China is potable. However, bottled mineral water is on sale everywhere.
5) For hotels in Hangzhou, see website: www.agoda.ca/asia/china/hangzhou.html
6) For dining try Hangzhou's local food at the best-known restaurant, Louwailou, famous for its dongpo pork, fish shred soup and beggar's chicken (a whole chicken cooked inside a ball of mud; or the Zhiweiguan Restaurant, known for its dim sum such as xiolongbao and mao' erduo dumplings.
7) What to buy for gifts to take back home – Longjing (Dragon Well), tea and silk products. Silk has been so important in Hangzhou for centuries that it has become known as 'the city of silk'.
8) China has removed all departure taxes.
Some of the Tourist Sites in Hangzhou, Not Mentioned in the Article:
China National Silk Museum, the largestest silk museum throughout the world.
Feilai Feng (The Peak that Flew from Afar) one of the largest temple complexes in China.
Lingyin Temple (Soul's Retreat Temple). It is the most influential temple in South China, and is regarded as one of the 10 famous Buddhist temples in China.
Traditional Medicine Museum at Hu Qingyu Pharmaceutical Workshop. It is a museum for Chinese traditional medicine
For Further Information, Contact:
China National Tourist Office, Toronto, 480 University Avenue, Suite 806 Toronto, Ontario, M5G 1V2, Canada,
Tel: 416-599-6636, 1-866-599-6636, Fax: 416-599-6382, E-mail:
cnto@tourismchina-ca.com; China National Tourist Office, New York, 370 Lexington Ave. #912, New York, NY 10017 USA, Toll Free: 1-888-760-8218, Tel: 1-212-760-8218, Fax: 1-212-760-8809 Email: ny@cnto.org
More Photos