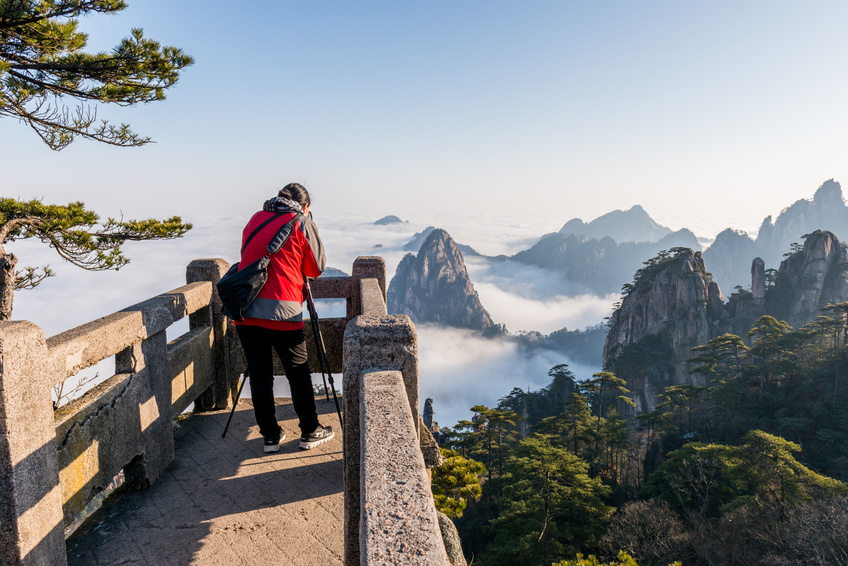 "Since you are here in Huangshan, you must visit our two traditional villages, Xidi and Hongcun. They are little gems of elegance and tradition." A guide advised when I asked him his favourite attractions in the region. We had already made plans to visit these villages and his advice reinforced our decision.
Both Xidi and Hongcun villages rest in the foothills of the Huangshan (Yellow) Mountain. They lay amid a landscape of greenery, dominated by bamboo forests and fields of corn, mulberry, rice and tea. They, as well as the Yellow Mountain, are on the itinerary of almost all tourists who travels to this region in China.
Early the next morning, we walked Xidi's stone-paved streets and alleyways, glorying in China's past history. Like its sister, Hongcum, the village dates back to the Sang Dynasty (960 – 1279 A.D.). Its buildings have remained remarkably intact from the days of the Ming (1368 – 1644 A.D.) and Quing Dynasties. A historical and culture village, it is one of China's ten most attractive towns.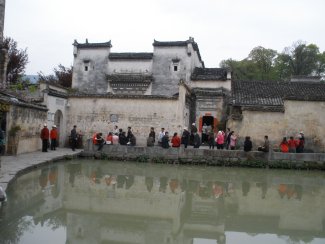 Many of the 124 homes are still to be found from that era, many now souvenir or other tourist oriented shops. The ancient homes edge 45 narrow and winding streets and laneways paved with bluestone. UNESCO has named both Xidi and Hongcun, due to their historic remains, as World Cultural Heritage Sites.
The first thing that I noted when entering the town were the countless young painters working on the streets, sidewalks, and doorways and it seemed every other empty space around. They appeared to outnumber both the inhabitants and the visitors. The guide said that many schools bring their students here – into a world of China's past.
All around the village appeared to have been designed for artists. Every part of the ancient buildings was covered with intricate and decorative carvings, reliefs and sculptures, carrying a flavour from Chinese history.
The Huizbou architecture predominated. This building style, with its white walls, dark tiles, horse-head gables, mirrors and open courtyards, were common features found in all parts of the old town. The guide noting we had stopped to admire some of the carvings remarked, "Some travellers say visiting Xidi is like stepping into a traditional Chinese painting. It gives visitors a perfect chance to explore China's ancient arts and culture."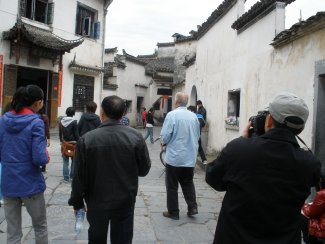 During our tour, we passed a large three-tiered stone archway, ancestral temples, schools for classical learning, beautifully paned windows, projecting horse-head walls, stone archways, bridges and much more. We stopped at streams and waterways, at times, covered gardens with their trees and courtyard walls draped with vines and flowers. We marvelled at the handiwork of the past Chinese artists before we made our way to Hongcun, only 15 km (9 mi) from Huangshan.
Hongcun, which we now entered, is a twin of Xidi – with much the same age and features. It, however, differs somewhat with a sophisticated water system and two large pools in town connected by streams, which passing every house, provide the water needs of the inhabitants.
Relatively untouched by the modern world, Hongcum, like Xidi, has for centuries inspired artists and poets. Both villages are living museums to traditional small town life in China's past ages.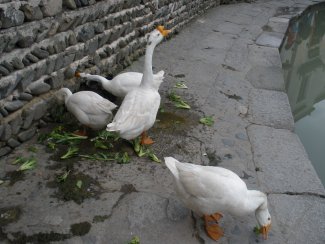 We entered the village by a Crescent-shaped lake edged on one side by the ancient homes of Hongcun. The whole of our side of the lake was filled with high school students painting the picturesque homes across the waters. After our tour of Xidi and Hongcun and after encountering hundreds of artists that day, it appeared to me that literally half the youth of China were well on their way to becoming artists. Like I told my colleague during our trip to China, "The Chinese have to be artists to be able to write their language. Every character is like a picture."
Touring the village that afternoon, we rambled around intrigued by the many relics from the past. We stopped for a while to watch women do their washing in a village stream, tasted local delicacies and shopped for antiques and souvenirs. All through the walk, we were surrounded by exquisite architecture of stone and wood. For those who love history, Hongcun is a great place to spend at least half a day.
Our guide summed it all up during our relaxing dinner, "Here you can see how the Chinese, in a modern sense, live as their ancestors lived centuries ago. The village is not only of interest to foreign tourists but to the Chinese, as well."
If you Go
Facts
1) Foreigners travelling to China must apply to a local Chinese embassy or consulate for tourist visas.
2) The currency of China, the RMB or Yuan, is currently valued at about 6.8 to the U.S. dollar; and the same for the Canadian dollar. Conversion of foreign currency can be done in banks or hotels. China is one of the few countries in the world where hotels give the same rates as the banks. The exchange rate for traveller cheques is more favorable than that for cash. Also, most credit cards are accepted.
3) Taxi fares in China are always clearly marked on the taxi window. Most taxi drivers do not understand much English. Hence, visitors should have their destinations written down by a hotel clerk in Chinese and show the written destination to the cab driver.
4) Only some tap water in China is potable. However, bottled mineral water is on sale everywhere.
5) Both Xidi and Hongcun charge 80 Yuan entry fee and, at times, charge a few Yuans to have a look inside the homes.
6) The temperature in the Huangshan area is agreeable year-round.
For Further Information, Contact:
China National Tourist Office, Toronto, 480 University Avenue, Suite 806 Toronto, Ontario, M5G 1V2, Canada, Tel: 416-599-6636, 1-866-599-6636, Fax: 416-599-6382, E-mail: cnto@tourismchina-ca.com;
China National Tourist Office, New York, 370 Lexington Ave. #912, New York, NY 10017 USA, Toll Free: 1-888-760-8218, Tel: 1-212-760-8218, Fax: 1-212-760-8809 Email: ny@cnto.org