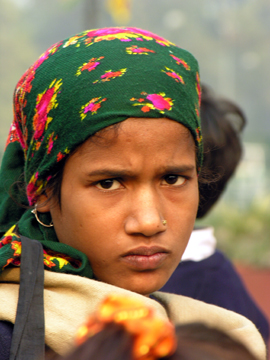 How on earth do you cover one billion people and more than five thousand years of history in one short article? I am afraid I won't be able to answer that question in regard to writing something about India. I can do no more than give you my week's worth of roaming about in northern India, a country which I found as diverse as it is huge and old.
Just to get primed for the speed at which life proceeds in much of this country, our train to Delhi arrived only six hours late. You simply can't complain about that. It could have been twelve hours, or worse, a day or two. By the way, for those of you who keep track of my whereabouts through these articles, I safely arrived in California a few weeks ago, but only now am I getting around to mentioning something about our rush through India. I hope that clears up some potential confusion and worried calls from family and friends, thinking that I escaped yet again to some distant corner of our planet.
My trusty uncle Waheed and I clambered off the train along with a several thousand other fellow travelers at one of Delhi's century old colonial style train stations. Evidently we looked different, maybe foreign or rich, than the throng of people on the platform, because a little boy of perhaps ten years of age latched on to us and demanded to shine our shoes. He spoke seamless English, somewhat accented but absolutely correct in grammar and enunciation. A sharp "No!" didn't faze him from soliciting his services, which he transports with him in a little wooden box filled with shine and brush and rags. Finally my uncle relented and let the boy shine his leather shoes. Although some corners seemed more polished than others, he did his job well and was rewarded with a whopping fifty rupees (about one US dollar), even though he asked for ten. As he skipped away happily I noticed a man following him right away; he had hung around near us for a while. We understood. He was going to use his fully grown muscle to wrest away the little boy's cash. Uncle Waheed and I quickly chased the man down and made it clear to him that he would have to get past us to get to that boy, so he relented and disappeared while the boy was long gone by now. Thankfully, most Indians are not very big people and not particularly violent and we succeeded in intimidating him. Something I wouldn't do in most other places.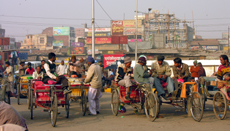 Out in the streets of Old Delhi rages total chaos. Throngs of people push past each other on narrow sidewalks. Streets are total battle fields with cars vying for the upper hand against smoke belching buses, trucks, rickshaws, and bicycle taxis. Two wheeled taxi carts hand pulled by wretched and skinny lower caste men have been outlawed in India as unusually cruel forms of employment. Bicycle versions have since taken over. I noticed that virtually every car, whether old or new, small or large, had long and deep scratches along its lower body panels. Then I noticed that all the rickshaws had bumpers and other metal armor bolted on their sides, which evidently scratched all other vehicles as they screech past them in thick traffic. It really is dangerous to lean even an elbow out of a car window. Divided traffic? Forget about that.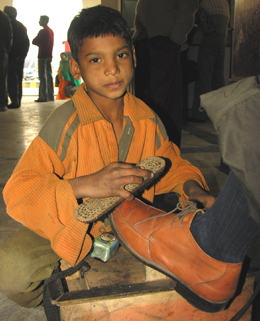 No one really tries to stick to one particular side of the road, unless it is physically divided, but even then renegade drivers will try to one up the rest of the traffic by going against the general flow. But somehow things do move and, no doubt, the quiet removal of the holy cows from the streets of both Old and New Delhi have contributed to a general speeding up of traffic. I don't know how removing these holy and untouchable animals, which are an unmistakable facet of virtually every Indian city and village, must have gone over with the more devout Hindus. Now I realize that those notorious immigrant Indian (and Pakistani) cab drivers of New York City are actually well civilized in their driving habits when compared to their training grounds here in the big cities of South Asia.
No matter if you are in spice scented Old Delhi with its convoluted streets and stalls and markets everywhere or the broad boulevarded and tree lined New Delhi, the caste system is difficult not to notice. This system of social stratification is millennia old and still thoroughly ingrained in Indian culture, despite recent effort by their government and others to establish a more egalitarian society. At the top of the caste system are the Brahmins, who are the priests, down to the professionals, the traders, the artisans, the laborers, the cultivators and on and on. At the very bottom toil the Dalit, the untouchables.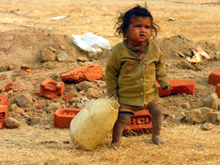 Through birth they are relegated to the lowest of all jobs, such as disposing of human and animal waste and other "polluting" tasks. These poor souls live completely separate from the rest of Indian society and suffer the worst of social restrictions. I saw many live out on the streets with literally nothing. They slept in droves along the trash lined fringes of roads, most of them out in the open. Only the lucky few were able to cobble together patches of tarp to make a tent. Uncle Waheed and I sat down once on one end of a long bench, where a destitute looking dalit already sat on the other end. Although several feet separated us, he started feeling uncomfortable and left within a minute to sit on the dirt behind the bench. Soon after he left, a well dressed young guy plopped down next to us and struck up a conversation in English. He, on the other hand, was a medical student and had no reason to feel uncomfortable because of his rank in this social hierarchy.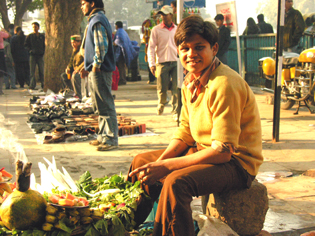 Of the many historical sites that I visited in Delhi, the Red Fort stands out as the only one from which I got kicked out. The entrance is a wide and tall set of steps on which many people just sit and gaze out on the old city. At the top are the mighty red sand stone walls of the fort and a gate at which entrance fees are paid. I didn't realize that they also charge an extra few hundred rupees for bringing a camera inside, something that seemed only sporadically enforced. Somehow my camera happened to catch the attention of one of the guards; he got on my case to pay for bringing it inside the fort, while literally dozens of people with cameras dangling from their necks walked past and stared at us arguing. I kept pointing at all the other cameras wandering in but he kept pointing at my camera and my rupees. Both of us remained stubborn. We came to no amiable agreement and I was pushed out of the gate, while some tourist photographed the whole scene after walking in with his camera. Fuming, I threw my shoes back on (no shoes allowed inside) but did it too early and accidentally walked on several feet of ground where no shoes are allowed. This only further incensed the guard and he followed me down the steps screaming Hindi expletives. Note to self: arbitrary fees are part of India as much as corruption is, so just be ready for that.
Otherwise, I found Indians like so many other Asians to be gently and friendly people, always ready to sell you something or just to show their heritage and cities off. They are also very easy to tease as uncle Waheed found out during his two years as a university student during the seventies. He recruited me to his favorite scheme which involved standing near a busy area, staring at an empty patch of wall or corner in absolute disbelief, muttering some holy sounding words and also pointing at that nondescript wall. Soon enough a crowd gathered around us to see what got us so mesmerized. They followed our pointing fingers to the blank wall and tried their hardest to see something there. Then out of the blue, uncle Waheed and I would take a "panicked" step backwards. The whole crowd followed suit and stepped back quickly to avoid whatever evil lurked in that empty corner. It never got old for us and kept us entertained on trains, museums, or where ever else we wanted a good laugh. Our victims usually joined in laughter or just shook their heads at us two lunatics and went on with their day.
North of Delhi, in the Indian state of Punjab, lies the teeming city of Amritsar, which we also had a chance to visit. Of most interest to me was the Golden Temple, the holiest religious shrine to the Sikh which is the predominant religion in Punjab. Unlike Hinduism with its multitude of deities, Sikhs believe in one God and follow a relatively simple teaching. Sikh men look unmistakable in their bright colored, tightly wrapped turbans and massive black beards. The most devout Sikh also carry a rather large and scary looking dagger hidden inside an ornamented and glittery sheath. It seemed as though most men at the Golden Temple carried one on their waist. Nevertheless, anyone, regardless of faith, is allowed to enter the blissful grounds. The entire temple itself is actually plated with gold on gilded copper panels and sits in the middle of a lake but accessible via a pedestrian bridge. Nowadays the lake has been surrounded on all four sides by white marble blocks and four massive gates connected by high white marble walls, behind which the hectic life of Amritsar continues.
But inside it literally is a sea of tranquility where I watched devout Sikhs prostrate themselves before the temple, take a purifying dip in the water, and wander the four lengths of marble walkways before entering the temple itself. Traditional tabla and sitar sounds wafted from within along with the scent of incense. A group of musicians sat and played in the very center right next to the original copy of the Guru Granth Sahib, the holy book of Sikhism. Truly an amazing place to relax at and just spend some time away from the streets watching people before we continue on through this teeming and ancient country.