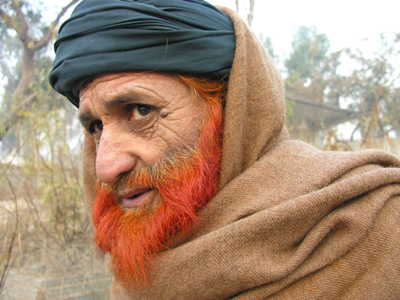 As soon as we stepped out of the shiny terminal of Lahore International Airport in Lahore, Pakistan, my uncle Waheed and I were overcome by the smell of kerosene. I thought at first that there must be a spill nearby, because it was so strong. Eventually we found our ride among all the cabbies and rickshaw drivers, who were jostling among themselves for customers. It was a twenty or thirty minute slog to get into the city from the airport. It was foggy. The headlights cast out long beams into the haze and other headlights appeared out of nowhere in front of us. At the entrance of the hotel I got out of the car and it still smelled like kerosene. Maybe our car had some problem. But it just wouldn't go away until we got inside our room. I opened the window and it was still there, along with the fog. I was too tired to figure out what was going on and dragged my jet lagged body into bed early. At 3 am I was awake and chipper again, courtesy of that jet lag, so I wandered the streets for a while. The smell of kerosene and fog still lingered around. When the sun rose blood red in the eastern sky a few hours later, I started putting things together. That stench is nothing but air pollution. That fog is a combination of winter haze and photochemical smog. So my first impression of Pakistan is that of foul air and a brown, haze choked sky. I hope that the rest of the country doesn't suffer from this, but I am not holding my breath. Definitely not my breath.
Once I taught myself to inhale shallow little breaths, through the nose as much as possible, I found it bearable to walk in the streets. My uncle Waheed, who I am accompanying on this trip, suggested that I don't do anything too physical and even skip extensive walking through the streets, something that I usually do a lot of, and I couldn't agree anymore. I even considered getting a dust mask or two, like some of the far eastern big city dwellers wear, but here in Pakistan that draws more curiosity than I really want to. But our hotel was located right in the middle of the busy "Liberty Mall" shopping district. For me that means a chance to taste all the delicious smelling foods being cooked outside in the stalls and in little restaurants. To Waheed that meant the horrors of exposing our weak western stomachs to all the viruses and bacteria hiding in the nooks and crannies of the stall food. I scoffed at his warnings, thinking that my guts are hardened by other African and Asian travels, but paid dearly for it by spending one of my first days in Pakistan with a nuked stomach and ruined appetite. At least the toilet bowl was spared a punishing spraying and dripping session or two.
Waheed had last come to Lahore in 1981 and according to him it had far less traffic and pollution. Right now crossing a road is a murderous affair. Unlike places like Vietnam or China, people here aim for pedestrians to scare them off the streets. Motorbikes scatter them around. Rickshaws that spew grimy blue smoke, force motorbikes into the fringes of the street. Cars play demolition derby with each other, it seems. Trucks and buses? Kings of the road. Among all this, then you have donkey carts slowing things down to donkey speeds along the roundabouts. The tinted Landcruisers honking wildly at the rickety wooden donkey carts in front of them, blocking the way. As long as I stayed more or less on the sidewalks, it was an enjoyable spectacle for me. Did I say sidewalk? I meant an off road obstacle course by that. As if broken concrete, uneven steps, random ramps weren't enough, I stumbled into loose rebar, mounds of soil piled for removal, the quick broom sweeps of the cleaning men. And then there are the ashes from the previous night's fires that some of the stall sellers lit to keep themselves warm. I even stumbled into the cots of stall sellers, who sleep on them next to their little stalls to make sure they won't get stolen overnight. Like in so many other cities in Asia and beyond, a certain amount of living life seems to happen right on the street. Men's lives at least. This is a Muslim country and, although there are plenty of women on the streets, it is men, who do most of the trading and selling. In fact, I can't remember any store or business place manned by a woman. Or is it womanned by a woman?
Waheed says that Lahore is the "Paris of Pakistan". It has fashionable western style shopping districts, wide boulevards with flower lined center dividers. Big Roundabouts with monuments or fountains in the middle. Smog encrusted monuments that witness merciless traffic daily. Even women can afford to bare body parts that would be unthinkable in rural Pakistan. They flock together and roam the streets in search of good deals to maintain their households and feed their families. Dogs roam the streets, too. Pathetic, disease ridden street dogs that mate with each other in an unchecked fashion. Here I saw a little reverse evolution: man spent millennia squeezing hundreds of specialized dog breeds out of the original wolves or wolf looking wild dogs. Now all these once specialized dog breeds are mating their way slowly back to those wily wolf/coyote looking things.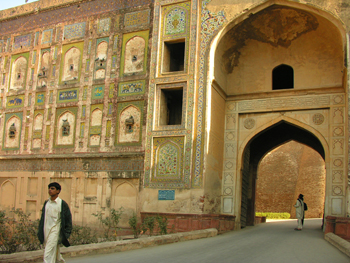 Some of the business Waheed had to do in Lahore involved visiting some merchant class people in their homes and how different that was! We got picked up by a driver in a shiny new Toyota and driven up to a big black steel gate with spikes jutting out the top. A gate keeper pulled them open and we drove into a large driveway with a large garden, all hidden away by the gate and high brick walls, securely out of view and reach of any one else outside. Tucked behind trees was a huge, beautiful new brick house. Red brick laid in a herring bone pattern. A new Mitsubishi SUV and a new Corolla parked in the car port. A couple of older boys, presumably gardeners or servants, peeked out from a walkway then came out and looked. I am sure they were hired hands; they just looked it. If we like it or not, hiring children to do housework is a fact in places like Pakistan. Inside was all gleaming marble and designer furniture that the owner told us came from this and that European country. Artwork from this and that place. Eight bedrooms and quite a few servants. While we sat in the living room drinking hot sweet black tea, English style with milk, the servants brought in cart after cart with delicacies and sweets.
Then a huge lunch right on the massive couch. But where were the women of the house? All the men and boys were there, but no women. The occasional girlish giggle from some back room hinted that the fairer ones must be in the back somewhere. Then our kind host actually took us to the back room to meet his elderly mother. That back room was another living room as luxurious as the front one, only it was reserved for the women. The old lady sat on a couch, reached for my head, gently covered my ears with her old hands and kissed the top of my head. She did the same with Waheed. Very interesting, women may have their separate quarters but are not completely forbidden to interact with strange men. Old women at least.
So this is the life of a rich Pakistani businessman. In complete contrast to the polio cripples here and there on the streets of Lahore, who beg for a living. Some have legs so distorted by the disease that they sit in little carts and put sandals on their hands, so they can pull themselves along the streets to beg. Others have arms that are crippled, and yet others with both, crippled arms and legs. They sit there, trying to stay out of the hazy orange sunshine and scrape together a few rupees. People are quite merciful and give them coins. Even the Kalashnikov wielding security forces don't bother them.
Which brings me to the issue of security in Pakistan: there is private security armed with rifles and automatic weapons where ever people gather in large numbers. Conflicts going on here and in the world at large have caused this militarization of the country, but the mood still seems festive out in the streets. Life goes on, attacks or not. It has been relatively quiet lately, and hopefully will stay that way in Pakistan. They are a gracious and hospitable people and most of them speak some form of English, a vestige of British imperialism in India. Just to refresh memories, Pakistan was part of India until the partition of 1947, when India won independence from the UK. Then in 1971 East Pakistan became independent from Pakistan and changed its name to Bangladesh. India/Pakistan politics is a highly contentious issue in both countries and I already have some interesting observations about the behavior of each toward the other. Next on tap is a trip to Peshawar in Pakistan's Northwest Frontier, the tribal lands that spill into Afghanistan. And maybe even from the famed Khyber Pass. But security comes first.