A stay on a private island in the middle of the Maldives can make the rest of the world seem mundane, pedestrian in comparison. Such is the case of Roxy Maldives Resort (formerly Zitahli Resort & Spa Kuda-Funafaru) on its own private island in the heart of the Noonu Atoll, accessible via a 50 minute seaplane ride from Male (the capital city of the Maldives).

The "welcome pier" at Roxy Maldives

"Remote" Maldivian resorts such as these simply did not exist 15-20 years ago. Most of the resorts were clustered around the capital of Male – accessible at the most by a several hour high speed boat ride. Then commercial seaplane companies arrived and started offering daily flights and it became feasible to build resorts much further away.
There are two commercial seaplane companies in the Maldives: Maldivian Air Taxi (red & white livery) and Trans Maldivian Airways (blue and yellow livery). These companies are Danish and Canadian owned – many of the pilots are from these countries. They pilot either barefoot or in flip flops. What a lifestyle! The flight to Roxy Maldives Resort is in a 19 seater "Twin Otter" Maldivian Air Taxi seaplane.
Roxy Maldives Resort operates an exclusive lounge where the seaplanes depart from (short bus ride from the main International terminal). You can relax here before takeoff. After heading into the clouds from a quick ocean takeoff we found some clear skies and saw absolutely stunning "pearl" shaped islands below us – these islands broke up the deep blue waters with their sandy beaches, green vegetation and aquamarine water on the surrounding coral reefs. We quickly dropped from the sky and circled Roxy Maldives Resort. The island runs lengthwise with a number of water villas protruding from the sparkling white beach. We were with a number of other foreigners in the plane and despite the obvious language barriers there was no mistaking the sounds of amazement as we gently dropped onto the water.
Walkway leading to the Aqua Villas
The staff is part of what makes a stay at Roxy Maldives Resort memorable. From the moment we stepped out of the plane we were met by a very welcoming reception; after a refreshing drink we were quickly whisked away to our Super Deluxe Aqua Villa in one of their golf carts. There are 50 villas of which 30 are spread out over water. The Super Deluxe Aqua Villa boasts a private pool built into the deck and from the edge one walks a few steps down and is quickly immersed in the clear inviting waters.
Smells can define a trip – smells that you haven't smelled in a while but carry with you from childhood. Take for instance the dusty smell of slate rock, cooled by the water in the open air shower or the inviting aromas of toasted cedar after you lay your clothes out on the deck to dry in the bright Maldivian sunshine.
Then there are the views, all of them are visually impressive, completed in their perfection when you have sunny skies. This is a special place and one almost doesn't want to do anything except absorb the brilliant colors both above and below water.
Enjoy a light breeze at night from the outdoor shower and look up at the stars blazing above, more extreme in their brightness because of the island's remote location. Or during the day from your water villa you might see a small shark wandering through, the black tip piercing the aquamarine waters.
The resorts in the Maldives are experts at perfecting luxurious experiences in such remote locations. Small island resorts have to be fairly self sustaining. All water is filtered directly from the ocean using a desalination process. Supplies are brought in once a week by ship and the sizeable staff lives full time on the island.
There are a number of important factors to consider when one plans a trip to a Maldives resort.

What Matters Most
The size of the island – at merely 700 meters long by 250 meters wide you won't get lost here! It is small but certainly not cramped. The fairly small number of villas in proportion to the size of the island have a lot to do with this. Still, golf carts are available 24/7 should you require a ride.
Unparalleled view from Super Deluxe Aqua Villa
Number of villas – there are 50 villas on the island (Deluxe Beach Villa, Deluxe Aqua Villa, Super Deluxe Beach Villa, Super Deluxe Aqua Villa & the Roxy Suite). With that said, 30 of these villas are not even on land but are built over water. During our stay occupancy was over 80% but during the day we saw very few people. Other than meals you don't really see that many people.
Lagoon – the waters of the lagoon are the quintessential colors when you think of the Maldives, vivid blues and greens. Pure soft, white sand beaches overlook shallow waters. This is a prime spot for swimming.
Closeness of the reef – the "house" reef is located on the backside of the island. Within minutes of walking anywhere on the island you can be at the edge of this reef. A short swim or walk out will bring you to live coral and colorful sea life. The water is shallow here, even during high tide and is easily accessible.
Privacy – Some resorts in the Maldives build their water villas right next to each other. You might as well be staying in a condo somewhere. Not so with Roxy Maldives Resort – their Aqua Villas are spaced 12-15 meters apart and each Beach Villa is surrounded by vegetation; privacy is paramount here.
Service – Roxy Maldives Resort service is impeccable. The staff are both local and International and are available 24/7. They also speak a number of different languages. The staff takes the time to get to know you and when you leave the island, you feel like you are leaving friends or family. Little touches add up. The day I arrived at the resort I celebrated a birthday – I didn't tell anyone other than filling out the "check-in" form at reception. That night a chocolate covered cake appeared in our Super Deluxe Aqua Villa while we were at dinner.

Resort Activities
The water sports center is located right next to the dive shop and offers a number of courses including windsurfing, kite surfing, catamaran sailing as well as other rentals.
How to get to Roxy Maldives Resort – use Maldivian Air Taxi
Diving – the well-regarded Werner Lau operates a dive shop on the island. Within about 30 minutes you can be in prime diving conditions and or experiencing wall dives. Because there are only two resorts in this entire atoll the dive spots are little visited and the reefs are seldom explored.
Snorkeling – the "house" reef is the closest snorkeling location to the island; it is located on the "back" side, just a several minute walk from anywhere on the island. Boat trips can take you to a number of other nearby snorkeling spots.
Fishing – Line fishing is one of the most popular activities during a stay here. Your trip will take place on a traditional wooden Maldivian boat called a Dhoni. You do not need to be an expert at fishing here – drop in a line with a large hook and a piece of fish as bait and wait for the strike. The "strike" is usually a quick yet soft tug on the line (even the larger fish may at first feel small). We pulled in fish that were several kilo's each. The "best" ones were saved to be prepared as sashimi by the executive chef at the resort's signature restaurant, Mosaic.
Spa – while your vacation may be relaxing it will only become more so after a visit to the Roxy Spa. This wellness center is marked merely by the word "spa" carved on a tree branch in front. The therapists are Indonesian and a Balinese massage is a highlight of a visit here. A surprising number of massages and treatments are offered. Couples have their own private rooms as well as outdoor showers.
Cruises – Roxy Maldives Resort offers a sunset Dolphin Cruise and on special nights when the weather is ideal, a "moonlight cruise" – complimented with a full or nearly full moon.
Aerial view of the Roxy Maldives Island & neighboring island

Visiting local Village – the closest island to Roxy Maldives Resort is Kudafari which has been reported to have been inhabited for over 600 years. Today approximately 750 people live on the island although a number of them work on other islands so it may appear quite empty during a daytime visit. You can see a number of older homes with walls built entirely from coral (use of coral for building materials is no longer allowed). Rain water used to be the only source of freshwater but today the island also uses desalination. The roads here are all packed sand – there are no cars and people get around by foot or bicycle.
Private dinner – this is truly a romantic highlight of a stay here. How often can one find such delicious food on such a small island! It's amazing as well that this type of luxury exists in such a remote location. We enjoyed an intimate candle-lit 5-course dinner on the beach. You are picked up at your villa and the location of the dinner remains a secret until you arrive at your table! This dinner was arranged a day in advance by selecting specially prepared dishes from a number of menu's including a Gazpacho Trio, Grilled Reef Lobster and a local Rainbow Fish. The dinner was complemented with a full International wine list and private staff.
Fitness Center – a small yet fully equipped gym has a number of exercise machines. An astro turf tennis court is next door.
Wedding Vow Renewals – for romantic destinations the Maldives are hard to beat. Couples often renew their wedding vows on the beach. Roxy offers a full wedding vow renewal package.
Do Nothing – you've probably had to travel quite some distance to reach Roxy Maldives Resort including a number of flights. In our opinion this is the ideal and most relaxing option, especially at the start of your vacation. You need some time to unwind and absorb the natural beauty of the island. Grab a book from the small International library and simply relax on the deck of your Aqua Villa or in the privacy of your Beach Villa.

Dining
Mosaic is the "signature" restaurant at Roxy Maldives Resort. Each day we popped in for lunch and ordered a Brazilian Capiranha to go with the food. I fell in love with this drink after visiting Brazil in 09′ and purposely seek it out when there is a bar at hand. Needless to say, seafood is a big part of the menu and it's not often you can catch your own fish, fresh from the ocean the day before and have the chef at a superb restaurant prepare it as your lunch. The results of our fishing trip were enjoyed as an "all raw" lunch with sashimi and a delicately prepared ceviche.
Excellent Salad Nicoise at Roxy's signature restaurant, Mosaic
Breeze is the "go to" restaurant on the island. An a la carte menu is available all day with semi buffet International cuisines available at certain times (breakfast, lunch and dinner). There is always a wide selection of items available here. Seating is indoors (open air) or outdoors closer to the beach.

Male'
This city is intriguing not only for its population density on such a small island (only about 2.6 square kilometers) but also for its historical background. It is one of the most densely packed tiny islands in the world (lots of high rises). With all the weight of the buildings in such a small area you would think that perhaps the island is slowly sinking. Maybe not, the rising sea may be more of a threat. It is interesting to note that the Maldives have the lowest high-point of any country in the world at only 2.3 meters above sea level (this point is actually on an uninhabited island). There are nearly 1200 islands and 27 atolls (groups of islands) in the country.
The boat ride from the airport island (Hulhule) is about 10 minutes and from there anything on the island is well within walking distance.
A highlight is the National Museum. As expected many of their historical artifacts are made from coral. What is not expected are many of these artifacts are Buddha heads or other items relating to Buddhism. The Maldives are a Muslim country and have been for 850+ years and it is interesting to see the locals especially the women covered from head to toe looking at artifacts from a religion that no longer has its roots in the country that it once did.
Other places worth visiting include the Hukuru Miskiiy or "Friday Mosque" (the first mosque on the island, built in 1656) which is made entirely of coral and is now protected by a metal roof, the grand Masjidul Sultan Mohammad Thakurufaanu al A'zam mosque (holds up to 5000 people), the Presidential Palace, Sultan Park, a 'local market' which includes tropical fruit and vegetables and the Fish Market.

How to Get Here
Despite the country's relative isolation there are a number of airlines offering flights to Male International Airport. Commercial airlines offer service from Europe, the Middle East and Asia. The hub for European flights is London, the Middle East is Dubai and there are a number of nonstop flights from Asia including Sri Lanka, Thailand, Singapore and Malaysia.
There are plenty of reasons to visit the Maldives and a private resort such as Roxy, but most of all you come here for the unique experience; the remoteness of the island, the exceptional staff, the 5-star experience and what the Maldives are known for – their unparalleled natural beauty.
Roxy Maldives Resort opened a second resort in July 2011, the Zitahli Resort & Spa Dholhiyadhoo, located 50 minutes by seaplane in the Shaviyani Atoll, North of Male. For more information and reservations for Roxy Maldives Resort, visit: http://roxy-maldives-resort.themaldiveshotels.com/en/
The official Travel Guide of the Maldives is: www.visitmaldives.com
The quintessential Maldivian water color
Pre Balinese massage drinks at the Roxy spa
View of the lagoon created by the Aqua Villas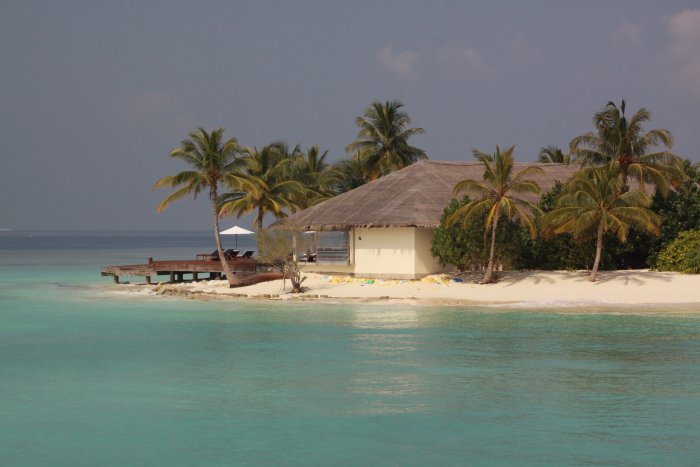 Looking back at the island from Super Deluxe Aqua Villa
Enjoying house water and a Brazilian Capirinha drink, poolside at the Mosaic restaurant
View of lagoon from near Breeze Restaurant