Shanghai is among the world's largest cities by population. Two airports serve this major metropolis: Hongqiao International Airport (more domestic flights) and Pudong International. The metro connects both airports to the center of town and outlying suburbs. The fastest train in the world, the Maglev connects Pudong Airport to the metro system. Air pollution is certainly a problem here – during the Shanghai Expo in 2010 factories were shut down and as a result the air quality improved dramatically…for a time, until the Expo finished. travel insurance
We recently spent a few days exploring the city, from the Bund & the Bull to a number of other attractions. A few places we visited are highlighted here:
Attractions
The Bund can be insanely crowded at times and is often the first attraction mentioned in the same breath when talking about Shanghai. This long walkway runs along the edge of the Huangpu Rive and affords one excellent views of downtown and some of the old colonial style buildings. This is also home to the "Bund or Shanghai Bull" a behemoth of copper that appears about to charge up the steps to the top of the Bund Walkway. Arturo Di Modica, the designer of NY's Wall Street Bull also designed this one – it was actually built in Wyoming, USA.
Nanjing Road's Pedestrian section is Shanghai's longest largest shopping complex (closed to cars) but you often see motorbikes weaving through the pedestrians as well as a small train that carries people up and down this street. The fancier the shops, the closer to the Bund they will be located. Try to avoid anyone who walks up to you in this section making offers or trying to sell you things.
Shanghai Financial Center contains the world's highest observatory (located downtown). The building is nearly 500 meters tall with an elevator that rockets you up to about 440 meters in just over 60 seconds. Exit Metro stop Line 2, Lu Jia Zui (exit number 4) – the cost of admission to the highest (100th) floor is 150 Yuan. There are two observatories – one at the 94th floor and one at the 100th floor. Both afford spectacular views of skyscrapers in all directions including the nearby famous Jin Mao Tower and Oriental Pearl Tower. Shanghai is a major International financial player and this building is one of the city's proudest accomplishments.
Visitor's walk through a patriotic presentation highlighting Shanghai versus NYC and Tokyo on the first floor. The amount of window glass used in this building is equal to a quarter of Japan's entire output in a year. 91 elevators are in the building – the foundation goes into the earth about 250 feet…you can learn more about these and other fun facts from the displays along the Sky Walk on the 97th floor!
Shanghai Museum contains a vast collection of China of items (nearly 1 million pieces) including historical and cultural antiquities as well as art. This museum is free of charge to the public and is located within a short walking distance of the People's Square stop on Metro Line #2. Galleries are organized by 21 categories of items spanning 4 floors including ceramics, coins, furniture, ethnic artifacts, paintings and calligraphy. Visit: www.shanghaimuseum.net
Shanghai Science & Technology Center even has its own Metro stop named after it (Line 2). This huge complex can be overwhelming at times as exhibits are large and fairly extensive. Highlights include displays on robotics, space navigation, and human & health. Another highlight are the IMAX 3d and 4d movies although at times they may only be shown in Chinese.
Yuyuan Garden meaning "happy garden" is well worth visiting; it is bucolic place of calm and serenity among the chaos of Shanghai's traffic and nearby busy Yuyuan Market along Fangbin Road. Peaceful gardens, narrow walkways, wooden buildings and ponds are part of the attraction here. This 5-acre garden dates from several hundred years ago to the Ming Dynasty. Take Metro Line 10 and get off at the Yuyuan Garden.
Tian Zi Fang District is one of the most popular shopping and districts in all of Shanghai – especially among tourists. Its boutique shops, art galleries, and restaurants situated among the maze of charming narrow walking streets are a hub for photography. Note the restaurants are rather pricy and are somewhat touristy.
Metro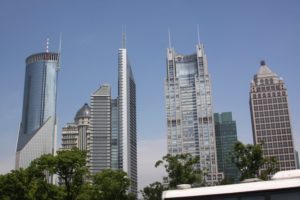 The Shanghai metro is the longest in world in terms of amount of track used; it encompasses 11 lines serving much of the greater Shanghai area and about 5 million passengers daily. We used a number of the lines both on the weekend and the weekdays and in our experience it was rather rare to actually be able to sit down on one of the orange seats. Rush hour sees large increases in ridership – the morning and late afternoon. Stations where the metro lines intersect can also be insanely crowded especially the largest one of People's Square – where masses of people move quickly passing other masses of people moving in the opposite directions. Automatic touch-screen ticket machines (in both English and Chinese) are located at every metro stop (before you pass through security).
Shanghai's metro also goes deep into the ground – the deepest we saw noted was 16 meters.
The Maglev Train connects from the metro to Shanghai's Pudong International airport. We were told this journey with bad traffic used to take up to 2 hours! This super high speed levitated train (by magnets) runs on air above the track and reaches speeds slightly above 430km/hour on its approximately 8 minute run from its Metro stop to Pudong International airport. When it turns – it really banks and the entire train sways to one side. The experience is fast – no seat belts required! The entrance for the Maglev station is outside the intersections of Line 2 and Line 7 on the metro. Visit: www.smtdc.com/en
Final Thoughts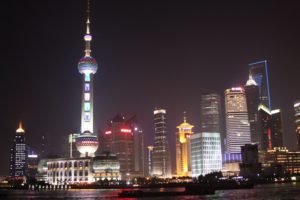 A couple of good apps that will help during your time in Shanghai are the "SH Metro" (search for "rGuide" – map and as well as a route finder) and "My Chinese" which includes a number of helpful phrases based on situation.
Note the green image of someone walking that shows up at cross walks – if you follow this image and start blindly walking you are putting your health at extreme risk. Never have we been in a city where an invite to start walking across a cross walk is so dangerous.
This image is almost like a free pass for motorists to try and attack pedestrians. Short story is this green image means absolutely nothing. If anything even more cars are allowed to pass when it shows up.
Restaurants in and around the main tourist areas have much higher prices than say where the locals eat. After trying a few Chinese restaurants in the tourist areas we found much better food at small
"hole-in-the-wall" restaurants further from the tourist areas.
ATM's are widely available throughout the downtown and tourist areas.
There are a number of taxi company's operating in the city – the most reputable one we were told are the light blue /turquoise colored vehicles.