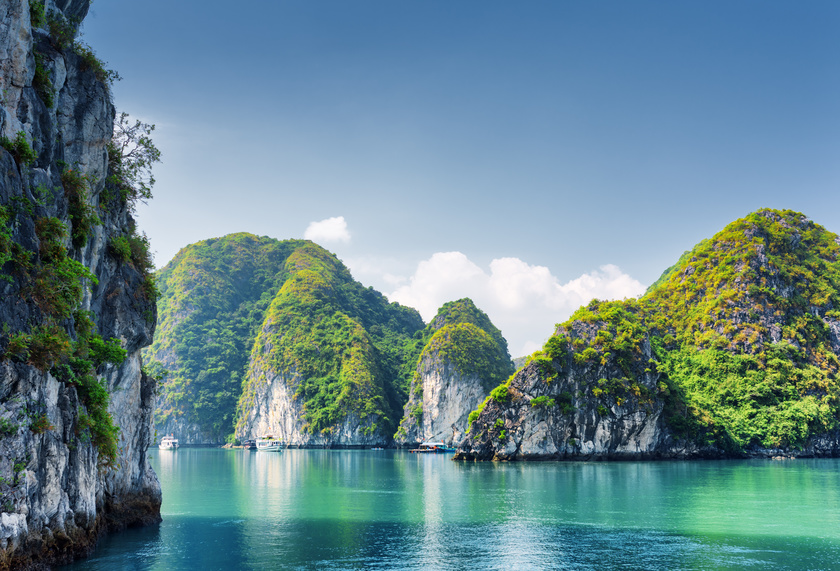 Like Scotland's Loch Ness Monster, Vietnam has its very own sea serpent legend-one which resembles a prehistoric escapee from "Here There Be Dragons" on the edges of Age of Exploration mappa mundi. Trapped in lovely Ha Long Bay ("Where the Dragon Descends into the Sea"), "The Tarasque" is not only a version of Nessie but purportedly just as camera-shy.
Featured in the 1997 James Bond film "Tomorrow Never Knows," Ha Long Bay is now a UNESCO World Heritage Site. Reminiscent of Guilin (China) and Krabi (Thailand), Vietnam's karst-studded dreamscape in the Gulf of Tonkin remains its number-one tourist draw, while capitalist foreigners purportedly "smelling of dairy products" hear supersonic roars affecting their equilibriums: airplanes or dinosaurs?
Named after a similar beast who swam upriver into the present-day French town of Tarascon (lulled into complacency by St. Martha, then clubbed to death by villagers), Vietnam's Tarasque is a six-legged, ox-bodied, turtle-shelled, scorpion-tailed, lion-faced demon dino serpent.
The wily skipper of an Indochinese junk swears, over an onboard dinner of freshly caught grilled squid, that he sees The Tarasque from time to time, even though many believe that the so-called sea serpent is in fact only a nuclear spy submarine!
Also a Dungeons & Dragons character, the terrifying Tarasque feels right at home idling among over 3,000 islands, with 1,969 limestone karst monoliths wearing jungle-vegetation wigs—some with enormous caves featuring stalactites (down) and stalagmites (up), as well as antique 19th-century French graffiti.
One of the largest caves, Hang Dau Go (Wooden Stakes Cave), originally dubbed by the French as "Grotto des Merveilles," resembles a nuclear-bomb fall-out shelter, but with bats. Apropos of something, an old Viet Minh veteran remarks with vampiric elan, "Sauvage!"
(NOTE: The Old Darling Cafe, 4 Hang Quat Street, in Hanoi, offers a two-day tour of Ha Long Bay for roughly $25.)
Bio
John M. Edwards has traveled world wide (five continents plus), with stunts ranging from surviving a ferry sinking off Siam to being stuck in a military coup in Fiji. After graduating from Tulane University, he worked as an editor at Pocket Books and as a copy editor at Emerging Markets, which covered World Bank annual meetings abroad.