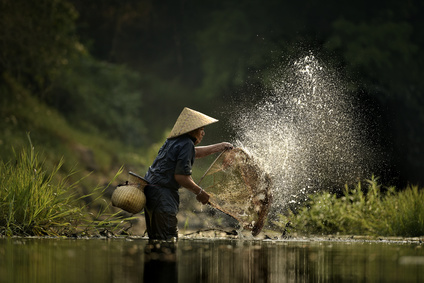 Saigon, Dec. 14, 2004
Director Francis Ford Coppola's 'Apocalypse Now' is a movie about the Vietnam War. Nowadays it is also a swanky bar in the heart of modern Saigon, Vietnam. I have yet to visit it, after having arrived in Saigon today from Hanoi, but I have heard that it enjoys a locally notorious reputation for fast cars, fast drugs, and fast women. It might be wiser to start with the tamer entertainment establishments of this utterly amazing city.
At my current state of affairs I can't imagine anything more meaningful than to travel and live out my horizon struck dreams sooner rather than later. So, this time my wanderlust took my friend Jimmy and me to the unbelievably beautiful Vietnam. We were joined by Jimmy's longtime friend Toni to complete a deadly trio of traveling veterans. We didn't encounter a war weary population suspicious of foreigners and especially suspicious of Americans. We encountered a smiling and friendly population, most of whom were born after the war ended and with no memories of those dreadful days. We walked along fertile rice paddies and not around old bomb craters filled with water. These people have moved on from the past and I am very relieved and happy to see this. Now I see increasing privatization of industry and an increasing free market economy, both anathemas to the communist party which fought for thirty years to prevent exactly this. Although far from being a democratic country, Vietnam has made strides in opening up and easing restriction and austerity on its citizens.
Hanoi, the nation's capital, is absolutely overwhelmed by throngs of honking motorbikes spilling from its narrow streets onto gutters and sidewalks. Once ruled by bicycles, these inexpensive little mopeds from Korea, China, and Japan are must have property for the average Vietnamese. Which is a good thing because with all these people owning cars, even small ones, the traffic gridlock would become hopeless. It's breathtaking to watch these masses of mopeds make their way through the many narrow streets in the most fluid of manner, kind of like red blood cells moving smoothly and orderly through capillaries. No collisions (ok, I did see a bunch of cabbage and green onions spilled on a street due to an apparent collision between two farmers on mopeds), no road rage, no excessive speeding. It somehow works. If the mopeds are the blood cells, then the trucks, buses, and cars are the big globs of fat which they gracefully work their way around. The only thing that doesn't jive with this blood analogy is the honking. By the Almighty, I swear that Vietnamese children are born with one hand tightly glued to the horn of their vehicle. It's incessant and everybody does it. On some intersections it reaches ludicrous levels, as everyone announces their arrival with a whack on the horn button. In one taxi we rode in, I noticed the middle of the steering wheel was worn out from so much honking.
Where do the mopeds take you? To unbelievable markets and shopping, of course! You find practically everything in outdoor markets imported mostly from China, made locally or from Korea and Japan. You also find practically everything to be a knockoff from a high priced western brand. For example, I forgot my watch at home, so I bought a "Rolex" for a whopping US$5. My old pair of thongs gave out, so I replaced them with a new pair of US$1 "Reeboks". My "Ralph Lauren" silk polo shirt cost me under US$5. The list could go on, as it is very tempting to pile all the stuff on, but my little backpack will burst if I go overboard with the bargaining and haggling. My Morocco experience earlier this year honed my negotiating skills with the merchants here and I felt quite at home with the theatrical gesturing and insults hurled in a language I cannot understand at all. Ah, what relief when we finally do agree on a price after repeated rejections.
This country is blessed with an abundance of rice paddies, vegetable fields, animals and the sea, all of which make Vietnam one of the great culinary adventures in the world. I don't believe there is a single indigenous animal that the Vietnamese don't eat. It seems to be simply ingrained in their culture. Noodle soup became our staple, as it is dirt cheap, can be ordered with just about any topping, and can be found virtually everywhere. Almost every street corner has some sort of outdoor kitchen, which is usually nothing more than a portable stove, some low tables and little plastic or bamboo stools, a stack of vegetables, meats, noodles, and a enthusiastic family to cook, clean, serve, and pull in customers walking past. These little sidewalk kitchens have served us breakfast, lunch, and dinner ever since we have been here. Some of the more adventurous meats we tried include dog. Yes I admit it, I ate dog; although I won't eat it again (I couldn't stop thinking of our family dog while chewing), it was something that Jimmy, Toni, and I had heard too much about to avoid. It tasted surprisingly like beef and had the texture of beef, but with a peculiar flavor that I simply can't describe. Maybe dog breath? A little tamer are fertilized duck eggs a few days before they hatch. Served hard boiled they contain a little yolk, a little white, and a very cooked duck embryo. They are very popular as snacks. Right out conventional was all the amazing seafood that ranged from lobster to fish to shrimp, oysters, and squid. On one boat we got served some live shrimp that you simply pull the head off, dip in soy sauce with wasabi and just eat alive. It was quite good I thought.
With easing restrictions, tour agencies have popped up everywhere in Hanoi, Saigon, and many smaller towns that sell all kinds of bus, train, boat and private taxi tickets along with accommodations. So we found it very easy, in fact too easy, to get around virtually anywhere we wanted. High on our priority list was Halong Bay in the Gulf of Tonkin. I had seen photos of the bay and knew that it was studded with over two thousand islands and islets. These are the remaining tips of a slowly sinking limestone mountain range. From all the images I had seen I held very high expectations for this bay and they were exceeded far and away by the real thing. Our diesel powered junk (a Chinese word for a traditional wooden Asian sail boat) pushed its way slowly out of the jam packed dock, where boat was piled upon boat and you could hear the wooden hulls creaking and crunching into each other. For a while we sailed out into the hazy and muggy openness of the Tonkin Gulf. Then, ever so etherally did the steep limestone islands appear out of the blue haze. I saw a canvas of island layered upon island, so unimaginably beautiful that I fooled myself into believing that I was staring at a fantasy painting. As we got closer, the sugarloaf shaped islands revealed razor sharp limestone spires and dense vegetation on the crowns and where it could grow on the vertical sides. Some islands were piled so densely that we could only get to them by kayak and sometimes a hole in the stone revealed a deep green lagoon on the other end. Floating fishing villages were anchored in some of the protected waters, where people lived on floating docks and bamboo huts and made their living by fishing and oyster cultivation. They then traded the bounty of the sea with all the visiting boats. I find it hard to believe that in this world today you can find people living on water, completely self sufficient and so untouched by the rest of the world.
After a few days of having the privilege to experience this little slice of paradise called Halong Bay, we returned to the now familiar and friendly Hanoi to take a train to the northern border with China. Lao Cai, the last train station before China, was our destination. It was really nothing more than a noisy transportation hub for all the merchant traffic to and from China, but for us it was the gateway to the mountain villages and the mountain tribes of Sapa. We had found another little slice of heaven, this time in the form of terraced rice paddies, banana trees, indigo plants, marijuana groves, bamboo forests, topped by pine forests and finally by the lofty snow sprinkled heights of the Fansipan Mountain range. Water buffalo and the Hmong people call this area home and together, they have developed an amazing rice farming culture along these steep slopes. Wildly enthusiastic Hmong girls offered to guide us around their villages, which we gladly did. It gave us a little view into their lives. More wildly enthusiastic were all the nonguiding women about selling their handicrafts, which included embroidered blankets, shirts, bags, pants, and anything imaginable that you can somehow wear. The youngest were girls about the age of three or four all the way to women too old to assign an age to. The oldest of them chased us up the steepest, rockiest slopes and ran ahead down the hills only to greet us over and over again with their wares. Never have I seen sales people like this.
With this utterly compressed report I am not doing Vietnam any justice, but it might give you an idea that this is not the land so pigeon holed by war movies and tight fisted communism. I found it a land full of exceedingly friendly and open people and an invincible enterprising spirit. We have since continued to the old imperial capital of Hue, but I will have to get to that later, as I need some sleep from all the raucousness here in Saigon.