"Noble deeds and hot baths are the best cures for depression."
― 
While Scandinavians are famed for their saunas, Turks proudly boast of their hammams. These are essentially the middle eastern relatives of the dry Nordic saunas, with a focus on steam baths and full body scrubs. Venture into any Turkish city and you are bound to stumble across a myriad of bathhouses scattered throughout town. Hammams have always carried a certain mystique for westerners, from older orientalist depictions of bathhouses as places of wanton sexual practices to modern romanticized ideas of spiritual transcendence. For Turks, however, the practice has less to do with metaphysical experiences and is more about relaxing the body and the mind. They go to simply unwind and emancipate themselves from life's stresses.
I am here as part of a tour with Flo Tours, a tour operator offering customized small group tours to Turkey as well as other central Asian regions.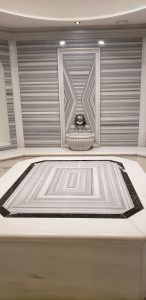 The hammam is an ancient tradition that dates back to at least Greco-Roman times, and likely even older. While many middle eastern and north African countries have some sort of variant, it is probably most associated in the West with the Turkish practice. Bathhouses are strictly gender-segregated – either with completely separate parts of the building or with separate hours for each gender. A typical hammam will have multiple rooms of varying temperatures, from relatively warm to roasting hot. Moving from room to room as your body adapts to the ambient temperature is key to making the most of your hammam experience. Massages and body scrubs are also commonly offered.
For many, this is a social experience: a place to socialize and connect with the community, to catch up on the latest gossip or politics. Here, people keep a finger on the pulse of daily life – not dissimilar from the American barbershop in that regard. There is also a subtle Islamic religious element to it. While mosques always offer a place for ablution (a ritual cleansing before prayer), hammams are sometimes used as an alternative location. Which explains why bathhouses are often found near houses of worship. A quick trip to the hammam followed by mid-day prayer at the local mosque purifies both the body and the spirit.
Hammams reached the zenith of their popularity during Ottoman times when the capital of Constantinople teemed with hundreds of them. Every major intersection seemed to offer a plethora of options. Even today, there are dozens of hammams scattered throughout the city. Some are centuries old and were built to serve the city's nobility. If you find yourself in Istanbul, one particularly famous one today is the Ayasofya Hürrem Sultan Hammam, right in the heart of the old city. In addition, most high-end hotels will also offer a combination of hammam + western-style spa. But if you really want to check out a unique and special one, go see the sultan's bathhouse inside the harem at Topkapi Palace. Back in the olden days, access here was restricted to only the sultan himself along with his concubines. In more recent times, after the end of the sultanate, it fell into a state of shoddy disrepair. Fortunately, years of meticulous restoration have led to its recent re-opening for public viewing in early 2019. Don't get any ideas – this is a museum only and you can't bathe here!
And what's the best way to top off an hour of relaxation and 'me-time' at the hammam? With some apple tea and a piping hot plate of freshly baked künefe, of course! This traditional dish is as classic a Turkish dessert as it gets. It is carefully prepared from sweetened dough and melted cheese, topped with butter or cream and sprinkled with finely ground pistachio. The magic is to serve it burning hot, straight from the oven and directly the plate. You'll have to be patient though – at this point, it's far too hot to taste. Best to just sit back and focus on your tea even as the sweet and exotic aromas beckon you to dig in. Trust me, spare yourself the burn to the roof of your mouth and just wait for the künefe to assume a more reasonable temperature! But once you bite into it, the buttery and smooth flavors of the pistachio paired with cool buttercream overwhelm the senses. If there is a heaven, it'll certainly be found in a plate of künefe. For me, this is one of my favorite dessert dishes and the perfect ending to a relaxing Turkish bath experience. Hope to see you at the next hammam.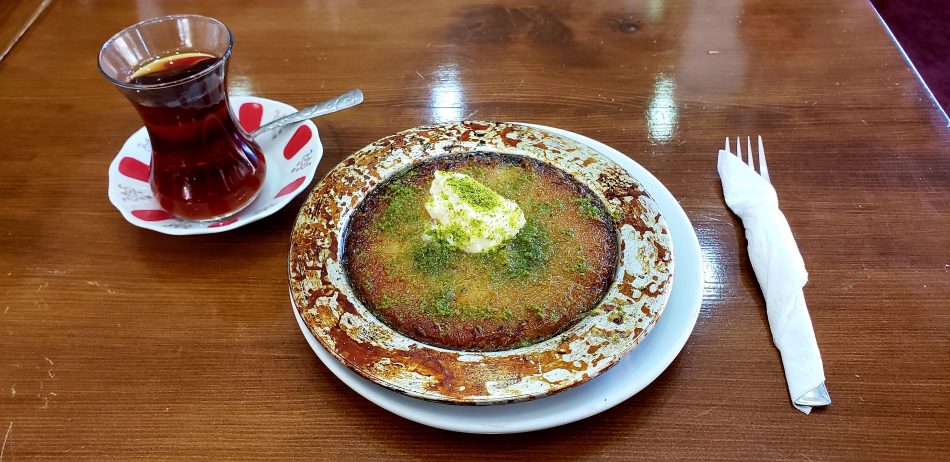 Special thanks to FloTours for organizing and sponsoring this visit, and for providing a top notch local travel guide. I invite you to visit their website for custom tours to Turkey and the central Asia region.