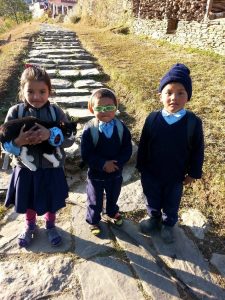 I went for a 3 days 2 nights trek while in Pokhara in the end of December 2014. Before arriving in Pokhara, I had browsed and read through an information-packed Taiwanese travel forum named "Beibaokezhang": (strongly recommended for those who read Chinese) and used that as a tool to work on my itinerary and search for a reliable tour guide. I manage to contact a local tour guide named Naraya and after a series of bargains, he landed me a deal of an all-inclusive package for USD 130.
Upon arrival in Pokhara, I checked in at a guest house whose owner relentlessly tried to talk me into buying his tailor-made package which came at a higher price and needlessly to say, I politely turned it down. Frustrated at his unsuccessful pitch, he and his wife started to badmouth the tour guide I hired and filled me with stories about how things could go terribly awry for hiring a wrong local tour guide.
Their scare tactics left me unfazed but what rattled me was, when Naraya came to collect money from me at the guest house, the owner gave him a cold shoulder and did not even bother to come to my room and alert me, resulting in an unnecessary long wait for me at reception. The entire episode of events really got on my nerves so much until I decided to cancel my stay with them after the trekking trip.
Due to a schedule clash, Naraya informed me that he had to send someone else to take me on a trekking tour. The guy he sent, whose name is Prem Daj Rahal, turned out to be a great companion throughout the trek and eventually became a good friend of mine. He came to pick me up at the guest house and we set out on a 40-minute journey to the starting point of the trek. During the ride to the trail-head Prem pointed out the stunning Fishtail mountain and regaled me with interesting facts and stories about this mountain. He told me that the Fishtail mountain serves as a holy place for the Nepalese God and was off-limits for hikers.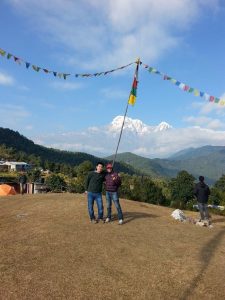 We arrived at a small village and started the strenuous uphill walk. There is a reason I chose the word "strenuous"; it is the appropriate word to describe my pathetic pace and sheer lack of stamina when walking.
Our first destination was Australian camp and Prem told me that it would only take 2 hours of leisure walk. What he did not tell me was that 2-hour benchmark was only applicable to well-trained and experienced trekkers but not for lazy urban dwellers like me, who live a sedentary lifestyle.
Case in point: I took nearly 4 hours to complete the whole journey with numerous rest stops along the way. On several occasions I had to lower myself to almost my knees in order to carefully maneuver the treacherous paths that were full of rocks and slippery steps. Prem suggested we swap backpacks so he would carry mine, which was much heavier than his. I happily obliged him.
We stumbled across a handful of elderly folks who appeared to be in their 70s or above but somehow strong enough to carry a heavy stack of wood on their back; the weight and size proportion to their bodies of their loads really amazed me. I also spotted a herd of mules being driven by a local man and a number of athletic hikers who were shouldering large backpacks but obviously agile enough to overtake us in no time.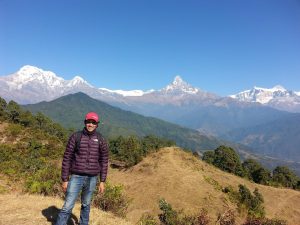 When we finally reached the Australian camp, I totally lost myself to the stunning mountain view directly in front of me. While taking pleasure in admiring the view of the mountain, Prem went on to check me in to a little chalet room which appeared to be a pretty basic but comfortable and clean enough to keep me warm on a chilly day.
A tent was pitched outside the chalet as a sleeping place for the tour guides at night. The weather rapidly turned icy cold in the evening; we then gathered around a fireplace for warmth and conversation while grubbing for dinner at a dining hall.
Prem continue to take good care of me and kept me entertained with his humorous demeanor over the course of the next 2 days of trekking. We had had a blast at our second and final destination at Dhampus. The exotic and zen-like aura of the village filled me with an inner peace.
Prem's business as tour guide is going through a rough patch after the major earthquake hit Nepal on 12 May 2015. Even the mountains are now reopened, not many brave souls are willing to tempt their fate.
Prem has earned my trust and high recommendation. For any mountain enthusiasts who are planning a hiking trip in Nepal and in the process of looking for a guide, he is an excellent choice. He provides helpful advice and will cater to your every need. Prem can reached via email at premraj242000@gmail.com, mobile phone +977 9846085285 or you can even check out his newly established website: www.greathimalayantreks.com and don't forget to greet him with Namaste!