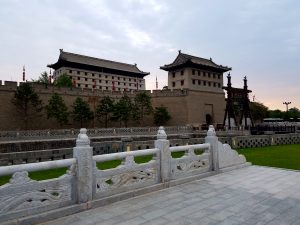 Chinese culture belongs not only to the Chinese but also to the whole world," said former Chinese president Hu Jintao. If Chinese culture does indeed belong to the world, then, without a doubt, the place to explore it is Xi'An. If you've never heard of it before, you're probably not alone. Oddly, one of China's most interesting and unique cities is not particularly well known to the outside world, especially considering its historical significance. Xi'an is particularly special due to that unique amalgam of food, culture and history that entices the curious traveler, beckoning one to stay and explore, to study its past and to revel in its atmosphere. A visit to Xi'an nourishes the forlorn traveler's soul much as the rich and distinctive foods in its night markets nourish the hungry body.
Xi'an is located in Shaanxi province, in central China, about 1,400 km (a 14-hour bus ride) from Shanghai. Though no bullet trains serve it, it is still rather easily accessible by plane. I freely profess my ignorance of the city prior to visiting. In fact, the only reason I even ventured there was to make it my base to visit the nearby Terracotta Army, one of the world's greatest archeological destinations. Even then, I originally intended to stay only for two nights, just long enough to see the army. Yet, the practiced traveler knows to always remain nimble, neither permitting unforeseen obstacles nor inflexible plans (or mindsets) to encumber the travel experience. Within minutes of entering central Xi'an, I knew I would extend my stay.
History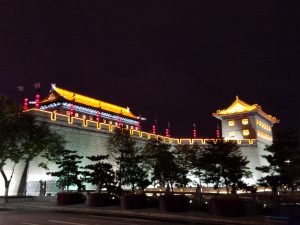 One cannot begin to appreciate the richness of this city without possessing at least a rudimentary knowledge of its lush history. Formerly known as Chang'an, it served as China's capital for no less than ten imperial dynasties, becaming one of China's largest and wealthiest cities. For centuries, Xi'an lay at the terminus of the Silk Road, its massive city gates welcoming traders from far away lands. It is precisely because of this reason that Xi'an acquired a most unique mixture of cultures and peoples, a trait it still retains to this date. To visit the city is to take a journey through history.
Fortifications and Wall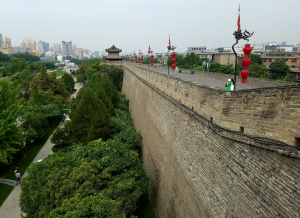 If you are an ancient Chinese military strategist, how do you protect the emperor's capital city? With a massive defensive wall, 36 km long, 12 meters high and wide enough across the top to comfortably accommodate 4 cars side by side, of course! The wall is guarded by countless defensive structures while the city's draw-bridge entrance gates are protected by massive archer's towers poised to rain certain death upon would-be intruders. Rebuilt and well maintained, the wall is one of the finest and largest examples of Chinese fortified cities. Numerous embedded military structures and buildings are open for the curious visitor to ponder.
Atmosphere    
The base of the walls today is ringed by beautiful gardens and walkways where locals relax, fish or take leisurely walks along the top of the wall. Bikes and even golf carts can be rented for those who seek to negotiate the entire circumference of the wall.
Four nights a week in summer, the public is treated to a particularly special event: the Royal Welcome Ceremony of the Tang Emperor. Held in the main courtyard of the city's largest gate, this ceremony recreates the pomp and grandeur with which visitors of consequence were received at the emperor's court. Tickets are limited and, while inexpensive, are provided on a first-come, first-serve basis. Thus, only a few dozen lucky visitors have the pleasure of being received for an hour-long ceremony by a host of actors in full royal attire. This is also the only opportunity the public has to enter the city through the ancient gate. If you find yourself in Xi'an, getting up early to secure tickets to this event is worth the hassle.
Xi'an, however, has an extremely vibrant night life that offers more than just well-choreographed public theater. Each night, just outside of the city walls, hundreds of locals come together to perform a sundry variety of music and dance, from traditional Chinese to waltz to country-western and more. The city is alive with song, dance and the scent of food until late into the night.
Muslim Quarter and the Great Mosque
Merchants traversing the Silk Road introduced Islam to Xi'an many centuries ago and its influence has never receded. The center of the old city, and perhaps one of its most interesting parts, is composed of the Muslim quarter. The residents here wear hijabs and kufis, while Arabic writing and calligraphic art adorns the walls of buildings and alley ways. Despite the strong Islamic influence, it is important to note that the inhabitants are Chinese and speak Mandarin rather than Arabic. Numerous attempts by my father to converse with locals in Arabic yielded no success.
Where else but in the Muslim quarter would one also find one of China's oldest mosques? Parts of the Great Mosque of Xi'an are said to date back to the Yuan dynasty (13th century C.E.) The mosque grounds are open to the public for a nominal fee, though admission to the main mosque is reserved for worshippers only. Those who are granted admission to the interior of the mosque are greeted with a most fabulous and rare sight – the Quran has been painstakingly carved into the wood along the entire interior of the building in both Arabic and in Chinese (note: this was the first time I had ever seen the Quran written in Chinese characters and I found it rather impressive.) Getting to the mosque is an adventure in itself, as one must navigate through a seemingly endless maze of bazaars, shops and alleys.
Food
Quite naturally, Xi'an's multifarious past also translates to a decidedly assorted and splendid plate of distinctive ethnic foods. It's difficult to declare one local specialty as there are so many. Is it the scrumptious selection of dumplings? The noodles, hand-made and cooked directly in front of you? The ambrosial spiced meats hanging from the storefronts? Or perhaps it is the utterly amazing lamb kebabs? There was even something that, as best as I could tell, was a dumpling-style hamburger. Foods as diverse as the full spectrum of the Newtonian color wheel abound through the bazars and shops of Xi'an, and particularly so in the Muslim quarter. If Chef Anthony Bourdain has not yet visited, he is missing out!
Emperor Qin's Terracotta Army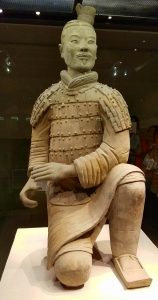 What would a visit to Xi'an be without a day trip to the nearby Terracotta Army and the mausoleum of Emperor Qin Shi Huang? Qin, if you're unfamiliar with ancient Chinese history, is the controversial first emperor of China who bloodily "unified" the nation for the first time at the end of the Warring States period (221 B.C.E.) Western audiences may be familiar with him through the movie Hero, in which actor Jet Li plays the true-story role of an assassin sent to murder the emperor. Qin's majestic vision for China is perhaps outmatched only by his grandiose quest  to build his own eternal tomb, a 100-meter high, man-made mountain under which he remains buried today. Nearby, the world-famous Terracotta Army, composed of over 6,000 life-sized clay soldiers stands at eternal guard. The army is spread out in classic Qin-era battle formation, replete with horses, chariots, infantry, archers and even a command headquarters. Perhaps most impressively, no two soldiers are alike. Much has been written about the Terracotta Army since its discovery in the 1970s so I will not go into further detail. Tourists are able to marvel at this grand human feat up close as archeologists meticulously excavate the site on a daily basis. Without exaggeration, this is one of the world's great archeology destinations, well worthy of a visit by any globe traveler.
A few words about visiting the Terracotta Army. It is about an hour away by car from Xi'an and I recommend hiring a local driver to take you right as the site opens, rather than joining the throngs of tourist buses that arrive slightly later. You will appreciate the head start you have on the large masses. Visitor services are almost exclusively in Chinese (with the exception of foreign-language recorded audio guides.) Official tour guides are also available for an additional fee. Note that entrance to the site is by cash payment only.
The emperor's mausoleum is a short and free bus ride away. Over the centuries, erosion has taken its toll as the man-made mountain has lost about half of its original height. The mausoleum site is composed of walkways leading through gardens and small forests, though there is not much further to see for the average tourist.
Window to the world
Xi'an was once China's window to the world. It is now the core of its rich culture. I came for the Terracotta Army but ended up staying for the wonders of the city. Only once in my travels have I come across another city as unexpectedly delightful and surprising as Xi'an. I will make it a point to visit once again someday. In the meantime, I invite you to visit and experience it as I did.
More Photos [Author's note: all photos taken by me]