Sitting on a 17-hour flight I felt like an ungrateful child.  I had the opportunity to take an amazing trip halfway around the world. UK office blocks are full to the dropped-ceilings with dreams of Down Under.
Australia had just never been on The List.
My husband and I were visiting friends who had fallen in love with Sydney and emigrated.  I assumed it would be very similar to the UK, and when we landed, it was.  Everything is in English, the Victorian architecture is similar to the UK, and there was an overpriced train from the airport into the city centre.
Sydney
We "did" Sydney.  In much the same vein as any city break, we visited The Rocks, a quaint few streets with shops and cafes which had a touristy market each week and we spent the evening in the Opera Bar, looking out over night-time harbour views. I have a fear of bridges, so I really couldn't see the appeal.
Sydney is designed for nightlife.  Secret bars and restaurant terraces with skyline views mean it would make a great weekend getaway.  If it was only closer to anywhere else in the world.
We took a taxi to the famous Bondi Beach and it was everything I expected; beautiful sands, unrestricted sunshine and thousands upon thousands of people.  But around a cliff-side nature path grips the coast from Bondi to Tamarama. I began to appreciate the rainbows on the surf, and how it had just the right number of surfers to be picturesque.
We ate at a small corner café two blocks away.  It turned out Todd was right about all food in Sydney being above standard.  M Deli is a small sandwich café, it had no right to be delicious, with Instagram-worthy cakes.
I've already formed my opinion of this country from afar so I couldn't start enjoying it.  I was, however, starting to get a tickling feeling that this continental space was starting to grow on me.
The Blue Mountains
We booked a cabin for the four of us in Turon Gates in the Blue Mountains.  It was about a 3-hour drive through rush hour traffic, but we cooked everything outside on the BBQ, drank wine, looked up at the stars, heard a koala, saw a wombat and came home with scabbed knees.
Søren plonked himself down at our outside dining table one evening.  Through some targeted questioning we found out he is the owner of Turon Gates.  Another member of Australia's love-at-first-sight club, he moved there aged 26 and bought 3000 acres to retire to for $13/acre to retire to.  He later bought another 10,000 acres on the other side of the river.
A man of a certain age, he had many tales to spin about what it is like to own so much wilderness.  I asked him how high the river gets in winter as during Spring it was only a shallow stream.  His reply was a tale of when the river rose so much that it took one of the cabins with it.  His insurance company assured him that it wasn't a flood, it was just "rising water."
Through the jokes, it was easy to tell that he genuinely cared about the land.  He had made a conscious decision not to overdevelop it, which makes a real difference.  Each of the cabins and glamping tents have plenty space between them to stop noise from travelling and give a sense of being out in the wilderness.
There are only a handful of cabins, and most of the land could be in an Enid Blyton novel.  Rocks and fallen trees create balance paths and jumpways to cross the trickling river.  19th century drystone walls are what remains of previous adventurers who came looking for their fortune in gold, back when 1oz would buy a house in Sydney.
There's something magical about sharing wild spaces with animals. We took a walk and made a wombat friend who munched his way through the grass on the side of the path, unaffected by our amazement of his very existence.
From Katoomba, with its screensaver shot of the Three Sisters rock formation, the forest goes on forever.  Its endlessness is entrancing.  I was well within Australia's pull now, each new view bringing me closer to being that person who won't stop talking about their trip 'down under.'
Perth
Next on the itinerary was Perth, which showed me that big, skyscraper cities can still feel relaxed and have lots of green spaces.  We got Eye to Eye with Shinyanga, the African lioness in Perth Zoo.  "Just turn around so I can take a photo," said the Keeper as Shinyanga roared for more food.  "Sure thing, what could go wrong?" I was fully naturalised into the Australian, happy-go-lucky attitude now.
We also took the ferry to Rottnest Island, which takes an hour and a half and goes through Freemantle, so there was plenty for the onboard guide to talk about when we weren't too busy watching the dolphins to listen.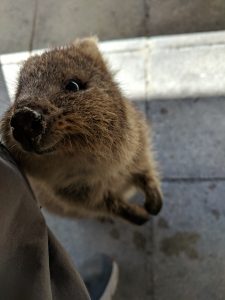 Can they get any cuter??Since the arrival of humans and the damage they caused, mainly with fires, the island's landscape has changed dramatically from forest to sand and rocks.  Rottnest is home to the infamously cute quokkas and these smiling marsupials eat everything in sight, preventing trees from re-growing on the island.
The island used to be a prison, mainly for Aboriginal Australians, and the town has a museum on the history of crime and punishment of Aboriginals, including up to the present day where they make up 39% of the prison population in Western Australia, but only 3.5% of the total population.  It's easy to see Australia as a holiday paradise but all countries are much more than their holidaymaker façade.
The Bandwagon
On the long return flight, I realised I'd gone from ungrateful child to fangirl.  Australia is similar to the UK, except there is more space to breathe; the cities have lots of skyscrapers but you can still see the sky and the pavements aren't so crowded.  The expanse of the landscape is beyond description.  Everything feels less rushed, so you're not pushed in the direction everyone else is going, but given the freedom to roam.
I had arrived with the sole purpose of visiting friends, but I left with an even longer bucket list of places to visit.  I'm a convert.