I felt content as our catamaran gently sailed through the gentle waters of Bahia de Nipes on our way to Cayo Saeta, located 120 km (75 mi) southeast city of Holguin in eastern Cuba. The bar on the catamaran was open and everyone in our group with drinks in their hands was enjoying the massage of the soothing breeze. We lazed in this glorious do-nothing atmosphere, thinking of the day we would soon spend on a pristine island, literally uninhabited by man.
After about an hour of catamaran sailing atop a tranquil sea, we saw before us dense vegetation come down to the edge of the beach. The scene gave one an image of a mirage oasis in the midst of a blue sea. In a few minutes we had all waded ashore on Gaviota (Gull), one of the 12 virgin sugar-white cove beaches that the island offers – all washed by the deep blue sea where the surf is barely a caress. Along with El Peon (The Crag) and Almendra (Almond) beaches, the three most important sands on the island, Cayo Saetia has become a destination for those seeking quiet beaches with inviting soft clear sands.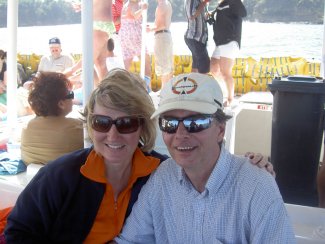 On shore trucks were waiting to take us on an island safari. Our group of 18 sat side by side on the truck's makeshift benches to begin our trip through the 42 sq km (16.2 sq mi) island – considered the largest nature reserve of the country. Conceived as a Natural Reserve, Cayo Saetia is being kept as a wilderness area to lure tourists, especially those who love solitude or have a yen for hunting or just enjoying the wilds.
Heavily forested (65 % of its area) with tiny areas for grazing, the island, once a private government game reserve, has become, because of its exotic flora and fauna, an enticing paradise for environmentalists. Amid this greenery Cayo Saetia has been stocked with both local and introduced wild animals such as antelopes, boars, crocodiles, deer, hutias, iguanas, ostriches, rheas, turtles, water buffalos, zebras, and others. Alongside the wild animals, a camel and a few cattle and horses as well as a number of parrots roam freely on the island.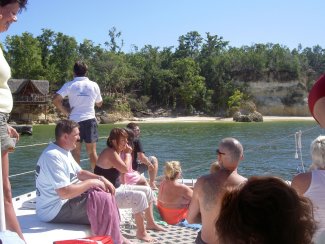 As we moved along the road, more like a forest pathway, it seemed to become rougher and rougher. I stood up finding it was more comfortable standing. I was complaining to the woman next to me about the never-ending bumps when she pointed, "Look! Look! A zebra!" The truck slowed down and cameras began to shoot away.
Bumping our way along we stopped a number of times to take photos of water buffaloes, iguanas, ostriches and turtles in this exclusive game resort. Unlike other Cuban regions, the excessive number of certain animal species and the forested nature of Cayo Saetia have made it the largest and best hunting ground in the country. It is an island where, in addition to sea sports, it is possible to practise one's hunting skills. To help keep the environmental balance, hunting is allowed under strict observance of national and international laws and regulations. We were much kinder to the wild animals than those who come to hunt – we only took pictures.
At Hotel Villa Cayo Saetia, encompassing 12 air-conditioned rooms and the only hotel on the island, we ended our two-hour safari. A true hideaway resort, it is a perfect place for a honeymoon or a peaceful retreat. Located at the entrance of the Bay of Nipe, it draws visitors because of its small beach of fine white sand, crystal-clear waters and unique brown rock formations as well as its isolation – the only abode allowed on the island.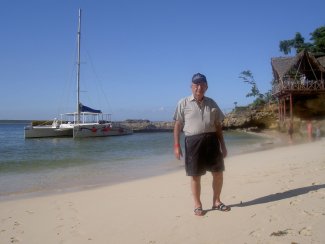 This small tourist stopping place offers all the facilities that are found in the larger hotels such as a bar, beach grill, shop and a very small eating place serving delicious Cuban cuisine. Most of the island's excursions, including boat rides, horseback riding, jeep safaris, lunch on the beach, snorkelling and others, can be booked from the hotel. For those who love to romp in the sea, the beauty of the seabed and the great quantity of sea species dwelling on the nearby coral reef make the island a wonderful site for diving.
Sailing back on the catamaran, the engines were stopped and the sails were hoisted. As well, the loud music was shut off as our ship glided through the waters without a sound. I had an eerie feeling as if I was in another world – a world of calmness and serenity. It was a long way from the bumping safari truck that had shaken us to the very bones. But it was a great way to end our one-day safari to one of Cuba's hidden treasures.
IF YOU GO
Facts to Know About Cuba:
1.Self-exploration of Cayo Saetia is prohibited but Jeep Tours are available. Resorts in the Guardalavaca tourist area offer helicopter and boat tours to the cayo for safaris and for its white sand beaches. Cayo Saeta is about 90 minutes from Guardalavaca by car and just 20 minutes by helicopter (the preferred method of transport).
2. To increase tourism plans are afoot in the Holguin region that calls for golf courses, a cruise port and a theme park.
3. Visitors to Cuba must use convertible pesos (CUC – at present 1 CUC = $1.40 Canadian. The Cuban peso, which can only be used by tourists to purchase such products as fruit and vegetables, converts at about 1 CUC to 25 pesos.
4. In spite of the shortages, all of Cuba is still safe, thefts are rare and tap water is drinkable, even in the villages. However, for tourists to feel safe, they should drink bottled water, found everywhere.
5. The best buys in Cuba are rum and cigars. Beware of black market cigars – often they are not authentic. Seven-year old Havana Club is the top rum in Cuba. It is smoother than brandy and sells at around 12 CUC a bottle.
6. The best time to travel to Cuba is from December to the end of April – the dry season.
7. Remember to keep 25 CUC for the departure tax.
8. All the prices quoted are in CUC pesos.
Some of the Fine All-Inclusive Resorts
Edging Holguin's Beaches
Playa Pesquero – a 5-star villa type spread-out hotel on Playa Pesquero, 10 minutes from Guardalavaca Beach and 1 hour from Holguin airport.
Playa Costa Verde – a 4-star hotel located on Playa Pesquero – see website: www.allseasons.org/PlayaCostaVerde.htm
For Further Information, Contact Cuba Tourist Board:
Cuba Tourist Board, Toronto: 1200 Bay Street. Suite 305. Toronto. ON. M5R 2A5.
Tel: (416) 362-0700. Toll Free: 1-866-404 CUBA (2822). Fax: (416) 362-6799 e-mail: info@gocuba.ca;
Montreal: 2075, rue University, Bureau 460 Montreal, Quebec, H3A 2L1 Tel: (514) 875-8004 Fax: (514) 875-8006 e-mail: montreal@gocuba.ca Website: www.gocuba.ca/en