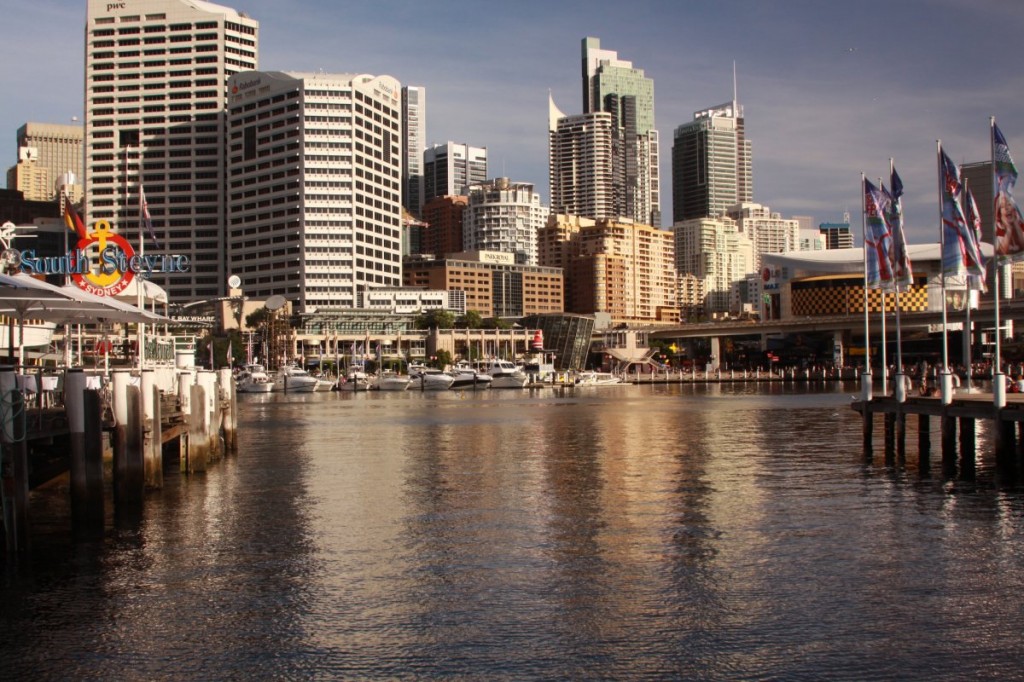 "What a view!" The flight attendants were gasping out loud as they peered out the window. All of us passengers who were within earshot of their enthusiastic review took a look out the window and couldn't find a single reason to disagree with their breathless endorsement. Down there, the coastline of Sydney, Australia, was basking in the glow of the morning sun. It was now 14 hours after we had taken off out of San Francisco, CA and were now skimming over the coastline of that city down under. Although we were still under the spell of a tethering jet lag, we couldn't help but be jolted awake at the lovely sight that was stretching from our plane window out to the picturesque horizon.
The red-tiled roofs that capped the homes along the harbor were soaking up the morning sun and giving off an orange glow in return. Off in the distance, the world-renowned Sydney Opera House with its gleaming, curving, sheltering roofs stood as the city's signature to assure us that, yes, we were indeed about to arrive in that other Land of Oz (sorry to relegate Australia as the "other" Land of Oz, but since I'm from Kansas, I'll always consider my home state in the Great Plains of America as the True Land of Oz).
Our plane glided toward the runway, landed with the greatest of ease, and coasted nonchalantly to its gate. As everybody was gathering their belongings, I suddenly remembered the Customs form that I had meant to fill out 14 hours earlier. I grabbed the form and hurriedly checked off "No" on every box asking if I had anything to declare. That hurry-up method of form filling, I would discover soon enough, was the first mistake that would get me into trouble with the Customs officials. My second mistake would be my failure to pry my sleepy eyes open wide enough to take notice of the signs posted around the baggage carousel reminding everyone not to bring fresh fruits into the country. Consequently, I found myself surprised while going through the Customs line that a Customs official would tell me to step to the side with all of my bags.
"Is this yours?" the inspector asked me as he pulled a bag from the x-ray machine with three apples in it out of my carry-on bag. Damn, I thought, I forgot all about those things. "Yes," I admitted, "their mine."
"Why didn't you declare these," he started in on me.
While rubbing the sleep out of my eyes, I confessed that I had meant to eat those on the plane but forgot about them.
He held the bag of apples up to my face and pointed back to the baggage area. "Didn't you see all those signs telling you not to bring meats and fruits into the country?" he wanted to know.
While I was still embarrassed that I'd forgotten to get rid of my apples before reaching Customs, I was now also getting irritated with his tone of voice. If he wanted to reprimand me, that's understandable, I thought, but there was no need for him to be so belittling. Maybe it was fatigue that was keeping me from shooting back a response. Maybe it was the recognition that it was my fault that this exchange had to happen. In any case, I held my tongue and succinctly said again, "Sorry. I forgot."
The inspector gave me a long stare before he zipped up my bag and pushed it over to me. "Since it"s your first visit, I won't fine you. But I'll document this under your passport number, and if you do this again, I'll fine you $210."
His tone of voice was still irritating me, but given the fact that he was about to release me into my own custody albeit minus my apples, I thought it was best to maintain the apologetic approach and said a quick "Thanks" before grabbing all of my bags and dashing out the door.
I stepped outside, and with the apple incident behind me and all of Australia ahead of me, I took in a deep breath of the morning Aussie air and marched over to the bus that would take me to the "Wake Up!" hostel where I would be staying at. After a 20-minute bus ride, I checked into the hostel and refreshed myself with a quick shower. Although I thought I'd be too tired to get started on my sightseeing adventure right away, I was surprised to find myself awake, alert, and ready to visit the most famous landmark in all of Australia. On my way out the front door, I told the receptionist where I wanted to go and asked her to point me in the right direction. She told me the quickest way was to take George Street down to the harbor, so I took her advice and took a stroll through Sydney's hustling and bustling downtown area. I walked by Chinatown, passed through the Haymarket Section, skirted around Hyde Park, took a right turn right before I entered the trendy establishments of The Rock, and about 4 miles and almost an hour later, found myself standing gazing up at the Sydney Opera House.
The glistening sight that had struck me as majestic from my seat on the plane had softened up to a scene of cozy comfort now that I was standing next to the Opera House and saw that the rim of the roof was well within my touch. Draping down from its arching apex pointing up into the sky, the roof fanned out so low that all I had to do to get a feel of that roof was to stand up on my tippy-toes and run my hands over the surface that was shimmering in the sunlight. Tiles! I was surprised that the roof was made out of small, rectangular pieces of tiles that looked just like the ones on our kitchen floor at home. Somewhat surprised that our house would have something in common with a famous landmark in the Southern Hemisphere, I ran my fingers over the roofs of each section of the landmark and confirmed that our kitchen floor did indeed have something in common with the roofs of the Opera House.
Once, twice, I strolled around the Opera House, filling my eyes with the tangible, cascading feat of this piece of architecture by the bay before I cast a glance over to that other sight that lined the Sydney Harbor. As much as I want to say that that gargantuan Harbor Bridge was a sight to behold, I can't. That bridge, for all its breadth in scope and scale, left me without an inkling of awe. This wasn't surprising though, since on more than one occasion, I was fortunate enough to gaze upon the Golden Gate Bridge of San Francisco as it awoke at the light of day, still blanketed with a few puffs of billowing clouds much like a lady lover who was still curled up between a few tufts of comforting, cotton sheets, and smiling through a sweet slumber that assuredly must be adorned with an enchanting dream.
After offering the Harbor Bridge the consolation prize of "That's nice," I meandered my way up the hill to the Royal Botanic Gardens where I came across an impressive array of plants and trees ensconced in a serene setting. As I strolled along the grounds of this placid park, I came across a species of trees that gave new meaning to the word "initiative." The trees were sprouting roots from their branches! Yep, you read it right! The trees were growing roots out of their branches! In its quest to get more moisture out of the air as well as the ground, the trees were sprouting roots from their branches and were sending those roots, dangling and daring, straight down to the ground. The roots, defiant of any botanic conformity, were swinging and swaying through the air as they stretched and inched their way downward to the ground to literally break ground and take root in order to provide a new conduit of moisture for the tree!
The paths that winded through the Botanic Gardens led me out to the perimeter of the city and into an area where the neighborhood housed those who preferred to live outside of the perimeters of polite society. I'd read about the Red Light District of Kings Cross before coming to Sydney and had prepared myself for a wild scene but was surprised to find an encapsulated area that was much more docile than what I'd expected. It was only a couple of blocks long, and all it had were the usual strip joints and the video stores that sold video tapes that Disney would never produce. Maybe it was because I'd been through the Red Light Districts of Bangkok and Barcelona, but whatever it was, my exposure to the more tantalizing side of Sydney left me thinking that there wasn't a whole lot of anything that was left out to be exposed.
I walked past the touts that peppered the sidewalks of Kings Cross and started to make my way back to my hostel. It was the middle of the afternoon in Sydney, but it must have been past my bedtime back in the states. My eyelids were beginning to droop, and my gait was becoming sluggish. Just to make sure that I had my bearings straight, I asked a friendly lady to point the way back to the downtown area and headed off in that direction. Thirty minutes later, I stepped into my room at the Wake Up! hostel, introduced myself to the two Canadian guys who were bunking with me, gave a quizzical look at a brand new bag of potato chips that a departing traveler had left on my suitcase as a housewarming gift, then rolled into my bed and drifted off into a long-awaited sleep.
At around 8:00 that night, I woke up and stepped outside to greet the teeming traffic on George Street. Under the soft glow of the street lamps, I took a closer look at the shops and stores that I had passed by too quickly earlier that morning and saw that Sydney was well stocked with the ever-popular American sights of McDonald's, Starbucks, and 7-Eleven. I hadn't had a decent meal since breakfast and wanted something that would well illustrate the Australian taste buds to me. After a few twists and turns through Chinatown, I came upon a little shop that sold some traditional Australian meat pies. I eyed the eight-item menu and easily decided on a dish that sounded inviting. It was a meat pie topped off with mashed potatoes and gravy and, on top of that, a heaping helping of mashed green peas. I chose this item not only because of the meat and potatoes appeal of it, but also because of the vertical placement as opposed to the horizontal placement of the food groups. I'd had all of these dishes as part of a typical American meal, but they all had been placed next to one another, not on top of one another.
Once I'd dug my way through the mashed green peas and potatoes and gravy, I spooned my way through the meat pie and was left feeling full yet feeling unfulfilled. The dish I'd just had was good, but it wasn't anything I hadn't had before. The peas and potatoes were just that, peas and potatoes, and the meat pie was practically identical to the pot pies I'd had numerous times back in Kansas. So with the aftertaste of that meat pie as an afterthought, I got back on George Street and, while perched on a stone wall alongside the street, I noticed that Sydney has an unusually low number of homeless people. Their absence was so noticeable that I made it a point to start counting the homeless people I would come across for the remainder of my stay and, days later, I would ponder with some disbelief that the tally of my count came to a not-so-grand total of 4, the average of which was one per day for the number of days I was in Sydney.
The lack of the homeless population was one of the pleasant surprises that I found in Sydney. One of the unpleasant surprises I came across, however, was a product of the ubiquitous McDonald's. Believe it or not, McDonald's has spun off a cafe named after it's parent restaurant and has given it the name of, you guessed it, McCafe. Although I've got nothing against McDonald's and do enjoy seeing the golden arches to remind me a bit of home whenever I'm away from home, the last thing I want to see is an offspring of McDonald's invading the realm of the sacred cafe. After all, isn't McDonald's known as a fast food joint where we can scarf down burgers while cafes are known as haven-like shelters where can we sit and linger and talk and contemplate? There are times when I am in a hurry and do appreciate a pit stop where I can grab a quick bite to eat, but there are times, thank goodness, when I do want to sit and browse through a magazine or chat with a friend without nary of a thought of having to jump up and run off anywhere to accomplish an urgent task. And so it was with a conscious thought that for the rest of my short stay in Sydney, I would make it a point to turn a blind eye to all the signs that read, "McCafe." I just couldn't bring myself to acknowledge the existence of such a disingenuous establishment because to do so would have promptly given me a serious and genuine "McHeadache."
While I was turning a blind eye to a certain eyesore, I couldn't help but notice a bright spot among Sydney's many attributes. One of my favorite things to do in any new city I step into is to walk up and down the various streets of that city, and one of my concerns while walking around in any new city is that I might stumble into the bad part of town. As it was though, I didn't have to worry about during my stroll around Sydney since there wasn't a bad part of town to stumble into. Granted, I could be a bit inaccurate in this assessment seeing as how I made just a scant survey of the main parts of the city. Yet, despite my less than complete investigation of every nook and cranny of this metropolis, I'd have to say that Sydney just didn't have any areas that would warn me to "watch my back."
Overall, Sydney, with its lack of any particular malevolent section and with a vitality that can be seen thriving at The Rocks, Haymarket, Chinatown, and even Kings Cross, made for a nice visit, and I certainly wouldn't mind coming back for another visit so that I could, among other things, take another gander at that undulating piece of architecture known as The Sydney Opera House.