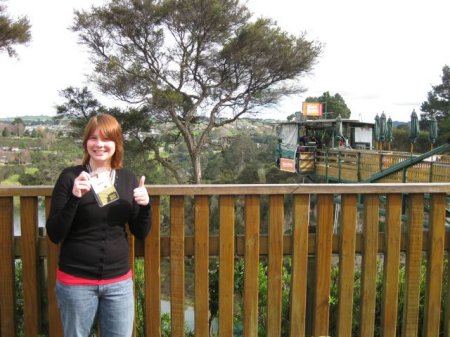 Somehow the morning had taken an unexpected turn. Instead of finding myself enjoying a quiet breakfast in a little cafe with big picture windows overlooking Lake Taupo, I found myself sitting on a wooden bench on a platform suspended high above the Waikato River, watching as my feet were cinched into a snug harness. Connected to that harness was a very thick piece of elastic rope. And it was from that rope that I would momentarily be swinging. Somehow something didn't quite compute.
"So what brings you to New Zealand?" Courtney, one of the young bungy operators, was busy wrapping a harness strap around my right ankle. He moved methodically, winding and tightening the strap with practiced fingers.
"What? I… oh. I'm studying in Wellington. At Massey."
"Oh yeah? What are you studying?" He moved on to my left ankle.
"Journalism."
"Ah, sweet as."
"Yeah, I guess so." I found myself momentarily distracted by the sheer normality of the conversation. Here I was, literally about to throw myself off a cliff, and I was being asked about my major.
With one last tug to make sure the harness was tight enough, Courtney stood up, adjusting his Taupo Bungy cap as he did so.
"All set." He flashed a white smile and indicated the ledge of the platform. "Make your way over here. Jump straight out, keep your chin tucked in, and your arms by your ears in case you go in the water. When you're ready, smile for the camera, and I'll count you down."
As I shuffled my way awkwardly to the ledge, impeded by the constricting harness and attached bungy rope, the nerves kicked in. This wasn't supposed to be me. I was supposed to be the one full of common sense, the one who never did anything dangerous or stupid. But here I was, seemingly about to do both.
Courtney was watching me, leaning on the thin rope that marked the edge of the platform, with one foot dangling lazily over the hole in the floor that the bungy cord passed through. The fact that there was essentially nothing between him and the river below seemed not to phase him. Then again, I suppose if I had helped thousands of people to jump off this cliff, I probably wouldn't be scared, either.
Below me, I could see a small yellow raft push off from a dock and drift lazily out into the river. The raft, manned by two minuscule figures in orange life jackets, would collect me after my jump. As I watched the raft paddle out below the bungy platform, the water, refracting rays of sunlight back up at me, suddenly looked a lot further away than 49 meters.
Growing up, I was never exactly known for my adventurous streak or for my penchant for taking risks. I was slightly quirky, but always played by the rules. A dare by a high school boyfriend to skip the last hole in mini-golf so that we could play the course again for free was turned down. Suggestions to skip class or pull a serious prank were ignored. Invitations to parties – rarely as they came – were often declined. I'm quite sure I'm the last person my high school peers would have pegged as being the one who, three years down the line, would be standing on the edge of a cliff 12,000 miles from home. But there I was.
The decision to get to the edge of that cliff from small-town Ohio hadn't been an easy one. I can remember having the "But why New Zealand?" conversation with everyone from my boyfriend to my grandmother. They couldn't understand why I wanted to go so far away for so long.
"But we'll miss you," they pleaded. "What if you decide not to come back?"
I can't really blame them, but I also couldn't ignore the fact that I was ready to get over my straight-laced appearance. By the end of my university career, I was more than ready to re-lace the shoe that had fit for so many years, eager to see what would happen if I laced that string through a different eyelet.
I chose New Zealand because, of all the places in the world that I had visited, it seemed the most likely to present me with a real challenge. So far away from the family and friends that I had turned to and counted on for so many years, I knew that New Zealand would present me with a new kind of fear and uncertainly to face. And I knew that overcoming that fear would be the greatest adventure of all.
There was certainly fear that day on the cliff in Taupo. It wasn't a metaphorical fear, or a slightly fuzzy, off-in-the-distance sort of worry. It was a tangible fear – the type that makes you seriously think about dying.
As I inched my toes to the very edge of the platform, I took a deep breath of the crisp morning air. The sun was warm on my cheeks, and gulls were busy diving from the cliff face to the river, totally oblivious to my situation. No one is dying today, I told myself.
From the dock far below, Jamie, who had jumped just minutes before me, was laughing. The sound of her voice was carried up the narrow canyon.
"You look ridiculous!"
"So do you!" I yelled back, my own laughter breaking the tension.
"Okay, on 'bungy,'" Courtney instructed.
I gave the camera a thumbs-up, and then tensed my muscles, ready to dive.
"Three, two, one…"
I wasn't just preparing to dive into a river. I was getting ready to dive into New Zealand. Into my future, whatever that would be. And, even though I was scared and uncertain, I was ready.
When Courtney yelled, "BUNGY!" I jumped, arms outstretched and eyes wide open. The wind whipped past my ears as I hurtled, weightless, toward the sparkling Waikato River. The water seemed to rise up to meet me, and I skimmed its mirror-like surface with my hands, causing it to shiver and ripple.
As the bungy cord kicked in, I was tugged upwards again, the canyon walls morphing and distorting before my eyes as the blood rushed to my head. I swung there, spinning, for a few minutes like some improbable rag doll. I could see the platform I'd jumped off and the blue sky above it between my toes in a weird reversal of perspective.
And I was laughing. I had faced my fears, had my adventure, and uncovered a side of myself along the way that I didn't think existed.
People ask me how I did it; they ask me how I leapt so willingly. My answer to them isn't philosophical, or even all that complex. Sometimes, I tell them, you just have to take the plunge.
Amanda can be contacted by e-mail at adangerousbusiness@gmail.com Or visit her blog at www.dangerous-business.com