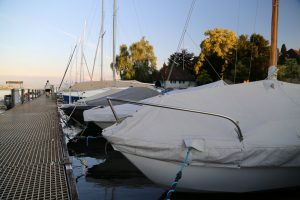 Unlike chartering which requires experience, and that you start and finish from a charter base, you usually don't need any sailing experience and you have many more choices of where in the world your trip will start.
This is exactly what I did during August 2006. I had briefly tried the "paying crew" option in Thailand several years ago, and after having a great experience there, was ready to try it again. Since I would be traveling alone on this trip, crewing on a private boat made much more financial sense than chartering a boat. Since most of the boats taking on paying crew are between 30 to 50 feet, this is a good option for solo travelers or for couples who can share a cabin.
Although you might like to plan a big trip far in advance, sometimes it is easier to find a berth closer to your desired departure date. In my case, the project I was working on ended mid June and I began my search in late June. By August 3rd I was happily sailing out of Odessa, Ukraine, into the Black Sea, headed for Istanbul, Turkey. In late July, shortly before my departure for Ukraine, I received emails from two more boats, giving me some additional options. I could either spend late August and early September sailing from Santorini, Greece to Italy, or a few weeks sailing in southern Turkey.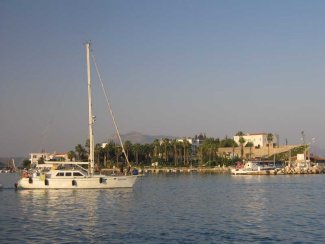 Unless you are already at your departure point, the best way to search for boats looking for crew is on the internet. I started on Google by searching for "sailboat crew Mediterranean." I knew I wanted to sail in the Med but was going to be flexible about exactly where until I found out what was available. This search brought up some personal sites of cruising boats as well as free crew posting sites like crewfile.com and floatplan.com. I later learned about the pay site findacew.com which looks to be one of the most extensive with plenty of postings.
Although you never know what people are going to be like until you meet them, cruisers generally seem pretty easy going and the postings and websites were very accurate in representing the boats and skippers. Of course I recommend you read through the lines when reviewing the postings and that you don't respond to ones that seem fishy. I decided to pass on filling out a 15 page application, which included an extensive medical history section, giving up the chance to sail with a 48 year old woman into yoga. Instead I contacted Swede Lars Hassler who has a very straight forward website describing his summer itinerary for his 50′ Beneteau, Jennifer. Lars also seemed reputable as he has written many books about his adventures, including one on his ten year circumnavigation which he financed wholly with paying crew. This year Lars would be sailing anti-clockwise through the Black Sea. Although not originally in my plan, I was eager to try somewhere off the traditional cruising route, so after numerous email correspondence it was agreed I would join the boat for two weeks, starting in Odessa, at the price of $50 per day.
Like most of the boats I contacted, the daily rate included all expenses, except meals ashore. Depending on the length of the trip and the type of passage you can expect to pay between nothing and $100 per day. For example, someone who needs help getting a boat across the Atlantic would probably give you a free ride in exchange for your help. On the other hand, if you are looking for a leisurely sail in the Mediterranean you should at a minimum expect a nominal charge to cover your share of operating costs.
John Torgersen, skipper of a 42′ Beneteau, Malandro, contacted me after I responded to his post. When responding to posts, it is best to be honest about what you are looking for and who you are, as the skippers also screen who they will take. You probably won't get a whole lot of interest if you email a skipper saying something like "Hey dude, looking to chill for awhile – it's okay if I bring my surfboard?" I did not know much about John's plans other than he would be in Bodrum, Turkey on August 19 and that he only wanted 9 euro per day, but he seemed sincere in his emails and I decided to take a chance. If it turned out to not be what I expected I could just jump ship since we would be stopping at many ports. So I booked an electronic ticket on Turkish Airways, which would take me to Bodrum, going straight from one boat to another. I also wanted to do some land based travel, so I got on kayak.com and found a cheap flight to Palermo, Italy, from where I would spend September island hoping through Sicily, Sardinia, and Corsica. If you have time, it is nice to balance your trip with some land based travel, since you probably won't have much of a chance for land excursions as crew.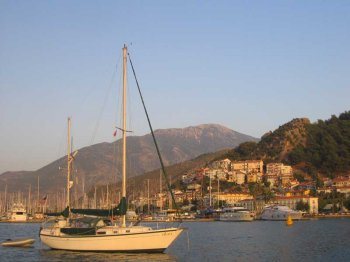 My flight from San Francisco took me through Frankfurt and Vienna which meant I would not arrive in Odessa until almost midnight. A bit nervous about landing so late in what I envisioned to be a seedy former communist country, I pre-arranged via email for a private car and driver to meet me and take me to the boat for $20. All went as planned. Although half way around the world, behind the former iron curtain, once I stepped on board Jennifer, I felt right at home in the familiar surroundings of a sailboat.
Up until my moment of arrival I did not know how many people would be sailing on Jennifer. It turned out the number would fluctuate, starting with four, then three of us for a week, and then five. It was never crowded, considering we had four and a half cabins and five heads. I would recommend though, that this be one of your first questions of potential skippers, as I did hear of one boat who was cramming people on, with crew even having to sleep on deck. Other questions to ask would be to confirm planned itinerary, about sleeping arrangements, toilet and bathing facilities, whether the boat has an autopilot (hours of hand steering gets very tedious), and about safety equipment on board.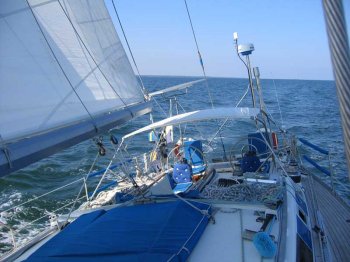 One way in which paying crew is quite different than chartering is that the itinerary is usually up to the skipper. In my case, Lars decided we would be leaving Odessa in the morning, one day ahead of schedule. This meant I did not have a chance to see anything of Odessa other than what I could see from the boat. In exchange for cheap prices and the privilege of traveling on someone else's boat, you do give up some freedoms.
The first day Lars reviewed safety equipment, operation of the boat, and seasick procedures. Luckily we never had to use the GPS man over board button (and as Lars liked to joke, lucky there were no women since the GPS does not have a woman overboard button). As is typical in cruising boats everyone would help with dinner preparation and cleanup. During the day we would all help with sail handling and keeping watch. Since we had a strong autopilot we did not do much hand steering once the course was set. Lars handled all selection of courses, directed anchoring and docking, and dealt with the often difficult mountain of officials at each port. In Ukraine, which only sees a handful of international cruising boats each year, we were forced to use an agent both to clear in and to clear out.
From Ukraine our route took us up into the Danube River Delta where we crossed over into Romania. In Romania we had to check in and out of every port, even within the country, which resulted in lots of souvenir passport stamps. The officials however were much friendlier than in Ukraine. Although Ukraine and Bulgaria is just a river apart, it seems there is almost no communication or travel between the countries. Perhaps this is in part due to a longstanding territorial dispute over a tiny island in the Black Sea.
One crew member left us in Ukraine so for awhile there were just three of us. With so few on board, everything was quite relaxed and meals less formal. One night we anchored in a protected area where two major waterways of the delta meet. It was quite an experience, being so far away, seemingly in the middle of nowhere, with hundreds of birds preparing to roost for the night and just the silence of the majestic Danube flowing by under a terrific fire red sunset in the hazy sky.
It may have seemed like we were far from civilization, but the next morning, just around a big bend in the river, was the stereotypical industrial former communist town of Sulina, Romania. We tied up alongside a floating hotel which was also tied alongside several other boats. On shore was a gigantic dilapidated 20 story government housing building that looked like it had been falling apart since the moment it had been built. After just a lunch stop and a quick tour of the town we decided to press on for Tulcea, a small agricultural town where the Danube meets the Black Sea.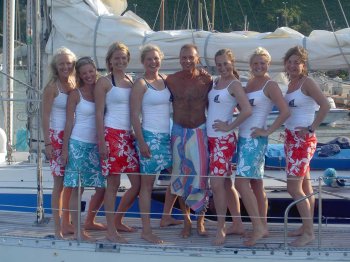 Once back out in the Black Sea we wanted to make some distance so we undertook a few overnight sails. Being fairly new to cruising it took me awhile to get used to the idea that 60 miles is a long day of sailing and that a decent speed is only 7 knots. After using Google Earth to extensively plan my trip, on which everything seems so close, it was not until I actually went at the pace of a sailboat did I realize in actuality how far distances can be. For the overnight sails, since there were three of us, we took three hour watches, which meant we could each get around six hours of sleep at a time.
Our next stop in Romania was Constanza, a large city near the beach resort of Mamaia. The beach town looked like it had changed little since the end of communism, with the skyline dominated by old cement block government built hotels. As we continued down the coast, into Bulgaria, the scenery began to get more interesting, with mountains replacing the flat plains. We stopped in Varna to pick up additional crew, at the historical city of Nessebar, and at the optimistically named Sunny Beach. Finally, our route took us down the Bosphorus and into Istanbul.
After a day of touring Istanbul, it was time for me to switch boats. My flight was a late one, so after enjoying a last meal on board Jennifer, I headed for the airport and made it to Malandro by midnight. As had been the case in Odessa, everything went smoothly and I felt right at home once on board. This boat was nice, although not quite as luxurious as Jennifer. We would only have three on board – me, the skipper John, and a man from Brazil who had been on board for two months.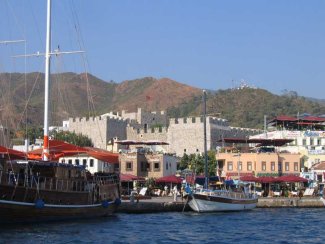 The first day was spent exploring Bodrum and provisioning. Our shopping list was short, because unlike the Black Sea, southern Turkey is well equipped to handle cruising boats. There are many anchorages that have a restaurant or two. Additionally, there are plenty of marinas all along the coast which almost always have some sort of a market.
After leaving Bodrum, our first stop was at Cokertme, a small protected bay with a few restaurants. Anchoring was easy since we just picked up a mooring in front of a restaurant. The scenery was quite a contrast to what I had been used to in the Black Sea. The water was deep blue and we were surrounded by high jagged mountains blanketed with pine forests. Unfortunately Turkey often experiences forest fires in the summer and much of the forests have been decimated. During part of our trip there was a large fire nearby which produced smoke so thick the sky looked cloudy and ash was falling on the boat like snowflakes.
It was hardly cold though. The temperatures were well into the 90's everyday. If you go during this time of year be prepared to be hot. Unfortunately the captain was not a swimmer and we did not take as many swim breaks as I would have liked. We were able to take showers though, but a bit more primitive than on Jennifer. Here the shower was water in a garden sprayer that you pumped up and used at the back of the boat. It worked fine though and was great for washing off after being in the salt water.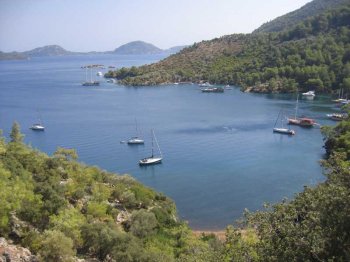 We continued all along the Gulf of Korfez, making several stops. The gulf is very long and it took several days to go to the end and back. Had we choose to skip going into the gulf, it would have only been a short trip across the opening. But by going in we did get the chance to stop at Cleopatra's beach, a popular day tripper destination at which Cleopatra is said to have imported the sand from Egypt. We also stopped at one of the most scenic anchorages of the trip, a small bay, enclosed on one side by a rocky island with the remains of a castle on top.
We continued on to Marmaris where our main goal was to check out the Marmaris Yacht Marina which was reputed to have the lowest prices around for leaving a boat for the winter. It seems many people sail their boats for only three months and then leave them at a marina the rest of the year. At 1300 euro to leave the boat in the water Marmaris Yacht Marina was almost half the price of any other marina we had checked.
Although the boat would return to Marmaris we continued for several days more until we reached our final destination of Antalya, just several hundred miles short of the Syrian border. Luckily we were at sea during a spat of bombings up and down the Turkish coast, including Antalya and Marmaris. Despite these bombings, everywhere we went felt quite secure and, in terms of avoiding terrorist attacks, there probably is no safer way to travel than by boat.
Antalya was where I left the boat as I had to make my way to Rhodes to catch my flight to Italy. I covered a lot of territory, was never lonely, and had a great experience, all at a fraction of the cost had I attempted the same route using traditional means. I never had to find a hotel, worry about train or bus schedules, or look for a restaurant. It was a slow and relaxed pace. It was an adventure far from the everyday grind of office buildings and gridlock. Once you have experienced sailing in some distant place you too will be left dreaming of your next journey and of the sea.